2019 16U PGF Premier Nationals
Rising Star: Iowa Premier's Leadoff, 2021 Shortstop Margaret Tobias
Rising Star: Iowa Premier's Leadoff, 2021 Shortstop Margaret Tobias
Every team needs a table setter. Iowa Premier shortstop Margaret Tobias is the leadoff to watch this summer.
Jun 4, 2019
by Stephen Kerr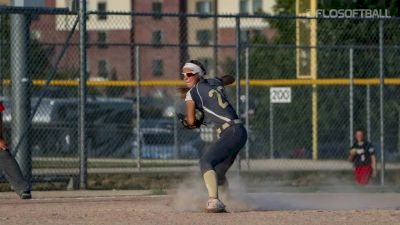 When Margaret Tobias was about five years old, she would often chase foul balls during her older siblings' baseball and softball games. Even then, fans in the bleachers often commented on how fast she was, and that she would be a great athlete.
At age 12, Margaret was already winning races against her father, Chris, who pitched for Valparaiso University and was a fast runner himself.
"I always joked that I could beat her, but that kind of went by the wayside," Chris Tobias said with a chuckle.
Those early predictions of Margaret's athletic success have proven to be correct. A native of Des Moines, Iowa, she runs relays and sprint medleys on the Dowling Catholic School track team, and she helped set a new school record in the 4-by-4 relay. She has also played soccer and basketball.
But softball has been Margaret's passion for as long as she can remember. She would often play catch with her father when he got home from work. At one point, she was playing travel softball and soccer at the same time. After experiencing the difficulties of committing to two travel sports, she chose softball and hasn't looked back.
"I grew up watching my brother and sister play, and I always knew I'd end up playing," explained Margaret, a shortstop for the Iowa Premier Gold 16U squad. "When (I) started traveling, it really interested me, and showed me it's not all just in your state, and you can see different places."
Through 48 games with Iowa Premier since last fall, Margaret is batting .541 with a .561 OBP, .639 slugging percentage and 1.200 OPS. She has one homer, 21 RBI and 77 runs scored.
Speed has served her well in a number of ways. She has swiped 63 bases in 66 attempts for a .955 stolen-base percentage. Her time from home to first has been clocked as low as 2.6, which keeps the defense on their toes.
"She puts a lot of pressure on the defense, because any ball she puts in play, people know they have to go really fast to get this girl out," Iowa Premier Gold Coach Kevin Christensen said. "A lot of times, that causes the defense to make mistakes."
Even a routine ground ball isn't always an automatic out when Margaret is involved. Christensen recalls one game in Florida last fall when she hit a grounder to first that should have been handled easily.
"The first baseman was kind of nonchalant about it," Christensen said. "Margaret actually beat it out. It wasn't the best at-bat she's ever had, but it shows she's there to compete every time. She's going to give it a thousand percent."
There's something about getting a single and turning it into a double that's especially thrilling to Margaret. Of her 72 hits, 62 have been singles.
"It's like being a power hitter, in a sense," she explained. "You get yourself into scoring position, and you don't (always) need to string hits along."
As the leadoff hitter batting from the left side, Margaret has become an elite slapper/hitter. Initially a right-handed batter, she began experimenting with slapping when she was 11. Iowa Premier club director Greg Dickel noticed how quickly she got out of the batter's box as a right-handed hitter and wondered how much quicker she could be from the left side. Dickel began working with her on transitioning into a left-handed slapper, and the results slowly began to pay off.
"It wasn't easy at first," Chris recalled. "It's not an instant success when you turn from right-handed, which is her natural side, to left-handed. There were times I wanted (her) to go back to hitting right-handed, but it was just one of those things that'll pay off (if we) stick to it."
According to Christensen, Margaret has the ability to be a power slapper as well.
"A lot of times, the outfield will come in, thinking the ball won't go over their head," he said. "She's improved that part of her game greatly and has been able to hit a few inside-the-park home runs, just because she's able to hit over their heads and run around the bases."
Being a slapper may not seem glamorous compared to hitting home runs. But Margaret has embraced her role, drawing on a lesson she learned from Kevin Stevens, another Iowa Premier coach. Stevens refers to slappers and bunters as the table setters of a team.
"It might not be as celebrated, but a lot of times, you win by one or two runs, and sometimes those runs come just from the table setters," Margaret explained.
In a game against Tulsa Elite during last year's World Fastpitch Championships in Kansas City, Margaret did more than just set the table. The team was trailing 9-0 but fought back late in the game to tie the score. Margaret came to bat in the bottom of the seventh with runners in scoring position and delivered a walk-off hit that sent Iowa Premier Gold to the Final Four and an eventual third-place finish.
Earlier in the game, she collided with a runner going for a ball and was shaken up. But she bounced back up and remained in the game. Christensen believes that moment inspired the team and swung momentum in their favor.
"That really fired our team up, because she took a pretty good smack," Christensen said. "As it turned out, she did end up getting the winning hit. That's a game I'll remember for the rest of my life."
At Dowling, Margaret is involved with a service club that spends time with children whose parents are learning English. She also goes to a local nursing home on Sundays to visit residents. She has caught the attention of numerous SEC and Big Ten schools. While a positive team culture is important, she's looking for more than the athletic success of a program.
"(I want) something that's a good fit academically, not just softball-wise," Margaret said. "Most of all, a competitive roster and environment that can help get to that bigger stage, and have success there."
Since NCAA rules now prohibit coaches from contacting her until September of her junior year, she's in no hurry to make a decision. For someone whose speed is a defining quality on the field, it's probably the only time you'll see Margaret Tobias slow down and take her time.
---
Do you know a player that should be featured as a Rising Star? Email us the player info and unique story at flosoftball@flosports.tv.