2019 Women's College World Series
UCLA Win 12th Women's College World Series Championship
UCLA Win 12th Women's College World Series Championship
UCLA capture the 2019 Women's College World Series on a walk-off single by Kinsley Washington.
Jun 5, 2019
by Michael Kinney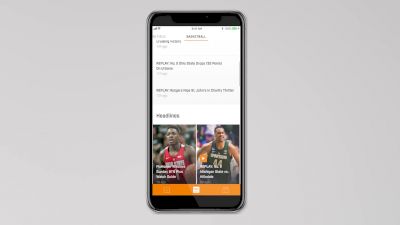 OKLAHOMA CITY – Kinsley Washington first learned the term 'carry the log' her freshman year at UCLA. The Whittier, Calf. native tells the story of having to carry a log up a hill in freezing weather her first days with the softball team.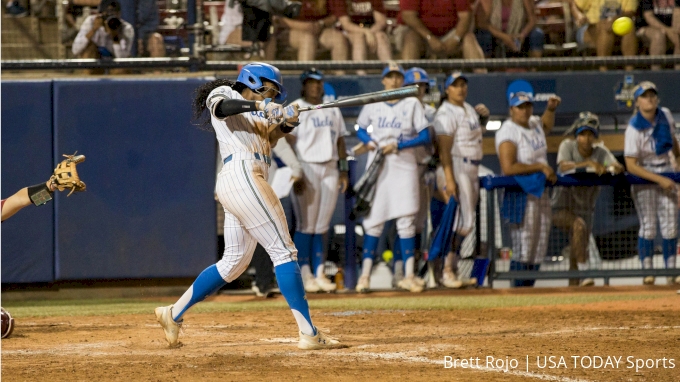 While it may not sound like the type of workouts most players endure, Washington said it taught her what UCLA softball was all about.
Washington was finally able to put those lessons she learned on that hill on public display Tuesday night when the sophomore hit a game-winning walk-off single to help the Bruins claim a 5-4 victory over Oklahoma in the final game of the Women's College World Series at USA Hall of Fame Stadium.
"By yourself, it seemed hard," Washington said of having to carry the log. "When you have 20 girls having your back, walking in unison, chanting, it's easier. I think tonight we definitely carried that log together."
The victory gave the Bruins (56-6) their 12th national championship in the program's history. That includes winning at least one in each of the last four decades.
? #WCWS Highlights – Championship Series Game 2

After a back and forth battle, @UCLASoftball wins the 2019 Women's College World Series in walk-off fashion, defeating @OU_Softball, 5-4. pic.twitter.com/xqUkJAPVkh

— NCAA Softball (@NCAAsoftball) June 5, 2019
"I am so proud they enjoyed it," UCLA coach Kelly Inouye-Perez said. "They had fun. They had each other's backs. We knew we were going to throw punches, they would throw punches, we had to punch back. This is about 2019. This is about UCLA here and now."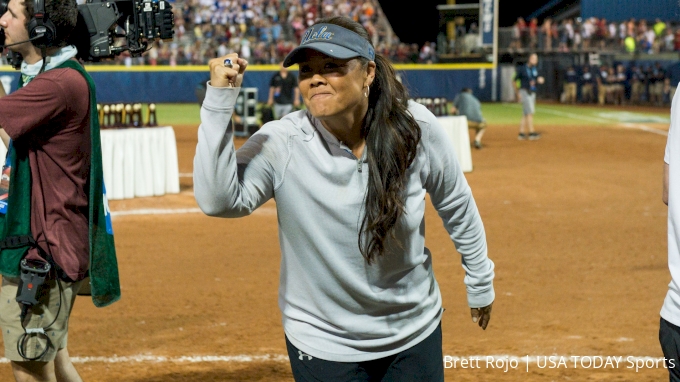 However, the title didn't come easy. After rolling through the Sooners in game one of the series 16-3, Oklahoma came back ready to battle UCLA in Game. That fact alone made OU coach Patty Gasso proud.
"I don't think words can express it," Gasso said. "We had probably, as you know, one of the worst games that we've ever played. To come back the way that we did, I couldn't be more proud."
Entering the top of the seventh inning, the Sooners (57-6) trailed 4-3. They were down to their last out when Shay Knighten stepped to the plate. The senior had been clutch for OU in their previous title runs and they would need her to step up again if they were going to force a game three.
Knighten smashed a homer over the centerfield fence and was met at home by an exuberant bench as the OU fans went wild.
BIG PLAY SHAY! BIG PLAY SHAY!

Down to the final out, Shay Knighten TIES IT UP, 4-4, in the seventh inning!!!#WCWS | @OU_Softball pic.twitter.com/6dSlRR1hHw

— NCAA Softball (@NCAAsoftball) June 5, 2019
"It ranks pretty high," Knighten said. "For me to go out that way was just really cool. To be able to run the bases, see Sooner Nation, my teammates so happy and so excited. It has to rank at the top."
With momentum riding on their side and the score tied at 4-4, the Sooners headed to the bottom of the seventh inning looking to shut down the Bruins and send the game into extra innings.
However, UCLA had other ideas.
With a runner on base, Colleen Sullivan reached on a fielder's choice as Taylor Pack was thrown out at third. Sullivan then took second on a wild pitch before Jacqui Prober entered the game to pinch run.
That brought Washington to the plate, who had success against OU hurler Giselle Juarez in both games of the series. The Bruin momentum continued as she singled to left and Prober took off from second.
Falepolima Aviu made the throw to home, but catcher Lynnsie Elam was unable to reach Prober to make the tag.
WALK OFF FOR THE NATIONAL CHAMPIONSHIP ???#WCWS | @UCLASoftball pic.twitter.com/LbILY0t4S5

— NCAA Softball (@NCAAsoftball) June 5, 2019
The next thing Washington knew, she was on the bottom of a dogpile celebrating her first championship.
All the feels! Kinsley Washington is the HERO!#WCWS | @UCLASoftball pic.twitter.com/vvTs64eodi

— NCAA Softball (@NCAAsoftball) June 5, 2019
"It was really exciting, also terrifying," Washington said. "I was at the very bottom, 22 girls breaking my shoulders. But it was all worth it. It was all worth with it."
Washington finished the night going 2-for-4, with an RBI and was named to the All-Tournament team. She was joined by fellow Bruins Aaliyah Jordan and Bubba Nickles.
UCLA pitcher Rachel Garcia was named the Most Outstanding Player after finishing with a 5-0 record and four complete games. She allowed 28 hits, nine runs, 10 walks and struck out 33 batters.
The Most Outstaning Player, Rachel Garcia gives @sportsiren her first take following winning the National Championship.#WCWS | @UCLASoftball pic.twitter.com/KNVOo8iWe1

— NCAA Softball (@NCAAsoftball) June 5, 2019
Garcia became the fourth player to win the National Player of the Year and the WCWS in the same season.
"Everything was working for me," Garcia said. "I felt super confident. I knew I wasn't going to be on my top, but I knew I had to focus. That was most important."
All-American Sydney Romero tried to set the tone early for the Sooners. On the first pitch of the game, she laced a shot into centerfield.
.@OU_Softball isn't going down without a fight!

Sydney Romero leads things off with a double. pic.twitter.com/b0NNJBDYXt

— espnW (@espnW) June 5, 2019
Romero could have stopped at first, but the senior had every intention of sprinting to second. After she slid into the base safely, she jumped up and performed her customary bow and arrow shot.
Unfortunately for the Sooners, they were unable to take advantage of Romero's leadoff hit. Garcia took care of the next three batters to get out of the inning unscathed.
However, Juarez could not make the same claim. Nickles led off the bottom of the inning with a solo "Bubba Bomb" over the leftfield fence. It was her team-leading 18th of the season.
Bubba Nickles starts off where @UCLASoftball left off last night – WITH A DINGER!!!#WCWS pic.twitter.com/EeZCHTuUau

— NCAA Softball (@NCAAsoftball) June 5, 2019
The Bruins weren't done. Briana Perez also belted out a homer in the very next at-bat for UCLA.
BACK 2️⃣ BACK TO START THE GAME!!!!#WCWS | @UCLASoftball pic.twitter.com/PPZhfBZGdo

— NCAA Softball (@NCAAsoftball) June 5, 2019
The Sooners struck back in the top of the third when Romero connected on a solo homer off of Garcia. She then proceeded to slowly jog around the bases before slowing down at right before home plate.
Sydney Romero is here to crash the Home Run Party!#WCWS | @OU_Softball pic.twitter.com/H5WCmytsBB

— NCAA Softball (@NCAAsoftball) June 5, 2019
However, the Bruins got the run right back in the bottom of the inning on a Jordan homer.
Aviu came up with an RBI single in the fourth inning for Oklahoma. Lynnsie Elam then ripped a shot to left field that bounced off the outstretched glove of Kelli Godin. That scored Aviu and tied the game at 3-3.
TIE GAME!!!#WCWS | @OU_Softball pic.twitter.com/YEk83I2qsi

— NCAA Softball (@NCAAsoftball) June 5, 2019
Brianna Tautalafua broke the tie in the fifth inning when she slugged another home run for the Bruins. It was the fourth solo shot of the evening.
Are you even surprised at this point? ANOTHER HOME RUN!!!#WCWS | @UCLASoftball pic.twitter.com/tyZXYH7w7y

— NCAA Softball (@NCAAsoftball) June 5, 2019
Juarez allowed 10 hits, five runs and struck out seven in the loss. The Big 12 Pitcher of the year dropped to 28-4 with the defeat. Three of her defeats have come at the WCWS.
While Juarez will be back next year for the Sooners, it's the end a career for seniors such as Romero, Knighten and Caleigh Clifton. They began their careers with back to back championships but fell short the last two seasons.
To the 2019 senior class, thank you.

Your impact on this program is immeasurable, and you've left a lasting mark on Oklahoma softball. ☝️ pic.twitter.com/J2oyuod4bU

— Oklahoma Softball (@OU_Softball) June 5, 2019
"I couldn't be more blessed to be here with this senior class, just to be on the highest stage," Clifton said. "At the end of it, we still praise God. We're thankful and blessed to be here, blessed to be with this senior class. We're thankful we competed our butts off, so we're proud."
Nine years in the making, UCLA brings the National Championship back to Westwood.
"It's just being ourselves. We don't care who is in the other dugout, we don't care what's score is," Nickles said.
"We don't care about any of the pressure. We're just being ourselves. That's what helps us get it done."