Every once in a while, DeMarini Aces 16U coach Ryan Taylor has to pinch himself to make sure he isn't dreaming. It's a rare luxury to have a pair of identical twins on the same team who both possess top-level talent. Since forming the Aces in 2010, Taylor has coached three sets of identical twins, with the first two going on to Division I schools.
Lauren and Hannah Camenzind are the latest set making a splash with the Aces, who are based in Kansas City.
"To both be evenly skilled at different things, and to be able to contribute is really rare," Taylor said. "The fact we've been able to do it a third time now is very strange."
The Camenzinds, who live in Valley, Nebraska, outside of Omaha, may be identical in many ways, but they each have their own special skill set. Lauren, the oldest by 19 minutes, is a right-handed-hitting shortstop who also catches. Hannah is a lefthanded pitcher and power hitter. Both are consistently at or near the top in many of the Aces' offensive categories. As freshmen at Skutt Catholic School, each made the Class B All-State and All-Conference teams.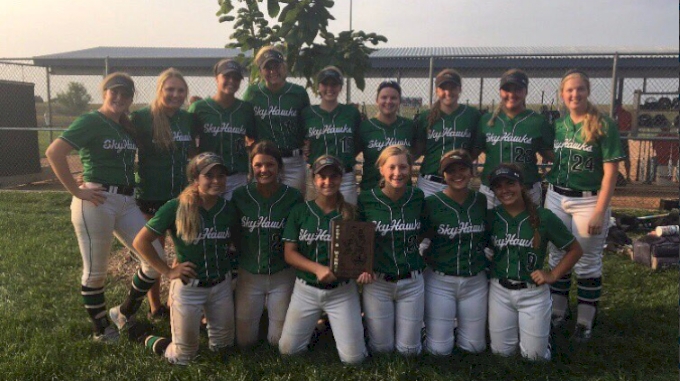 The girls began playing rec ball at an early age. When their parents, Chad and Amanda, encouraged them to try out for a select team, Lauren was eager. Her sister, however, had a different reaction.
"Hannah didn't want to go; she cried," Lauren recalled, laughing. "Our parents took us, and we weren't very good (at first). We didn't know much about it, but we made the team."
The girls worked hard to improve. Taylor remembers their raw ability when he first saw them play and was impressed with their athleticism.
"I thought there was room to grow," he said. "But that's the fun part, being able to coach kids and see (how they develop). We had the chance to pick them up, and we try and create a culture of work ethic, practice, and getting together. They really enjoyed it and bought in."
Neither girl felt any additional pressure being on the same team. In fact, they are just as competitive against each other as they are playing together, and the stakes don't always involve sports.
"When we were little, our grandpa used to watch this wrestling show," Hannah recalled. "We had this title belt. Our parents would use it against us: the first one to clean your plate wins a title belt for the night or the first one to get to bed. That was always fun."
As a freshman at Skutt Catholic, Hannah won 12 games in the circle with a 3.28 ERA and 67 strikeouts in 70.1 innings. She batted .540 and led the team in homers, RBI, and doubles. Lauren hit .526 and was the SkyHawks' leader in hits. The team won its district and placed third in the Class B state tournament.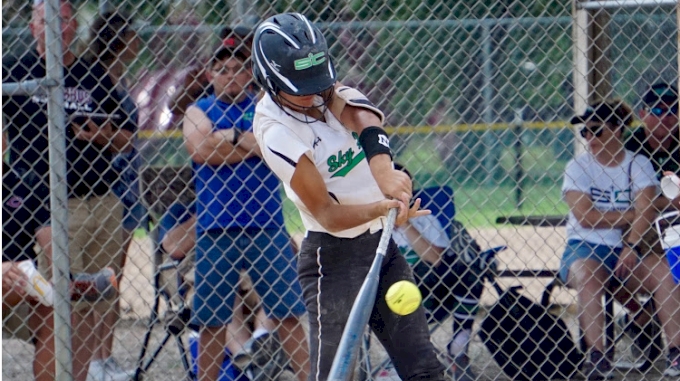 Hannah has become a dominant two-way player for the Aces. Taylor likes the advantage she gives the team by being left-handed at the plate and in the circle.
"Lefties can have a bit less (velocity) and they really have a natural spin and a more deceptive ability than a right-hander," he explained. "She's very good offensively, having a lefty swing and a lot of power, consistency, and very low strikeout percentage."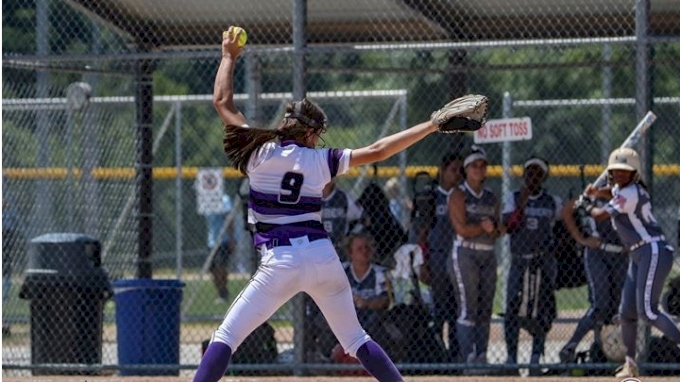 Hannah also has a knack for getting the clutch hit. She recalls one game in which the SkyHawks were playing the second-ranked team in a higher class, and she came to the plate with the game on the line.
20 days till szn🤩 pic.twitter.com/3Fie6I0dkN

— hannah camenzind (@camenzindhannah) February 23, 2019
"They intentionally walked the girl before me," she said. "My sister was on second base. I was already 3-for-3. On the first pitch, I hit a line drive up the middle, and we won the game."
As a backup catcher, Lauren occasionally has the opportunity to be her sister's battery mate. Most pitchers and catchers need time to develop chemistry with one another, and sometimes never do. That isn't a problem for the Camenzind twins.
"If she misses her spot, I don't have to call time," Lauren explained. "She knows what she needs to do just by looking at me, or I'll give her a look."
Lauren loves the ability to be aggressive and go after balls at shortstop. Taylor is particularly impressed with her instincts.
"You can't teach that," he said. "She has the instincts to be in the right spot. She has such a great read for the ball and understanding hops. I'm a firm believer that kids either have that or they don't."
Lauren may be the older twin, but she acknowledges Hannah is more of the take-charge type. What do the sisters think of each other's game?
"Hannah's very talented," Lauren said. "She's always the kid who gets the hit when you need it. (In the circle), she's grown a lot with her pitches, velocity and her movement."
Hannah believes her sister has steadily improved as a shortstop.
"There are a lot of places where she takes away hits," Hannah said. "At the plate, she rarely strikes out. She has a good eye."
As the girls prepare for their sophomore year of high school, they already know they want to continue playing together for a major college program. According to Lauren, the most valuable lesson they have learned about the recruiting experience has come from their parents.
"Be humble and don't let (the experience) get too big, because we still have a lot of work to do," she said.
Schools from several major conferences have shown interest in the twins, both individually and collectively. While this may present a unique situation, Taylor doesn't believe it will be a problem for the girls to commit as a package deal.
"It's important for them to go together," he explained. "I think they want their parents to be able to watch them together. They truly both can compete at a high ceiling."
Like Taylor, the college coach fortunate enough to sign the pair will undoubtedly be convinced they have hit the jackpot.