The softball world is on the brink of invading Colorado and one of the best places to be is at Triple Crown's Colorado 4th of July tournament.
Attracting teams from all over the nation, the 16U division is stacked with competitive teams who could take home the hardware.
[polldaddy]=10351361
Here are some of the teams to watch for:
Diamond Sports Hotshots Dumezich
Mel Dumezich's Hotshots will be the team to beat this summer. A top tournament finisher with one of the most underrated pitching staffs in the country, don't be surprised to see this team battling for the Power Pool Championship on the final day. Balancing finesse and power in the circle is the dominant staff made up of Olivia Lackie (2020, South Alabama), Hailey Hudson (2020, Texas), and Kaci West (2021, Baylor), and Madyson Blake (2020, UIW). Instrumental to last season's success, Lackie is a spinner that continues to rack up the strikeouts and performing in big game situations. Hudson deals from the rubber and is also essential to the Hotshots offense. A huge pickup for Dumezich was power pitcher West who adds depth to the circle and pop to order. To complete the battery are Katie Cimusz and KK Esparza (2021, Ole Miss). Cimusz made a big splash last summer crushing the ball with 10 homers, 18 doubles, and nearly 50 RBIs. Expect Esparza to be an absolute difference maker on defense and offense.
DeMarini Aces
Ryan Taylor combined the experience from last year's squad and talented up and coming group from 14U. Leading the Aces is Kansas Gatorade Player of the Year, Tatum Clopton who struck out 212 batters with a 0.52 ERA. She was pivotal to the team's success last season not only generating big strikeout numbers but also holding her own at the plate. Sharing innings with Clopton will be Florida State-commit Katie Brooks who is one of the most explosive athletes to watch whether she's cranking the ball underhand or overhand. She can also maneuver over to shortstop seamlessly and typically bats in the three-spot. Look for Riley McNemar (2021, Missouri) and Kacie Hoffman to do damage at the plate while Kennedy Rucker, Kara Daly (2021, Missouri), and Lillie Filger set the table. The Aces are stacked and will be one of the top contenders to watch in Colorado.
East Cobb Bullets Gold - Biele/Heath
Ranked in the top 10 coming off a 2018 season that included a 2nd place finish at Triple Crown nationals EC Bullets Biele/Heath is poised to make some noise in 2019 with 14 returning players and some big additions. With seven Hot 100 2021s and top 2022 recruits, this team is absolutely stacked. Biele is known for putting to getting pitching staffs and this one might be his best yet. Ace pitcher, Lexie Delbrey, the No. 1 pitcher in the 2021 class is already being compared to Kelly Barnhill. The south Georgia flame thrower is consistently in the mid to high 60s and has been clocked as high as 71.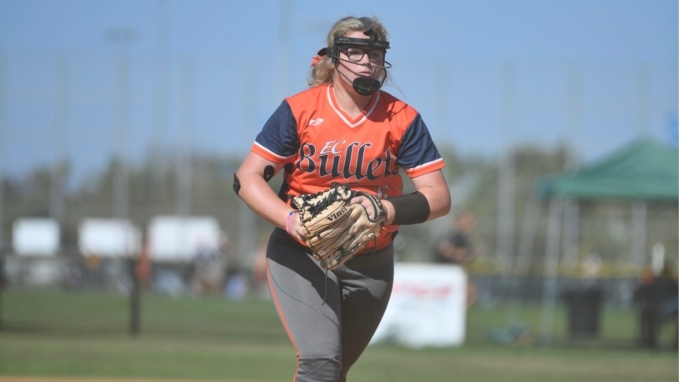 It doesn't stop there, joining Biele's staff is 6-foot-3 Kinsey Norton throwing in the low to mid-60s with electric movement and Shannon Becker, the 6-foot-1 righty made headlines striking out 21 batters during her high school season. Rounding out the staff is Maddie Latta 2021 who had the teams lowest era last season and lefty Kylie Ferguson.
At the plate has a ton of depth. With a great combination of power and speed, Kenadie Cooper (CF) and Kam Caldwell (MIF), both top 20 2021s, are rare five-tool athletes. Also, joining Biele's team is blazing lefty outfielder Madilyn Giglio whose been clocked at 2.62. The heart of the order can mash. Natalie Heath 2021 (3B/1B), Halle Cannon 2022 (OF/1B), Kylie Ferguson 2021 (LHP/1B) and Olivia Cook 2021 (C/CI) all hit for power and average. Katie Taylor 2021(OF) was Biele's two-hole hitter last year and has a rare combination of power and speed. Biele said she's a 2.75 with real power at the plate. Their starting shortstop last season was Avery Fantucci, a 5-foot-9 2022 is smooth and rarely makes mistakes. Avery is one of the most sought-after shortstops in the 22' Class who also batted over .400 last summer. A great pitching staff needs great catchers and Biele team has depth. Olivia Underwood is an elite defensive catcher, with double-digit power, the 4th ranked catcher in the 2021 class is fun to watch. 5-foot-10 2022 catcher Hannah Church has a cannon for an arm and hits for power and average.
Tampa Mustangs - Maguire
This group is gritty and athletic. A top 10 ranked team with a lot of championship experience. Kevin Maguire's squad lists 10 players committed to play in college. Kristina Hartley, Morgan Kendrick, Katie Bright, and Brooke Blankenship are all committed to Florida State.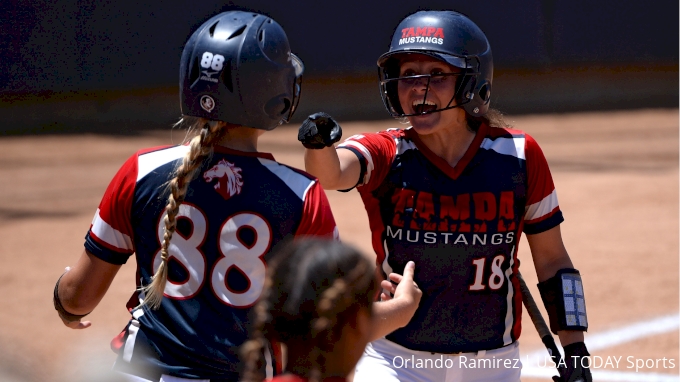 While Madison Droz, Marina Rao, and Destiny DeHoyos will go on to UCF. Not only a dynamic team on offense, but their defense is also one of the best in the country with Maddie Gallagher (South Carolina), Kaitlyn Felton in the outfield and Bright and Rao in the infield. Expect to see high energy with acrobatic defensive plays.
Texas Bombers Gold
The Bombers blend talents from last year's squad with young emerging ballers. Ashlee LaRue (2020, Ole Miss) is a big lefthanded bat with a solid arm in the outfield. Big bats to watch for are Aaliyah Ortiz (2020, McNeese), Kelsie Kelso (2022, Texas A&M), Maggie Herdejurgen (2021, Oklahoma State), Emma Humplik (2021, Texas A&M), Olivia McFadden and Ryen Rassi. Add Avery Hodge (2022, Oklahoma), Keely Williams (2022, Texas A&M), Teagan Whitley (2020, McNeese), Kramer Eschete (2021, Louisiana) to the mix and you have one heck of an offense. With speed and power, the Bombers balance out with a solid pitching staff in Grace Spacks, Sophia Simpson, and Presley Glende.
Lady Magic
This NorCal based team is sure to impress with a mix of veteran athletes and high projected youngsters. 2022 outfielder Dakota Kennedy is a standout bringing an all-around offensive game batting for a high average and high RBIs. She continues to lead Lady Magic in several offensive categories attracting recruiters from the Power Five. Oregon State-commit Shaylen McDowell is another 2022 that versatile moving from the outfield to second base this season. The depth in the circle is an area the coaches are most excited about bringing together 2021 pitchers Gabby Tobey (Cal), Caroline Evans (Utah), and Brooke Thompson (Boise State). Arizona State-commit Harleigh Braswell and Laila Alves complete the battery rotating behind the plate and adding power in the lineup. Infielder Maddie Moore is drawing in recruiters with her versality and power. This club is deep and athletic and should go far into the tournament.
Mizuno Storm - Mathis/Holtorf
The Storm returns to Colorado following a 2018 14U CO Sparkler Power Pool Championship. Not only is this team talented, but they truly play for each other. The core has been together for years and they have to put together an exciting team to watch. They are young and driven led by a Storm staple, Rylee Holtorf (2021, Washington).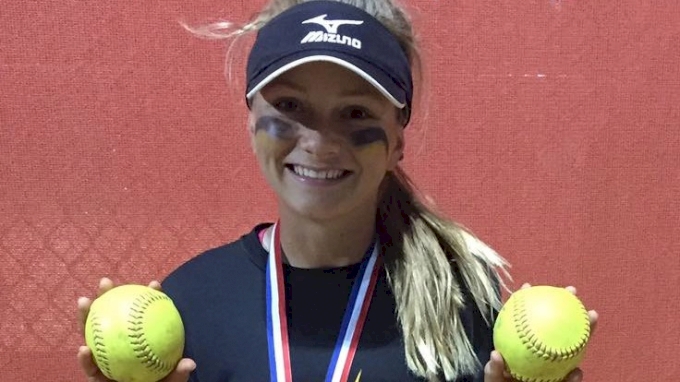 Last summer, Holtorf was pivotal to the Storm's success with a sure glove and an explosive bat. Another key returner is Northwestern-commit Bridget Donahey. She is a powerful infielder/catcher that is a difference. Shortstop Vivian Martinez (2022, Oregon commit) is touted as one of the top shortstops in her class. Storm also returns all of their pitchers Bub Feringa, Riley Lauffer, and Alyssa Aguilar. This year they have strengthens their roster by adding Houston-commit Emma Bullard, and pitcher Loganne Stepp. Look for Stepp to take Storm deep in the tournament.
EC Bullets - Byars
One of the fastest clubs you'll see in Colorado will be Cliff Byars EC Bullets. With plenty of triple threats from the left side, the Bullets will bunt, bounce, and blast the ball by you to keep the offense going. Jaden Cheek (2020, Clemson) leads the high powered offense hitting for high average and home run power. Speedsters to watch will be outfielders Gabby Givers (2020, Belmont), Dailey Belinsky (2020, Campbell), Bailey Grossenbacher (2020, FIU), and Caison Byars (2020, Mercer). Expect big run production from Anna White and Ansley Gunter (2020, Georgia Tech). Southpaw Bailey McCachren (2020, Tennessee) is touted as one of the best lefty pitchers in her class. She's backed by Brinkley Yevak (2020, Georgia Southern), Jordyn Partain and Macy Banks (2020, Georgia State). With so many standouts on this club, expect to see a healthy rotation of players to showcase their versatility.
CA Breeze Birch
Sacramento-based California Breeze debuted in the 16U division last Fall going 26-3-2 with some very notable top finishes in championship play. Powered by the battery of Jenna Birch pitcher/utility (Oregon State) and Jayla Castro catcher/outfielder (UCLA), the team is loaded with rising star power including highly sought- after middle infielders Claudia Medina and Emily "Mo" Johnson, pure hitters Kyra Gooler (outfielder) and Jazlyn Kalehuawehe (corner infielder), and the ultra-versatile Gabriela Rivera (pitcher/ utility) and Alexis Holihan (pitcher/third baseman). Players to watch include returners power-hitting catcher Grace Kilday and Dani "Ol Reliable" Guerrerra.
More teams to watch for:
Impact Gold National - Jazz
Carolina Cardinals National
CA Suncats - Jimenez
Breakers Labs Black
Firecrackers Brashear
Atlanta Premier 02 - Ryman
Atlanta Vipers Trowell/Billings
EC Bullets Scarborough
Finesse
Fury Platinum
GA Impact Premier - O'Neal
Glory Adkins - Locke
Mojo - Lewis
Iowa Premier Gold
Indiana Magic Gold LaMar
LTG Lions - Carda
Monarchs Gold
Oklahoma Athletics Premier - Madden
Ohio Outlaws Premier - Lucas
Oklahoma Impact Gold Premier - Lyon
Stars National - Belfield
Tulsa Elite 2021
Tulsa Elite OKC - Walde
Aces Express Futures
Diamond Sports Hotshots Premier - Shaw
Scrap Yard Internationals