When Sophia Carroll was a little girl, basketball was her sport of choice. She dreamed one day of being a WNBA star, and nothing could sway her.
That is until softball swept her off her feet.
Carroll and her identical twin sister, Aris, are entering their senior seasons at Shadow Ridge (Arizona) High School. They also play for the Firecrackers Arizona 18U team, and both have committed to the University of Arizona softball program.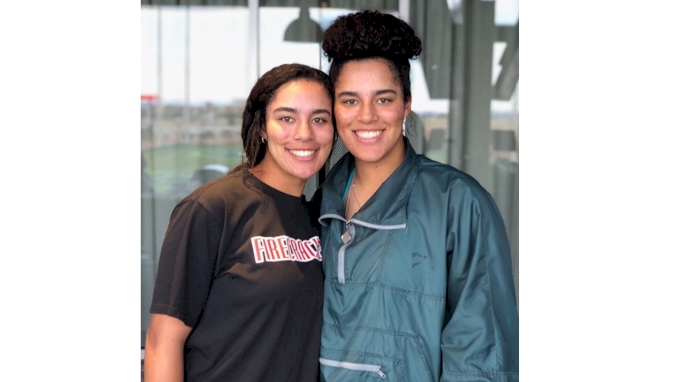 The transition wasn't entirely intentional for Sophia; in fact, it caught her somewhat off guard.
"I compared dynamics with basketball teams and softball teams," explained Sophia, the younger of the two. "I noticed softball teams tend to be more familiar, more of a family environment. That's what I was looking for. I didn't want to be a standout in that aspect. I wanted to grow with people, win together, and not try to be an individual."
Whether you know Sophia well or just spend a few minutes with her, it's obvious her team-first mentality is genuine. Ask if she knows her batting average, home run, or RBI totals from this past high school season, and she'll tell you she doesn't keep track of personal stats.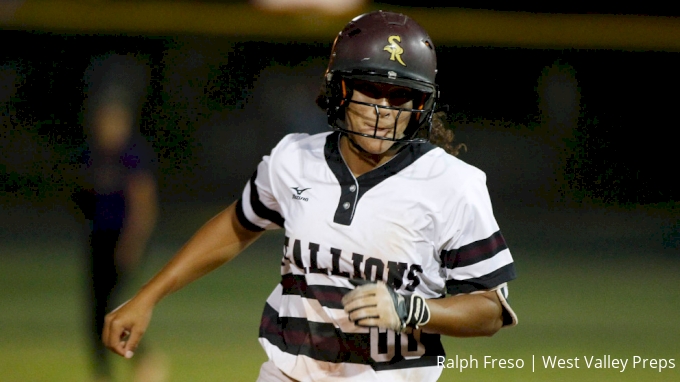 "If I pay attention to that stuff, I'll start to only focus on myself," Sophia said. "I like to keep those factors out of the way and just focus inning by inning, and start fresh every day."
Aris, meanwhile, also took a while to warm up to softball. She participated in gymnastics at an early age and had visions of Olympic gold dancing in her head. It wasn't until she received a softball trophy, the first she'd ever won, that she decided to embrace that sport and leave her Olympic dreams behind.
"I realized that feeling was so impactful for me," Aris recalled. "As a gymnast, you're competing with a lot of people. With softball, you're always competing and having a chance to win, and I really liked that. It stuck with me."
The decision to concentrate on softball has paid off for both girls, who were each named All-State selections in their freshman year at Shadow Ridge. They have carved out their own place on the teams they play for, and contribute in different ways. Ranked No. 7 in the 2020 Hot 100, Sophia hits third in Firecrackers' batting order for her power and ability to drive in runs. Coach Randy Kaye calls her a "quiet hitter", with very little movement in the batter's box.
"She sees the ball really well," explained Kaye, who's coached for nearly 20 years. "Once she takes her step, and separates that backhand, that hand doesn't move until she decides to go. The best hitters in the world… their hands are the last thing to go."
Kaye is even more impressed with Sophia's defensive abilities, calling her an above-average shortstop.
"She can go in the hole, up the middle, come up on the run," Kaye said.
Aris primarily plays first base, although Kaye sees her as a third baseman in college. While she's capable of hitting a home run, she's more of a gap hitter compared to her sister.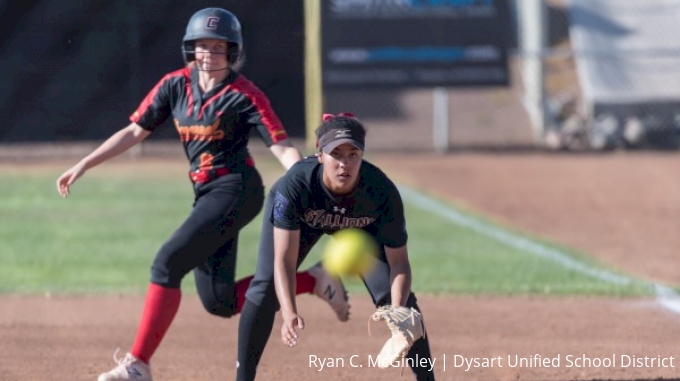 "She's got a really good eye," Kaye said of Aris. "She sees the ball well, just like her sister."
Aris is the more outgoing of the two, but Sophia often gets the bulk of the attention. Aris, however, is comfortable in her own skin, both as a player and individual.
"We are two different people, we bring different things to the table," Aris explained. "It's important for me to realize I am the player I am and she is the player she is. I'm confident in myself as a player."
Mistakes are part of the game, and no one realizes this more than Sophia. But she refuses to dwell on failure for very long, preferring to look upon such experiences as lessons. Even when recalling a remarkable game or achievement, it was a collective moment that came to mind, not an individual accomplishment.
Last summer during a tournament in Georgia, Firecrackers Arizona fell behind early 12-0.
"We had a team talk about chipping away, going out with dignity and making the most out of the trip," Sophia recalled. "We were able to come back and make it a close game to (15-14). We did still lose, but that was by far my best memory. The dugout, the energy on the field was amazing."
At the beginning of the recruiting process, each girl was being sought individually by numerous schools and considered attending separate programs. While they were not actively marketing themselves as a package deal, they eventually realized it was important to stick together.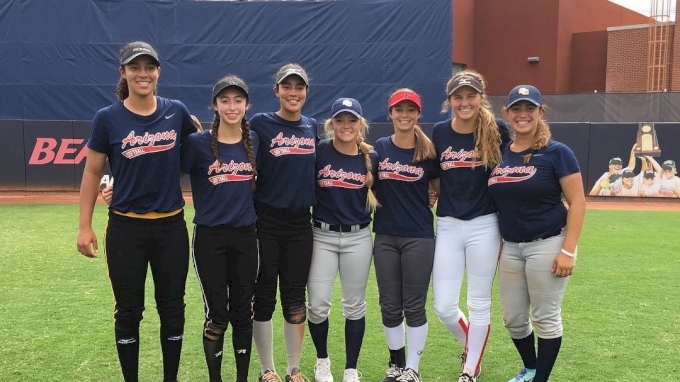 "After going on our visit with (Coach Mike) Candrea and the other (Arizona) coaches, we realized that's where we want to be, that's where we saw ourselves in the future," Aris said.
Besides the impressive winning tradition of the Wildcats softball program, Sophia and Aris were also drawn to the C.A.T.S. Life Skills program, an award-winning support system that assists student-athletes in developing important skills for a healthy, positive and productive life after graduating. As she prepares for her final year of high school, Sophia not only wants to improve her performance on the field but her fitness regimen as well.
"Athletes at the next level are getting the best training," she explained. "I'm working on that, finding what works best for me as an athlete, and what will prepare me for that next level."
---
Do you know a player that should be featured as a Rising Star? Email us the player info and unique story at flosoftball@flosports.tv.