2019 The Gem of the Hills
How Gem Softball Plans To Integrate Flightscope Data In Showcase & Combine
How Gem Softball Plans To Integrate Flightscope Data In Showcase & Combine
Data Reports, All-Games-Count Format Distinguish The Gem in the Florida Showcase Market this Fall
Jul 15, 2019
by FloSoftball Staff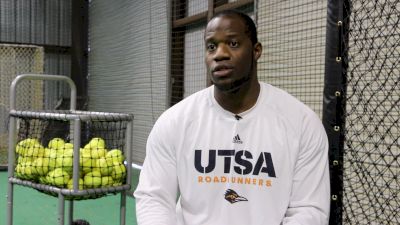 By Gem Softball Staff
What do the University of Oklahoma, University of Michigan, Florida State University, the USA National Softball Team, the USSSA Pride and Major League Baseball all have in common besides being wildly successful? They have all benefited from the use of technology to compare their in-game performance to how they are preparing for games using the hottest technology on the market today: FlightScope.
The Gem Softball Showcase, Central Florida's newest college showcase tournament, incorporates FlightScope's data technology to demonstrate to college coaches which players are true "gamers" in a five-game guarantee (4-1 format) where all games count. The Gem Softball Showcase will begin with a combine on Thursday, October 24 with the champion of each division named Sunday, October 27 in Seminole and Lake Counties at the nationally-recognized Soldier's Creek and Legends Way Ballfields.
Over forty colleges have already committed to attending the Gem to scout the talent. The current list of college coaches is listed on The Gem's website at www.GemSoftball.com. On Saturday morning, college coaches will be provided the FlightScope results from Thursday's Combine and Friday's games at a private coaches' reception.
They will then be able to use those results to identify "gems" (i.e., players whose data analytics suggest maybe there's more to their game than one might see at first glance). University of Michigan Head Softball Coach Carol Hutchins has been able to incorporate FlightScope data into her team's training experience; she says "FlightScope gives us measurable data! If you can measure it, you can improve it!"
While the coaches are being provided the FlightScope results, players, travel ball coaches, and parents will be invited to a recruiting seminar presented by College Bound Jocks. This program will include a question and answer period with some of the best recruiters and scouts in the Nation.
The Gem is supported by some of the biggest players in the game: FloSoftball, Florida Premier Girls Fastpitch (Florida PGF), College Bound Jocks, PFX Athletics, THE Spring Games, and the SoftballCloud. "We have worked closely with the leadership in softball to identify what is important to college coaches and the travel ball players to create a product like no other," says Kevin Davidson, of DS Holdings.
The Gem was the first softball showcase to promote the use of data in its showcase format and is the first to provide data reports and recruiting information to participants. This, coupled with a five-game guarantee and a commitment to the purity of the game with an "every game counts" approach, distinguish the Gem from other travel softball showcase products in the Florida market.
Watch all of the Gem games, and see videos from some top names at the event exclusively on FloSoftball.