Middle infielder Aminah Vega is young enough to play in the 14U TC/USA National tournament, but this week, she's starring for Gainesville Gold McFadyen in the 18U bracket.
Vega, who recently turned 15, went 2-for-4 with a single, double and two RBI in a 6-2, victory against EC Bullets Gold Schnute on Wednesday. The win earned Gainesville Gold a spot in the Championship bracket.
Vega has played a lot of softball in Atlanta over the last week, as she's participated in both age-group tournaments, but she wouldn't have it any other way.
"I like playing for them (the 18U)," she said. "It's way more challenging and advanced. The game flows a lot faster. It's fun."
PA Chaos also beat Bullets, 3-1, on Wednesday to move into the Championship bracket. 2020 Auburn commit pitcher Maddie Penta threw a complete game and allowed just one run while striking out 12.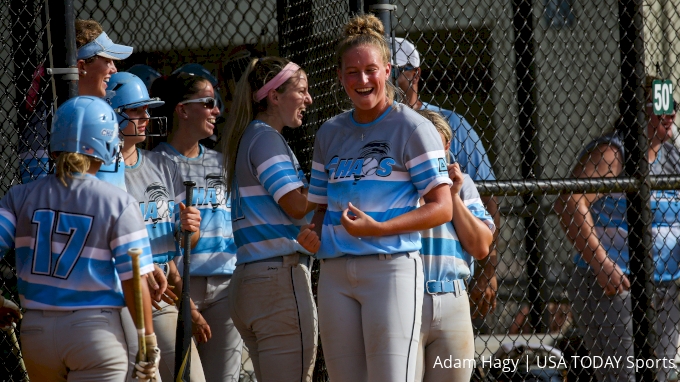 "She's (Penta) such a hard worker," PA Chaos catcher Maddie Fife said. "It's just fun to be on the field with her."
Fife, who is committed to St. Joseph's as part of the 2019 class, went 2-for-3 with two doubles and an RBI.
Early Wednesday morning, the Bombers and Intruders played an exciting contest. The Intruders jumped out to an early one-run lead, but Bombers star pitcher Heather Zook didn't allow another run.
Offensively, the Bombers finally broke through with three runs in the sixth behind four singles from Carlee Ratcliff, Abby Allen, Sydney Blakeman, and Gabby Rodriguez.
"(I wanted to) just stay down on the ball," Rodriguez said when describing her at-bat. "That low pitch kept getting me, and when I saw the changeup, I took a hack at it."
Rodriguez drove in the game-winning run with her single and scored later in the frame during the 3-1 win.
The Bombers victory eliminated the Intruders from the tournament. The Bombers won another game Wednesday but were unable to earn a spot in the Championship Bracket dropping their game against Batbusters Gomes.
Thursday, July 18 (All Times Are EST)
| | | | | |
| --- | --- | --- | --- | --- |
| Time | Location | Team | | Team |
| 8:00 AM | Fowler Park - Field 1 | Aces Express Gold McCorkle | vs | Tampa Mustangs - TJ |
| 8:00 AM | Fowler Park - Field 2 | Michigan Finesse 18U - Rex | vs | Gold Coast Hurricanes Cooper |
| 8:00 AM | Fowler Park - Field 3 | PA Chaos Gold | vs | Glory Adkins Gold 18U |
| 8:00 AM | Fowler Park - Field 4 | Batbusters Gomes | vs | Atlanta Premier Gold |
| 8:00 AM | Sharon Springs Park - Field 1 | Texas Dirt Divas 2021 | vs | [1] Ohio Hawks Gold- Joseforsky |
| 8:00 AM | Sharon Springs Park - Field 3 | Va Unity 16U Linder | vs | Extreme Elite 16U Gold |
| 8:00 AM | Sharon Springs Park - Field 4 | [1] American Freedom - Lawson | vs | Firecrackers Lutterloh King |
| | | | | |
| 10:30 AM | Fowler Park - Field 1 | Bracket Winner B131 | vs | Bracket Winner B132 |
| 10:30 AM | Fowler Park - Field 3 | Bracket Winner B133 | vs | Bracket Winner B134 |
| 10:30 AM | Fowler Park - Field 4 | [3] Aces Express Gold Sugar Land | vs | [4] Atlanta Premier National- Hutchinson |
| 10:30 AM | Sharon Springs Park - Field 2 | Bracket Winner B220 | vs | Mississippi Bombers Gold 16U |
| 10:30 AM | Sharon Springs Park - Field 3 | Bracket Winner B221 | vs | Bracket Winner B219 |
| | | | | |
| 1:00 PM | Fowler Park - Field 1 | Bracket Winner B135 | vs | Bracket Winner B136 |
| 1:00 PM | Fowler Park - Field 4 | Bracket Winner B193 | vs | Bracket Loser B193 |
| 1:00 PM | Sharon Springs Park - Field 3 | Bracket Winner B222 | vs | Bracket Winner B223 |
Wednesday Scores
Time
Location
Away
Score
Home
8:00 AM
Fowler Park - Field 1
Colorado Styxx
1
2
RI Thunder Gold-Lotti
8:00 AM
Fowler Park - Field 2
Gainesville Gold McFadyen
7
4
VOODOO Rhinehart
8:00 AM
Fowler Park - Field 3
Texas Bombers Gold
3
1
Texas CF Intruders Gold
8:00 AM
Fowler Park - Field 4
Birmingham Thunderbolts 01 - Dorsett/Burt
6
2
GA Firecrackers 18U Gold
8:00 AM
Northpark - Field 5
Virginia Glory Mertz-Griffith
0
2
Texas Glory
8:00 AM
Northpark - Field 6
Bandits 18U
1
3
Carolina Elite Genovese
8:00 AM
Northpark - Field 7
Firecrackers FL Gold
0
4
Carolina Cardinals
8:00 AM
Northpark - Field 8
GA Power Gold - Tunon
10
5
Firecrackers - Sewell Premier
8:00 AM
Northpark - Field 1
EC Bullets 18Gold - Bagarose
1
2
AZ Hotshots Gold-Davis
8:00 AM
Northpark - Field 2
Tx Threat
7
9
Illusions Gold - Plocheck
8:00 AM
Northpark - Field 3
Atlanta Vipers 18U Mickler
8
11
18U Atlanta Vipers Gold - Jiles
8:00 AM
Northpark - Field 4
Tulsa Shootout 18 Gold
4
3
Virginia Legends - Freitager
8:00 AM
Sharon Springs Park - Field 1
Firecrackers ELP
5
4
Orion Hunter Teal
8:00 AM
Sharon Springs Park - Field 2
Team North Carolina (Baylog)
1
10
Texas Storm
8:00 AM
Sharon Springs Park - Field 3
FIRECRACKERS-ARIZONA
2
8
Lady Lightning Gold Demarini Platinum Squad
8:00 AM
Sharon Springs Park - Field 4
Stars National Gold
8
3
Houston Power- Connor
8:00 AM
Bennett Park - Field 5
[3] Aces Express Gold Sugar Land
8
4
[4] Atlanta Premier National- Hutchinson
8:00 AM
Bennett Park - Field 4
[4] Polar Crush Gold
3
6
[3] pine thunder 18u
10:15 AM
Fowler Park - Field 1
East Cobb Bullets 18 Gold - Schnute
1
3
PA Chaos Gold
10:15 AM
Fowler Park - Field 2
RI Thunder Gold-Lotti
1
7
Gainesville Gold McFadyen
10:15 AM
Fowler Park - Field 3
Tampa Mustangs - TJ
7
4
Batbusters Gomes
10:15 AM
Fowler Park - Field 4
Texas Bombers Gold
6
5
Birmingham Thunderbolts 01 - Dorsett/Burt
10:15 AM
Northpark - Field 5
Atlanta Premier Gold
3
4
Michigan Finesse 18U - Rex
10:15 AM
Northpark - Field 6
Carolina Elite Genovese
5
10
Texas Glory
10:15 AM
Northpark - Field 7
Aces Express Gold McCorkle
11
2
ACES 18 U GOLD (Ashley/Creamer)
10:15 AM
Northpark - Field 8
GA Power Gold - Tunon
10
6
Carolina Cardinals
10:15 AM
Northpark - Field 1
Gold Coast Hurricanes Cooper
6
5
Fury Platinum 19/20
10:15 AM
Northpark - Field 2
AZ Hotshots Gold-Davis
10
2
Illusions Gold - Plocheck
10:15 AM
Northpark - Field 3
Scrap Yard Internationals
1
5
Glory Adkins Gold 18U
10:15 AM
Northpark - Field 4
Tulsa Shootout 18 Gold
4
13
18U Atlanta Vipers Gold - Jiles
10:15 AM
Sharon Springs Park - Field 1
Louisville Lady Sluggers - Huecker
2
0
Conklin Raiders 18U Gold
10:15 AM
Sharon Springs Park - Field 2
Texas Storm
6
5
Firecrackers ELP
10:15 AM
Sharon Springs Park - Field 3
New Jersey Gators
3
4
Prospex Gold 18u
10:15 AM
Sharon Springs Park - Field 4
Stars National Gold
6
14
Lady Lightning Gold Demarini Platinum Squad
10:15 AM
Bennett Park - Field 4
[4] Atlanta Premier National- Hutchinson
2
0
[3] pine thunder 18u
12:30 PM
Fowler Park - Field 2
East Cobb Bullets 18 Gold - Schnute
2
6
Gainesville Gold McFadyen
12:30 PM
Fowler Park - Field 4
Batbusters Gomes
5
3
Texas Bombers Gold
12:30 PM
Northpark - Field 6
Atlanta Premier Gold
3
2
Texas Glory
12:30 PM
Northpark - Field 8
ACES 18 U GOLD (Ashley/Creamer)
11
13
GA Power Gold - Tunon
12:30 PM
Northpark - Field 2
Fury Platinum 19/20
1
0
AZ Hotshots Gold-Davis
12:30 PM
Northpark - Field 4
Scrap Yard Internationals
3
0
18U Atlanta Vipers Gold - Jiles
12:30 PM
Sharon Springs Park - Field 2
Conklin Raiders 18U Gold
5
1
Texas Storm
12:30 PM
Sharon Springs Park - Field 4
New Jersey Gators
4
1
Lady Lightning Gold Demarini Platinum Squad
2:45 PM
Sharon Springs Park - Field 2
[1] Atlanta Vipers U18 Laukka
0
7
[2] BreakAway Speed
2:45 PM
Sharon Springs Park - Field 3
Impact Gold Holeman Premier
5
4
Oregon Blaze Gold
2:45 PM
Sharon Springs Park - Field 4
[1] GA Power 18U- Pfitzner
4
12
[2] GA Power Fastpitch - Bownet 18U - Roddy'
2:45 PM
Sharon Springs Park - Field 5
Texas Rapid Fire 18u Gold
8
7
Firecrackers Gale
2:45 PM
Sharon Springs Park - Field 6
Texas Premier Gold
12
11
Tampa Mustangs Hannigan
2:45 PM
Sharon Springs Park - Field 7
[2] LLG NOVA 18U
5
0
Louisiana Bombers 18u Gold
2:45 PM
Sharon Springs Park - Field 8
TC Stars Gold
0
3
Illusions Premier Cain
2:45 PM
Sharon Springs Park - Field 1
Wasco Diamonds 18UML
2
10
Nationals softball 18u
5:00 PM
Sharon Springs Park - Field 2
[2] BreakAway Speed
0
8
[1] So Cal Choppers Renteria
5:00 PM
Sharon Springs Park - Field 3
Impact Gold Holeman Premier
10
3
18U Vision Gold Poole
5:00 PM
Sharon Springs Park - Field 4
Miami Stingrays 18 Gold
8
12
[2] GA Power Fastpitch - Bownet 18U - Roddy'
5:00 PM
Sharon Springs Park - Field 5
New Lenox Lightning
16
1
Texas Rapid Fire 18u Gold
6:30 PM
Fowler Park - Field 1
Aces Express Gold McCorkle
8
7
Gainesville Gold McFadyen
6:30 PM
Fowler Park - Field 2
Tampa Mustangs - TJ
6
0
Scrap Yard Internationals
6:30 PM
Fowler Park - Field 3
Michigan Finesse 18U - Rex
9
7
Conklin Raiders 18U Gold
6:30 PM
Fowler Park - Field 4
Gold Coast Hurricanes Cooper
9
5
Fury Platinum 19/20
6:30 PM
Northpark - Field 5
PA Chaos Gold
13
5
GA Power Gold - Tunon
6:30 PM
Northpark - Field 6
Glory Adkins Gold 18U
9
0
New Jersey Gators
6:30 PM
Northpark - Field 7
Prospex Gold 18u
4
7
Batbusters Gomes
6:30 PM
Northpark - Field 8
Louisville Lady Sluggers - Huecker
2
8
Atlanta Premier Gold