2019 18U PGF Premier Nationals
What To Watch For At 2019 PGF 18U Premier Nationals
What To Watch For At 2019 PGF 18U Premier Nationals
It's anybody's game to take PGF 18U Premier Nationals. Who's your pick?
Jul 19, 2019
by Carlos Arias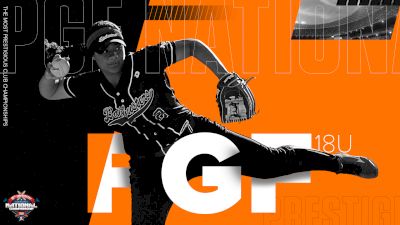 It's hard to fly under the radar at the PGF 18U Premier Nationals after winning one of the top tournaments in the nation over the Fourth of July weekend.
"We went and screwed that up," said Ryan Taylor, the coach of Aces Fastpitch (formerly DeMarini Aces) based in Kansas, of his teams performance at the Boulder IDT in Colorado.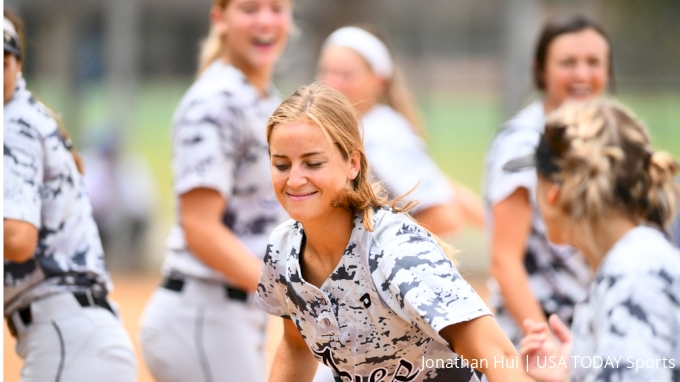 Taylor's Aces have always been competitive against the top club teams in the country, but they definitely turned heads in the softball community after winning the Boulder IDT earlier this month.
The Aces knocked off Corona Angels-Tyson, Impact Gold-Middlebrook and NW Bullets-Campos on the way to the finals where they upset highly-touted Athletics-Mercado/Smith, 4-3, to capture the championship.
Boulder IDT is one of those few tournaments that teams use as a barometer for PGF Nationals, which is why there will be high expectations for the Aces at PGF Nationals July 22-27 in Orange County, Calif.
[polldaddy]=10367416
"We've got really good team chemistry," Taylor said. "They love playing with each other. We have team speed, ability to make things happen and depth in the circle."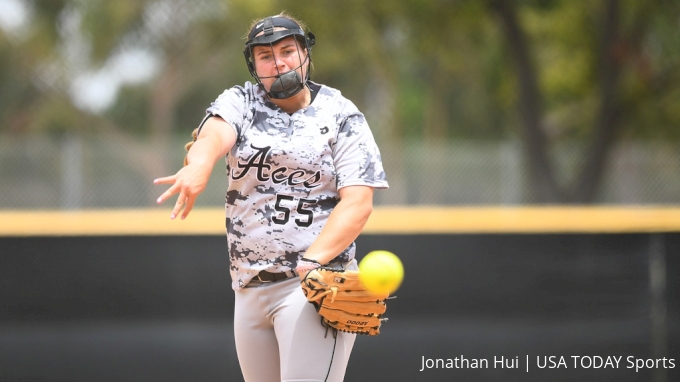 The Aces have a pair of power pitchers --- Arizona State-committed RHP Mac Morgan and Arkansas-committed RHP Lauren Howell --- a trio of power hitters with MIF Kinsey Fiedler, Oklahoma-bound MIF Kenzie Donihoo and Oklahoma State-bound 1B/OF Maci Cunconan and speedy outfielders Ashton Maloney and Oklahoma State-committed Avery Hobson setting the table and putting pressure on defenses.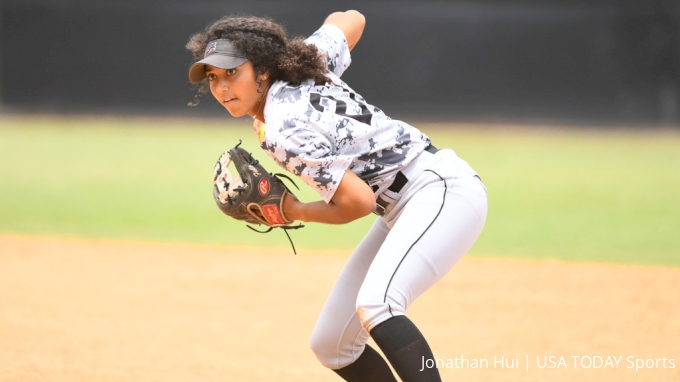 "Winning the Boulder IDT gives us so much confidence heading into PGF," Cunconan said.
"The Boulder tournament is stacked with quality teams. Wins over teams like the Corona Angels and So Cal A's not only gives us confidence going in, but provides us confidence going in, but provides us with experience against high-level competition. I think we really matured as a team."
There doesn't appear to be a dominant favorite heading into this year's PGF Nationals.
"There's 10-12 or 12-15 with an opportunity to win if it's their week," Beverly Bandits-Kelly-Tyrell coach Jennifer Tyrrell said.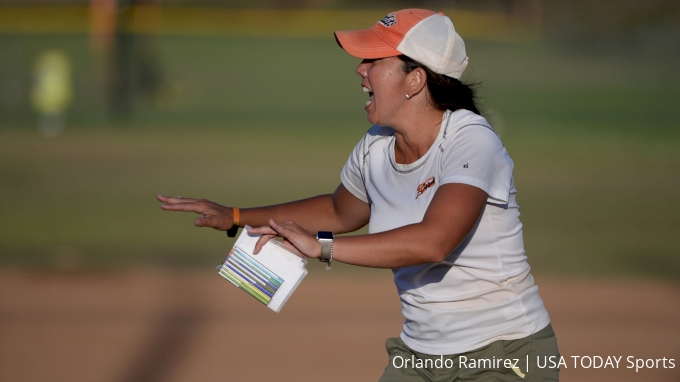 So Cal teams dominated the first seven PGF Nationals, which started in 2010, but the 18U Premier Division has been won by Georgia Impact-Lewis (2018), from the South, and Beverly Bandits-Conroy (2017), based out of Illinois, the past two years.
Athletics-Mercado/Smith remains one of the top contenders with the vast amount of talent in its lineup. UCLA-bound Lexi Sosa and Kentucky-signee Miranda Stoddard lead the Athletics deep pitching staff with Oklahoma-bound OF Alycia Flores, LSU-bound Presleigh Pilon, and UCLA-bound SS Seneca Curo are among their top hitters.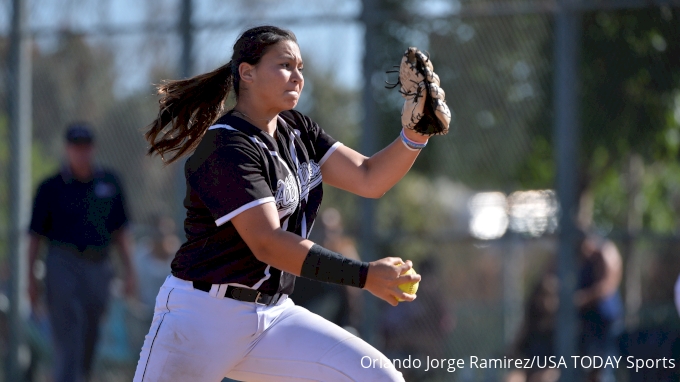 "They just have to come together at PGF," Athletics-Mercado spokesman Brian Pilon said. "The talent's there."
Some of So Cal's other top contenders are OC Batbusters-Stith, which has Gatorade California Player of the Year Nicole May, an Oklahoma commit, and Oklahoma-bound C Kinzie Hansen, and Corona Angels-Tyson. The Batbusters, who won PGF National titles from 2014-15, beat the Corona Angels twice in the semifinals to reach the championship game last year.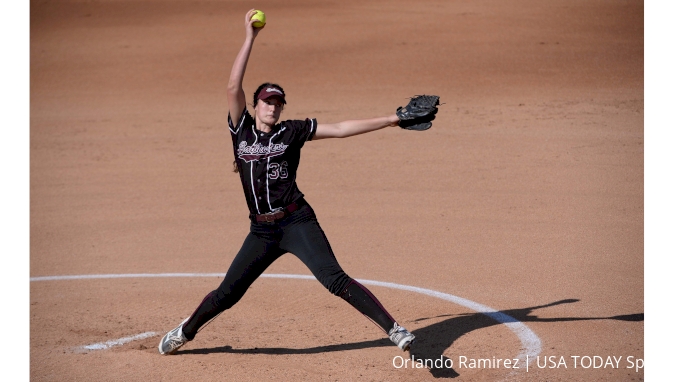 "I'm super excited for my last PGF of travel ball," Hansen said.
"The past few weeks our team has been really coming together not only on the field but also with chemistry. We are looking forward to all of the great competition and the good memories that come with it. We are hoping to make the seniors' last PGF a good one."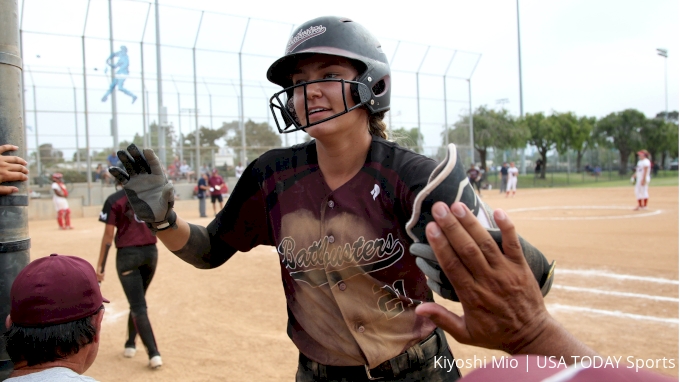 With power-pitching Megan Faraimo, the 2018 Gatorade National Player of the Year who went on to UCLA, in the circle, the Corona Angels placed third and runner-up, respectively, the past two years at PGF Nationals. The Angels, who brought a number of players up from last year's PGF 14U Premier National Championship team, will deploy a quartet of talented pitchers with Washington-commit Sarah Willis, LSU-commit Morgan Smith, Wisconsin-bound Tessa Magnanimo and Maryland-commit Kendall Mangel to try and fill the void left by Faraimo.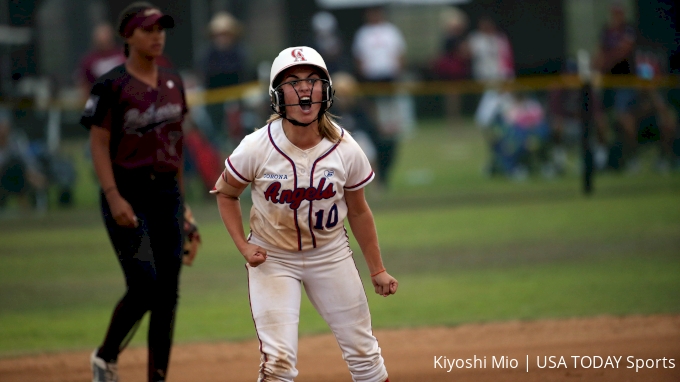 Stanford-bound Sydnee Huff is the offensive catalyst, Arizona State-commit Cydney Sanders and UCLA-commit Savannah Pola have big sticks and speedy slapper Nyomi Jones, an Ole Miss signee, can be very disruptive on the bases.
"My 18U team is as good as anybody when they show up and play," Tyson said. "All (will) be determined on who shows up and plays."
Firecrackers-Rico/Weil, which won a PGF National championship in 2016, is another So Cal team capable of taking a shot at the title. The Firecrackers are led by a pair of PGF All-Americans in Michigan-bound MIF Julia "Juju" Jimenez and UCLA-bound C/1B Alyssa Garcia.


"Honestly, we've been playing well the last six weeks and I feel our chemistry has gotten stronger through the summer," Garcia said. "Obviously, that plays a big part in a team's success. I feel by far our best games this summer were played in Colorado. We had some battles that not only tested our skills but really tested our mindset. This team plays very well defensively and offensively. Our coaches prepare us on the field, but it will be up to us to do the little things and execute, so we can make a deep run at the PGF tournament this year."


The top programs from the South are Georgia Impact-Lewis, the reigning PGF National Champion, East Cobb Bullets-Schnute, and Birmingham Thunderbolts Premier. Georgia Impact and EC Bullets lost their aces this summer to the USA Junior National Team that includes Gatorade National Player of the Year, Kelley Lynch, Florida Gatorade Player of the Year, Lexi Kilfoyl, and Callie Turner. In their absence, both teams have remained competitive throughout the summer.
Michigan-bound P Chandler Dennis will carry the Bullets in the circle. With Auburn-committed lefty Shelby Lowe, who led the Bolts to a PGF 16U National Title last year, PGF All-American EC Taylor, a Florida-bound OF, and Auburn-bound 2B Carlee McCondichie, the Bolts look like a top contender this year.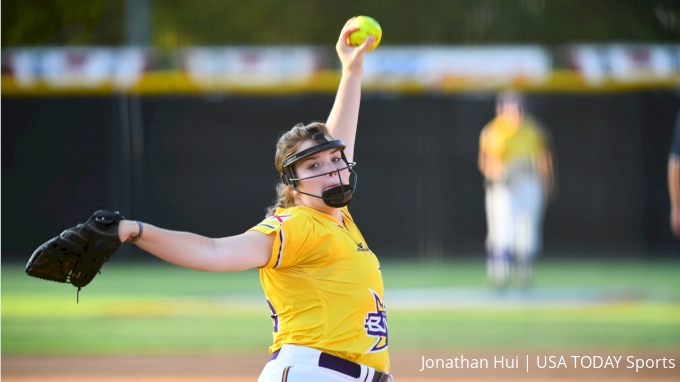 "I think that our defense is very strong and we hit the ball well," said Dennis, a PGF All-American selection. "But I think that stringing together and getting key hits will help us make a deep run in the tournament."
The Beverly Bandits have a pair of teams in 18U Premier. Tyrell and Meg Kelly's Bandits have a loaded offense, which features Gatorade Wisconsin Player of the Year Sydney Supple, a Northwestern-bound P/1B, and a stellar defensive outfield with Tennessee-bound CF Kiki Malloy, Michigan-bound RF Lexi Voss, and Auburn-bound LF Jaylin Calvert.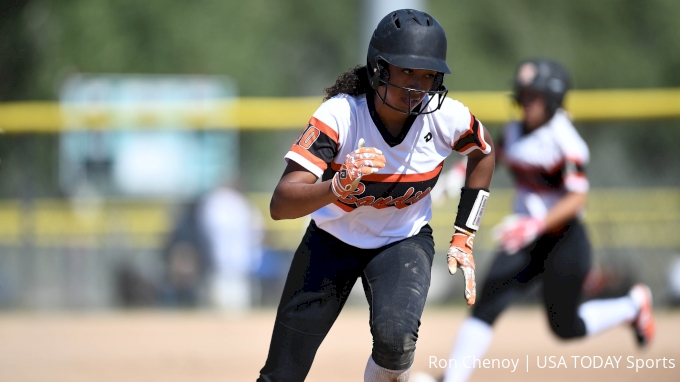 "Our outfield is insanely good," Tyrell said. "I've never coached an outfield like this on the Bandits and I've been with Bill (Conroy) for 10 years."
Texas Bombers Gold, Impact Gold-Jackson and Texas Glory-Shelton appear to be the top contenders coming out of Texas. The Bombers have a blend of youth --- Texas State-commit Jessica Mullins and McNeese State-commit Ashley Vallejo, who helped the Bombers to a third-place finish at last year's PGF 16U Premier Nationals --- and veterans --- Texas A&M-bound Ashley Daughtery and LSU-bound Taylor Edwards --- in the circle to go along with an offense that features PGF All-American Chloe Cobb, a Texas Tech signee.
Impact Gold, which is led by PGF All-American Jourdyn Campbell, a Texas A&M-bound IF, is another Texas team to keep an eye on.
Texas Glory's powerful lineup features LSU-commit Hayden Brown and Oklahoma-bound Rylie Boone along with a deep pitching staff.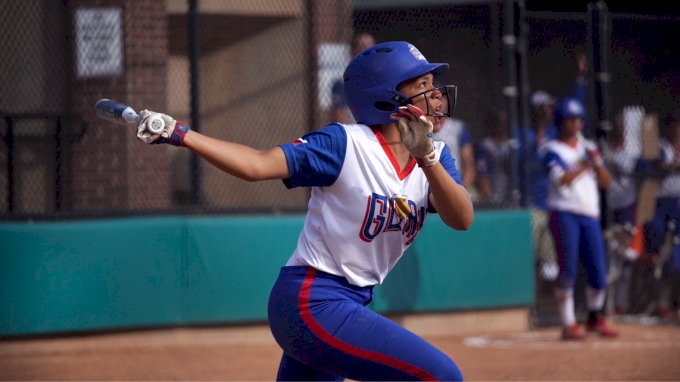 "What it takes for my team to be successful is for us to trust the hard (work) that we've put in over this summer and play together and for one another," Campbell said. "The qualities that make my team a good team is our versatility. We have speed, power, and great pitching."
Jersey Intensity-KOD looks like the East Coast's best hope for making a deep run. Jersey Intensity, which placed fifth at PGF Nationals last year, will be without injured Notre Dame-bound P Alex McManus and Stanford-bound P Alana Vowter (fractured finger) is questionable, but Liberty-bound Karlie Keeney and Notre Dame-commit Molly Carney have been solid in the circle for Intensity this summer. The Intensity also has a loaded offense, led by Notre Dame-bound 3B Joley Mitchell.
"We need to, most of all, believe in ourselves," said Mitchell, the Gatorade Arkansas Player of the Year.
"We are a great hitting team with a great pitching staff and a solid nine in the field. I have no doubt that our team is capable of winning a national championship. We have a great team chemistry and know how to play the game. I can't wait to see how well we do at PGF."
So Cal Athletics-Richardson, which won PGF National titles from 2010-2013, California Cruisers-Sievers, which features Gatorade Utah Player of the Year Huntyr Ava, a BYU-bound C/IF, So Cal Choppers-Fausett, which lists Arizona-commit Jessie Fontes in the circle, and Firecrackers-Brashear, which has BYU-bound OF Megan Delgadillo, are also tough, upset-minded So Cal teams that are always capable of making noise at PGF Nationals.
"I think we'll be going into PGF looking pretty good," said So Cal A's OF Ciara Briggs, a PGF All-American signed to LSU.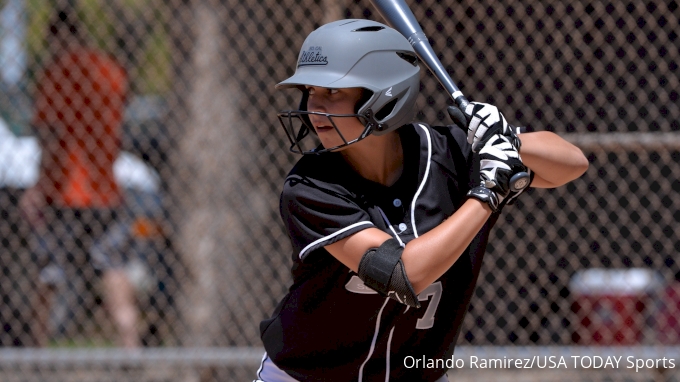 "We have been improving each weekend and I think we'll be pretty solid going into it. I think we just need to keep our bats hot and have a solid defense to back up our pitcher in order for us to stay successful. Doing the small things right and competing the entire game will also help us make a deep run in the tournament."
---
PGF NATIONAL CHAMPIONSHIP LINEAGE
2018 PGF NATIONALS
PGF HIGH SCHOOL ALL-AMERICAN GAME: West 4, East 2 (West leads the all-time series, 2-1)
18U PREMIER: Georgia Impact-Lewis 6, OC Batbusters-Stith 4
18U PLATINUM: Firecrackers North-Thomas 7, USA Athletics Gold 0
16U PREMIER: Birmingham Thunderbolts-Dorsett 4, Athletics-Mercado 1
16U PLATINUM: Tampa Mustangs-Walford 5, Breakers Labs Blue 2
14U PREMIER: Corona Angels-Tyson 9, Sorcerer-Schroll 2
14U PLATINUM: Northwest Bullets-Rice 7, OC Batbusters-Garcia 1
12U PREMIER: Tennessee Mojo-Danley 1, Diamond Sports Hotshots-Jones 0
12U PLATINUM: Cal Cruisers-Caouette 5, OC Batbusters-Garcia 4
10U PREMIER: Impact Gold National-Smith 7, Beverly Bandits-Trackwell 3
2017 PGF NATIONALS
PGF HIGH SCHOOL ALL-AMERICAN GAME: East 7, West 4
18U PREMIER: Beverly Bandits-Conroy 2, Corona Angels-Tyson 0
18U PLATINUM: Salinas Storm-Heen 5, Batbusters-Gomes/Clark 4
16U PREMIER: Beverly Bandits-Ketelhut 10, Athletics-Mercado/Smith 1
16U PLATINUM: Firecrackers UT-Rollin 7, Birmingham Thunderbolts-01 4
14U PREMIER: Texas Dirt Divas 4, OC Batbusters-Campbell-03 3
14U PLATINUM: Firecrackers-Brashear/Oakes 8, Birmingham Thunderbolts-2003 1
12U PREMIER: Diamond Sports Hotshots Gold 5, Georgia Impact-Langston 1
10U PREMIER: Fury-2024 12, Birmingham Thunderbolts-06 5
2016 PGF NATIONALS
PGF HIGH SCHOOL ALL-AMERICAN GAME: West 2, East 0
18U PREMIER: Firecrackers-Rico 2, California Cruisers-Sievers 0
18U PLATINUM: Iowa Premier 2, USA Athletics Gold 0
16U PREMIER: Beverly Bandits-Conroy 3, South Dakota Renegades 2
16U PLATINUM: Firecrackers-Brashear 3, Midwest Speed 2
14U PREMIER: So Cal Athletics-Mercado/Smith 6, Corona Angels-Tyson 0
14U PLATINUM: Grapettes-Guevara 2, Birmingham Thunderbolts-Dorsett 0
12U PREMIER: Texas Sudden Impact 6, Texas Impact Gold-Esparza 1
10U PREMIER: Tennessee Mojo-2023 11, Intensity South TX 3
2015 PGF NATIONALS
18U PREMIER: OC Batbusters-Stith/Haning 7, So Cal Athletics-Richardson 0
18U PLATINUM: Firecrackers-Pasco 3, Iowa Premier Gold 2
16U PREMIER: Tampa Mustangs-TJ 1, Beverly Bandits/Team DeMarini 0
16U PLATINUM: Sparks Premier 5, KC Peppers-Clinton 3
14U PREMIER: OC Batbusters-Campbell 7, Georgia Impact-Lewis 4
14U PLATINUM: Cal Nuggets Gold 6, Nor Cal Dirt Dogs-Ybarra 4
12U PREMIER: OC Batbusters-Mascarenas 2, So Cal Choppers 02-Gibson 1
10U PREMIER: Diamond Sports Hotshots Gold 8, Texas Chaos 5
2014 PGF NATIONALS
18U PREMIER: OC Batbusters-Stith/Haning 3, Corona Angels-Tyson 0
18U PLATINUM: OC Batbusters-Briggs 5, Illinois Stars 0
16U PREMIER: So Cal Athletics-Myers/McNee 2, Beverly Bandits-Tyrrell 1
16U PLATINUM: California Cruisers-Evans 11, OC Batbusters-Alvarez 3
14U PREMIER: Corona Angels-Tyson 7, So Cal Athletics-Quarles 1
14U PLATINUM: Courage-Weaver 9, Cal Cruisers-Sievers 1
12U PREMIER: So Cal Athletics-Mercado 4, DirecTV Genies 3
2013 PGF NATIONALS
18U PREMIER: So Cal Athletics-Richardson 3, Team Mizuno-Stith 2
18U PLATINUM: Strike Force-Guerra 10, Central California Dirt Dogs 0
16U PREMIER: Beverly Bandits-Tyrrell 2, OC Batbusters-Myers 0
14U PREMIER: Team Mizuno-Campbell 5, OC Batbusters-McNee 4
12U PREMIER: So Cal Athletics-Tidd/Ornelas 9, AZ Suncats 0
2012 PGF NATIONALS
18U PREMIER: So Cal Athletics-Richardson 5, Worth Firecrackers 4
16U PREMIER: Team Mizuno-Stith 5, Corona Angels-Knighten 1
14U PREMIER: Atlanta Vipers 3, So Cal Athletics-Marinacci 2
12U PREMIER: Firecrackers-Quarles 8, Firecrackers-Roman 2
2011 PGF NATIONALS
18U PREMIER: So Cal Athletics-Richardson 8, Worth Firecrackers 7
16U PREMIER: Firecrackers-Blanco 5, Texas Glory-Naudin 0
14U PREMIER: OC Batbusters-McNee 3, Corona Angels-Knighten 0
2010 PGF NATIONALS
18U PREMIER: So Ca Athletics-Richardson 4, Texas Impact Gold 2
16U PREMIER: OC Batbusters-Myers 6, Corona Angels-Howard 4

(Note: Send news tips, stats or story ideas to Carlos Arias via text at 949-606-3602, Twitter @SoCalSidelines or email at punchymcgee@gmail.com)