2019 16U PGF Premier Nationals
What To Watch For At 2019 PGF 16U Premier Nationals
What To Watch For At 2019 PGF 16U Premier Nationals
The 16U PGF Premier bill is the best we've seen in years. Will the title be reclaimed by the South?
Jul 20, 2019
by Carlos Arias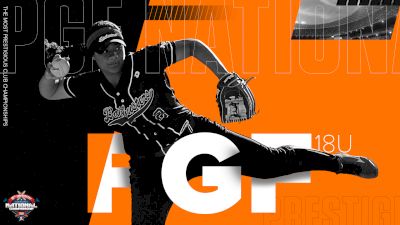 If you are a softball fan, you are going to hear a lot about the Athletics-Mercado organization in the next two weeks during the PGF Premier Nationals.
[polldaddy]=10367981
After winning three titles and reaching the finals in the fourth at Boulder IDT in Colorado earlier this month, Athletics-Mercado has shown it will field strong teams in every age group at the Nationals.
Athletics-Mercado/Greg will take center stage at the PGF 16U Premier Nationals July 22-27.
Greg Borzilleri's Athletics squad relies on a talented group of right-handed pitchers that features Stevie Hansen, Emily Levitt, and Devyn Greer.
"When my kids are on, they are unhittable," said Borzilleri, whose team took the Boulder IDT 16U title. "They mowed through Boulder."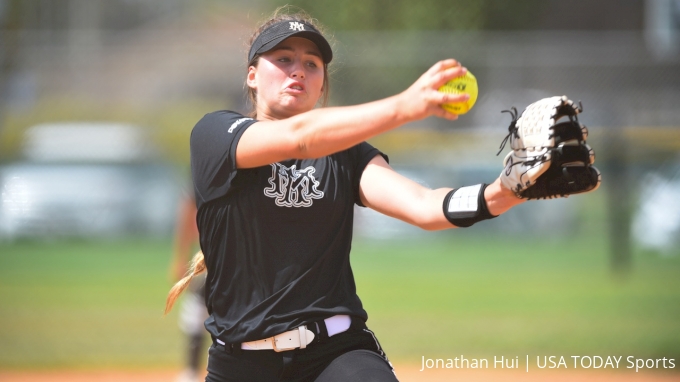 Tennessee-committed 3B/OF McKenna Gibson, UCLA-committed UT/OF Ramsey Suarez and Arkansas-committed UT/OF Kiki Estrada provide the pop for the Athletics and other solid hitters include OF Dallas Andrews, MIF Bella Flexen, UT Angela Ramos, and UT Kelly Breen.
"We're going to be in the mix," Borzilleri said. "This team struggled scoring runs early on, but we hit our stride in Colorado. We're going to be in every game. It's if the softball gods are with us."
Once again, as in 18U Premier, the talent comes from all over the country in 16U Premier.
"I think there are quite a few teams this year that could get hot and make a deep run," Tulsa Elite OKC-Walde coach Brian Walde said. "Some of the ones we have played or watched this year that I would keep an eye on are Athletics-Mercado/Greg, Aces (Fastpitch), Iowa Premier (Gold), EC Bullets-Biele/Heath, Tulsa Elite OKC-Wells, Lady Magic, and Oklahoma Athletics Premier. I'm sure there are many more we haven't seen, but I guarantee nobody wants to see these guys first round."
There appears to be a vast amount of potential contenders.
"16s is really deep this year. Hotshots, Batbusters, Mercado, Vipers ...the list goes on and on. You have to play well and sometimes you need a little luck too. All I know (is) if we play our best, we'll be a tough out."
- Andrew Biele, EC Bullets Head Coach
The Birmingham Thunderbolts are the reigning PGF 16U Premier National champion and the Bolts have two teams qualified and going after a national title this year. Jay Roberson's Bolts are all about pitching with a crew that features Alabama-commit Jaala Torrence, who has excellent velocity, Kentucky-commit Stephanie Schoonover, a gritty competitor that spins it well, uncommitted Annabelle Widra, a strikeout pitcher, and Virginia-commit Madison Harris, a 6-foot-2 flame thrower.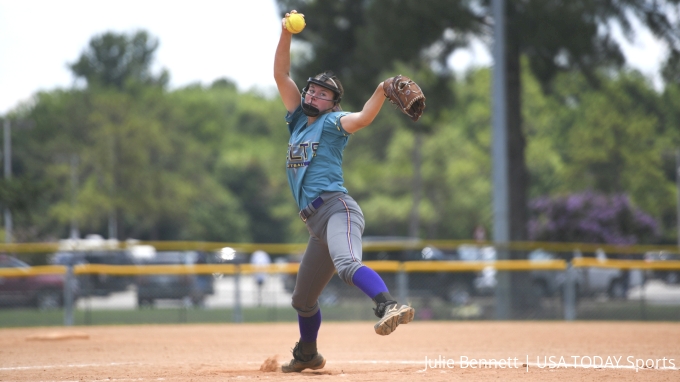 Auburn-commit Aubrie Lisenby, a spray hitter, LSU-commit KK Madry, who is very fast and leads the team in doubles, Boston College-commit Kam Warman, who averages a homer every 5.8 at-bats, and Washington-commit Lilly Agan, who has an excellent on-base percentage, power the offense.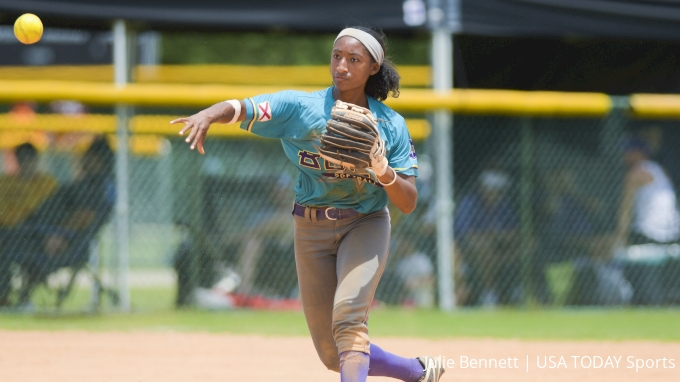 "We have played up in 18U all summer to prepare for PGF," Roberson said. "We have a deep pitching staff and great defense. On the offensive side, we have had a few weekends where we left too man runners stranded. Getting key hits in key situations will decide how we finish at PGF."
The Thunderbolts aren't the only team coming out of the Southeast with their eyes set on a national title. EC Bullets-Biele/Heath, GA Firecrackers-Sewell, Tennessee Mojo-Lewis, and Tampa Mustangs-Maguire are looking to make some noise.
Biele's Bullets head into PGF with a lot of momentum after capturing the TC/USA National Championship last this past week. The Bullets have a loaded pitching staff with Lexie Delbrey, 6-foot-2 RHP Kinsey Norton, 6-foot RHP Shannon Becker, southpaw Kylie Ferguson and rightie Maddie Latta, plus they have two power-hitting elite catchers with Hannah Church and Olivia Cook.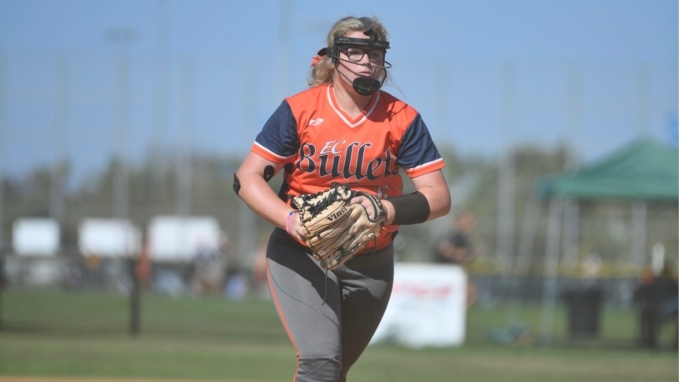 "There are no holes," Biele said of his Bullets, "and they are battle-tested."
Kyle Sewell's Firecrackers return key players off of last year's squad that finished in third place at PGF 16U Premier Nationals, with the addition of some big-time pickups. The Firecrackers return last year's ace Britton Rogers, a Georgia commit who throws in the mid-60s with a nasty offspeed pitch, and Northwestern Louisiana-committed 6-foot-1 Maggie Darr, who throws in the mid-60s.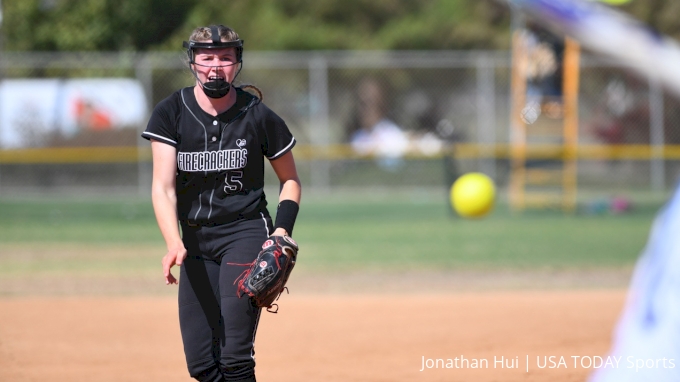 Offensively, the Firecrackers have Michigan State-commit Camryn Wincher, who has been on fire all summer, Duke-commit Leslie Cochran, who has power to all fields, and Michigan State-commit Zaquai "Q" Dumas, who is batting .525 with 10 homers this summer.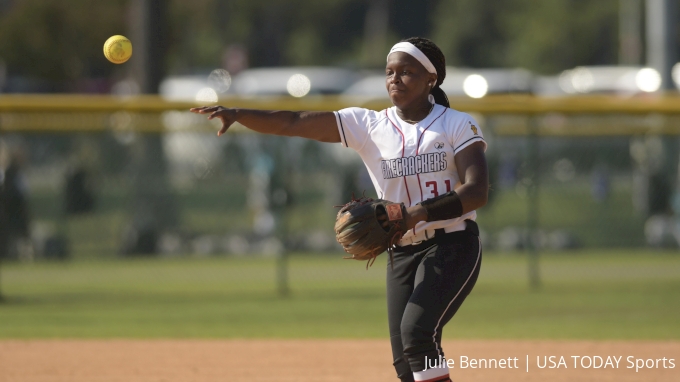 With Georgia Southern-commit Anna Feil out with an injury, the Mojo will rely on Middle Tennessee State-commit Danielle Taitt, Tennessee State-commit Francys King, southpaw Kaitlyn "KK" Hughes and Charity Bibbs in the circle. The Mojo possess power, up and down its lineup, launching 98 homers heading into PGF. Middle Tennessee State-commit Amaya Harris, Auburn-commit Denver Bryant, Taitt, and Auburn-commit Jessie Blaine have been providing the firepower.
"The kids have trained physically and mentally for this stage and I think there will be some nerves going in, so it will be important for us to relax and play our game," Mojo coach Brittany Lewis said. "My kids are competitors. They love to compete, they hate to lose and we keep fun at the forefront. If I can keep them relaxed and focused, we will be fine. To be successful and make a deep run, we are going to have to be consistent on the mound. I believe we have the lineup to compete with anyone in the nation along with a defense that is hard to come by. It is going to come down to my pitchers producing, making hitters hit their pitches early in counts, and us being efficient while on defense."
2018 PGF Platinum Champs Tampa Mustangs Maguire list a plethora of commits. IF/OF Krystina Hartley, C/3B Katie Bright and MIF/UT Brooke Blankenship are all committed to Florida State and P/1B Madison Droz, IF/OF Marina Rao and 1B/3B Destiny DeHoyos are all committed to Central Florida, giving the Tampa Mustangs a solid group that is used to playing at the highest levels.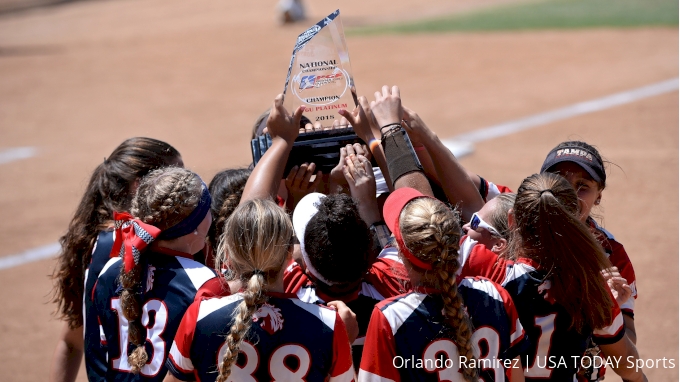 The Beverly Bandits organization has had a lot of success in 16U Premier, reaching the finals five times and winning two national championships. The Bandits will have four teams going after the 16U Premier national title have a good shot at another title with four teams qualified for nationals, including Bill Conroy's Bandits, who last won a national title in 2016. Conroy's Bandits are well-balanced on offense with a lot of team speed and they utilize three pitchers, led by Illinois-commit Regan Krause, to give opposing teams multiple looks.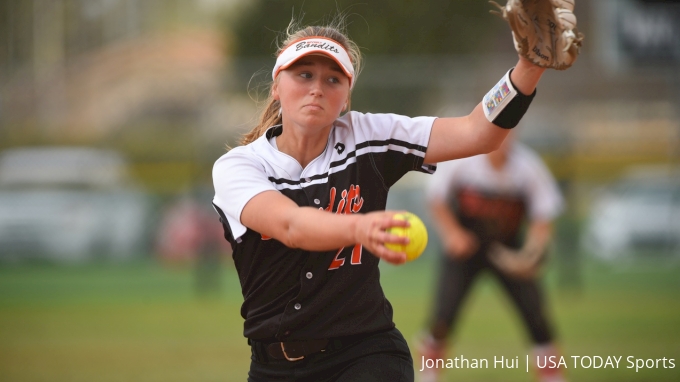 Ryan Taylor's Aces Fastpitch Club (formerly DeMarini Aces) placed fifth at PGF last year and have the potential to make a deep run with pitching from Oklahoma State-committed Tatum Clopton, a great up-ball pitcher, Florida State-committed Katie Brooks, a heavy drop and offspeed pitcher, and hard-throwing Olivia Bruno. Hannah Camenzind, Kara Daly and Olivia Bruno provide a ton of offense for the Aces.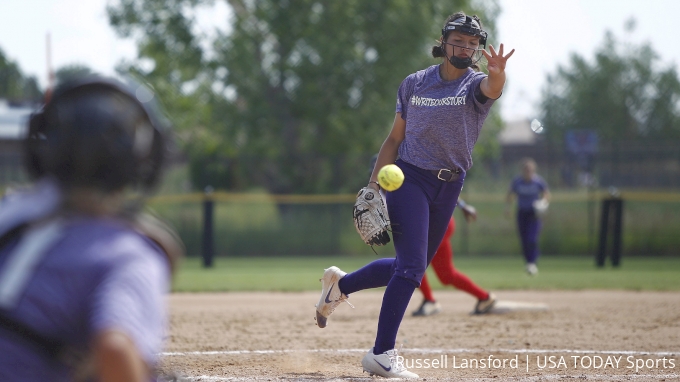 "I think we are in that top 10-15 mix (and) play will dictate the rest," Taylor said.
"I think when you play in a quality event like PGF several teams are on an even playing field (and) it's who puts it together. It all starts in the circle for us to make a run. We will need Tatum Clopton, Katie Brooks, and Olivia Bruno all to pitch like aces this week."
Iowa Premier Gold is another team capable of surprising teams. Iowa Premier knocked off EC Bullets-Biele/Heath and Firecrackers-Brashear to get to the semifinals at Colorado Fireworks and it was the runner-up at the Oklahoma Athletics Invitational.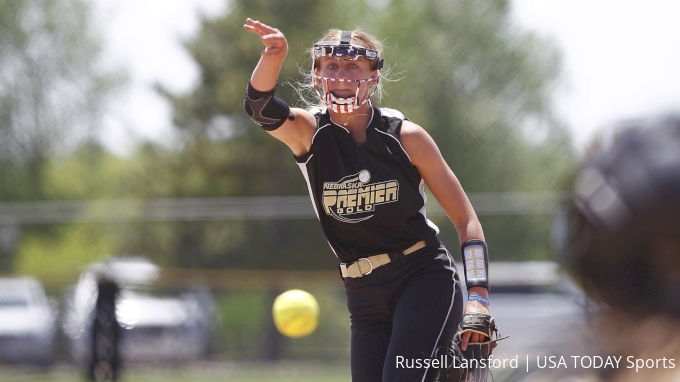 Iowa's pitching is led by RHP Jordyn Bahl, who throws in the mid-to-upper-60s and has attracted Power Five interest, and RHP Josey Marron, who throws in the low-mid 60s with a low-mid-high riseball along with a consistent drop ball. The offense features Bahl, C/3B/1B Brooke Dumont, 2B/SS/OF Mia Jaraeki, 3B/MIF Avery Carnahan, C/3B Chloe Woldruff and MIF Margaret Tobias.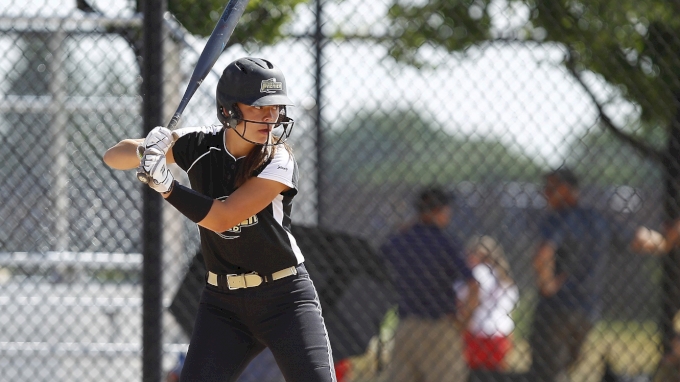 IG Gold-Jazz has a high-powered offense that features speedy Texas A&M-committed SS/UT Kaydeun "Koko" Wooley, uncommitted power-hitting C Olivia Johnson, Texas-committed C/1B Allie Clements, who leads the team in RBIs, uncommitted 2B/SS/3B Brooke Lorenzo, Texas A&M-committed 1B/UT Bri Ellis, a feared power hitter and dynamic UCLA-committed OF Lauren Hatch. Uncommitted southpaw Allison Cooper and uncommitted RHP Hannah Benavides have stepped up in the circle for IG Gold.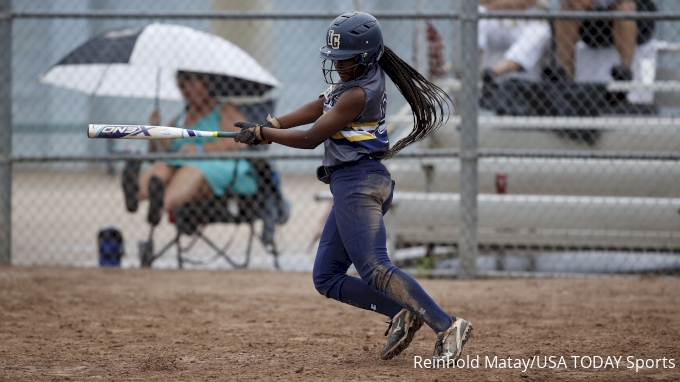 "I think our team is looking really strong and I expect a deep run this PGF," IG Gold coach Jazz Vesely said. "This team is not only talented, but their team chemistry is their real strength. We played a local round-robin last weekend against some of the top 16U teams and I liked how we competed."
Texas has some serious firepower with Texas Bombers Gold-Jones, Diamond Sports Hotshots-Falterman, Diamond Sports Hotshots Premier-Duzemich, Diamond Sports Hotshots Premier-Shaw, Impact Gold-Jazz and Impact Gold National-Rodriguez heading to PGF.
The Bombers, who took third place at last year's PGF 16U Premier Nationals, are battled-tested after fifth-place finishes at both the USA Elite Select World Fastpitch Championships and Boulder IDT.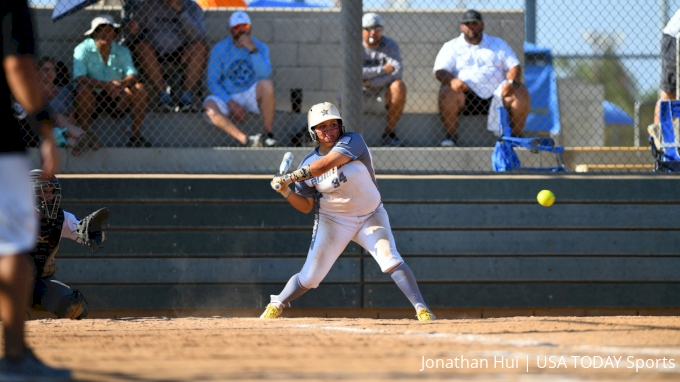 The Bombers have an outstanding trio of uncommitted right-handed pitchers with Grace Sparks, Sophia Simpson, and Presley Glende. With Oklahoma-committed speedy slapper Avery Hodge and Ole Miss-commit Ashley LaRue getting things started, followed by power-hitting Aaliyah Ortiz, a McNeese State commit, and Oklahoma State-commit Maggie Herdejurgen leading the way on offense, the Bombers will be hard to stop.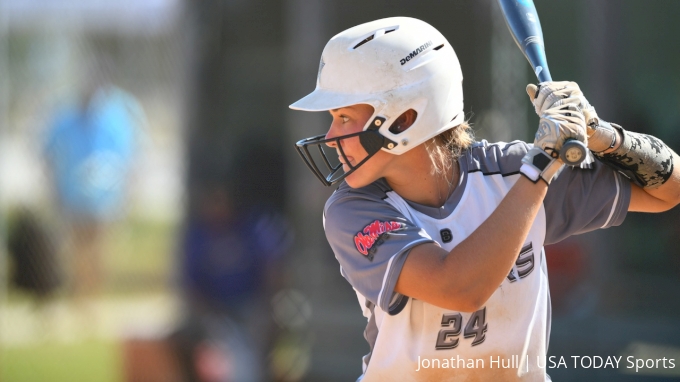 DS Hotshots-Falterman has relied on Texas Tech-committed right-hander Erna Carlin, who throws hard with good movement and spin, and Louisiana-committed rightie Sam Landry, who has consistently been clocked in the 63-65 mph range this summer. The Hotshots offense features Louisiana-committed slapper Kayla Falterman, Louisiana-committed power hitter Sam Graeter, LSU-committed bomber Abigail Savoy and hard-hitting Madelyn Lopez.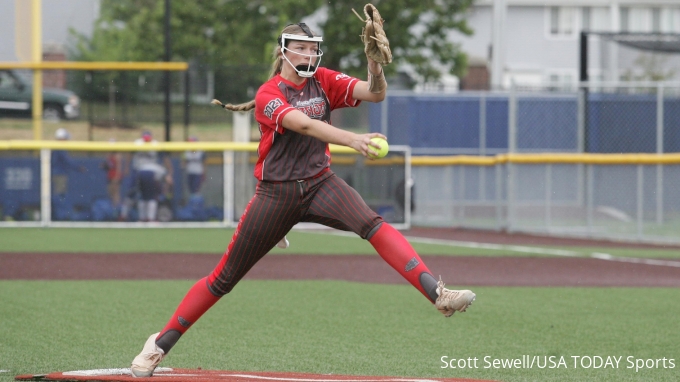 "We are built on pitching and defense," DS Hotshots coach Troy Falterman said. "We will need to pitch well to make a successful run at PGF...Our team ERA this summer has been sub-1.50, so we will need to continue to pitch and play defense at that level to be successful."
DS Hotshots Premier-Dumezich experienced success playing up at 18U for most of the summer, including a fifth-place finish at the USA Select World Championships this past week where they went 7-2 with their only losses coming against Texas Glory-Shelton and eventual-champion OC Batbusters-Stith.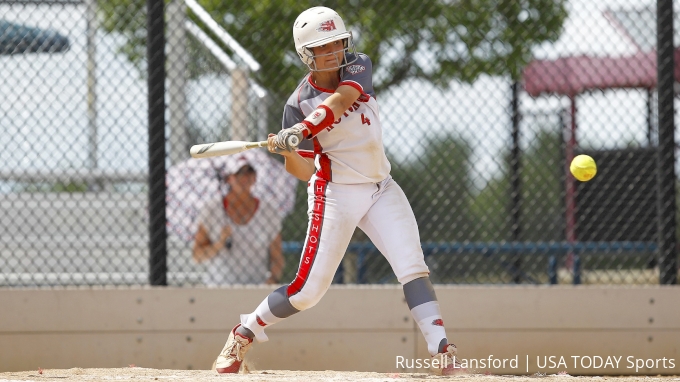 DS Hotshots Premier-Shaw are led by RHP/1B Brailey Wasik, a power-hitting, power-pitcher committed to Sam Houston State.
Impact Gold National-Rodriguez has a solid pitching staff with righties Haila Linton and Haley Parker and the offense, led by C/3B/OF Emma Robertson, C/3B/OF Maya Mongelli and P/3B Kamden Hutton, is a line-drive hitting team with some pop (combined 22 homers this summer).
"We feel our team has had a successful season thus far as a first-year 16U team, tied for ninth at the (Boulder) IDT tournament and finished second in an 18U tournament last weekend," Brianna Rodriguez said of her Impact Gold team.
"Going into PGF, we are all excited and looking forward to the week. For us to be successful this week, we need to play our game. We do not have the biggest girls, but as long as our hitters hit all around, we will be successful."
As usual, So Cal will be well-represented at the PGF 16U Premier Nationals. OC Batbusters-Stith looks like a real contender, especially with power-pitcher Olivia Gigante, a Hot 100 2022 prospect, in the circle. Don't sleep on Cal Breeze Birch who took the Colorado Fireworks Power Pool 16U Championship beating Hotshots Dumezich to clinch the title.
The Corona Angels qualified three teams for PGF, led by Kim Howard's Angels. Syracuse-committed RHP Jolie Gustave and New Mexico-committed RHP Talia Hannappel have the Corona Angels all season in the circle. The Angels strong bats are Kentucky-commit Meeko Harrison, DePaul-commit Kyleigh Sand and Texas-commit Bailey Williams from the Class of 2020 and uncommitted 2021 Kendall Angulo, Eliana Gottlieb, and Natalie Marshall have also been solid.
"We're coming off a third-place showing at (Boulder) IDT and the team's cohesiveness is strong," Howard said. "A deep run needs active bats throughout the lineup, girls stepping up in key situations and contributions from the whole team."
Never underestimate Firecrackers-Brashear, which has some serious pitching with Fresno State-committed right-hander Cassidy West, who is in the mid-60s with a great change-up, RHP power pitcher Brooklyn Carreon and Piper Reed, a 6-foot-4 RHP. Brashear's offense features Maryland-committed slapper Merissa Borkowski, athletic 1B/OF Brooklyn Carter, C/3B power hitter Liliana Thomas, SS/OF slapper Amari Harper, OF Corissa Sweet and 2B/OF slapper Bella Espinoza.
So Cal Choppers-Fausett are always tough and they have Wisconsin-committed P Ava Justman.
---
PGF NATIONAL CHAMPIONSHIP LINEAGE
2018 PGF NATIONALS
PGF HIGH SCHOOL ALL-AMERICAN GAME: West 4, East 2 (West leads the all-time series, 2-1)
18U PREMIER: Georgia Impact-Lewis 6, OC Batbusters-Stith 4
18U PLATINUM: Firecrackers North-Thomas 7, USA Athletics Gold 0
16U PREMIER: Birmingham Thunderbolts-Dorsett 4, Athletics-Mercado 1
16U PLATINUM: Tampa Mustangs-Walford 5, Breakers Labs Blue 2
14U PREMIER: Corona Angels-Tyson 9, Sorcerer-Schroll 2
14U PLATINUM: Northwest Bullets-Rice 7, OC Batbusters-Garcia 1
12U PREMIER: Tennessee Mojo-Danley 1, Diamond Sports Hotshots-Jones 0
12U PLATINUM: Cal Cruisers-Caouette 5, OC Batbusters-Garcia 4
10U PREMIER: Impact Gold National-Smith 7, Beverly Bandits-Trackwell 3
2017 PGF NATIONALS
PGF HIGH SCHOOL ALL-AMERICAN GAME: East 7, West 4
18U PREMIER: Beverly Bandits-Conroy 2, Corona Angels-Tyson 0
18U PLATINUM: Salinas Storm-Heen 5, Batbusters-Gomes/Clark 4
16U PREMIER: Beverly Bandits-Ketelhut 10, Athletics-Mercado/Smith 1
16U PLATINUM: Firecrackers UT-Rollin 7, Birmingham Thunderbolts-01 4
14U PREMIER: Texas Dirt Divas 4, OC Batbusters-Campbell-03 3
14U PLATINUM: Firecrackers-Brashear/Oakes 8, Birmingham Thunderbolts-2003 1
12U PREMIER: Diamond Sports Hotshots Gold 5, Georgia Impact-Langston 1
10U PREMIER: Fury-2024 12, Birmingham Thunderbolts-06 5
2016 PGF NATIONALS
PGF HIGH SCHOOL ALL-AMERICAN GAME: West 2, East 0
18U PREMIER: Firecrackers-Rico 2, California Cruisers-Sievers 0
18U PLATINUM: Iowa Premier 2, USA Athletics Gold 0
16U PREMIER: Beverly Bandits-Conroy 3, South Dakota Renegades 2
16U PLATINUM: Firecrackers-Brashear 3, Midwest Speed 2
14U PREMIER: So Cal Athletics-Mercado/Smith 6, Corona Angels-Tyson 0
14U PLATINUM: Grapettes-Guevara 2, Birmingham Thunderbolts-Dorsett 0
12U PREMIER: Texas Sudden Impact 6, Texas Impact Gold-Esparza 1
10U PREMIER: Tennessee Mojo-2023 11, Intensity South TX 3
2015 PGF NATIONALS
18U PREMIER: OC Batbusters-Stith/Haning 7, So Cal Athletics-Richardson 0
18U PLATINUM: Firecrackers-Pasco 3, Iowa Premier Gold 2
16U PREMIER: Tampa Mustangs-TJ 1, Beverly Bandits/Team DeMarini 0
16U PLATINUM: Sparks Premier 5, KC Peppers-Clinton 3
14U PREMIER: OC Batbusters-Campbell 7, Georgia Impact-Lewis 4
14U PLATINUM: Cal Nuggets Gold 6, Nor Cal Dirt Dogs-Ybarra 4
12U PREMIER: OC Batbusters-Mascarenas 2, So Cal Choppers 02-Gibson 1
10U PREMIER: Diamond Sports Hotshots Gold 8, Texas Chaos 5
2014 PGF NATIONALS
18U PREMIER: OC Batbusters-Stith/Haning 3, Corona Angels-Tyson 0
18U PLATINUM: OC Batbusters-Briggs 5, Illinois Stars 0
16U PREMIER: So Cal Athletics-Myers/McNee 2, Beverly Bandits-Tyrrell 1
16U PLATINUM: California Cruisers-Evans 11, OC Batbusters-Alvarez 3
14U PREMIER: Corona Angels-Tyson 7, So Cal Athletics-Quarles 1
14U PLATINUM: Courage-Weaver 9, Cal Cruisers-Sievers 1
12U PREMIER: So Cal Athletics-Mercado 4, DirecTV Genies 3
2013 PGF NATIONALS
18U PREMIER: So Cal Athletics-Richardson 3, Team Mizuno-Stith 2
18U PLATINUM: Strike Force-Guerra 10, Central California Dirt Dogs 0
16U PREMIER: Beverly Bandits-Tyrrell 2, OC Batbusters-Myers 0
14U PREMIER: Team Mizuno-Campbell 5, OC Batbusters-McNee 4
12U PREMIER: So Cal Athletics-Tidd/Ornelas 9, AZ Suncats 0
2012 PGF NATIONALS
18U PREMIER: So Cal Athletics-Richardson 5, Worth Firecrackers 4
16U PREMIER: Team Mizuno-Stith 5, Corona Angels-Knighten 1
14U PREMIER: Atlanta Vipers 3, So Cal Athletics-Marinacci 2
12U PREMIER: Firecrackers-Quarles 8, Firecrackers-Roman 2
2011 PGF NATIONALS
18U PREMIER: So Cal Athletics-Richardson 8, Worth Firecrackers 7
16U PREMIER: Firecrackers-Blanco 5, Texas Glory-Naudin 0
14U PREMIER: OC Batbusters-McNee 3, Corona Angels-Knighten 0
2010 PGF NATIONALS
18U PREMIER: So Ca Athletics-Richardson 4, Texas Impact Gold 2
16U PREMIER: OC Batbusters-Myers 6, Corona Angels-Howard 4

(Note: Send news tips, stats or story ideas to Carlos Arias via text at 949-606-3602, Twitter @SoCalSidelines or email at punchymcgee@gmail.com)