2019 16U PGF Premier Nationals
Upset Central In Opening Round Of 16U PGF Premier Nationals Play
Upset Central In Opening Round Of 16U PGF Premier Nationals Play
EC Bullets Biele/Heath, Atlanta Vipers Holbrook, Bandits - Moran, and more move into the loser's bracket at 16U PGF Premier Nationals.
Jul 23, 2019
by Manny Alvarez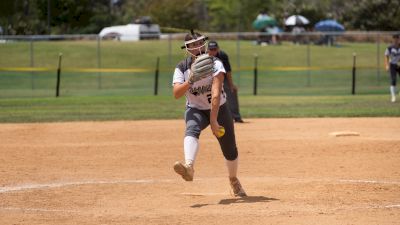 Seven scattered hits off of Wisconsin-commit Ava Justman wasn't enough for EC Bullets - Biele/Heath who dropped their opening game at PGF 16U Premier Nationals to So Cal Choppers - Fausett 3-0.
It was three costly mistakes on the basepaths that prevented the Bullets from crossing home plate.
Along with two other errors, Justman cruised to a complete game shutout to lead So Cal Choppers-Fausett to a victory over the EC Bullets on Monday morning at the Fountain Valley Sports Complex in Fountain Valley, Calif.
Justman struck out five, while only walking one in a pitchers duel against Lexie Delbrey, who struck out six batters on four hits and two earned runs in a complete game over the EC Bullets.
"The key was in the circle," Choppers coach Nichole Pinedo said. "She maintained her composure the entire game. She got a bit shaky in the end, but she has been through that situation before and she knew she had to bulldog and get out of it. Our team did great all around. We had great energy in the dugout, we did our job on the field, we moved runners and we got the key hits when we needed to. They are a great team and they don't make mistakes, so we took advantage of their mistakes."
The Bullets jumped on Justman in the first inning with runners in scoring position and one out for Kam Caldwell. Caldwell grounded out to short for the second out, but McKenzie Nicholson wandered too far off from second base and got caught in a pickle. Madilyn Giglio ended up getting tagged out at home during the rundown for the double play, getting Justman out of trouble.
"That was huge," Justman said. "I missed some of my spots with deep fly balls, but that play at home was a lifesaver."
The Choppers offense would respond in the second inning thanks to a double from Kyara Escobar that sent Mia Franco home for the games first run.
Escobar wasn't done yet.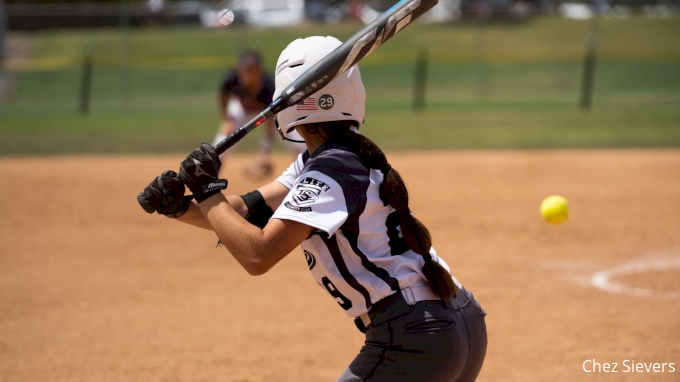 Following a sacrifice ground out from Alli Ha that sent Allie Enright home, Escobar singled to left field, scoring Jaz Welch to make it 3-0.
"Before I came up, I saw a lot of my teammates take first-pitch strikes," Escobar said. "I took advantage, swung on the first pitch and came through."
Justman would take care of the rest and the ones she didn't take care of took care of themselves.
In the fourth inning, Bullets catcher Hannah Church hit a shallow routine fly ball to right field, but the ball was dropped and picked up, however, Church rounded first base and was out in a rundown.
In the sixth inning following a single by Giglio, Nicholson flew out to left field, but Giglio didn't notice the fly ball was caught and continued running to second and then third. She was doubled up at first base.
The Bullets loaded the bases in the seventh inning, but the runners were left stranded to end the game.
"We made five mistakes that cost us the ball game," Bullets coach Andrew Biele said. "You take away those mistakes, we win the game, but that's the way it goes. It happens. Now we just have to put that in our back pockets and get ready for the rest of this tournament. It is going to be a long tournament like it was last year."
Avery Fantucci went 2 for 3 for the Bullets, who return to Fountain Valley on Wednesday against CCA Augustine, which lost to Illinois Chill Gold, at 10:15 a.m. and will hope to play a second game later that day.
"We have to keep the same mentality," Justman said. "We have to take it game by game. We want to win and we want to be here. As long as we are loud and aggressive, then I think we got this."
In other PGF 16U Premier games;
ACES Ashley 2, Atlanta Vipers-Halbrook 0
Kylie Chung and Aleah Volantis each hit solo homers and that was all Utah-committed pitcher Alicia Estrada needed to get the complete-game shutout in an upset victory over the Atlanta Vipers.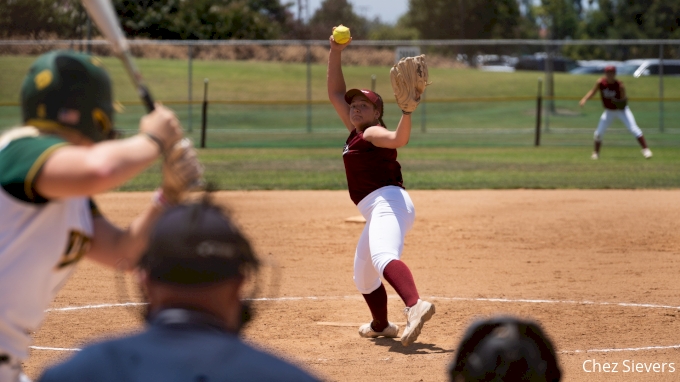 Estrada stuck out 10 while giving up five hits and two walks for ACES-Ashley.
"I hit my spots," Estrada said. "I worked on that while keeping a good and positive energy and supporting my team. I just pitched my best for them."
South Carolina-commit Skylar Trahan struck out six batters in three innings for the Vipers while Georgia-commit Madison Kerpics also stuck out six in four innings. Both pitchers combined for a three-hitter.
The Vipers take on Beverly Bandits-Moran, which lost 4-2 to Aces Express, on Tuesday at 8 a.m.
Volantis went 2 for 2 for the ACES as they take on the winner of the Aces Express and Carolina Cardinals on Tuesday at 2:45 p.m.
"Everything is razor-thin at this level," ACES coach John Ashley said. "There is no pushover. Every game is a grind. You have to finish when you have the opportunity to finish and they put pressure on us late in the game. Tip your cap to Alicia, she did her thing. It's just the beginning of a long journey."
Fury Platinum-Higdon 9, USA Athletics Gold RMS 7
Emma Minghini hit a three-run double in the sixth inning to lead Fury to a comeback victory over USA Athletics.
It was Minghini's only hit, but she also walked three times. Savannah Ricketts went 2 for 4 with two doubles and two RBI and Kendal Pitts hit a two-run single in the fifth inning for Fury Platinum, which takes on OC Batbusters-Lara on Tuesday at 10:15 a.m. The winner takes on the Colorado Angels Gold, a 4-3 winner over the San Jose Sting-Perales, on Tuesday at 5 p.m.
"I thought we played very aggressive," Minghini said. "We played to win the whole game. We never let up and when we got down, our dugout got us fired up. It was an intense game, but we pulled through."
Katie Tan hit a three-run triple in the first inning while Miah Owens knocked in two runs with a fifth-inning double for USA Athletics, which take on San Jose Sting on Wednesday at 8 a.m.
Aces Fastpitch 3, Firecrackers-Hagberg 2
Tatum Clopton went 3 for 3 with two RBI and struck out 15 in a two-hit complete-game victory for the Aces.
Ava Bredwell went 2 for 3 with an RBI for the Aces as they take on the Beverly Bandits-Conroy on Tuesday at 10:15 a.m.
"Our hitting was big," Clopton said. "We came off the bat in the first inning, it was amazing. We got several hits and moved runners. That was important. Our defense, in the end, was phenomenal. I trust my defense with every part of me. I know when I go out there to pitch that they're behind me to do their best. That was big and all and all we all came together."
Emily Rush hit a seventh-inning solo home run, while Trisha McCleskey threw a complete game while striking out eight for the Firecrackers, which takes on the loser of So Cal Athletics-Jendro/Diamond Hot Shots Premier-Shaw on Wednesday at 10:15 a.m.
Illinois Chill Gold 6, CCA Augustine 0
Abby Dunning struck out 10 en route to a no-hitter for the Illinois Chill. Brooke Kuffel hit a solo home run, while Anna Wischnowski went 3 for 4 with a double and an RBI and Paige Berkmeyer went 2 for 4 with an RBI for the Chill.
Santa Fe Inferno-Humphrey 2, Tulsa Elite OKC-Wells 0
Jacksonville-commit Alissa Humphrey struck out 10 en route to a complete-game shutout victory for the Inferno.
Central Florida-commit Kennedy Searcy drove in the game's only runs in the first inning with a two-run single for the Inferno. Haley Provencal got the Inferno's other hit. The Inferno take on Firecrackers-Sewell on Tuesday at 10:15 a.m. with the winner playing Corona Angels-Slye later in the day.
Valerie Inghram went 2 for 4 with a double, while Caitlyn Wells hit a double for Tulsa Elite. Both Inghram and Wells are committed to Arkansas Tech. Tulsa Elite takes on Universal-Wells on Wednesday at 10:15 a.m.
Iowa Premier Gold 1, Texas Dirt Divas 0
Jordy Ball struck out 13 batters while hitting a triple to lead Iowa Premier to a two-hit complete-game shutout over the Dirt Divas.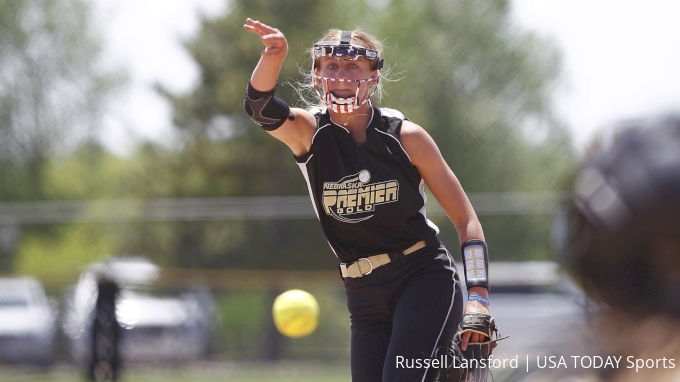 Margaret Tobias went 2 for 4 and Mya Dodge scored the game's only run in the fourth inning on a throwing error for Iowa Premier, which returns on Tuesday to take on Corona Angels-Howard at 8 a.m.
Ryliegh Bouvier hit a double, while Houston Baptist-commit Kaicey Hagler added the team's other hit. Louisiana Tech-commit Caleigh Millican struck out eight batters in a complete-game four-hitter for the Dirt Divas, which returns on Wednesday to take on the Beverly Bandits-Allen, a 5-3 loser to Lady Lightning Gold Elite, at 8 a.m.
Tampa Mustangs-Maguire 3, South Dakota Renegades Gold 2
Kayleigh Roper's sixth-inning RBI single was the difference as the Mustangs snuck past the Renegades.
Maddie Droz and Marina Rao each hit solo home runs and Kaitlyn Felton struck out seven for the complete-game victory for the Mustangs, who take on Impact Gold-Rodriguez on Tuesday at 10:15 a.m.
Abby Duchscherer went 2 for 4 with a two-run home run in the fifth inning for the Renegades, which takes on the loser of the Premier Fastpitch-Paulson/Texas Glory-Naudin game on Wednesday at 10:15 a.m.
Tennessee Fury-Sargent 7, Firecrackers-Lutterloh/King 4
Maddie Poschke went 2 for 3 with a three-run home run to lead Fury to victory.
Gia Martin went 3 for 3 with two RBI and Madisyn Eads threw a complete game to get the victory for the Fury, which takes on American Athletics-Peterson on Tuesday at 12:30 p.m. The winner advances to play another Tuesday game at 5:00 p.m.
Isabella Manory went 2 for 3 with a two-run home run and a two-run triple, while Emma Mendoza went 3 for 4 with a double for the Firecrackers, which faces the loser of the Corona Angels-Rogers/EC Bullets-Byers game on Wednesday at 10:15 a.m.
Scores
BRACKET A
PLAY-IN GAMES
Firecrackers-Brashear 3, New Lennox Lightning 0
Iowa Premier Gold 1, Texas Dirt Divas 0
Aces Express 4, Beverly Bandits-Moran 2
Diamond Sports Hotshots-Falterman 10, Athletics-Mercado 0
Beverly Bandits DeMarini 1, Suncats-Jimenez 0
Ohana Tigers-Quarles 3, Tulsa Elite-Walde 2
NorCal Firecrackers-Miller 7, Birmingham Thunderbolts 6
NW Bullets-Muir 6, West Bay Warriors 0
FIRST ROUND
Impact Gold-Jazz 10, NC Challengers 0
Lady Lightning Gold 5, Beverly Bandits-Allen 3
Aces-Ashley 2, Atlanta Vipers 0
Tennessee Mojo-Lewis 3, Explosion-Flores 0
Cal Nuggets 2, Jersey Intensity 1
Texas Bombers 6, LTG Lions 0
Oklahoma Athletics 6, Team North Carolina 0
Indiana Magic-Rudd 3, PA Strikers Nationals 0
BRACKET B
PLAY-IN GAMES
Santa Fe Inferno 2, Tulsa Elite 2002 0
So Cal Choppers-Fausett 3, EC Bullets-Biele 0
Fury Platinum 9, USA Athletics-Rogers 7
Aces Fastpitch 3, Firecrackers-Hagberg 2
Tampa Mustangs 3, South Dakota Renegades 2
Fury 02-Sargent 7, Firecrackers-Lutterloh 4
EC Bullets-CA 7, OC Batbusters-Stith 1
Indiana Magic-Lamar 5, NW Bullets-Duman 0
FIRST ROUND
Universal-Wells 5, Corona Angels-Slye 11
Illinois Chill 6, CCA-Augustine 0
Colorado Angels 4, San Jose Sting 3