2019 18U PGF Premier Nationals
Opening Round 18U PGF Premier Nationals Recap
Opening Round 18U PGF Premier Nationals Recap
Who played in and who moved on into the winner's brackets at 18U PGF Premier Nationals.
Jul 23, 2019
by Carlos Arias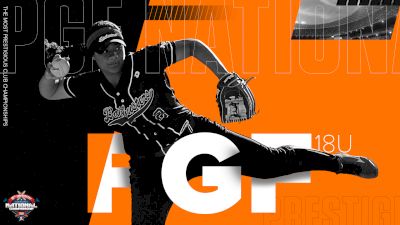 Texas Glory-Shelton 7, Aces Xpress-Jacoby 0
Karli Petty homered and Raelin Chaffin and Emma Guthrie combined on a shutout to lead the Glory to victory.
Impact Gold-Jackson 6, Michigan Finesse 4
Jourdyn Campbell homered and drove in two runs and Megan Lee struck out nine in six innings to pick up the win for Impact Gold.
Sorcerer-Williams 7, Illinois Sparks Softball 0
Elizabeth Avery tossed a one-hitter with three strikeouts and went 2 for 4 with two RBI to lift Sorcerer.
Louisville Lady Sluggers-Huecker 14, Bat Company 4
Abby Herbst went 2 for 4 with a homer and five RBI to power the Lady Sluggers.
PGF 18U PREMIER SCORES
BRACKET A
PLAY-IN GAMES
OC Batbusters-Bennett 12, Tulsa Shootout 0
Birmingham Thunderbolts 4, Jacksonville Storm 0
Beverly Bandits DeMarini-Dorsey 5, Impact Gold DFW 0
PA Chaos 8, Explosion 0
Cal Nuggets 12, Firecrackers NorCal 6
Texas Bombers 2, Jersey Intensity-KOD 1
FIRST ROUND
Universal-Spary 9, Excel Elite 1
Universal-Garcia 3, Lil Rebels 0
Virginia Legends 6, Chicago Cheetahs 5
Texas Glory-Shelton 7, Aces Xpress-Jacoby 0
Athletics-Mercado/Smith 10, New Lennox Lightning 0
Impact Gold-Jackson 6, Michigan Finesse 4
Sorcerer-Williams 7, Illinois Sparks Softball 0
Oklahoma Athletics 8, Firecrackers-Humble 0
BRACKET B
PLAY-IN GAMES
Aces Fastpitch 2, Midwest Speed 0
Cal Breeze 9, Arizona Suncats 1
So Cal Athletics-Briggs 7, Athletics-Mercado/TO 0
So Cal Choppers-Ensey vs. EC Bullets-Schnute
Stars National 4, OC Batbusters-Gomes 2
Nebraska Gold 4, Corona Angels-Howard 1
FIRST ROUND
Louisville Lady Sluggers-Huecker 14, Bat Company 4
Lady Lightning Gold 8, Sun Dodgers 2
LTG Lions 8, USA Athletics 6
Firecrackers-Rico/Weil 3, Sorcerer-Gabales 1