2019 18U PGF Premier Nationals
18U PGF Premier: Extra Innings Battles Ensued For Quarterfinal Play
18U PGF Premier: Extra Innings Battles Ensued For Quarterfinal Play
Thunderbolts, Athletics Mercado, Batbusters, Georgia Impact and more move into the quarterfinals.
Jul 25, 2019
by Carlos Arias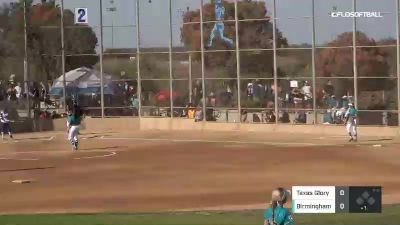 Unlock this video, live events, and more with a subscription!
Get Started
Already a subscriber? Log In
Birmingham Thunderbolts Premier coach Rocky Thompson and Texas Glory coach Kevin Shelton suffered inning after inning with both teams stranding base runners at a mighty clip, both teams unable to execute in ITB and huge defensive plays that kept extending the game.
"Too many," Bolts coach Rocky Thompson said of the runners-left-on-base situation. "I don't want to count."
Finally, after a sacrifice fly moved Auburn-bound Carlee McCondichie to third base and back-to-back intentional walks loaded the bases Florida-bound EC Taylor ended things with a walk-off single up the middle to drive in McCondichie in the bottom of the 11th for a 1-0 victory in the third round of the winner's bracket at the PGF 18U Premier Nationals on Wednesday evening at Huntington Beach Sports Complex.
"I liked being in the situation to help my team," Taylor said. "Bases loaded, one out, it was truly exciting. I'm glad I could help my team."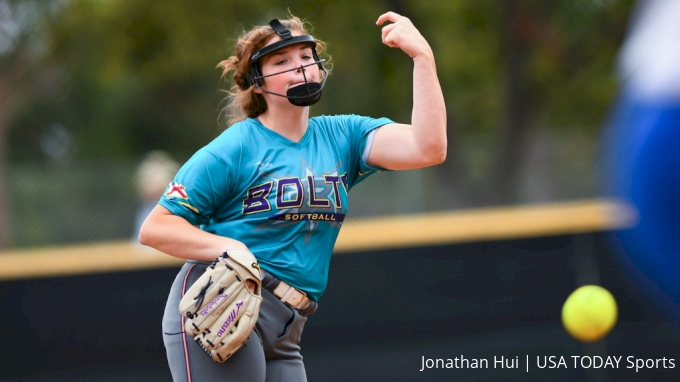 Auburn-commit Shelby Lowe went the distance to get the complete-game shutout for the Bolts, who face Georgia Impact Premier Lewis, the defending PGF 18U Premier national champion, on Thursday at 12:30 p.m. at Field 1.
In winner's bracket third-round games:
Alabama-commit Alex Salter allowed two hits, a run and struck out eight and LSU-commit McKenzie ReDoutey went 2 for 3, scored a run and drove in the go-ahead run in the sixth to lift Georgia Impact.
UCLA-bound Lexi Sosa bashed two home runs to help the Athletics takedown Impact Gold.
The Athletics take on Firecrackers-TJ on Thursday at 12:30 p.m. at Field 2.
Cal State Northridge-commit Eryka Gonzalez allowed one hit, no earned runs and struck out four in four innings, Kennedi Houshmandzadeh tripled and drove in two runs, Emari Frazier hit a two-run homer and Hailey Smith added a solo shot to lead the Firecrackers.
Oklahoma-commit Nicole May pitched 5.2 innings for the win before Arizona-commit Madi Elish pitched 1.1 innings for the save.
Oklahoma-commit Zaida Puni had two hits, including a homer, Arizona-bound Sharlize Palacios had two hits with two RBIs, and Oklahoma-commit Tiare Jennings and Arizona-commit Jasmine Perezchica each drove in runs as the Batbusters edged the Aces in a back and forth battle.
Minnesota-commit Rylie Costa homered and knocked in three runs and Iowa State-commit Kali Gose drove in two runs to help the Lions upset the Bandits.
The Lions take on the OC Batbusters on Thursday at 12:30 p.m. at Field 3.
Arizona State-bound Jazmine Hill went 1 for 2 with a double and two RBIs and Devyn Netz tossed a three-hit shutout with two walks and two strikeouts for the So Cal A's.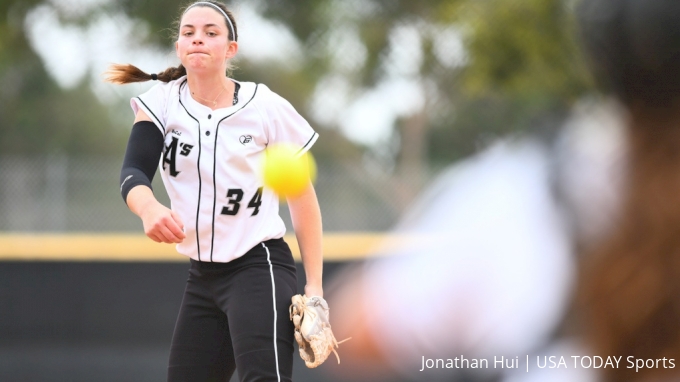 UConn-commit Payton Kinney allowed three hits, two runs, no walks and fanned four to lift the Tampa Mustangs over Old Skool.
The Tampa Mustangs face the So Cal A's on Thursday at 12:30 p.m. at Field 4.
18U PREMIER PGF NATIONALS SCOREBOARD
WINNER'S BRACKET A
THIRD ROUND
Georgia Impact-Lewis 2, Universal Fastpitch-Garcia 1
Birmingham Thunderbolts Premier 1, Texas Glory-Shelton 0 (11 innings)
Athletics-Mercado/Smith 6, Impact Gold-Jackson 4
Firecrackers-TJ 9, Sorcerer-Williams 1
WINNER'S BRACKET B
THIRD ROUND
OC Batbusters-Stith 5, Aces Fastpitch 4
LTG Lions-Henderson/Lively 9, Beverly Bandits-Kelly/Tyrrell 2
So Cal Athletics-Richardson 3, EC Bullets-Schnute 0
Tampa Mustangs-TJ 3, Sorcerer Old Skool 2
LOSER'S BRACKET A
SECOND ROUND
Jacksonville Storm 10, Irvine Sting 5
Cal Nuggets 6, Aces Xpress-Jacoby 1
Texas Bombers Gold 5, Lil Rebels 4
Cal Cruisers-Sievers 4, Firecrackers-Humble 3
Aces Xpress-McCorkle 11, Excel Elite 7
Jersey Intensity-KOD 7, OC Batbusters-Bennett 1
So Cal Choppers-Fausett 4, New Lennox Lightning 1
Michigan Finesse 3, Beverly Bandits DeMarini-Dorsey 2
THIRD ROUND
Jacksonville Storm 6, Oklahoma Athletics-Madden 1
Arizona Hotshots 10, Cal Nuggets 4
Oro Valley Suncats 4, Texas Bombers Gold 0
PA Chaos 2, Cal Cruisers-Sievers 0
Texas Blaze United 7, Aces Xpress-McCorkle 0
Jersey Intensity-KOD 4, Virginia Legends 1
NW Bullets-Campos 5, So Cal Choppers-Fausett 0
Michigan Finesse 2, Universal Fastpitch-Spary 1
FOURTH ROUND
Jacksonville Storm 4, Arizona Hotshots 3
PA Chaos 5, Oro Valley Suncats 4
Jersey Intensity-KOD 5, Texas Blaze United 4
Michigan Finesse 5, NW Bullets-Campos 1
LOSER'S BRACKET B
SECOND ROUND
USA Athletics-Rogers 4, Cal Rebels 2
Athletics-Mercado/TO 3, Stars National 0
Midwest Speed 2, Nebraska Gold 0
Ohana Tigers 5, Newtown Rock 3
OC Batbusters-Bracamonte 5, Bat Company 3
Panthers Gold 5, American Freedom 1
Firecrackers-Brashear 8, Rhode Island Thunder 6
Batbusters-Gomes 4, So Cal Athletics-Briggs 0
THIRD ROUND
Corona Angels-Tyson 5, USA Athletics-Rogers 0
Athletics-Mercado/TO 3, Illinois Chill 1
Midwest Speed 9, Firecrackers Arizona 5
Ohana Tigers 2, Suncats-Jimenez 1
Firecrackers-Rico/Weil 3, OC Batbusters-Bracamonte 0
Panthers Gold 6, California Breeze-Warren 5
Firecrackers-Brashear 8, Lady Lightning Gold-Corn 1
Louisville Lady Sluggers-Huecker 2, Batbusters-Gomes 1
FOURTH ROUND
Corona Angels-Tyson 6, Athletics-Mercado/TO 1
Midwest Speed 3, Ohana Tigers 2
Firecrackers-Rico/Weil 4
Louisville Lady Sluggers 3, Firecrackers-Brashear 0