2019 18U PGF Premier Nationals
18U PGF Premier: So Cal Athletics Richardson & Athletics Mercado Undefeated
18U PGF Premier: So Cal Athletics Richardson & Athletics Mercado Undefeated
So Cal Athletics Richardson and Athletics Mercado/Smith are undefeated going into the semifinals of 18U PGF Premier.
Jul 26, 2019
by Carlos Arias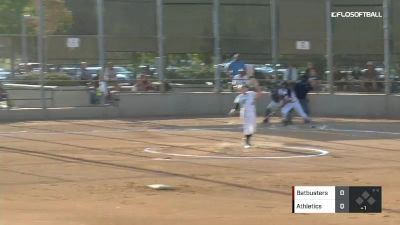 Unlock this video, live events, and more with a subscription!
Get Started
Already a subscriber? Log In
The PGF 18U Premier Nationals were pared down to the Elite Eight after Thursday's action at Huntington Beach Sports Complex.
Bruce Richardson's So Cal Athletics won PGF 18U Premier National Championships from 2010-2012, weren't expected to be one of the top contenders at this year's PGF Nationals but somebody forgot to tell Arizona-committed pitcher Devyn Netz and the rest of her So Cal A's teammates.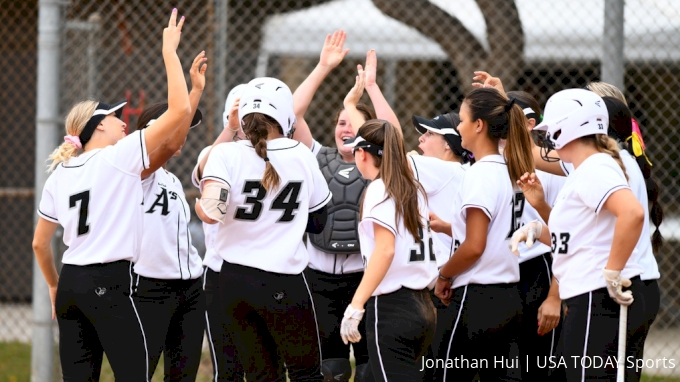 Netz belted two two-run homers and pitched a complete game to lead the So Cal A's to a 4-2 victory over OC Batbusters-Stith to punch their ticket to the semifinals of the double-elimination tournament. The So Cal A's will await the winner of Loser's Bracket A in the semifinals on Friday at 12:30 p.m. at Field 4.
"It means a lot," Netz said of beating a rival such as the Batbusters. "Like I said, we will compete until the last out of the game. That's what we're all about."
Netz staked the So Cal A's to a 2-0 lead in the bottom of the first after her first two-run blast.
Netz was cruising along until the top of the fifth when Oklahoma-bound Kinzie Hansen connected on a solo shot to left-center field that cut the lead to 2-1.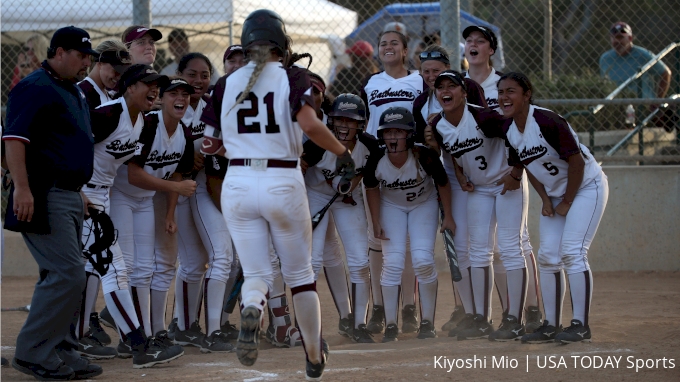 The Batbusters struck again in the top of the sixth when UCLA-bound Maya Brady delivered an RBI double to tie it, 2-2.
LSU-bound Ciara Briggs got a one-out single in the bottom of the sixth before Netz crushed another two-run homer to left-center field for a 4-2 advantage.
Netz ended up allowing five hits, two runs, four walks and struck out four to lock down the fifth-round victory in the winner's bracket.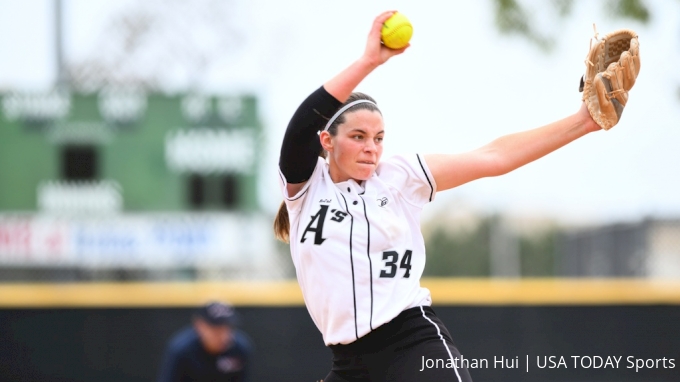 "I'm kind of on Cloud nine a little bit. But you know what? This is my dream to keep doing this."
- Devyn Netz, So Cal Athletics Richardson
"We had to come together as one team, a unit, and to come here and give it all that we have and leave it all on the field."
Athletics-Mercado/Smith was the other team to punch its ticket to the semifinals. Tennessee-commit Emily Cazares, Oklahoma-bound Alycia Flores and UCLA-bound Lexi Sosa each connected on two-run bombs in the top of the sixth to knock off Birmingham Thunderbolts Premier, 10-0, in the other fifth-round winner's bracket game.
"I came in off the bench, so I just wanted to help my team as much as possible and I ended up hitting a home run, which was good," Cazares said, "and then they followed, which was good."
Said Flores: "Honestly, I was thinking, 'Just hit the ball.' I saw Emily and I was thinking, 'just see the ball.' And then I hit it over the fence."
Sosa has hit six homers in five games, all on Field 3, at the PGF Nationals.
"They've been calling it my field," Sosa quipped. "It's been awesome. Going into this game we knew it was going to be hard. They had a tough bracket too, so it was going to be awesome no matter what."
The Athletics will play the winner of Loser's Bracket B on Friday at 12:30 p.m. at Field 3.
In winner's bracket fourth-round games:
Birmingham Thunderbolts Premier 2, Georgia Impact-Lewis 1 (8 innings)
Maryland-commit Michaela Jones got down a sacrifice to move Mississippi State-bound Brylie St. Clair to third in ITB and Auburn-bound Carlee McCondichie drove her in with a grounder that was misplayed by the second baseman, giving the Bolts the walk-off win in the bottom of the eighth.
Auburn-commit Shelby Lowe pitched seven innings of scoreless relief with 11 strikeouts to notch the victory for the Bolts.
Athletics-Mercado/Smith 4, Firecrackers-TJ 0
Oregon State-bound Val Pero had a two-run single in the first and Tennessee-commit Ryleigh White pitched 5.2 scoreless innings to lead the Athletics.
OC Batbusters-Stith 11, LTG Lions-Henderson/Lively 2
Arizona-bound Sharlize Palacios went 2 for 3 with a double, a grand slam and four RBIs and Oklahoma-bound Kinzie Hansen went 2 for 3 with a double and an RBI to power the Batbusters.
So Cal Athletics-Richardson 6, Tampa Mustangs-TJ 3
Hannah Slike went 1 for 3 with three RBIs and Arizona-commit Devyn Netz turned in another solid pitching performance for the So Cal A's.
In loser's bracket seventh-round games:
Universal Fastpitch-Garcia 7, Firecrackers-TJ 3
Cal-commit Alexis Bishop belted a three-run homer, Iowa State-commit Kaylee Pond homered and Oregon-commit Raegan Breedlove recorded the complete-game victory for Universal, which gets a rematch against Georgia Impact on Friday at 8 a.m. at Field 3. The winner of that game faces the Birmingham Thunderbolts at 10:15 a.m.
Georgia Impact-Lewis 8, Impact Gold-Jackson 0
Alabama-bound Jenna Johnson went 2 for 3 with a double and two RBIs, Dallas Goodnight went 2 for 3 with two runs scored, Virginia-bound Katie Goldberg belted a two-run homer and Alabama-commit Alex Salter pitched a one-hit shutout with eight strikeouts in five innings as Georgia Impact run-ruled Impact Gold.
Tampa Mustangs-TJ 8, Beverly Bandits-Kelly/Tyrrell 7
Claire Davidson went 2 for 4 with a double and three RBIs. Duke-commit Taylor Krapf went 2 for 3 with a double, a homer and three RBIs.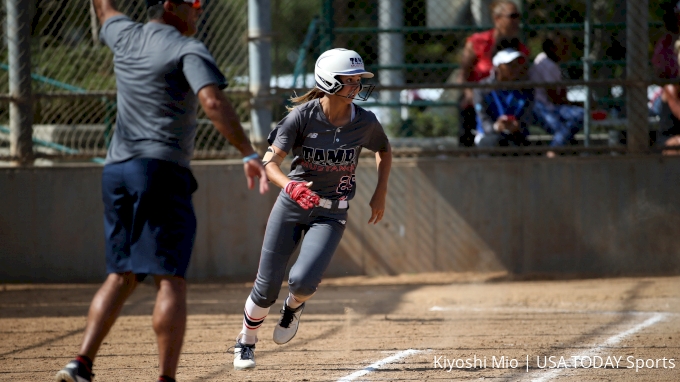 Florida-bound Katelyn Kistler went 2 for 5 with two doubles and two runs scored to help the Mustangs build an 8-2 lead before the Bandits, who got a three-run homer from Tennessee-bound Kiki Milloy in the bottom of the seventh, rallied for five runs in the final two innings before falling to the Mustangs.
Firecrackers-Rico/Weil 5, LTG Lions-Henderson/Lively 1
Utah-commit Shelbi Ortiz doubled and drove in three runs, UCLA-commit Thessa Malau'ulu and Jaelyn Operana had two hits apiece and Michigan State-bound Sara Ladd allowed five hits, no earned run and struck out nine to get the complete-game win for the Firecrackers, who have won five consecutive loser's bracket games, including three on Thursday.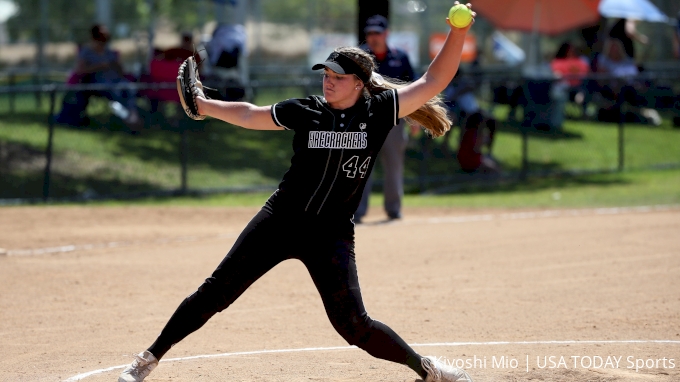 The Firecrackers face the Tampa Mustangs on Friday at 8 a.m. at Field 4 with the winner moving on to take on the Batbusters at 10:15 a.m. at Field 4.
18U PREMIER PGF NATIONALS SCOREBOARD
WINNER'S BRACKET A
FOURTH ROUND
Birmingham Thunderbolts Premier 2, Georgia Impact-Lewis 1 (8 innings)
Athletics-Mercado/Smith 4, Firecrackers-TJ 0
FIFTH ROUND
Athletics-Mercado/Smith 10, Birmingham Thunderbolts Premier 0
WINNER'S BRACKET B
FOURTH ROUND
OC Batbusters-Stith 11, LTG Lions-Henderson/Lively 2
So Cal Athletics-Richardson 6, Tampa Mustangs-TJ 3
FIFTH ROUND
So Cal Athletics-Richardson 4, OC Batbusters-Stith 2
LOSER'S BRACKET A
FIFTH ROUND
Universal Fastpitch-Garcia 9, Jacksonville Storm 0
PA Chaos 2, Texas Glory-Shelton 1
Impact Gold-Jackson 5, Jersey Intensity-KOD 4
Sorcerer-Williams 3, Michigan Finesse 0
SIXTH ROUND
Universal Fastpitch-Garcia 8, PA Chaos 0
Impact Gold-Jackson 3, Sorcerer-Williams 2 (8 innings)
SEVENTH ROUND
Universal Fastpitch-Garcia 7, Firecrackers-TJ 3
Georgia Impact-Lewis 8, Impact Gold-Jackson 0
LOSER'S BRACKET B
FIFTH ROUND
Aces Fastpitch 8, Corona Angels-Tyson 4
Beverly Bandits-Kelly/Tyrrell 8, Midwest Speed 4
Firecrackers-Rico/Weil 6, EC Bullets-Schnute 0
Louisville Lady Sluggers-Huecker 4, Sorcerer Old Skool 3
SIXTH ROUND
Beverly Bandits-Kelly/Tyrrell 10, Aces Fastpitch 2
Firecrackers-Rico/Weil 5, Louisville Lady Sluggers-Huecker 1
SEVENTH ROUND
Tampa Mustangs-TJ 8, Beverly Bandits-Kelly/Tyrrell 7
Firecrackers-Rico/Weil 5, LTG Lions-Henderson/Lively 1