Create a free account to unlock this article!
Get Started
Already a subscriber? Log In
Patrick Lewis' Georgia Impact appeared to be longshots to repeat as PGF 18U Premier national champions after losing three of the stars—Gatorade National Player of the Year Kelley Lynch, Julia Cottrill and Bailey Dowling --- to the USA Junior National Team, but the Georgia-based squad looks like legit contenders after winning four consecutive games on Friday at Huntington Beach Sports Complex to advance to the national title game.
Georgia Impact got bounced into the loser's bracket after a 2-1 loss in eight innings by the Birmingham Thunderbolts on Thursday afternoon. Georgia Impact rolled over Impact Gold-Jackson, 8-0, on Thursday, then beat Universal Fastpitch, 8-3, and avenged their loss to the Thunderbolts with a 6-1 win on Friday morning.
Those wins vaulted Georgia Impact into the semifinals where they had to beat So Cal Athletics-Richardson twice, 5-2 (in eight innings) and 2-1, to reach the finals where it faces Athletics-Mercado/Smith on Saturday at 12:30 p.m. at Bill Barber Park in Irvine, CA.
"It's just so exciting," Katie Goldberg said. "Our team kind of came together in a whole different way this year and this week, so that's why it's so exciting and we're ready to go win this.
"Those players (on the USA Junior National Team) were huge for our team and we support them in whatever they do. But like I said, any team that comes together for the Georgia Impact, we can win anything."
Alabama-commit Alex Salter, who has turned into the workhorse in the circle for Georgia Impact, and Arizona-commit Devyn Netz of the So Cal A's were locked in a scoreless deadlock through five innings before Georgia Impact struck in the top of the sixth when Mississippi State-commit Zoe Laneaux drove in Dallas Goodnight with a two-out single to make it 1-0.
Arizona State-bound Jazmine Hill drove in Ali Belarde with a single in the bottom of the seventh to tie it, 1-1, and the So Cal A's had the bases loaded with one out. But Salter got Rachel Allen to pop out and Stanford-bound Sydney Steele to ground out, ending the threat and sending the game into extra innings.
In ITB in the top of the eighth, Virginia-bound Katie Goldberg delivered an RBI single and Alabama-bound Jenna Johnson added a two-run single, which proved to be too much for the So Cal A's to overcome.
Salter was in command in the second game against the So Cal A's, especially after Georgia Impact staked her to a 2-0 lead in the bottom of the third. Oklahoma State-commit Scotland David and Goodnight picked up one-out singles and Goldberg, who has been Georgia's hottest hitter all week, came through with a two-run a single.
Belarde's RBI triple for the So Cal A's in the top of the fifth made things interesting, but Salter closed out the game strong, including a double play to end the game.
Salter threw 5.2 innings of relief, allowing no earned runs, five walks and striking out four to get the win in extra innings of the first game against the So Cal A's. She came back and held the So Cal A's to four hits, one run, two walks and struck out two to get the complete-game win in the second game.
Athletics-Mercado/Smith didn't waste any time punching their ticket to the national championship game by ending Tampa Mustangs-TJ's run with a 3-0 victory in the other semifinal.
Oregon State-bound Val Pero had an RBI single in the top of the second, LSU-bound Raeleen Gutierrez had an RBI single in the top of the sixth and the Athletics added an unearned run in the top of the seventh.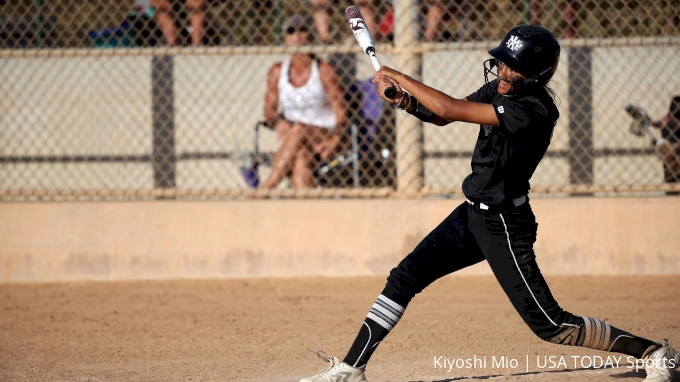 That was more than enough for Tennessee-commit Ryleigh White, who tossed a five-hit shutout with one walk and seven strikeouts to secure the victory for the Athletics.
"Today was just a team effort all the way," said White, who lives in New Jersey. "We came out hitting big and I wouldn't have been able to do this without my catcher Val (Pero) and everybody."
In the PGF 18U Platinum national championship game:
Iowa Premier Gold 5, Select Fastpitch 2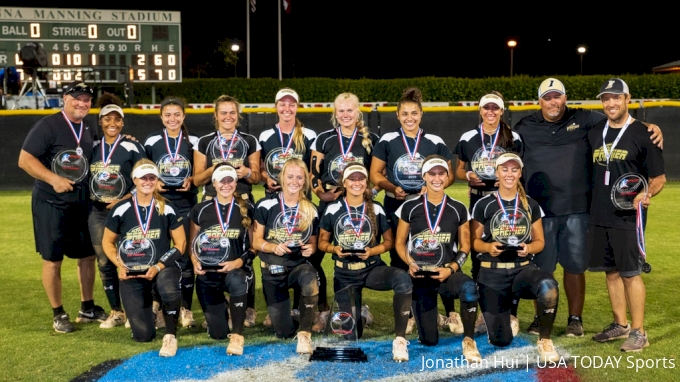 Michigan-commit Ella McVey went 2 for 4 with a run and an RBI, Alyssa Gappa went 1 for 3 with a run and an RBI, Illinois-commit Jaelyn Vickery went 1 for 3 with a run and an RBI, Purdue-commit Ashley Peters and Minnesota-commit Olivia Peterson each went 1 for 2 with an RBI, Emily Wood went 2 for 3 with a run and Baylor-commit Maren Judisch struck out six to get the complete-game win for Iowa Premier Gold in the 18U Platinum national title game at Bill Barber Park.
---
18U PREMIER PGF NATIONALS SCOREBOARD
LOSER'S BRACKET A
EIGHTH ROUND
Georgia Impact-Lewis 6, Universal Fastpitch-Garcia 3
NINTH ROUND
Georgia Impact-Lewis 6, Birmingham Thunderbolts Premier 1
LOSER'S BRACKET B
EIGHTH ROUND
Tampa Mustangs-TJ 6, Firecrackers-Rico/Weil 4
NINTH ROUND
Tampa Mustangs-TJ 4, OC Batbusters-Stith 3
SEMIFINALS
Georgia Impact-Lewis 5, So Cal Athletics-Richardson 2 (8 innings)
Georgia Impact-Lewis 2, So Cal Athletics-Richardson 1
Athletics-Mercado/Smith 3, Tampa Mustangs-TJ 0
16U PLATINUM CHAMPIONSHIP GAME: Monarchs Gold 3, Orland Park A's 1
18U PLATINUM CHAMPIONSHIP GAME: Iowa Premier Gold 5, Select Fastpitch 2
---
PGF NATIONALS SCHEDULE
SATURDAY, JULY 27 AT BILL BARBER PARK, IRVINE, CA
NATIONAL CHAMPIONSHIP GAMES
16U PREMIER: Texas Bombers Gold-Jones vs. Beverly Bandits-Conroy at 8:30 a.m.
18U PREMIER: Georgia Impact-Lewis vs. Athletics-Mercado/Smith at 12:30 p.m.
PGF HIGH SCHOOL ALL-AMERICAN GAME: East vs. West at 4:30 p.m.