2021 THE Spring Games
The Values That Shape The Life & Legacy Of Carol Hutchins
The Values That Shape The Life & Legacy Of Carol Hutchins
Michigan Head Softball Coach Carol Hutchins explains the values that shaped her life and legacy as a person and a coach.
Jul 30, 2019
by Christopher Girandola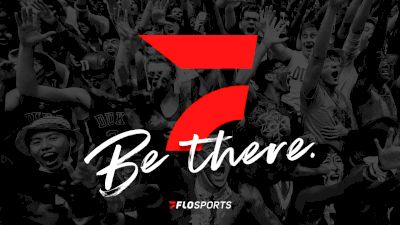 These two mottos are words to live by -- and words to cherish -- under Michigan coach Carol Hutchins, the winningest coach in NCAA softball history.
Those who stay will be champions.
Your duty is to leave the program better than when you found it.
The first is one held dear by Michigan faithful ever since mentioned and then validated by Wolverines' legendary football coach Bo Schembechler, who took over a mediocre team and led it to a championship in 1969.
"He was tough and demanding and that's how I am," said Hutchins, has guided the Wolverines to an NCAA title and 20 Big Ten Conference titles and solidified Michigan as one of the top softball programs in the country. "A bunch of guys were going to quit and he was all about the team. He was about instilling toughness and fighting through adversity. Everything we talk about now, it is the team. Everything we do is about the team. Team first. We want the players to be about the team. The team won the game, not the pitcher won the game or the player got the hit. The team, the team, the team first. Everyone has a role. Everyone has a part. Do it well and embrace it."
The second is one that Hutchins has carried with her ever since her playing days for the Lansing Laurels under Kay Purves, who was a pioneer in the game and distinguished herself as a player, manager, umpire, and advocate for the game of women's fastpitch.
Devoted To The Details
"When I played with the Laurels, I was 16 years old playing with women in their 30s and 40s," said Hutchins, who is in her 35th season at the helm of the University of Michigan softball program. "Before every game, we had to polish our shoes. We could not wear our uniform around with our shirt untucked or our stirrups not on. When you put your uniform on, you had to wear it properly. It was a little bit like my dad, who was a marine and a cop. I wasn't naturally like that. I'm more of a free spirit. But it was something that stuck with me and something impacted me over the years."
So much so that there is evidence in the details at Michigan.
"We teach our kids they each have a duty," said Hutchins, who has been a part of the Michigan softball program since 1983 when she joined the staff as an assistant coach under Bob DeCarolis and then moved into the head coach position in 1985.
Those duties are detailed as in who sweeps out the dugout and who is in charge of the towels in the locker room. Those details are harbingers of how the players carry themselves.
"They take pride in the attention to detail," said Hutchins, whose program has never suffered a losing season under her watch. "For example, they keep their locker room spotless and when they've gone into visiting locker room and seen it in disarray, they've been like, 'Oh my, they don't take pride in their locker room like we do. It always strikes them when they go into a visiting locker room and it's not like ours."
Such attention to detail comes also from having cut her teeth as a graduate assistant at Indiana University under Gayle Blevins, who ranks second all-time in NCAA Division I with 1,245 wins in 31 years as a head coach (eight years at Indiana and 23 years at Iowa).
"Gayle was detail-oriented, passionate about her program," said Hutchins, who earned a master's degree in physical education while at Indiana. "If you're going to coach, you have to do it better, she would always tell me. She was always pushing me to be better. When you play for role models who set a good example and are like you, then you want to achieve something like them. I wanted to be her and I wanted to make an impact on young people's lives. It was so fun and rewarding.
"You can't be something unless you see it and I saw it first hand with her. I wanted to be her. Her drive, her attention to detail, she never left a stone unturned."
Hutchins recalls an early memory during her days as a grad assistant under Blevins that cemented her belief in attention to detail.
The young grad assistant was in charge of the travel money and had it in a pouch. During a call from a payphone about the team's accommodations, she absentmindedly left the pouch on the ledge.
"When the team bus arrived back on campus, needless to say, Gayle was not pleased but she didn't have to say anything to get her message across," Hutchins said. "I learned from then on how important attention to detail was."
Raising Hutch
It's interesting because the eventual four-year letter-winner for Michigan State's softball team and the sport's all-time winningest coach didn't even play the sport in at Everett High School. It wasn't because she didn't have the talent; it's because there was no team. During her senior year, though, basketball was offered and she starred for the same school where Earvin "Magic" Johnson played (Hutchins actually would shoot around with Magic several times).
Back then, girls were primarily expected to get their exercise through cheerleading, which is what Hutchins' two sisters did.
"My sisters wanted to dress me up but I wanted to play football in the yard with my brothers," said Hutchins, who is number five of six kids -- three boys, three girls.
Toughness starts in the upbringing, as "Hutch" reminds me often throughout my phone interview with her.
Her dad was a cop, "very strict, a disciplinarian." Her mom "probably invented gender equity."
"She treated us all the same, all got the same amount of Christmas presents, same amount of pie, everything was equal, fair."
The combination of tough love and fair treatment has played a huge role in how she recruits and how she has built a winning program over the years.
"If you're raised really well, raised to be humble, to work hard, not to make excuses, then an expectation to be great with humility will arise."
- Hutch
While a majority of her players have embodied this spirit and approach, one player who stands out is Sierra Romero, the 2016 USA National Player of the Year who was the first four-time All-American in Michigan program history.
"(Romero) was a kid determined to be great," said Hutchins, whose players have received 68 total All-America citations under Hutchins, including 23 first-team nods. "She would hit .500 on the weekend, and totally think she should have hit .700 and go home and get in the cage, put her headphones on and work on being better. Toughness is really just being relentlessly focused on your goal and your mission and not letting your head get in the way. She figured it out."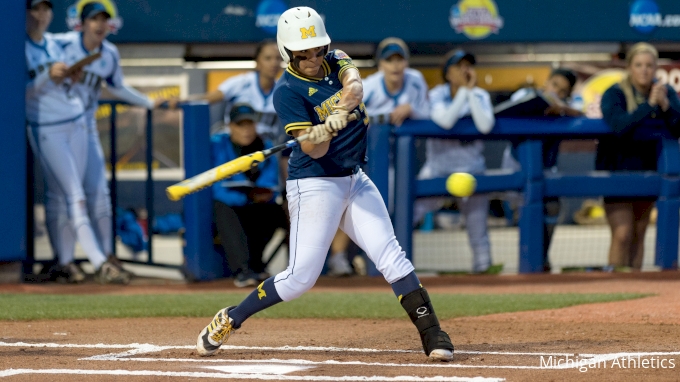 "I remember speaking with her about that approach. Her teammates would think she was a superwoman. She would tell me, 'I'm not. I'm just really focused and locked in.' They have the same ability to be that but some kids allow themselves to be weaker than you are. That's where we come in as coaches, to push them to levels where they don't think they can achieve."
Hutchins emphasized the importance in this day and age of coaches being allowed to push their athletes past those limits.
"It's our obligation to teach them how to be great, how to be elite, not just in sports but in life."
- Hutch
"I learned it early on and I've used it at Michigan. We're trying to be elite so our expectations are to be better than everyone else. We push them to be great. Of course, there's a learning curve. Some are more naturally motivated to push themselves more, compelled to be great. There are certain kids who elevate the program, like a Sierra Romero, like a Sierra Lawrence. Sometimes, you get a few kids who can elevate the program and they change the personality of the team and who emulate what you stand for as a program."
While Hutchins has achieved tremendous success during her long journey as a coach, she believes coaches in collegiate sports, especially women sports, are at a crossroads.
"We grew up having to overcome incredible adversity to even play sports in an organized setting," said Hutchins, who was part of the Title IX process during her playing days as a basketball and softball player at Michigan State.
The lawsuit, Hutchins v. Board of Trustees of Michigan State University, initially filed in 1978 bore her name because she was the team captain of the basketball team. It focused on equal treatment, the same stuff that her mom would have demanded.
Now, she hopes coaches like Nebraska coach Rhonda Revelle don't fall victim to using the same tough love that helped propel herself past tough times into tremendous success.
"Your duty is to leave the program better than when you found it, just like we should leave the world a better place than when you found it."
- Hutch
"Each season, we aim to move the needle in that direction, move it as well as we can. We don't just value winning games. We value the quality of the program and the growth and development of our players. I put all my effort into helping these young women reach their full potential just like (Blevins) and (Purves) did for me."
"I think the greatest classroom is on the field."
- Hutch
"Kids come into our program, and they come here and they hear, Hutch is really tough but we challenge them. It's not enjoyable to be comfortable but you need that to overcome adversity, not just in sports but in life. I'm proud when they come back and they get it and they thank me for pushing them to the edge."