2019 12U PGF Premier Nationals
Meet Texas Glory Adkins 2024
Meet Texas Glory Adkins 2024
After a 2nd place finish at the 2019 Junior Sparkler, Texas Glory Adkins 2024 is making a name for themselves.
Jul 31, 2019
by Chez Sievers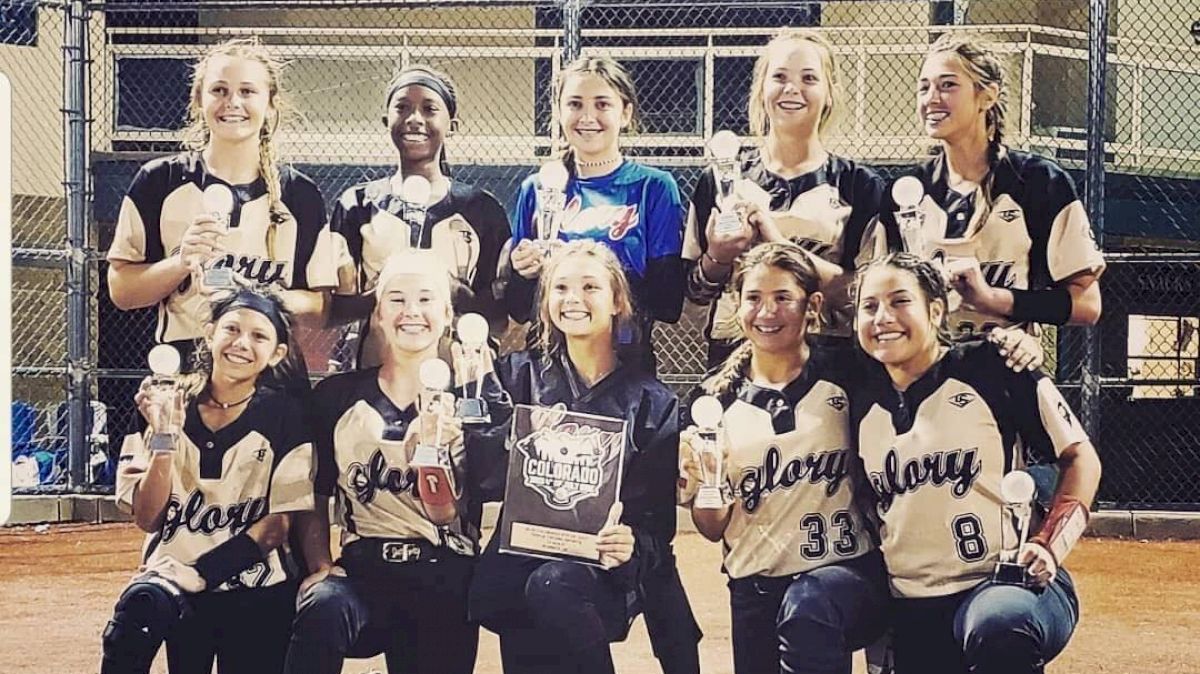 With nearly 50 teams in the Texas Glory Adkins organization, Ben Slade's 2024 is making a name for themselves after . We ask Coach Slade about how his emerging program came together and what makes his team so successful.
---
Our team started in 2014 competing at the state and regional level and have grown every year since. Texas Glory Adkins has been around for more than a decade. We decided to join Glory Adkins for the family atmosphere and dedication to excellence found in all of the gold teams that are a part of the gold program. As our team continued to have success on our local and state level at the younger age group, we decided to elevate to the next level and begin competing on a bigger national stage.
Where are you based? Where do your athletes come from (all locally, some out of state?)
We are based out of the DFW metroplex in Texas but have players that come from all over our region as far away as Tulsa, OK and the Houston area.
What was the purpose of creating the team (showcase players, win titles, develop skills, etc.)?
We originally began the team to provide a place for young players to learn the game the right way and find a place to go out and compete together to be their very best at the highest level. We know that the future of softball is very bright, and these girls have dreams of playing at the highest level, so we focus on player development as a part of the Glory Adkins Gold Program, which means developing the whole player, physical skills and mental skills that will assist them in their journey as a part of softball. The ultimate purpose is to assist the girls and to allow them to reach their goals and dreams in the sport, so winning titles and development are the means to our ultimate end, but not the singular goal. If we do our very best every time we step on the field at practice or in a game we will develop skills and compete to win, as well as showcase players…
What have been some of your successes in terms of winning or placing at events?
4th USSSA 9U nationals in Branson Missouri.
Top 8 10U PGF Nationals
4th USFA Nationals in Panama City Florida in 11U.
5th Ronald McDonald tournament this past fall in 12U.
2nd 12U Junior Sparkler in Colorado.
What makes the organization unique?
Glory Adkins is a unique place to play, because we focus on the player first, making our players the center of the organization and every decision. Jack Fultz and the Glory Adkins Gold Program really combines the coaches and players throughout the process to work them out together, as well as give them a platform to compete every time we come together to develop these young ladies, as players and young future leaders. The organization takes it's role as a vehicle for the players seriously and understands that it must continue its role in the process to assist players reach their dreams.
What's your softball background and how did you get to the point of leading the team?
Teaching and coaching sort of runs in the Slade family. I was raised by a coach. Football was my main background growing up but I had four daughters and my youngest decided she wanted to play softball. We started out at the recreational level like the majority of people do in this sport and continued to have success and just kept growing to where we are right now.
What is your primary focus or goal with this team?
Our primary goal is to continue mentoring these girls and give them the guidance to continue improving as softball players and young ladies. We have a very talented group of players who even at a very young age have already committed themselves to doing the hard things it takes to become great and seek that greatness. Our job as coaches, and as an organization, is to feed that desire and give them the platform they need with opportunities to rise to the occasion. Our future goals will include competing on the national stage for years to come and continue the legacy of excellence laid before us in this organization and eventually assist these players find their future college home in softball.
What do you think are the strengths of the team?
Our strengths start with our pitching staff. We are also known as a well rounded hitting team so I would consider that a strength as well.
Our organization and my entire coaching staff is a Player 1st staff and organization. Our Philosophy and Mantra etc… is put the player first. We are not an "Organization First" or "Coach First" type organization. If we make the main thing the main thing, then we will be concentrating on developing our players both with physical and mental skills. Great Players who play great make coaches look great and I am surrounded by great players and great coaches in this organization. Every decision we make as a staff and as an organization is meant to put the player first.
#11 Kiersten Fincannon, P/3B/1B | 2024
Fincannon is a quad-sport righty with the ability to keep opposing batters off balance by attacking the strike zone and mixing up speeds, allowing her to always keep the game in control and within reach. Fincannon is a proven workhorse, her big game experience and desire to toss the rock in tough situations shows her mental and physical toughness. Offensively, Fincannon provides a very strong bat with average. She's a gap to gap hitter with the strength to go deep on any pitch.
#33 Lucy Crowder, P/3B | 2024
Crowder is a dual-sport righty, who is the definition of an impact player. Crowder is a true spin pitcher that allows for a ton of grounders giving her defense the ability to make plays. Crowder not only influences the game from the circle but from the plate as well. Crowder is an exceptional gap hitter that hits for average and has shown that she can take the ball out of the park with any swing. Crowder is a high energy player that brings a ton of leadership and softball intellect to her team.
#23 Carson Fall, P/OF | 2024
Fall is another tri-sport athlete who is new to the organization, but not new to pitching big games and isolating batters. Falls pin-point driven pitches and timely off-speed at different planes always gives her an advantage in the circle. Falls work ethic and attitude have allowed her to create a position for herself in the grass and given her the opportunity to be a solid outfielder with making good reads off the bat and tracking down balls.
#8 Samantha Garcia, C/3B | 2024
Garcia is the longest-tenured multi-sport athlete on TGA 2024, who has a reputation as a line-drive hitter with power and an RBI machine. Garcia is completing her first year behind the plate and is utilizing her arm strength to keep base runners in check and her framing skills are ahead of schedule. Garcia's constant desire to reach the next level make her an example of what hard work and dedication mean.
#00 Mia Richards, C/1B | 2025
Richards is our youngest player, but not our smallest, she commands her position both physically and verbally. Richards is a hard-hitting gap hitter that continues to develop strength at the plate, while still having the ability to lay down a bunt. Richards plays an exceptional 1st base while continuing to improve her experience behind the plate. Richard's athleticism, size, strength, field assertiveness, and softball intelligence will continue to give her a huge ceiling going forward.
#32 Carmen Uribe, MIF/OF| 2024
Uribe is a quad-sport athlete and newcomer to TGA 2024. Carmen is a noted slap hitter that can hit from both sides of the plate and continually establishes herself as a lead-off. Uribe's knack for getting on base, speed, and base running skills make her a nightmare for defenses. Defensively, Uribe has a superior glove, with wide lateral range and the athleticism to open up and catch balls in the outfield. Uribe is another high softball IQ and motor player on both sides of the ball as well as in the dugout.
#3 Lauryn Jones, OF/MIF | 2024
Jones is another multi-sport athlete with speed and athleticism. Jones has the ability to slap with a short game or free swing with mid gap power enabling her to use her speed to be a nuisance on the bases. In the grass, Jones uses her speed defensively to cover the gaps and her hand to ball transition has the ability to slow runners from advancing. Jones skillset gives her the means to also take on any position in the middle of the dirt.
#13 Izzy Marshall, UT | 2024
Marshall is another new addition to TGA 2024 National and she has quickly been making a name for herself with her bat. Marshall is a line-drive hitter who is capable of dropping a bunt down with linear accuracy. Marshall has the ability to play multiple positions and has done so as we have seen a magnitude of injuries this season. Marshall is just scratching the surface of her potential and she'll continue to grow in big-game situations.
#21 Beau Slade, OF/UT | 2024
Slade again is a tri-sport athlete that adds speed to the TGA 2024 lineup both offensively and defensively. Slade is a contact hitter with quick-twitch running skills which enable her to extend a single or walk into extra bases at any time. Slade's ability to read the ball off the bat gives her the advantage to track well-hit balls to the gap defensively.
#42 Brooke Thomas, IF/OF | 2024
Thomas is another tri-sport athlete with gap hitting power and the growing potential to put the ball over the fence. Thomas is a smart maximum effort player and positive teammate that plays a solid defensive role in the infield and outfield. Thomas is a constant worker off the field giving her an advantage on the competition as she continually works on aspects of her game. Thomas makes all A's as a student and has an outstanding IQ on the dirt and in the classroom.