2019 14U PGF Premier Nationals
Bolts, Bandits, Bombers Advance Day Two Of PGF 14U Premier Nationals
Bolts, Bandits, Bombers Advance Day Two Of PGF 14U Premier Nationals
Bolts 04 knock Firecrackers Brashear Venegas and Bombers HTX and Mojo Fisher cruise into the next round of PGF 16 Premier.
Aug 2, 2019
by Carlos Arias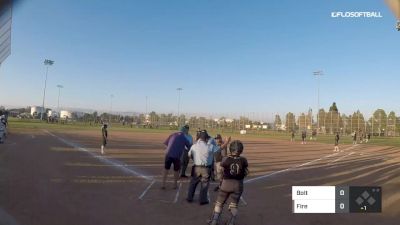 Unlock this video, live events, and more with a subscription!
Get Started
Already a subscriber? Log In
The Birmingham Thunderbolts made a lot of noise with their extra-inning finishes last week at the PGF 18U Premier Nationals, so it was time for Ted Flannery's Thunderbolts to deliver the dramatics at the PGF 14U Premier Nationals on Thursday evening at Huntington Beach Sports Complex.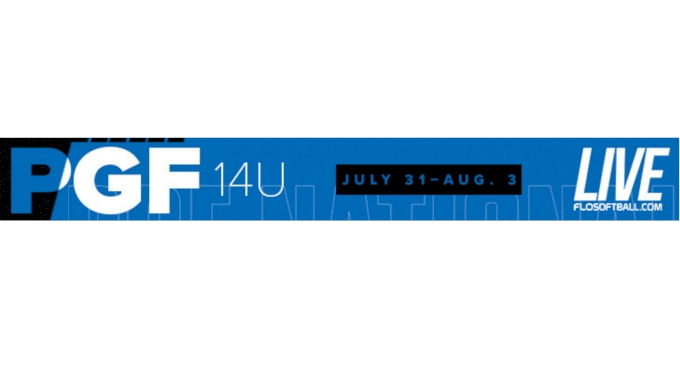 Firecrackers-Brashear/Venegas ace Liliana Arana, a talented right-hand 2023 prospect, was putting the finishing touches on a shutout bid in the top of the seventh when the Bolts struck for two runs and went on to a 2-1 victory in the third round of winner's bracket.
Ella Roberson's one-out double in the top of the seventh got things started. Neely Taylor knocked Roberson with a single that got past the center fielder and she ended up on third. Taylor scored the go-ahead run on a wild pitch.
"I was very nervous," said Taylor. "It just feels great for my team. I gave myself a little pep talk, 'We need this. We don't want to play four games tomorrow, so let's do this now.'"
Taylor's older sister, Florida-bound EC Taylor, had the walk-off in the bottom of the 11th to give the Thunderbolts a 1-0 victory over Texas Glory-Shelton at last week's PGF 18U Premier Nationals.
"We just have a lot of fire in us," Neely Taylor said of the Bolts organization.
Madison Inscoe, who allowed four hits, a run, no walks and struck out six, pitched a perfect seventh inning to nail down the victory for the Thunderbolts.
Arana took the loss, scattering five hits, allowing one earned run and no walks to go along with 12 strikeouts.
The Bolts take on Beverly Bandits DeMarini-Richards in the fourth round on Friday at 12:30 p.m. The Firecrackers drop down to the loser's bracket of the double-elimination tournament to face Corona Angels-FTS on Friday at 10:15 a.m. The Firecrackers would have to win four games on Friday to stay alive.
In Winner's Bracket A third-round games:
Oklahoma Hotshots Premier-Yeatts 7, Gainesville Gold-McFadyen 5
Ashanti McDade and Chloe Yeatts belted homers to propel the Hotshots past Gainesville Gold.
Lady Dukes-Lamar 7, LTG Lions-Henderson/Lively 4
Rita Nuss continued her hot hitting streak going 3 for 4 with a run and three RBIs, Brijana "Breezy" Burnett doubled and knocked in three runs and Madison Mercer and Allyiah Swiney had two hits apiece to push the Lady Dukes past the LTG Lions.
NorCal Firecrackers-Mettler 1, Illusions Premier-Cain 0
Jackie Alday drove in Morgan McMillan with a walk-off double in the bottom of the seventh and Hope Jenkins and Brooklyn Heffernan combined on a three-hit shutout for the NorCal Firecrackers.
OC Batbusters-Campbell/M. Stith 9, Corona Angels-Perez 2
Jordyn Ramos, Jaeya Butler, and Emily Schepp all smashed homers to power the Batbusters past the Corona Angels.
Central Cal Dirtdogs-Pickering 2, Suncats-Jimenez/Noriega 0
Ryan Maddox pitched a three-hit shutout with seven strikeouts, Elizabeth Moffit had a two-run double and OF Ariana Ruiz gunned down a runner at the plate on an attempted sacrifice fly to help the Dirtdogs to victory.
"The kids have worked hard all year long," Dirtdogs coach Sara Pickering said. "It's good to see it coming together at the right time."
Mojo 04-Fisher 12, Hotshots Premier-Nelson 0
Florida-commit Keagan Rothrock, who is one of the top 2023 prospects in the nation, Auburn-commit Taylor Pannell went 3 for 5 with a solo bomb and LSU-committed C Maci Bergeron went 2 for 5 with an RBI and gunned down a pair of attempted base stealers at second base to lift the Mojo over the Hotshots.
Texas Bombers Gold-Jones 14, So Cal Athletics-Grasse/Molina 7
Moriah Polar went 4 for 4 with a double, three runs and two RBIs, Chloe Larry went 2 for 4 with a run and two RBIs, Makayla Madrid went 2 for 3 with a double, a run and two RBIs and Mikaylah Williams hit a two-run bomb to lead the Bombers' 14-hit attack.
The Bombers face Firecrackers Brashear 2022, a 5-2 winner over Firecrackers Brashear 2023, in the fourth round on Friday at 12:30 p.m.
In Winner's Bracket B third-round games:
OC Batbusters-Flores 10, Athletics-Mercado/Greg 4
The Batbusters put together a seven-run rally in the top of the sixth to stun the Athletics. Lily Owens went 3 for 4, scored a run and drove in four runs, Ailana Agbayani and Oakley Bates had two hits apiece and Britney Moreno went 3 for 4 to lead the Batbusters offensive outburst.
Texas Bombers Gold HTX-Burgess 10, USA Athletics-Mathis 0
Victoria Valdez went 3 for 3 with a triple, a homer, and four RBIs and Aiyana Coleman also homered for the Bombers.
Explosion-Flores/Mays 7, Firecrackers Central Cal-Wallace 1
Jaden Colunga went 2 for 4 with two doubles and two RBIs, Leah Mays knocked in two runs and Abigaile Ambriz allowed three hits, a run and struck out two in six innings to pick up the win for the Explosion.
Cal Breeze-Fernald 5, Lil Rebels-Vern/Gordie 2
Maya Larsen had a two-run double during a three-run rally in the top of the seventh as the Breeze rallied to knock off the Lil Rebels.
Beverly Bandits DeMarini-Richards 5, Salinas Storm-Plascencia 0
Keegan Moore tossed a two-hit shutout with nine strikeouts to lead the Bandits.
Arizona Storm-Mathis/Appel 6, Ohio Hawks-Hutchinson 3
The Storm used a four-run rally in the bottom of the second to take down the Hawks.
Texas Bombers Gold-Torres 4, Team North Carolina-Eaton 3
Victoria Altamirano went 1 for 3 with two RBIs, Isa Torres went 2 for 3 with a run and an RBI, D'Auna Jennings went 1 for 2 with two runs and Madison Azua got the complete-game win as the Bombers overcame a 3-0 deficit to beat Team North Carolina.
---
14U PREMIER PGF NATIONALS SCOREBOARD
WINNER'S BRACKET A
THIRD ROUND
Oklahoma Hotshots Premier-Yeatts 7, Gainesville Gold-McFadyen 5
Lady Dukes-Lamar 7, LTG Lions-Henderson/Lively 4
NorCal Firecrackers-Mettler 1, Illusions Premier-Cain 0
OC Batbusters-Campbell/M. Stith 9, Corona Angels-Perez 2
Central Cal Dirtdogs-Pickering 2, Suncats-Jimenez/Noriega 0
Mojo 04-Fisher 12, Hotshots Premier-Nelson 0
Texas Bombers Gold-Jones 14, So Cal Athletics-Grasse/Molina 7
Firecrackers Brashear 2022 5, Firecrackers Brashear 2023 2
WINNER'S BRACKET B
THIRD ROUND
OC Batbusters-Flores 10, Athletics-Mercado/Greg 4
Texas Bombers Gold HTX-Burgess 10, USA Athletics-Mathis 0
Explosion-Flores/Mays 7, Firecrackers Central Cal-Wallace 1
Cal Breeze-Fernald 5, Lil Rebels-Vern/Gordie 2
Beverly Bandits DeMarini-Richards 5, Salinas Storm-Plascencia 0
Birmingham Thunderbolts-Flannery 2, Firecrackers-Brashear/Venegas 1
Arizona Storm-Mathis/Appel 6, Ohio Hawks-Hutchinson 3
Texas Bombers Gold-Torres 4, Team North Carolina-Eaton 3
LOSER'S BRACKET A
FIRST ROUND
Cal Nuggets-Woods 4, Impact Gold National-Saenz 3
EC Bullets 04-Mayfield 9, American Freedom Express-Legg 5
Georgia Impact-Barfield 13, Oklahoma Athletics-Madden 6
OC Batbusters-Gonzalez 6, Impact Gold Premier-Sydney 3
Tennessee Fury 13, Team Seattle 5
Beverly Bandits DeMarini Futures 7, Universal Fastpitch 04 4
CA Yard Sharks 2022-Lopez 3, Hotshots Platinum-DeLeon 2
Rhode Island Thunder 1, American Pastime 04-Velasquez/Farnworth 0
SECOND ROUND
Sorcerer-Schroll 7, Cal Nuggets-Woods 2
EC Bullets 04-Mayfield 7, Texas Glory 05 1
EC Bullets 04-CFL 6, Georgia Impact-Barfield 0
OC Batbusters-Gonzalez 8, Universal Fastpitch 2023 4
So Cal Athletics-Medina/Briggs 9, Tennessee Fury 4
Beverly Bandits DeMarini Futures 9, Carolina Elite-Hutto 1
So Cal Athletics-Limo 4, CA Yard Sharks 2022-Lopez 3
Rhode Island Thunder 3, Tampa Mustangs-Rene 2
LOSER'S BRACKET B
FIRST ROUND
Aces Xpress Futures 7, Texas Bombers Gold-Hybrid 1
Indiana Magic Gold-Bay 6, West Bay Warriors 2
Firecrackers-Brashear/Thornburg 8, NorCal Firecrackers-E/P 2
Corona Angels-Tyson 4, Jersey Intensity-KOD 1
Illinois Chill Gold 6, Texas Blaze United 0
NW Bullets-Dawson 10, LLG Futures 0
Ohana Tigers-Holloway/Contreras 3, Aces Fastpitch 2
Delaware Cobras 6, Mizuno Impulse 2
SECOND ROUND
Batbusters-Guthrie 11, Aces Xpress Futures 2
Indiana Magic Gold-Bay 5, Washington Ladyhawks-Millar 3
Corona Angels-FTS 9, Firecrackers-Brashear/Thornburg 7
Corona Angels-Tyson 10, Atlanta Vipers-Tamborra 9
Illinois Chill Gold 4, Georgia Impact-Jeffreys 3
NW Bullets-Dawson 4, Texas Glory-Naudin 3
So Cal Choppers-Fausett 7, Ohana Tigers-Holloway/Contreras 6
Delaware Cobras 4, Athletics-Mercado 2023 3