2019 NPF Championship Series | Game 1
Inside The Wondrous Mind Of Jolene Henderson
Inside The Wondrous Mind Of Jolene Henderson
Why NPF Pitcher of the Year Jolene Henderson remains a wanderer, adventurer, and soul-seeker at the top of her game.
Aug 16, 2019
by Scott Schultz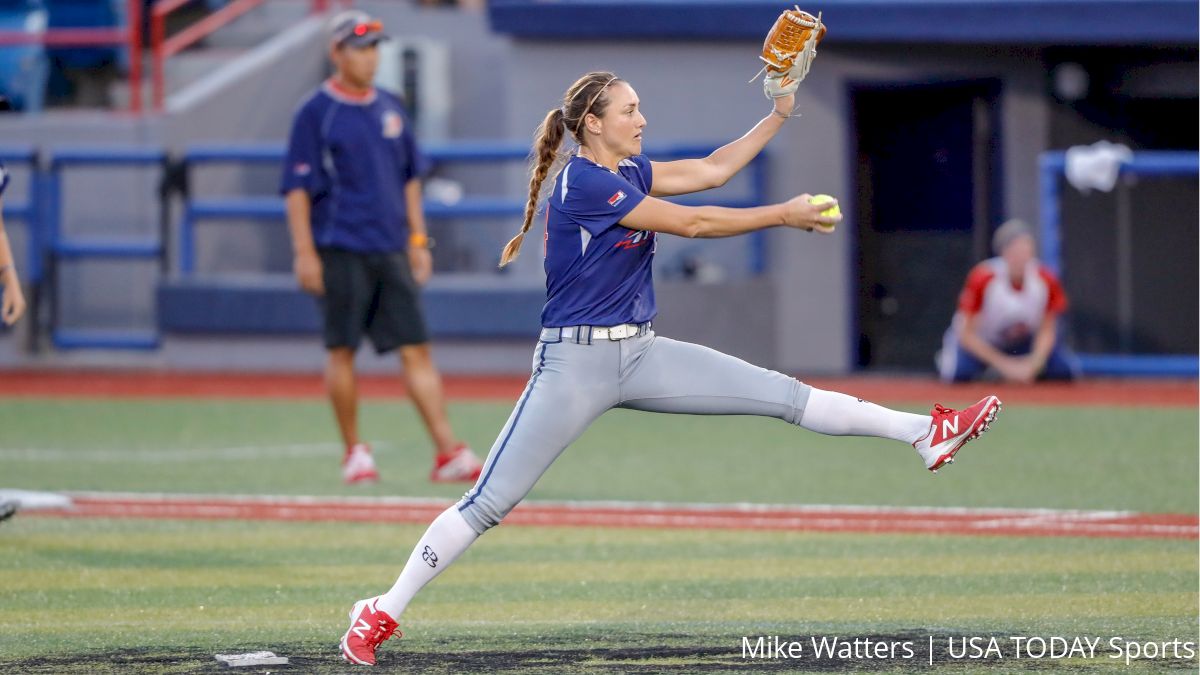 After spending her collegiate career playing at California-Berkeley, USSSA Pride's free-spirited right-hander Jolene Henderson enters this weekend's championship series against the Chicago Bandits as the 2019 Diamond Sports NPF Pitcher of the Year.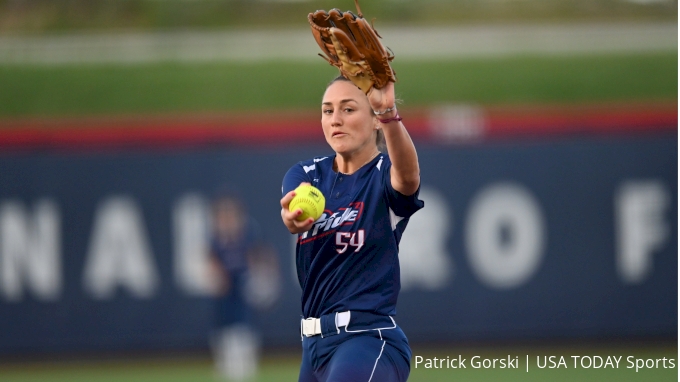 While Henderson said she doesn't believe in luck or superstitions, she sat down all 21 Beijing Eagles in order to log a perfect game earlier this season - the first in the Pride's 11-year franchise history - to mark the 13th win in a row during a Pride mid-season win streak.
"I'm not a rituals person nor am I superstitious," said Henderson. "I think they are fun however I choose to build my confidence through practice and my teammates. I believe in my team rather than a superstition."
Her team was there to seal the deal for the "perfecto", as the former Berkeley pitcher struck out only four on the night but allowed only one ball to launch into the air as the defense behind her took care of business. The final out was caught by shortstop Sydney Romero on an over-the-shoulder grab just shy of left field.
I literally have the best teammates in the world, playing for awesome coaches, and all under an unparalleled organization. #gopride #usssa https://t.co/JZHLZ9UQdm

— Jolene Henderson (@Jolenecal54) July 2, 2019
The back-to-back NPF Pitcher of the Year self-admittedly marches to her own beat.
"I'd definitely say I'm on the side of a free spirit," said Henderson. "I am one to wander and adventure off alone and I always stop to smell the flowers."
So far so GREAT ??❄️ pic.twitter.com/QKe1o2ruoj

— Jolene Henderson (@Jolenecal54) December 6, 2018
"I love to watch documentaries and I haven't eaten meat in over three years. I enjoy being able to talk to strangers at coffee shops and will do headstands on top of buildings or on the side of a street with a graffiti wall," added Henderson.
Do it for the 5,528 fans.. -@USSSAPride #pridex #happy4th #recordmaking pic.twitter.com/JbhNVz2d37

— Jolene Henderson (@Jolenecal54) July 5, 2018
Henderson credits family for her outlook on life.
"My great aunt, her name was Nancy [and] she had a different perspective on life and saw people differently," said Henderson. "I've learned to see people as souls and I think everyone is special because I learned that from her."
"My life is my parents, brother, and sister who are huge parts of my life," said Henderson.
"They are all very different in their own ways but have taught me a lot about life," added Henderson. "My brother is very strong and intelligent, my sister is very kind and genuine, my mom is thoughtful and loving and my dad is very determined and funny, and each of them have had a major impact on my life in the best of ways."
Her personality is a product of all those traits, and Henderson likes it that way.
"I think people think I'm a free spirit because my personality is very understanding that people are all different and It's very accepting of difference; so, I care about all things," Henderson said.
"I love that life is always changing and that something as simple as a 'how are you' or one smile can change a person's day. I think that it's important to understand that we are all special in different ways."
- Jolene Henderson
Henderson and the Pride will be in Rosemont, Illinois this weekend to take on the Chicago Bandits for the 2019 Cowles Cup. Last season, the Pride swept the Bandits to take the cup, but the Bandits are coming off an NPF regular-season title so defending their crown will be a challenge.