WBSC Olympic Qualifier (Asia-Oceania)
Australia Qualified For 2020 Tokyo Olympics For Softball
Australia Qualified For 2020 Tokyo Olympics For Softball
Australia claims the last spot in the 2020 Olympics for softball.
Sep 28, 2019
by FloSoftball Staff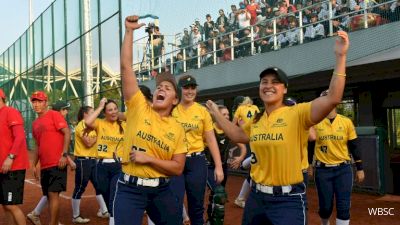 Unlock this video, live events, and more with a subscription!
Get Started
Already a subscriber? Log In
Australia punched their ticket to the Olympic Games in Tokyo 2020 with a 9-3 victory over China, in the last game of the WBSC Softball Asia/Oceania Qualifier held in Shanghai, China. The Australian team will participate in its fifth Olympic Games.
? Highlights - China v Australia#RoadToTokyo pic.twitter.com/tcXPPiv7NR

— WBSC Softball #RoadToTokyo (@WBSCsoftball) September 28, 2019
China started the game with a very aggressive approach, hitting the ball very well, but a pair of double plays in first two innings prevented them to do more damage. Australia completed a total of three double plays in the game.
In the first episode, Chen Jia led off with a single and Li Qi was hit by a pitch. A hard grounder to second base served a 4-6-3 double play for Australia. However, clean up hitter Ren Min hit a line drive over shortstop to plate the first run of the contest.
In the second episode, again China put on board the leadoff hitter, with a single off the bat of Yan Siyu, but Xu Jia hit another grounder good for a double play to end the possible threat.
In the bottom, Australia did capitalize its opportunities and exploded with a five-run rally to take the lead. Forkin tied the game on a passed ball, and then with the bases loaded Clare Warwick singled-in the go-ahead run. Then Leigh Godfrey plated two more with a long triple to right field, and she scored later on a defensive error.
China added two runs in the fourth, with a sacrifice fly by Li Huan and a grounder to shortstop by Yan Siyu. But Australia answered with the last four runs of the event, with a two-RBI single by Porter and an RBI single off the bat of Tayla Tsitsikronis.
2-RBI single by Stacey Porter#RoadToTokyo pic.twitter.com/PCpbtuNcii

— WBSC Softball #RoadToTokyo (@WBSCsoftball) September 28, 2019
"It's an awesome feeling. It has been the longest week, but the players got their reward at the end of it with their hard work," said Robert Harrow, Australia Head Coach. "It is simply great to be back at the Olympics after a 12-year wait. We have a great history in the Olympics, having won four medals – one silver and three bronze medals. I am aware the competition in Tokyo is going to be much tougher with higher-ranked teams. But we ourselves have to step up to the next level and we are going for the gold!"
Captain Stacey Porter knows how it feels to be an Olympian. "I waited for 12 years to return to the Olympics and it is so rewarding to be back at the Tokyo Olympics," Porter said. "It was not an easy path but the girls stuck in there and we worked hard to qualify. They fully deserve the slot."
"Having won a bronze at the Athens Olympics and the silver in Beijing, I am looking forward to the gold medal in Tokyo," Porter said. "It is not going to be easy, but we are determined to emerge tops this time around."
"I may be 38, but I am far from quitting the game. I simply love the game too much. I will be around as long as I can contribute."
?????? Australia qualifies for the @Tokyo2020 @olympics!!! @softballoz#RoadToTokyo pic.twitter.com/fe2sy2P3i4

— WBSC Softball #RoadToTokyo (@WBSCsoftball) September 28, 2019