2020 Top Club National Championship 18U
Rising Star: Wisconsin Bound Peyton Bannon Keeps Getting Better
Rising Star: Wisconsin Bound Peyton Bannon Keeps Getting Better
Wisconsin-commit Peyton Bannon will be one of the premier seniors to watch in 2020. Here's more the Hot 100 candidate.
Oct 28, 2019
by Stephen Kerr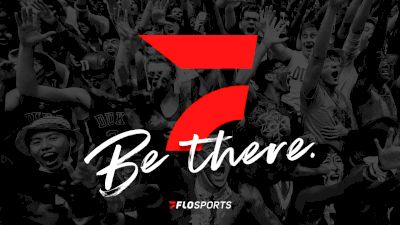 Unlock this article, live events, and more with a subscription!
Get Started
Already a subscriber? Log In
When players are given the opportunity to come through in the clutch, some ramp up their adrenaline, become overanxious, and often walk away disappointed with the result. Others, like Peyton Bannon, have the ability to calm their breathing, slow the pace of the game in their mind, and not allow the moment to overtake them.
"When I go up (to the plate), I try to stay as relaxed as possible," explained the 5-foot-7 senior shortstop for Richmond-Burton High and Illinois Chill Gold's 18U squad. "I need to do the job for my team, and I'm determined to get a hit."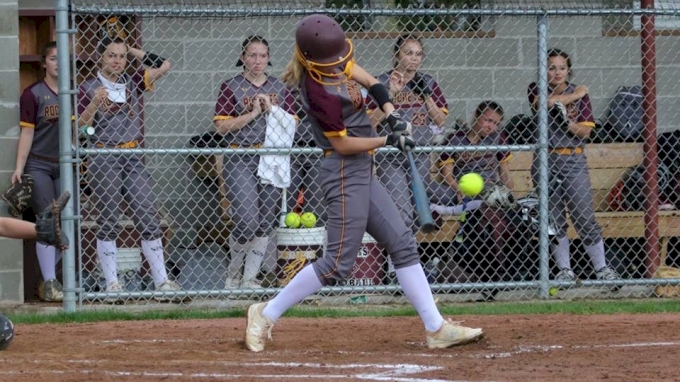 That mindset has paid off numerous times for Bannon, a Wisconsin-commit who will make that commitment official on National Signing Day. During the Colorado Sparkler and Fireworks Tournament last summer, the Chill trailed Beverly Bandits-Dorsey by a run heading into the seventh inning. Bannon smacked the first of back-to-back home runs by the team that helped seal the win. In another game during the DeMarini Invitational, Bannon hit a triple with the bases loaded for another Chill victory.
"There's no moment too big for her," said Chill 18U coach Gerry Quinn, who has coached Bannon since she joined the organization in 14U. "She's somebody you would definitely want up if you needed a run driven in."
Bannon, a shooting guard for her high school basketball team, often played baseball with her two older brothers, Bobby and Brandon.
Her parents, Eric and Janice, also coached her in Little League. They set up a makeshift field in the yard of their home, which sits on an acre in Spring Grove, Illinois.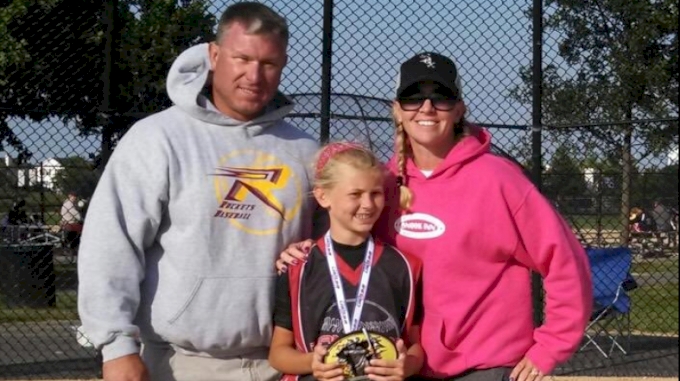 The family would often engage in five-on-five or nine-on-nine games with other boys in the neighborhood. It was while playing Little League that one of the Chill coaches noticed her and persuaded Eric and Janice to allow their daughter to play softball and join their team.
"One of my fond memories of Peyton playing baseball, she would go up to pitch and probably nine times out of 10 strikes out the boys," Janice recalled with a laugh. "Their fathers would get all upset."
Peyton was smaller than most of the other girls when she first joined the Chill. But Quinn immediately noticed her above-average instincts.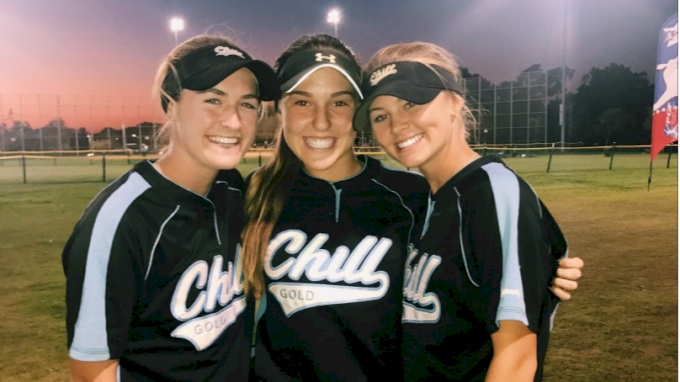 "She hadn't added a lot of physical strength, but everything she did was so fundamentally sound," Quinn explained. "Even though she couldn't hit the ball far, she could hit it consistently. She would get hits and have a huge impact on big games."
Eric was a catcher in high school, and Janice played baseball and softball. Brandon is currently a catcher and second baseman at the University of Illinois-Springfield. Each has helped Peyton in various stages of her development, along with private hitting instructor Jim Donovan. But it's Quinn, Peyton says, who has made her into the player she is today. Eric is quick to agree.
"The amount of work Gerry puts into his program is unbelievable," Eric said. "He's finished high in a lot of prestigious tournaments. I couldn't even guess how many Division I college softball players he's developed."
Peyton has grown four inches over the past two years, which has helped increase the power in her swing. She learned at an early age how important the lower half of her body is in developing bat speed. Her mechanics have improved dramatically under Donovan's instruction. During her freshman year, she was named one of FloSoftball's Hot 100 freshmen, leading the Richmond-Burton Rockets to their first regional title in six years. She batted .379 with two homers, 25 RBI, 29 runs scored and eight doubles.
As a junior, Peyton hit .582 in 17 games, with 10 homers, 35 RBI, 26 runs scored and nine doubles. As the leadoff hitter for the Chill this past season, she batted .412 with seven homers, 24 RBI, 12 doubles and five triples. She also stole 18 bases.
Eric constantly stressed the importance of playing solid defense to all his children, and Peyton has taken that advice to heart. She loves the action and responsibility the shortstop position requires.
"That's where most of the balls are hit," she said. "If a ball is hit to me, there's always something going on. I'm always going to have to cover bases. I've always been good at reading the hops. I've played there my whole life, so it comes naturally, I guess."
With National Signing Day less than a month away, Peyton is eager to experience that life-changing moment when she signs her letter. Prior to the change in recruiting rules, she was contacted by a number of schools during her freshman year, including Illinois, Northern Illinois, Iowa State, and DePaul. During her first visit to the Wisconsin campus, she felt an immediate connection with head coach Yvette Healy and her staff, whose .602 winning percentage is the highest of any coach in the program's 21-year history.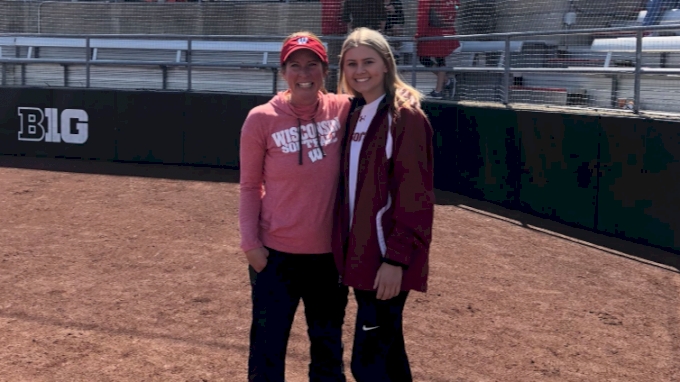 Peyton was also impressed by the support and passion Badgers fans showed for all sports, including softball.
"My first visit, I remember saying if I had the chance to go here, this is where I want to be," Peyton recalled. "The day I verbally committed, I went to a Pack the Stands game, and it was completely crowded. The whole outfield… everywhere was filled. People were standing."
As she draws closer to graduation, Peyton hopes to lead the Rockets to their first-ever state title. She'll bat third in the Chill 18U squad's batting order, and she'd like the team to have a strong finish in the major tournaments this season.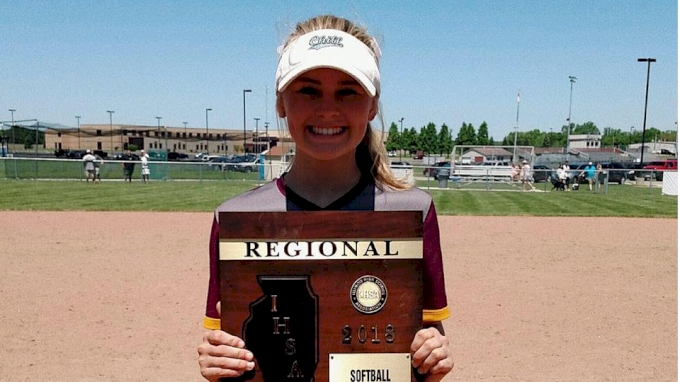 What can the Badgers softball program expect to get when Peyton begins her freshman year next fall?
"They'll get someone really versatile, which I think was one of the reasons they were interested in recruiting her," Quinn said. "She can move all over the field. If they have kids on campus they like at certain positions, they'll be able to move Peyton where they need somebody."
They'll also get a player who won't be afraid to embrace the many clutch moments that are sure to come.