2020 Oklahoma Softball
Signing Day Spotlight: Oklahoma No. 1 Prospect Jayda Coleman
Signing Day Spotlight: Oklahoma No. 1 Prospect Jayda Coleman
No. 1 recruit Jayda Coleman shares her USA and signing day experience.
Nov 18, 2019
by Chez Sievers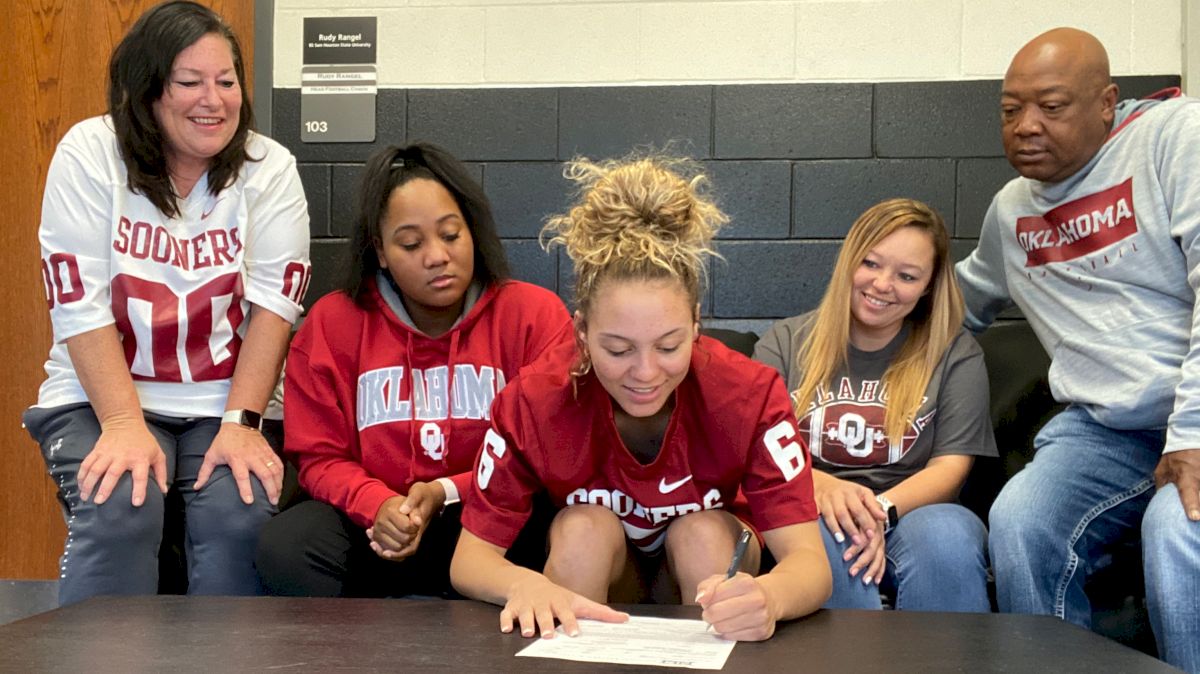 No. 1 recruit Jayda Coleman has been committed to Oklahoma since the eighth grade and she's maintained the title of No. 1 recruit since that time.
Her sheer athleticism, versatility, power, speed and undeniable enthusiasm for the game are just a few things that set her apart. Coleman was one of two athletes representing her class on the USA U-19 Junior National Team that took Gold at the World Cup. At Colony High, she batted .717 with 34 RBI, 18 doubles, 10 home runs, and 74 steals.
We catch up with Coleman and chat about her USA experience and her big signing day.
You were on the USA U-19 team that won the World Cup over the summer. What was that experience like? What was your favorite place to visit? Why?
This was the most amazing experience of my softball career so far. There is nothing like playing on the field for USA and hearing the crowd cheer, USA, USA, USA. My favorite place I visited was Dublin, Ireland. This place is absolutely beautiful. Just lush green grass everywhere and beautiful water surrounds this island. We stayed in a castle that looked like it was from a movie or something. Just so beautiful.
There were so many superstars on that team. Were you ever intimidated being one of the youngest on the team? Why or why not?
I was very intimidated at the tryouts but once that was over and we started practicing together it was just so fun. The chemistry on this team was awesome and I just wanted to soak it all in and learn everything I could from the coaches and the players. The coaches and teammates instantly made everyone feel like they belonged so I don't think any of us were intimidated, just a feeling of being blessed to be on the USA team.
When did you verbally commit to Oklahoma? Why do you think OU the place for you?
I verbally committed to OU in the eighth grade. I just love the feeling of "family" that you get when you are on the OU campus. Whenever I was on the field, I could just see myself playing there. The family feeling comes from the coaching staff. I had just as much interaction with Coach Gasso's husband as I did with her. Mr. Gasso, or Papi as we call him, was talking smack the whole time we played them in a UNO card game and it just reminded me of my own family and how we play games.
I also have to mention the players at OU. I just absolutely love Erin Miller and she just made me feel so at home on my visits that I just fell in love with everything about OU. Lauren Chamberlain, Shay Knighten, Sydney Ramero, Jocelyn Alo, Grace Lyons and just all of them are such awesome people, you just want to be a part of what they have built at OU.
You recently went on your official recruiting trip to Oklahoma. How was the trip? What did you do? Were there any cool moments you want to highlight?
My visit was so awesome. It just became so real that I will be there next year. Papi and Keilani Ricketts husband cooked a big meal of Hawaiian ribs, rice, and enchiladas. So again, a feeling of a family cookout like we have in my family.
Then, we had so much fun doing a scavenger hunt around campus with all the families, players, and coaches. I found out some cool things about OU that I didn't know like the bricks on the road in front of the Heisman Trophy statues are there so when you drive your car over the bricks it sounds like a crowd of people clapping. I thought that was so cool. We also got to meet Jalen Hurts, CeeDee Lamb, Coach Riley and some of the other football coaches. We also got to meet Coach Stoops which was really cool. I also enjoyed putting on the OU uniform and getting pics and videos done.
What are your plans for signing day? Who will be there?
I am signing with one of my best friends, Jacee Hamlin. She is going to Texas Tech to play softball. We just signed the paper in the coach's office, just us, but we are having a party next Wednesday at a restaurant so all our friends and family can be there and we can have time to celebrate. Our school does a big signing party in February so that's when we will have the celebration at school.
What excites you most when you think about going to college?
Just being part of the OU family. I love all sports. I have gone to volleyball, basketball and football games. I just can't' wait to sit in the student section at all the games.
Who's been the biggest source of inspiration in your life and why?
My family is the biggest source of inspiration. I am big on family. It's not just my mom and my dad. My sisters, Ashlee and Jhanna are such a big part of my life. They go to everything that goes on in my life, and that's a lot. My Uncle Mike, (Micheal Maxwell), Granny Joyce, (Joyce Dodd) Paw Paw, (Leroy Dodd), Granny Lyndia, (Lyndia Day Ammann), Steve Ammann, Nanna (Debbie Day), Grandpa (Dean Day), Uncle Chris (Chris Day) and so many other aunts, uncles and cousins support me in everything I do. It's just awesome to be surrounded by so many people that have so much love for me and each other. That support inspires me to keep going and be the best I can be.
Do you want to thank any people in your life that have helped you along the way?
I am so blessed to have had so many awesome people be a part of my life. Without all those people, I would not be where I am today. All the family members I named up above, I want to give a huge shout out to!!! Thank you for all your support!!
I want to give a special shout out to my sisters, Ashlee Coleman and Jhanna Coleman. They are the ones that got me through all the tough times growing up. I felt like a had to grow up fast but they were always there to give me balance in my life. They always showed me that sisterly love that I needed when I felt like the world was against me. I could not have asked for two better people to call my sisters!! Love you guys and thank you for all your support and all those games you have watched me play over the years! I love you guys with all my heart!!
Shout out to all the coaches I have had in my life. Every one of you taught me something valuable and helped mold me into the player I am today. From the first softball coach to all my middle school coaches (Coach Q and Coach McMinn) to all my high school coaches to Kevin Shelton, Tony Woddall, Jason Gwen and Cedric Coleman, my 18U Texas Glory coaches, I want to thank you so much for all the hard work, hours and patience you gave to me as I grew into the player I am now. I would not be here without you guys.
To coaches Ricky Richardson, Rafael Denson, Dwayne Greene, Melodie Hukill, and Ladd Freeman, you guys made my softball years so fun!! Big shout out to you guys!!
I want to give a shout out to all my teammates over the years, especially my high school teammates, Jacee Hamlin, Karlie Charles, Madison Hirsch and all the TC Lady Cougars out there. You guys have made my high school career so memorable and together we made school history and had an awesome time doing it!!
I would like to give a special shout out to my parents. My dad is just the rock of our family. When my mom was going through her cancer treatments, I was never afraid of the future because my dad always just had this confidence that everything was going to be alright. Thank you, Dad, for all your strength. I love you through the good times and the bad times, no matter what. I could never imagine being anything but a Coleman!!
A huge shout out to my mom. I love her hugs!! No one hugs like my mom!!! She always seems to just make everything better with her hugs!!
I just love her strength and her passion. The way she took on cancer and just acted like it didn't even phase her was just incredible. Thank you for always being there through thick and thin!!! I am so blessed to be able to call you mom.