2021 THE Spring Games
The History Of The Division III Softball Dynasty: The College of New Jersey
The History Of The Division III Softball Dynasty: The College of New Jersey
How a little known softball dynasty sparked a competitive DIII revolution in New Jersey.
Nov 25, 2019
by Mark Allister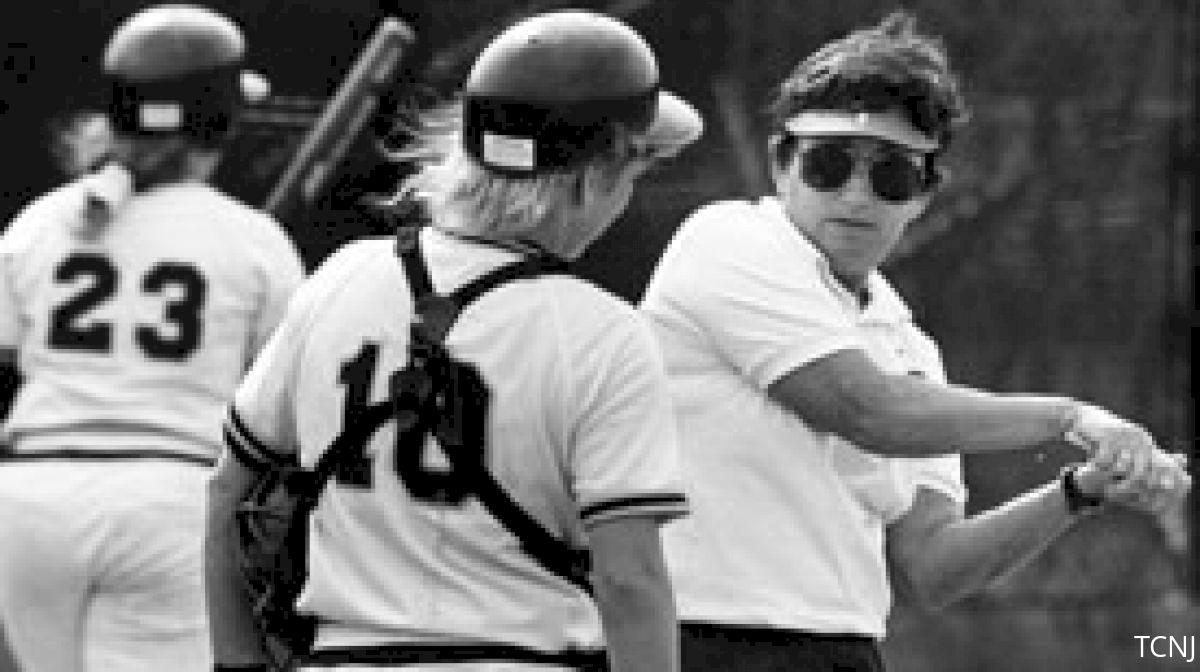 Mark Allister will be covering DIII softball for FloSoftball this upcoming year, and he would welcome your story ideas at his email address, allister@stolaf.edu. Allister is a professor of English at St. Olaf College in Minnesota and the author of Women's College Softball on the Rise: A Season Inside the Game.
If you ask women's softball fans what program has been the greatest dynasty, nearly everyone will reply "UCLA," based on its 13 Women's College World Series championships as well as their 29 appearances in the WCWS over the past 42 years. But over the span of 15 years from 1982-1996, New Jersey's little-known Division III Trenton State College exceeded UCLA: winning six titles, finishing runner-up another six times, and losing in the semi-finals the other three.
Because women's sports had less coverage, few books were written on them, and games from the past weren't often televised, the collective memory about women's teams isn't as prevalent as the male counterpart.
The problem is more acute for women who don't play DI, and perhaps Trenton State's legacy has been further diminished because the state of New Jersey changed the school's name in 1996 from Trenton State College to The College of New Jersey (TCNJ). Ironically, Trenton State wasn't even located in the city of Trenton, having moved to Ewing in 1933.
Trenton State owes its softball success to influential people who believed early on that women's sports mattered. In the years following Congress passing Title IX legislation in 1972, colleges and universities in all divisions were slow to change in providing equal opportunities for female athletes. The average university spent only 16 percent of its budget on women's sports by 1980.
Clayton Brower was president of Trenton State during the 1970s when the former teacher's college was raising its academic profile nationally as a leading liberal arts college. He believed that academics and athletics could make this rise jointly: "There was a very strong feeling from my point of view and from the Board ," Brower said to Craig Haley for TCNJ Magazine, "about establishing a firm position on Title IX and having equal opportunities for women as well as men in athletics. We've hung our hat on women's athletics." That progressive viewpoint found no resistance in the athletic department, as the AD from 1964-1987, Trenton alum Roy Van Ness ('43), was a forward-looking champion of female athletes and coaches.
Kevin McHugh succeeded Van Ness as athletic director in 1987. I asked him how the college, interviewing for the position, presented its desires for and expectations of women's sports. "I don't recall any discussion about Title IX," McHugh recalls. "That wasn't really in the vocabulary. It was more than TSC believed that they should be supporting the women's programs equally because it was right and because it would help establish TSC athletics nationally, which in turn would help them establish the school generally."
McHugh came into the position after Trenton was already a power in DIII women's sports, and under his leadership, that prominence continued. He explains the success by saying, modestly, "it was great coaches who recruited great athletes, and again, the support of the institution to do the women's programs the right way."
One of those great coaches was Dr. June Walker, who was voted Division III Coach of the Year five times. During her 22 seasons from 1974-1995, Walker guided the program to a 721-154 record. McHugh remembers Walker as an old-school coach who had to battle the hardships that women endured before Title IX changed college sports.
"She was a bit scarred by that experience," McHugh recalls, "but certainly toughened by it as well. She had made in-roads before I got there and her competitive success had helped contribute to some at the school realizing what successful athletics, even at the DIII level, even in women's sports, could achieve for institutional name recognition."
While teaching a team to believe in themselves could engender great on-field success, Walker likewise demonstrated, in her role as associate athletic director, that a powerful feminist within athletics could influence an entire program. It wasn't only in softball that Trenton State achieved excellence: their women's field hockey teams won eight national championships from 1980-1997 and women's lacrosse won nine.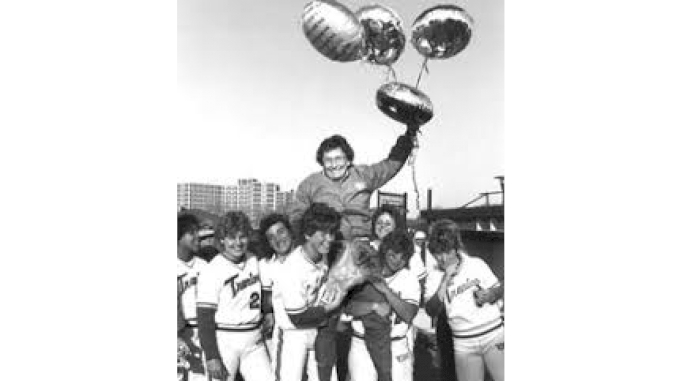 The reputation of every dynasty, even one as long-lasting as Trenton State, is served by having a strong rival that repeatedly puts championship desires in jeopardy. Trenton's rival during those glory years was Eastern Connecticut State College (now ECSU), who played a role similar to that of Arizona rivaling UCLA in DI softball. ECSU won five national championships in a 10-year span, three times beating Trenton in the championship game.
The creation of softball at Eastern was nothing like what happened at Trenton, where a tradition of excellent women's sports was supported by a sympathetic administration. In 1976, some Eastern female students approached Clyde Washburne, former baseball coach at the college and then the men's basketball coach, to see if he would help begin a softball team.
Those students, Washburne has said, didn't want to be cheerleaders, they wanted to be athletes. Washburne helped them, resigned as the basketball coach a year later, and turned the new softball team quickly into a national powerhouse. He also became an advocate for female athletes in general.
In a 2018 article after Washburne's death, Bob Molta, the Sports Information Director at ECSU, writes that in those post-Title IX years Washburne "would not accept second-class status as it pertained to facilities and funding for equipment, travel, and coaches salaries," a position that made him in those early years increasingly "persona non grata in the eyes of the Eastern administration."
For several years after the program began, Eastern's softball "field" was a grass area between two dorms (shared with students who tossed Frisbees and footballs), while the baseball team had a nice field. Only when Washburne finally called the Office of Civil Rights in Boston did the university give money for a fenced-in softball field with dugouts.
But even so the endeavor needed a DIY quality. Cynthia Walz, now Cynthia Washburne because 15 years after her graduation she re-connected with Clyde and eventually married him, was a player then and recalls how many people helped with that field. "Even when we had an enclosed field," she said, "we needed lights , so Clyde worked with a local man from the telephone company to get the light poles donated, and he got someone from the electrical company to wire them for free. As players, we were charged with pulling the lines through the ditches to get them to the poles so that they could be wired."
Young people may not realize that in the 1970s and 1980s girls were often discouraged from going to college, particularly if they were from working-class families whose parents had not attended. Cynthia Walz was one of those girls.
In high school in Hartford, she was an athlete with no expectations of going to college, but Washburne began recruiting her. Cynthia went on to get not only an undergraduate but a Master's degree, and she has spent her adult life in college athletics administration.
Diana Pepin, who has been the softball coach at ECSU for the past 18 years was also discouraged by her family from going to college. Pepin went to Windham High, just down the street from the university, and liked to hang out at Eastern's new field, watching games and practices. An all-around athlete who played five sports and wanted to continue, Pepin decided that softball and Eastern, who had an excellent education department, would be her choice.
Pepin played for four seasons, from 1988-1991; her teams finished third nationally, second twice, and won the championship in 1990. Trenton, she said, was hated, though greatly respected rival.
Her coach in those years was Jeff Anderson, a 1984 Eastern graduate and former captain of the basketball team, who had served as an assistant softball coach under Washburne from 1981 until being appointed head coach in 1988. Beloved by his players, Anderson learned coaching and the women's game from his mentor, and he was carrying on Washburn's record until his untimely passing in 1992 at the young age of thirty-three. Eastern has not won a championship since.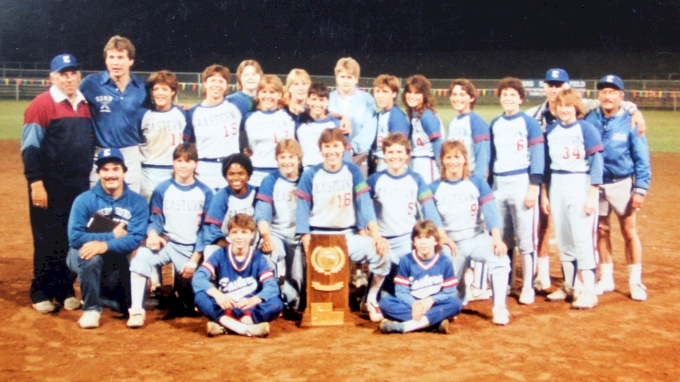 June Walker coached at Trenton State through 1995, and she was replaced by the current coach Sally Miller, whose experience had been at the DI level, primarily in the Big Ten. "I decided, during my second year coaching at Indiana," Miller recalls, "that if I was going to continue, I wanted to go to a non-scholarship school, back to the Ivy League or to DIII."
Trenton State hired her, and she remembers that first year being really difficult, as any coach succeeding a legend discovers. "I put too many expectations on myself, which weren't in my best interest. And I hadn't played there, which was another challenge. I had to prove myself, as an unknown person from Iowa, to this group of alums who had had so much success and passion for the program." In her first year, she led her team to the NCAA softball championship.
All these years later, TCNJ and ECSU might occasionally play each other in an early-season tourney, but conference and regional foes have replaced the rivalry that once occurred in the final games of the NCAA championship. "It's so hard," Diana Pepin says, "to even get to the national championships now because of the level of competition." Both schools continue to have strong programs.
In 2019, Eastern surged late in the season, won it's regional and super-regional, and then finished tied for third. TCNJ went to the NCAA tournament, was 33-6 and ranked No. 1 in the East regional before being knocked out in an upset.
Since 1996, no program has come close to making the championship runs that Trenton State or Eastern Connecticut State College did. St.
Thomas University went back-to-back in 2004-2005 and Tufts University, behind arguably the greatest DIII softball pitcher of all-time, Allyson Fournier, had a three-peat from 2013-2015. Virginia Wesleyan University won in 2017 and 2018 behind the national pitcher and player of the year Hanna Hull, but with nearly everyone returning, including Hull, and a strong freshman class, VWU couldn't get out of their regional in 2019, despite a No. 1 national ranking going into the tournament.
Coaches I talk to explain the competitive balance in DIII softball by referring to the large number of potential DI players who choose a different model for being a student-athlete and therefore decide to play DIII, as well as a large number of players from travel ball hotbeds who attend schools in regions other than their own.
In 2019 pre-tournament dark horse Texas Lutheran University rode a 19-1 record in their final 20 games to become national champions, and so one story heading into this upcoming spring will be whether they can repeat.
Their win last year was a total team effort of pitching, defense, hitting, and speed, and they return all their key players. But don't bet on them, as strong as they look to be.
When I asked Brandon Elliott, head coach at Virginia Wesleyan, what makes it so tough to even get to the final eight much less be there every year, he replied: "What these teams and coaches did over the course of a decade or even consecutive years is beyond me. You have to have talent, health, and luck on your side all at the same time. Regardless of what time period a team played in or the circumstances surrounding now versus then, winning is hard and continuing to win is even harder." Such strong competition is the fruit of the seed that Walker and Trenton State, Washburne and ECSC, planted years ago.