2020 THE Spring Games
THE Spring Games Announces 2020 Logo Selection Contest Participants
THE Spring Games Announces 2020 Logo Selection Contest Participants
THE Spring Games announce 2020 Logo Selection Contest Participants: Kiah Ferrell, Heather Ehman, Jordyn Brennan and more.
Dec 9, 2019
by FloSoftball Staff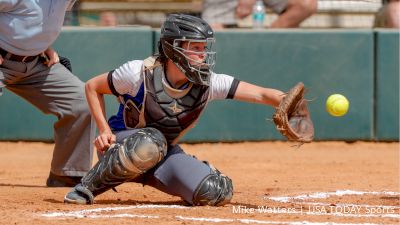 THE Spring Games, the World's largest college softball event, announced Monday that it has officially opened it's 2020 Logo Selection Contest for public voting on Facebook, Twitter, and Instagram.
The Logo Selection Contest started in 2015, invites college athletes participating in the event to create and submit a logo which, if chosen by the fans, will be used at the event on official merchandise and will be the official logo for the year. The winning team is awarded both bragging rights as well as official t-shirts for the players, coaches, and administration attending the event.
"The Logo Selection Contest has been such a fun part of THE Spring Games since it started," explains Alison Strange, CEO and Tournament Director for THE Spring Games. When Strange took over management of THE Spring Games in 2014, the annual logo for the event was designed and selected internally by staff. "Honestly, we were running out of ideas. They say that necessity is the mother of invention and the thought of a contest to get the players excited about the upcoming spring seemed a perfect solution to our creativity problem," Strange explains with a laugh.
For 2020, logos were submitted by universities across all divisions: University of Indianapolis (NCAA DII), Indiana University South Bend (NAIA), UMass Dartmouth (NCAA DIII), Bethel University (NAIA), University of Upper Iowa (NCAA DII), and SUNY New Paltz (NCAA DIII).
Heather Ehman, now a Junior at SUNY New Paltz, has submitted the winning logo design the last two years (2018 and 2019) and is hoping for a three-peat in 2020. She has submitted another logo this year and, as of the publication of this article, has earned a competitive top-2 position on the Facebook Fan Group. From what we can tell, she has quite a few votes on Twitter and Instagram already as well.
"It gets very competitive," says Strange, "we see players from participating teams invite their aunts and uncles and neighbors to participate in the vote and there are usually thousands of votes cast for the winning logo." Just two hours after this year's logos were posted, THE Spring Games Twitter poll alone had over 4,000 impressions with almost 1,000 unique users casting their votes.
The vote is open to the public. For 2020, the event has created an Instagram and Twitter page with polls where fans can cast their votes as well. Through these formats, fans can vote for their favorite logo up to three times (once on each platform: Facebook, Instagram, and Twitter).
The "Final 4" logos will be announced Wednesday, December 11, 2019 and made available for public vote once more to determine the winner. The winning logo will be announced Saturday, December 14, 2019.
THE Spring Games is the World's largest college softball event with over 500 collegiate teams from NCAA Divisions I, II, and III, NAIA, and NJCAA teams participating from mid-February to the end of March. THE Spring Games will host over 2,200 games during that time period and is available for live stream exclusively on FloSoftball. To learn more about THE Spring Games, follow them on social media or go to www.THESpringGames.com.