2020 THE Spring Games
THE Spring Games Adds Division I Softball To Its 2020 Lineup
THE Spring Games Adds Division I Softball To Its 2020 Lineup
THE Spring Games, the World's largest college softball event, will add NCAA Division I softball to its already massive list of participating teams for 2020.
Dec 12, 2019
by FloSoftball Staff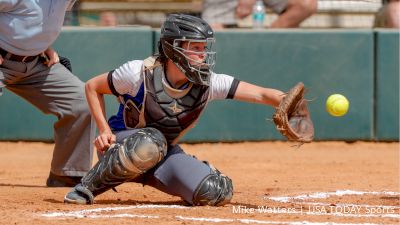 THE Spring Games, the World's largest college softball event, will add NCAA Division I softball to its already massive list of participating teams for 2020.
In 2019, THE Spring Games had 390 teams in four categories of collegiate softball: NCAA DII, NCAA DIII, NAIA, and NJCAA. In 2020, the event has already secured over 500 teams. A significant part of this growth was from the incorporation of the NCAA Division I Madeira Beach Invitational.
"We have historically grown by 10% or more each year since we started in 2008," explains Strange, "and this year is no different. Even without our DI teams, we would be at 420 colleges from NCAA DII and DIII, NAIA, and NJCAA, so we are on track with our annual 10% growth. Of course, adding 86 DI teams has been the primary difference for such a large jump from sub-400 to over-500 over the course of just one year."
The inclusion of NCAA DI teams into THE Spring Games has led to many changes for the event. From a mindset of "Together we are Better" to separation of the Divisions for scheduling and playing purposes, the acquisition of the DI event has proven to be highly beneficial to THE Spring Games staff.
"We have kicked around - and rejected - the idea of bringing on DI for quite some time. In the end, it was really about adding Melissa Gentile [who goes by "Skeeter" in the softball world] to our team. I had been talking with her for a couple of years and knew we had to work together at some point. When the opportunity presented itself, we both agreed it was the best for everyone." Strange says.
Gentile's event, based out of Madeira Beach, brought 39 teams to THE Spring Games immediately. Six months later, the DI section of THE Spring Games has grown to 86 collegiate teams. Strange credits the growth to Gentile's reputation and work ethic and to the opportunities made available to Gentile through THE Spring Games structure. "Melissa would have done a great job no matter what. By joining with us, though, we were able to share with her structures and marketing power that a small event simply does not need or have at its disposal. This gave her the freedom she needed to be the best she could be and is why she's been able to more than double her team count in the first year."
The addition of DI, though, has resulted in more changes than just the team count. In making the decision to add DI to the already massive roster of teams, Strange also brought on a fourth member to her otherwise small team: J.R. Rozier, a former collegiate football coach now converted to Director of Operations for the largest women's college softball event in the World.
Hiring a person from outside the sport may seem counterintuitive to some, but for Strange, it was a no-brainer. "I knew I wanted to incorporate football ideas and standards into this event. I've been watching the football world for some time and when I learned J.R. was on the market, like Melissa, I grabbed him right away."
It seems her instinct to go outside of the norm has paid off. Immediately, Rozier brought fresh ideas to THE Spring Games. This year's slogan "Together we are Better" was his idea and the social media hashtag #Better20gether is the first-ever used by THE Spring Games. Strange beams when talking about her newest staff member: "bringing J.R. to the team has raised our standard. Not only do we have much more robust internal structures, but now, when we have decisions to make, we always look to him and ask 'what would DI football do?' This mindset is making the event better overall. We truly are better together!"
Internally, these changes have resulted in better customer service for all teams participating in the event. THE Spring Games has, historically, been scheduled by one individual. For 2020, the staff broke up the divisions so that each one has its own complexes, Tournament Director, and scheduler. The result: more time to spend on the schedule per team and better communication with the coaches.
Strange explains how this shift has elevated the staff she already has: "Sarah [Rotta] has been with THE Spring Games from the beginning; she was a coach in our first year and for eight years thereafter and joined us five years ago as a staff member. As a first-time scheduler, she brought a fresh view to what we've been doing. Using the structures J.R. created and her ideas, we were, collectively, able to come up with the best schedule I've ever seen us produce and the coaches are very happy."
For THE Spring Games, it working together with new staff, senior staff, new ideas, new technologies, and coaches really has helped make the event better. #Better20gether appears to be more than just a slogan, it seems to be a way of life for the team in Central Florida.
THE Spring Games is the World's largest college softball event with over 500 collegiate teams from NCAA Divisions I, II, and III, NAIA, and NJCAA teams participating from mid-February to the end of March. THE Spring Games will host over 2,200 games during that time period and is available for live stream exclusively on FloSoftball. To learn more about THE Spring Games, follow them on social media or go to www.THESpringGames.com.