Unlock this article, live events, and more with a subscription!
Get Started
Already a subscriber? Log In
From Oak Park Heights, Minnesota, 2021 Top Gun Academy ace Allison Benning has all of the tools to be a fierce Division I pitcher.
The 6-foot-1 hurler felt the highs and lows of recruiting, but she's always kept faith in her process and surrounded herself with good people. She shares part of her softball journey and why she chose Oregon.
How did you get involved playing softball?
My dad was a softball coach for a local 16U club team. I went to watch their practices and games and absolutely fell in love with softball. The girls on his team were (and still are) my role models, and I wanted to be just like them.
What do you love about softball?
Mainly, I love how competitive softball is. Being a pitcher is extremely competitive because you have the biggest impact on the outcome of the game. I also love forming great bonds with my teammates and coaches. I love my teammates on Top Gun and my HS team and would run through a wall for them!
Who has been the biggest influence in your softball career? Why?
I have had a lot of people who have influenced me throughout my softball career, but if I had to pick one person, I would say my dad. He was the one who first taught me how to pitch, and the person who got me to really love softball. I cannot thank my dad enough for everything that he does to help my game, like taking me to pitching and hitting lessons and traveling across the country with me for tournaments.
What's been the highlight of your softball career? And why?
The highlight of my softball career thus far was winning the state tournament as a freshman. It was a great journey, and it was a feeling that I always want to have.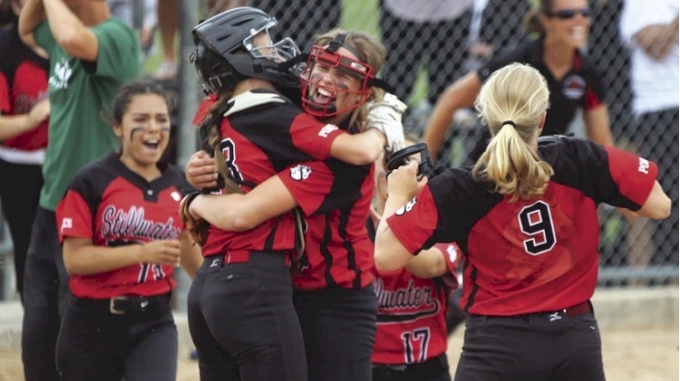 What's been the biggest challenge you have ever faced? How did you overcome that challenge? What did you learn?
The biggest challenge I have ever faced is getting to the state championship my freshman year. We lost our first game of the section tournament, and if we lost again, our season would be over.
We won six straight games to get to the state tournament, and three more to become state champions. We took it one game at a time. We didn't think about what could happen because we had to focus on the present moment.
The main thing I learned from that experience is to never take anything for granted, whether it be a game, a team, an inning, or an at-bat and just focus on the moment.
What's your mindset and/or approach in the circle?
My approach while pitching is simply to get the batter out. I don't care about strikeouts or how I get a hitter out, I just want outs!
I learned at an early age that easy innings are just as fun as strikeouts. I always try to get ahead in the count and mix speeds. My number one goal is I simply want to win the game and whatever I can do to help my team accomplish that, I am going to do.
What was your recruiting experience like?
The recruiting experience was a whirlwind, and it was both fun and stressful. Obviously, being wanted by several programs is exciting and makes you feel great, but at the same time, it's a hugely important decision, so that makes it stressful. Traveling to find out more about many different programs was fun and I learned a lot, and for that, I am very grateful.
Why did you choose Oregon?
I mainly chose Oregon because of Coach Lombardi and her entire staff. Coach Lombardi is one of the best pitching coaches of all time and I formed a very strong bond almost immediately with her.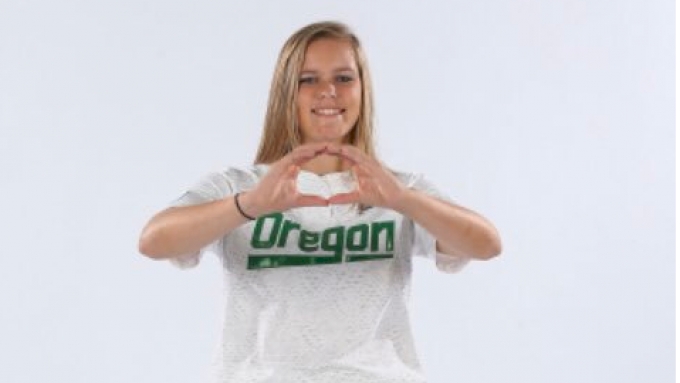 I know she will be (is) a top Head Coach as well, and she is exactly the type of coach I want to play for. Coach Langenfeld is also a great pitching coach who had a tremendous career that I hope to learn a lot from. I'm so grateful that I'll be able to work with them and the entire staff. Oregon just felt right and I cannot wait to start! I just love everything about the University of Oregon!
How would you describe yourself on and off the field?
On the field, I am a tenacious competitor and am very passionate. I love to win, and I hate to lose.
Off the field, I am driven and fun-loving. While I spend a lot of time working hard to improve my game, I also love to spend time with my family and friends. I take pride in being a great teammate, and mostly, I just want to WIN, whether softball or checkers with my grandma!
Dream job: Being a journalist or sports broadcaster for ESPN
Favorite show: The Bachelor
Favorite kind of music: I love all music, so it really depends on how I'm feeling that day.
Go-to snack: Cheddar Jack Cheez-Its