2021 Judi Garman Classic
Cal State Fullerton Softball Poised For A Bright Future
Cal State Fullerton Softball Poised For A Bright Future
Fullerton softball is approaching the 2020 season with new eyes and a new attitude. Get ready for Titan softball.
Jan 17, 2020
by Stephen Kerr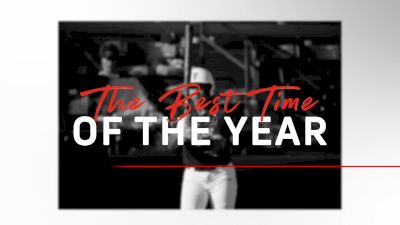 Every January before the first practice, Cal State Fullerton head softball coach Kelly Ford gathers her entire squad and whisks them to a mystery location away from campus for an overnight trip. The players have no knowledge of their destination until they arrive, or even how they'll travel until it's time to leave. It's a chance to bond and promote team-building before the start of a long season. It's also an opportunity for Ford to observe how each team can discover its personality.
This year, the site was a beachfront mansion in Oceanside, featuring an appearance by Fullerton alum and mental training specialist Brian Cain. An international best-selling author well-known for his work in achieving peak mental performance, Cain has worked with hundreds of athletes in college and professional sports. The players received the ultimate test of their physical and mental endurance by participating in Navy SEAL training on the beach.
What a great two days with cal state fullerton softball and Navy SEAL Sean Haggerty. This staff understands that you can't win championships without relationships and leadership. They are intentional about how they develop both... and they've won 4 straight titles. #Intention pic.twitter.com/dYBfE4507i

— Brian Cain (@BrianCainPeak) January 10, 2020
"It was something I'll definitely never forget because it brought us closer as a team than we've ever been before," senior catcher Julia Valenzuela said. "The (idea) was, you're never going to do anything this hard again. It was a milestone for our team, because during the season when it gets rough, we can always look back to that moment we shared together."
Practice for the 2020 season began the next morning. While every year is filled with peaks and valleys, Ford was encouraged by the way her squad responded after returning from the beach.
"We've logged in some of the best practices in our program's history since I've been here, just coming off that high," said Ford, who's beginning her eighth season as Titans head coach. "This group's got a great personality. (They're) just a cool group of women."
The Titans finished 38-18 overall last season, 18-3 in conference play. They got as far as the Los Angeles Regional before suffering back-to-back losses against Missouri and Weber State. Ford became the first coach in Big West softball history to win Coach of the Year in four straight seasons. Before arriving at Fullerton, Ford spent 11 seasons at Mount San Antonio Junior College in Walnut, guiding the program to four California State championships with a .816 winning percentage.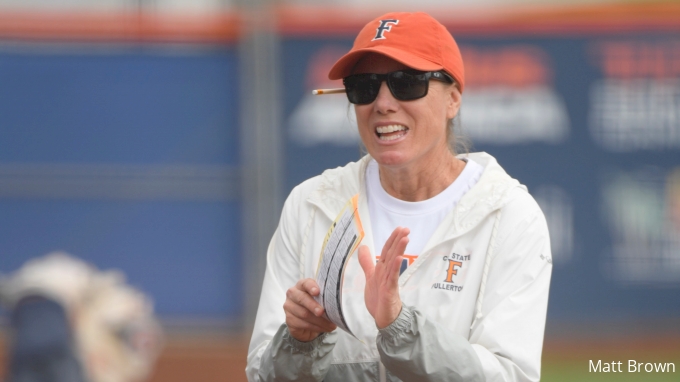 The majority of last year's squad will be back, including eight of the nine starters. Valenzuela was named to the 2019 All-Big West Second Team for a second straight season. She hit .232 overall, but dominated conference play with a .380 average. In a game against UC Riverside that clinched the conference title, Valenzuela went 3-for-3 and became just the second catcher in program history to record a perfect 1.000 fielding percentage.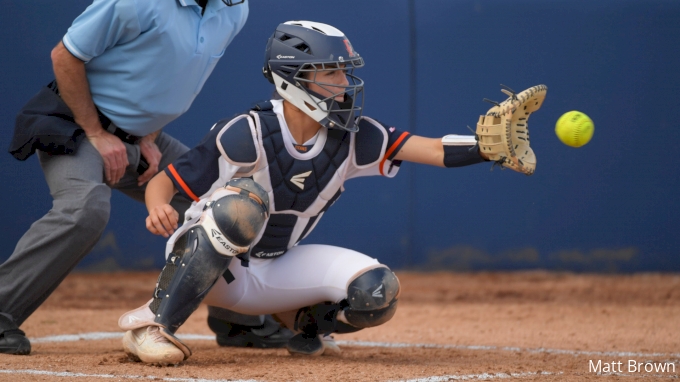 Just the mention of Valenzuela's name brings a smile to Ford's face.
"She is an exceptional catcher, one of the strongest arms in the game," Ford said. "She knows the power of laughter with her teammates, she knows when she's got to dig in and raise the bar."
Other notable returnees include sophomore Dani Martinez, who became only the third player in Titans history to be named Freshman Pitcher of the Year, while Alexa Neil earned Co-Freshman of the Year honors.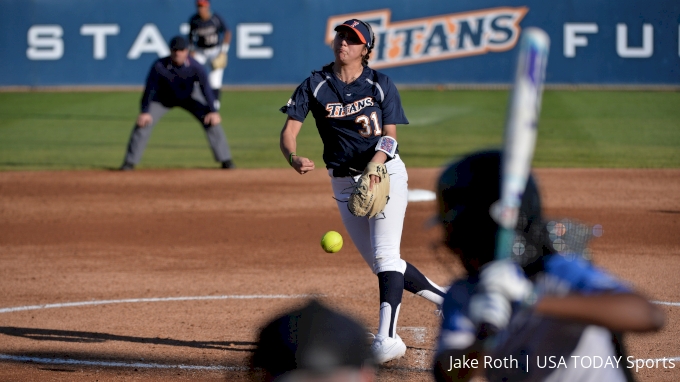 Ford is counting heavily on the experience of Valenzuela and the other returning starters, pointing to their leadership as one of the team's greatest strengths.
"They've been through the ringer," she explained. "They've been role players, starters, pinch-hitters… I've given them a lot of authority because there's a lot of trust. I'm excited to see what they do this season."
Among the crop of freshmen is Hot 100 player Megan Delgadillo, a left-handed-hitting outfielder from Poly High School in Riverside. Ford expects her to make an immediate impact as a leadoff hitter.
"She made us better the second she committed here," Ford said. "She's just an all-around gamer."
One of the team's biggest inspirations is junior right-handed pitcher Taylor Dockins. During the summer before her senior year of high school, the Corona, California native was diagnosed with cancer. Despite missing a month with doctor appointments and chemotherapy treatments, she made 12 starts in 18 appearances as a Titan freshman, going 7-4 with a 3.29 ERA in 78.2 innings. She threw seven complete games and two shutouts, including the 57th no-hitter in program history against San Diego.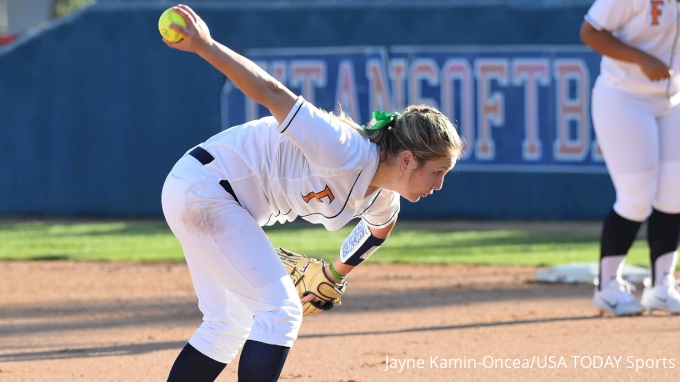 Last season, Dockins posted a 6-5 mark with a 2.57 ERA and 35 strikeouts in 68 innings. She pitched in both of the Titans' NCAA Regional games, allowing three runs (one earned) and six hits over five innings.
As Dockins' teammates watch her fight her battles on and off the field, they've come to realize the importance of not sweating the small stuff.
"Our whole team is inspired by her every single day," Valenzuela explained. "It's easy to complain about some of the things we do when we're all tired and sore. But when I see Taylor, none of that matters. We're playing for her, we're playing for bigger things than ourselves out on the field."
The Titans have established themselves as one of the top fielding teams in the country under the direction of associate head coach and recruiting coordinator Jorge Araujo. Last season, they finished with a .975 fielding percentage, breaking their previous team record set in 2015. Fullerton has ranked in the NCAA Top 35 for fielding percentage in four of the past seven seasons.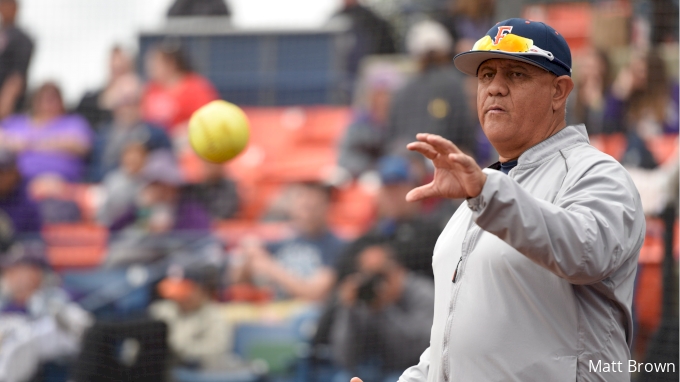 "We've got some talented players who can catch and throw the ball," said Araujo, who played shortstop and third base at Cal Poly Pomona and is entering his fourth season with the Titans.
"My philosophy is you've got to play defense so we can win games. You don't want to make teams better hitters than what they are by playing shabby defense."
In November 2017, the school began the process of upgrading its softball and baseball facilities. Plans include improved shower and locker room space, rooms for meetings and video analysis, a snack bar, covered batting cages and a study area. As recruiting coordinator, Araujo is excited about the impact the new facilities will have on his program's future.
"We have a lot of ingredients to recruit good ballplayers," he explained. "But it's getting competitive out there. I think for us, (the improvements) will pay some dividends in that a kid can walk into a locker room and know they have what they need to be comfortable and they'll be taken care of."
The Titans' 2020 schedule looks to be another competitive one, highlighted by an April 16 home matchup against defending National Champion UCLA. The team will also host the Titan Classic, Judi Garman Classic February 27-March 1, and the Easton Invitational. The Judi Garman Classic is one of the biggest on-campus tournaments in the country, featuring Texas, LSU, Washington, Michigan, Illinois, Texas Tech and more. But the biggest challenge, Ford says, is her ability as a coach to strike a balance between being involved and just letting the athletes play.
Who's ready?! ?‍♀️ #TusksUp https://t.co/OSaNku7lJX

— Titans Softball (@Fullerton_SB) November 7, 2019