NPF
California Commotion Sign Lefty Pitcher Cheridan Hawkins
California Commotion Sign Lefty Pitcher Cheridan Hawkins
The California Commotion added veteran leadership with the signing of professional softball player Cheridan Hawkins.
Feb 6, 2020
by FloSoftball Staff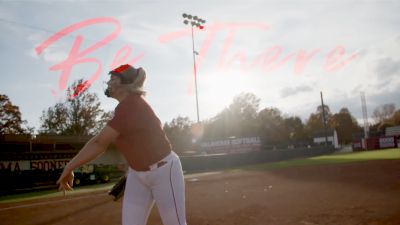 Los Angeles, CA (February 5, 2020) – The California Commotion added veteran leadership with the signing of professional softball player Cheridan Hawkins.
"I'm thankful for another opportunity to play the game that I love," said Hawkins. I look forward to being a part of this team and representing my home state. I can't wait to meet my new teammates and I am excited for the 2020 season."
Hawkins (Anderson, Calif.), was drafted 29th overall in the 2016 National Pro Fastpitch Draft by the Dallas Charge after an outstanding four-year career at the University of Oregon.
As a Duck, Hawkins was a three-time All-American and was a three-time Pac-12 Pitcher of the Year. She holds records at Oregon for single-season strikeouts (330), single-game strikeouts (18), career strikeouts (1,801), career wins (108), career shutouts (33) and career no-hitters (six, including one perfect game).
The pitcher has also spent time in the Red, White, and Blue. She represented the United States on the 2013 Junior Women's National Team and Women's National Team. With the juniors, she went 4-1 with 25.2 innings pitched, 35 strikeouts and a 0.81 earned run average en route to a silver medal at the ISF Junior Women's World Championships. She won an ISF World Cup silver medal with the women's team and a gold medal at the 2013 Mayor's Cup and Pan Am Games Qualifier.
She returned to the Stars and Stripes in 2016 with the Women's Elite Team where she participated in the 2016 World Cup of Softball.
"Cheridan brings tremendous experience from not only the professional ranks but also the NCAA Women's College World Series," said head coach Kirk Walker. "She is a very dedicated competitor that brings a lot to our new organization."
About National Pro Fastpitch (NPF)
National Pro Fastpitch (NPF), an Official Development Partner of Major League Baseball since 2004, provides elite female athletes with an opportunity to pursue a professional career in fastpitch softball beyond their collegiate and amateur success. The NPF affiliate teams consist of the Aussie Peppers of Minnesota, Beijing Shougang Eagles, Canadian Wild of Southern Illinois, Chicago Bandits, Cleveland Comets, and California Commotion. National Pro Fastpitch players hail from the United States, Australia, Canada, China, and Mexico, and represent the most accomplished and talented athletes in the sport of women's softball.