2020 Mary Nutter Collegiate Classic
Morganne Flores Eyeing One Final Shot At National Title With Washington
Morganne Flores Eyeing One Final Shot At National Title With Washington
Washington senior catcher Morganne Flores aims to finish her final season with a national title.
Feb 17, 2020
by Stephen Kerr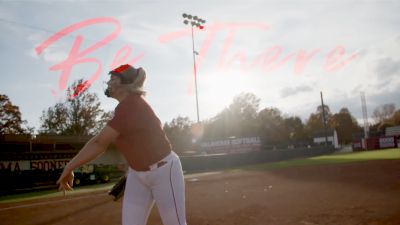 The 2018 season was a bittersweet one for Washington Huskies catcher Morganne Flores. The team marched all the way to the WCWS championship series, where they lost 8-3 to eventual champion Florida State.
Flores, now a redshirt senior, didn't see action in that World Series. In fact, she didn't play the entire season, having to redshirt after tearing the ACL in her right knee that January. In the previous season, she hit 13 homers and drove in a conference-high 74 runs, making the NFCA All-Region Second Team.
Just two weeks before the start of the 2018 season, Flores was jumping for a ball on a first-to-third play during practice when the injury occurred.
"When I landed to turn to get the runner at third, my knee just gave out," recalled Flores, a native of Cypress, California. "Something popped in my knee, and the next day I found out that I tore my ACL."
While Flores was used to hard work on the field, she was a bit unprepared for the physical and mental toll of rehab.
"It made me appreciate just being healthy. I didn't realize how much work it was going to be just to get movement back in my knee. I was so focused on the physical, I think I took the mental side for granted."
- Morganne Flores
Watching the Huskies almost win the national championship from the sidelines was difficult for Flores. But head coach Heather Tarr couldn't help but notice her catcher's desire to remain part of the team and contribute in other ways.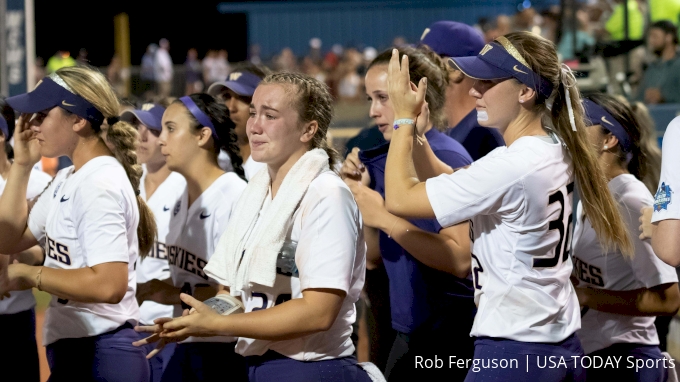 "She's a very unselfish person, very aware of her surroundings," explained Tarr, who has led the Huskies to three consecutive WCWS appearances and a national championship since taking over in 2005. "She felt bad she couldn't be there with the team physically, but she traveled with us everywhere. She helped in every way we asked her to."
The focus that sustained Flores through her comeback has been a constant in her life since taking up softball at age six. She played for the California Cruisers before moving to the OC Batbusters under Mike Stith in 14U. She and her parents, Marc and Lynn, give Stith much of the credit for teaching her mental toughness and the finer points of the game.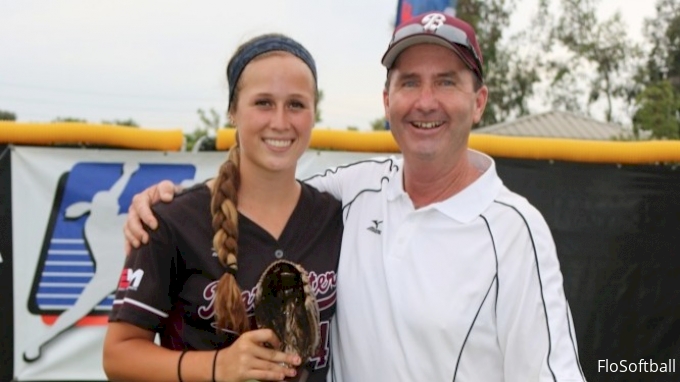 "Mike was such a proponent of trying to get the girls to the next level," said Marc, who went to high school with Stith. "(Morganne) was a very focused kid right from the get-go. Early on, probably at 10U, when she was still in rec ball, she had a good work ethic and enjoyed the game."
At Mater Dei High School in Santa Ana, Flores was a four-year starting catcher, guiding the team to a Trinity League championship in 2013. She was a member of the Batbusters 18U team that won the 2014 PGF Premier National Championship, batting .500 with two home runs.
After visiting the UW campus, Flores felt an immediate connection with Tarr and the coaching staff.
"Something they really focus on is growing you as a person, not only as a player. That's something I wanted in a college. I felt that when I came to U-Dub."
- Morganne Flores
As a freshman with the Huskies, Flores hit .303 with eight homers, 29 RBI, 21 runs scored and six doubles. She made both the Pac-12 All-Freshman Team and NFCA All-Region Third Team.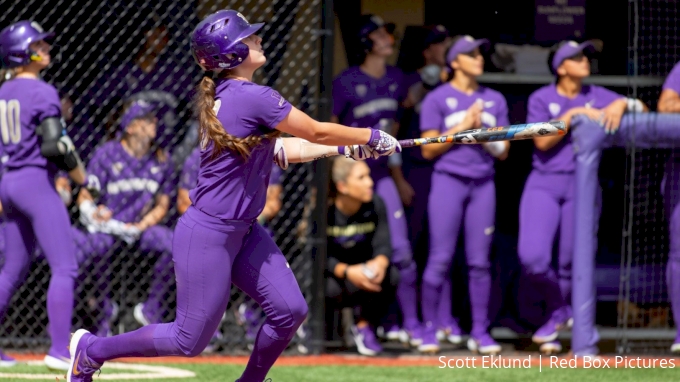 "You could see in her eyes how hard she wanted to work and how good she wanted to be," Tarr said. "She came from an environment (playing with the Batbusters) where she really had to compete hard to be on the field. That's probably why she's so humble today."
Flores was healthy in time for the start of the 2019 season. Although it took her most of the year to get comfortable, she played a key role in helping the Huskies to a 52-9 record en route to their third straight WCWS berth. She batted .348/452/781 with 23 homers, the third-highest total in UW history. She hit her fourth career grand slam last April, second-most in team history. After being named an NFCA second-team All-American, Flores became the first Huskies catcher since 2005 to earn All-American honors.
No player in program history had a better fielding percentage than Flores' .998 mark, and she went through the entire season without making an error behind the plate. Flores relishes the challenge of handling a pitching staff and the different styles and personalities of each pitcher.
"It's been really cool to grow a connection with Gabbie (Plain), Kelley (Lynch), Brooke (Nelson) and Pat (Moore), because each one is literally so different," Flores said. "Growing a relationship with them to know how they work best has been really fun."
In the postseason, Flores was voted the Seattle Regional's Most Outstanding Player. She was on the receiving end of Taran Alvelo's historic 16-strikeout performance in a WCWS game against Oklahoma State. Alvelo retired the side in order five times and struck out the side three times, sending the Huskies to the semifinals where they were eliminated by eventual champion UCLA.
"That was so cool to me, being behind the plate and getting to experience that," Flores recalled. "I think Taran was literally throwing 75 miles per hour with the rise ball. It was insane."
This season, the Huskies are 10-1 as of Feb. 16. In 36 at-bats, Flores is batting .361 with 13 RBIs and eight runs scored. She hit her 46th career homer, making her the fifth Husky to accomplish the feat. Having come so close to a national championship the past three seasons has only fueled her desire to win one in her final season. To accomplish that, she says, involves the entire team relying on each other and their abilities.
"We always use the quote, one team, one heartbeat. Something we really pride ourselves in is trusting each other and trusting that we put in the work all year for this, and just being durable athletes."
- Morganne Flores
Aside from her numbers, what will the Huskies miss most about Flores once she graduates?
"It's going to feel like a huge hole," Tarr admitted. "She's so consistent, so normal. We're going to miss (that) and obviously her production on the field."