Diamond 9
What To Watch For At The 2020 D9 Citrus Classic
What To Watch For At The 2020 D9 Citrus Classic
What To Watch For At The 2020 D9 Citrus Classic
Feb 17, 2020
by Scott Schultz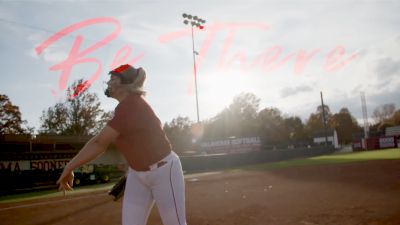 The fields at the ESPN Wide World of Sports Complex in Kissimmee, Florida will again be filled this weekend as the 2020 Diamond 9 Citrus Classic I Tournament takes place, with games starting Friday afternoon (2/21) and running through Sunday afternoon (2/23).
The field for this year's Citrus Classic I include Clemson, Troy, Villanova, Stetson, Oakland, and Morgan State.
Clemson
The Tigers are off to a 7-4 start and have a trip to Greensboro, NC on Tuesday, February 18 to take on UNC-Greensboro before heading to Kissimmee to open their D9 Citrus Classic slate against Villanova at 1 PM on Friday.
Clemson is riding a five-game win streak heading into the week's play, capped by its fourth win of their Big Ten/ACC Challenge matchups, defeating Michigan State 8-4 Sunday afternoon at Clemson Softball Stadium.
ANOTHER GRAND SLAM ??

Valerie Cagle, the 15th batter of this inning, ropes one over the right-field fence. That's her third homer of the season. Tigers lead 17-0.

? https://t.co/Ahh0CUy5dK pic.twitter.com/EBsleWd7hV

— Clemson Softball ? (@clemsonsoftball) February 15, 2020
Valerie Cagle has been a force for the Tigers so far this season, with the freshman hitting at a team-leading .378 clip, 14 hits, and 12 runs. Her five home runs shares for the team lead with Marissa Guimbarda, who blasted four over the fence during the tournament.
?YEP, GUIMBARDA AGAIN ?

After Cagle's two-run shot two batters prior, Marissa Guimbarda homers to right center to tally her fifth HR of the season!

TIGERS LEAD, 3-0!

? https://t.co/UHXRXnSely#ClemsonSoftball? pic.twitter.com/1TyxwwEAgp

— Clemson Softball ? (@clemsonsoftball) February 16, 2020
Freshman right-hander Logan Caymol posted a 3-0 record for the tournament with a 0.54 ERA, giving up just one earned run in 13.0 innings and holding opponents to just a .116 average.
? Postgame reaction from Logan Caymol after she throws a no-hitter to shut out Western Carolina 8-0 and secure the program's first-ever home win... pic.twitter.com/NjFNbYSsqk

— Clemson Softball ? (@clemsonsoftball) February 13, 2020
Her 2.96 ERA and 38 strikeouts lead the team, and after coming in relief of Caymol on Sunday, improved to 5-1 on the season. Cagle is also a force in the circle, posting a 3.21 ERA and a 3-3 record - the duo combined to strikeout 11 Spartans on Sunday.
Villanova
Villanova is coming off a 3-2 showing in the Knights Classic Tournament last weekend, including two wins over Penn State. The Wildcats dominate at the plate, with four regulars hitting above .400, as well as plenty of power. After blasting six home runs in the first four games of the Knights Classic, they cleared the fence three times during Sunday's 9-3 win over the Nittany Lions.
We've got @BIGEAST Pitcher AND Player of the week? ?
Way to go @paigerauch_ and @angela_giampolo! pic.twitter.com/zkbODoCno6

— Villanova Softball (@VUSoftball) February 17, 2020
Junior Paige Rauch is hitting at an even .500 clip to lead the Wildcats offense, along with her team-leading six home runs. Classmate Angela Giampolo is sitting on a .464 average, while freshman Chloe Smith and sophomore Megan Kern are hitting .438 and .400, respectively.
Both Smith and Rauch have been hot of late. In the win over Penn State, Smith was 3-for-3 with a home run, while Rauch had a three-run home run, along with an RBI single. She was 2-for-3 to bring her weekend tally to 8-for-16, with five runs, two doubles, three home runs and six RBI.
Rauch has also dominated from the circle boasting a 5-0 record, including her first career no-hitter - a seven-inning, 13 strikeouts 5-0 victory over Florida Atlantic. Her 1.35 ERA leads the Wildcats staff.
Second-year head coach Bridget Olsen is looking to build some confidence as the Wildcats will have some stiff competition in the coming weeks, playing the likes of Baylor, Arkansas, and Wisconsin.
"I think our biggest thing is staying confident," Orchard said. "These are big teams; these are Power Five teams that we're playing. Just compete and learn from your mistakes. We're hoping to win, but if we can have good at-bats off certain pitchers, we'll take that this early in the season."
Stetson
The Hatters are 5-4 on the season, and with splits on Friday and Saturday this past weekend, they completed the Clermont segment of The Spring Games with a 2-2 mark.
A pair of losses to UConn were sandwiched between a pair of wins over Central Michigan over the weekend. Senior Molly McLaughlin went 4-for-8 during Sunday's two games with four RBIs, while Riley Russell scored four runs. Russel's .391 average leads the Stetson offense with McLaughlin just behind hitting at a .357 clip.
In the circle, the Hatters are led by freshman Chloe Temples with a 4-1 record and 1.00 ERA.
Looking ahead, head coach Frank Griffin is confident in his team.
"I think defensively we are going to be sound," Griffin said. "Offensively, I am seeing some improvement from last year with the returning players. Then we have some new players who are going to add some pop at the plate, and I think our pitchers have progressed very well."
Troy
Troy is coming off a 3-1 showing in the Troy Invitational last weekend, posting wins over Eastern Illinois, Purdue Fort Wayne, and Kennesaw State to move their overall record to 6-2. After a 13-3 loss to Missouri State to open play Saturday, the Trojans bounced back with a three-hit shutout victory over Eastern Illinois, 3-0, in the nightcap.
Hitting .429, sophomore outfielder Katie Lively leads the Trojans offense. Jenna Johnson has handled the majority of the work so far, with a 1.25 ERA, 60 strikeouts and a 4-1 record. Her shutout victory over EIU was her third of the season, along with being her third double-digit strikeout game of the year.
Morgan State
The Bears are off to a rough start, dropping their first four games of the 2020 campaign in the Phoenix Invitation in Elon, North Carolina this past weekend.
Morgan State is led by seniors Stephanie Rundlett, Haylee Bobos, and Damisha Charles, all three having been named to the Mid-Eastern Athletic Conference (MEAC) Softball Preseason second team.
Rundlett started 27 games in the circle for the Bears in 2019, appearing in 34 games total. She logged 14 complete games and led the staff with a 5.59 ERA and 15-15 record. Her 73 strikeouts led the Bears staff and she finished the season winning seven consecutive games, including her last six starts.
Leading the Bears in hitting with a .366 average, Bobos started 40 of 44 games for Morgan State last season and tallied six home runs, including two grand slams and 36 RBIs. She was named All-MEAC second team after finishing second on the team with 41 hits and 69 total bases. Bobos ranked in the top five among MEAC hitters in sacrifice flies, slugging percentage and RBIs.
Charles served as the team's utility player last season and was one of the most dangerous hitters, earning her All-MEAC third-team honors in 2019. She hit at a .336 clip and recorded 38 hits, 22 runs, nine doubles, a triple, a home run, 22 RBIs, 52 total bases, eight walks and was 8-for-10 in stolen bases.
Oakland
With a 3-1 mark to open the season, Oakland has kicked off the 2020 campaign with its best start to open a year since 2017 when the Black and Gold notched 20 wins and finished with a record of 13-12 in the Horizon League. The Golden Grizzlies tallied wins over Buffalo, UMass and Maryland Eastern Shore at last weekend's Upstate Classic Tournament.
In the recent Horizon League Preseason Poll, Oakland was picked to finish fifth in the league after ending the 2019 season with a 9-14 mark in conference play. They also tallied nine non-conference victories.
After missing the 2019 season, redshirt sophomore Maddie Jones makes a return to the field for the Golden Grizzlies. Named the 2018 Horizon League Freshman of the Year, her .387 average led the team her freshman year, while recording a team-high 26 extra-base hits. She was also a first-team All-Conference selection.
Junior Lauren Debono returns to the circle after going 7-6 last season with a 3.74 ERA. She also led the Golden Grizzlies in wins, while appearing in the circle 34 times, notching 113 strikeouts.