2020 THE Spring Games
South Dakota Picks Up Their Third Win at THE Spring Games
South Dakota Picks Up Their Third Win at THE Spring Games
The University of South Dakota picks up two wins over Colgate and Providence to improve their record to 3-1 at THE Spring Games.
Feb 23, 2020
by Cori Kennedy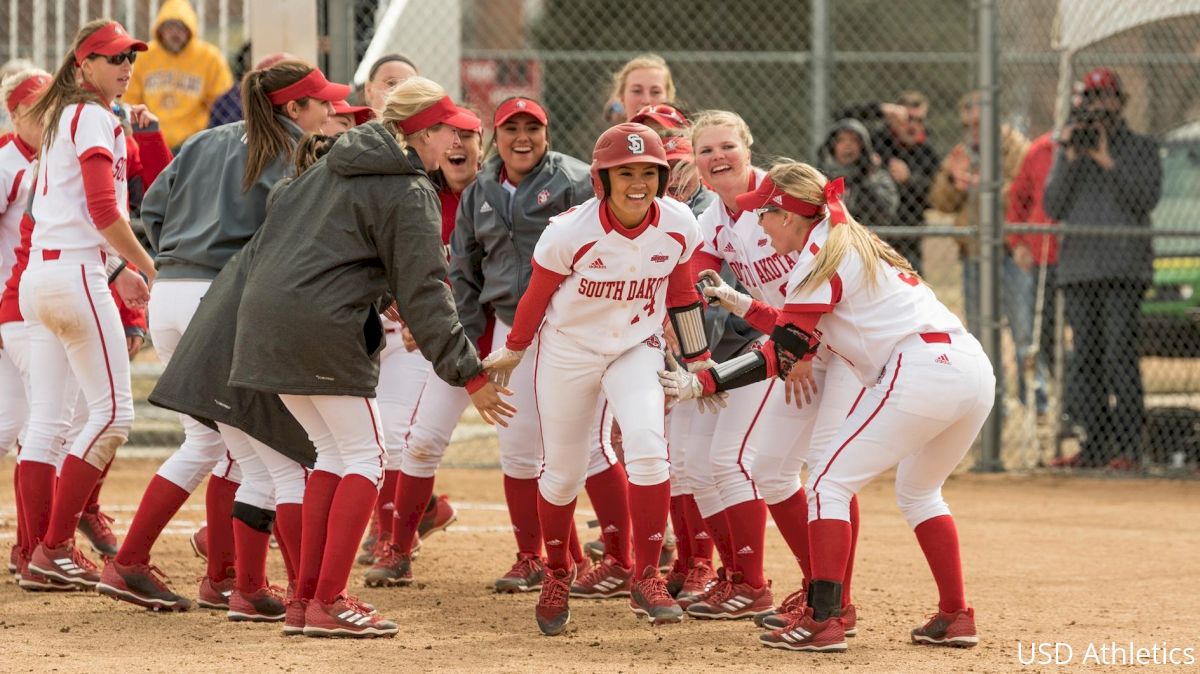 As week two of THE Spring Games is dwindling down, The University of South Dakota picks up two wins over Colgate and Providence to improve their record to 3-1 on the week. Overall, the coyotes hold a 7-8 record.
---
How to Watch
Streaming: Yearly PRO access is to ALL FloSports sites. SIGN UP HERE.
Get The Apps: Now Available on Roku, Fire TV, Apple TV 4, iOS, and Android
---
MADEIRA BEACH, Fla.—South Dakota got two solid pitching performances and saw its offense pound out 22 hits while defeating Colgate and Providence Saturday at the Madeira Beach Invitational at R.O.C. Park. Scores were 6-1 and 7-3, respectively.
Game 1: South Dakota - 6, Colgate - 1
Sarah Liskowon her third consecutive start in helping the Coyotes get past Colgate (5-4). She allowed a solo home run to Morgan Farrah in the second inning and just three other hits in improving to 5-1 on the season. She has allowed one run in three of those wins – all seven inning complete games. She struck out four more Saturday with no walks.

Alexis Devers(1-2) turned in her best performance of the year in game two. She struck out a season-high seven while notching her first complete game of the season. All of the Friars' runs came in the second inning and two were earned. All nine of Providence's hits were singles.

Offensively, the Coyotes (7-8) were led by shortstop Lauren Eamiguel and designated player Jordyn Pender who notched five hits apiece and combined for eight RBIs.

Center fielder Camille Fowler scored four times and had four hits including a double to open game two. Courtney Wilson was 3-for-6 and made the defensive play of the day. Her diving catch in the foul grounds of left field stranded two in the sixth inning against Providence (2-7).

Eamiguel's two-run double capped a four-run second inning against Colgate. She singled and scored in the fifth inning when Pender doubled her home to make it 5-1. Fowler singled and scored on a bases-loaded walk by Charis Black in the sixth for the final run of the game.
Game 2: South Dakota - 7, Providence - 3
Wilson reached and scored in the first inning against Providence, and singled home pinch runner Gabbi Holbert in the second inning that tied the game at 3-3.

Eamiguel's fifth career triple broke the tie in the fourth. She scored on a perfectly-executed squeeze from Dylan Underwood to make it 5-3, and Pender brought Underwood home later in the inning for a 6-3 lead. Fowler singled and scored on an Eamiguel single in the fifth.

South Dakota improved to 3-1 on the week. The Coyotes will look to even their record Sunday with an 11:30 a.m. (ET) bout with Merrimack.
---
Join The Conversation On Social
Follow us on Twitter @FloSoftball
Follow us on Instagram @FloSoftball
Like us on Facebook