2020 Mary Nutter Collegiate Classic
Mary Nutter Sets The Stage For Oklahoma vs Washington
Mary Nutter Sets The Stage For Oklahoma vs Washington
Oklahoma and Washington meet at Mary Nutter for the first time since the 2018 WCWS. What does each team gain from this postseason teaser?
Feb 23, 2020
by Mark Allister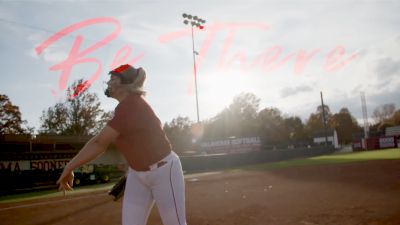 Unlock this article, live events, and more with a subscription!
Get Started
Already a subscriber? Log In
Mark Allister is the author of Women's College Softball on the Rise: A Season Inside the Game. He will be writing on DIII softball this spring and would welcome story ideas and comments at allister@stolaf.edu
No fans of college softball will be surprised, come late May if the University of Oklahoma and University of Washington softball teams are two of the four teams standing in the semi-finals at the Women's College World Series. Both programs were ranked in the top five in all the pre-season polls, but each program had question marks because the lofty ranking to some extent was based on the extraordinary freshmen talent who were expected to come in and produce.
Situated on the calendar in the third week of the season, the Mary Nutter Collegiate Classic has been the premier college tournament for well over a decade. Strong programs come to Palm Springs to measure where they're at in the young season. A game such as Washington-Oklahoma — the No. 2 and No. 3 ranked teams this week — helps propel teams into believing that they will be contenders at the WCWS.
The Build-Up: Fans
The Big League Dreams Complex is laid out to maximize a fan's pleasure. Five fields are in use, and three extend out from a central point, making it easy to keep track of multiple games. Crowds roar from neighboring fields; fans who bring their own chairs and umbrellas line the outfield fences and down the foul lines — the atmosphere is electric, with big-time match-ups happening everywhere every hour.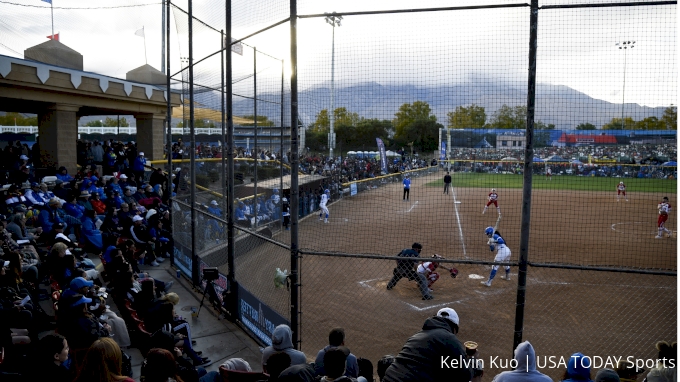 If you've never been to this tournament, you might be surprised at how a program's fan base travels, enjoying not only the games but Palm Springs, the weather, and the imposing mountains that serve as the backdrop.
Rita and Ron Henry drove to Palm Springs from Yukon, Oklahoma to support their Sooners' program. It's their seventh year coming to the Mary Nutter. Rita says that she looks forward to these big match-ups. "Last year with the UCLA-Oklahoma game, and the year before, when Arizona and Oklahoma played," she says, "the place was crazy. It was so crowded that you couldn't even move."
Ron Henry enjoys all the games, he says, pretty equally. "We don't know all the players yet, the many freshmen on the team, and so we get to see them play a lot of games against good competition. I like to get to know the team."
One of those players that the Henry's are getting to know this weekend is Kinzie Hansen, a freshman from SoCal who is off to a great start in her Sooner career. Hansen remembers when she came as a fan: "I've been coming to the Mary Nutter every year since I was eleven years old. I'd hang out and watch all the girls play — I wanted to be like them when I grew up. Being here now feels like I'm living my dream of those years."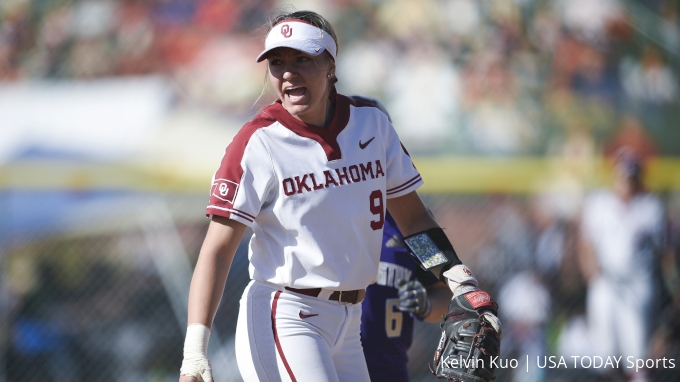 I asked her if she was nervous coming back to these ballfields. "I'm not going to lie," she said. "On the bus ride here, I had some butterflies. But once I got my uniform on and took the field, I was fine."
Kinzie's mother, Nicole Hansen, hasn't been coming to the Mary Nutter Classic quite as long as her daughter, but Nicole has been attending since her daughter was in high school. She admits that it's very different this year as a parent, less because of the pressure than because she sees numerous young women she's watched grow up having success.
"As a parent," Nicole says, "I know how much these girls sacrifice to get to this level, with things they miss in high school. But they don't see it as sacrificing. It's what they want to do. And I love seeing all the girls who I've watched play travel ball through the years be out on these fields."
Oklahoma fans travel from the Midwest, but their program has had so much success and been on television so frequently that they have fans who live in SoCal and drive in for the day. Oklahoma red takes up blocks of seats and their fans throng the outfields and foul lines.
The same is true for Washington, whose fans, dressed in purple, are gathered around the park. And though many are retirees who now live in SoCal or have time to travel from Seattle, they are passionate and loud.
One UW fan is neither a retiree nor from the Northwest. Kristopher Fritts is from Indiana. "I became a Washington fan when I was at a coaching clinic a few years ago led by Heather Tarr, Washington's head coach. I liked her and what she had to say, and I thought 'ooh, that's where I'd want a daughter to play," so I started watching the Husky program. I love the play of Sis Bates — I send my 14U team highlight videos. For our anniversary my wife bought us tickets to come out here."
As a first-time fan at the Mary Nutter Classic on his third day, Fritts is impressed with how easy it is to wander the facility and watch excellent softball. About the Oklahoma-Washington match-up scheduled to go Saturday at 12: 30, he said that they were excited enough to arrive by 9:30 and grab their seats. "We're planning on staying parked here for awhile."
The Build-Up: Coaches
Heather Tarr, Head Coach of Washington, looks forward to these big games at the Mary Nutter as much as the fans. "We're going to go where we're going to get better. We'd much rather play against Oklahoma at this time of year than to beat someone easily. Those can be lose-loses, because you're supposed to beat that team, and you feel bad about letting someone score. I'd rather compete against our equals."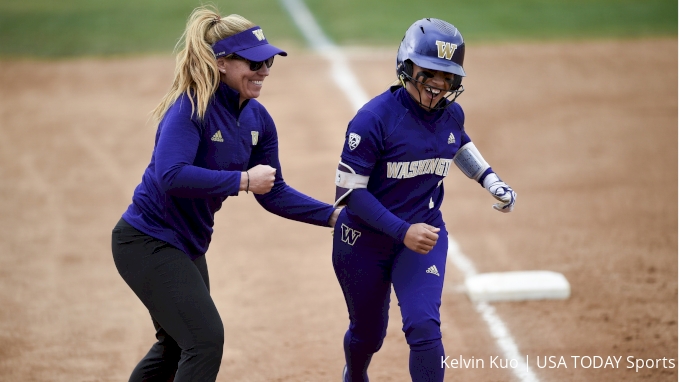 I asked her how this third weekend of the calendar works for measuring her team's progress and trying to help the team move forward.
"Nobody wins a national championship in February. All these things that happen here are lessons for the future."
- Heather Tarr, Washington
Washington returned two First Team All-Americans in shortstop Sis Bates and pitcher Gabbie Plain, but Tarr said that things haven't quite gone as planned with her two stars. Bates is on a concussion protocol and hasn't played the last two weekends, and Plain has been inconsistent, giving up runs in a way that she didn't in her two All-American years. But Tarr is finding the advantages in the unusual.
"I like that we're working in all four pitchers," Tarr says. "I like that Gabbie Plain is not at her best right now. We've learned that we can still be ok. We've gotten away the past few years with winning games 1-0 or 2-1 . Sometimes we haven't had that offensive urgency, but that's developed for us these first two weeks. And then defensively — it breaks your heart not to have Sis Bates — but we had to say to the team 'what are you going to do now?"
"It's kind of fun," Tarr continues, "to watch others get in there and see some of the team dynamic change. Sis has been on the field for us every game for over three years, and we're facing a challenge like our heart is out of our body. I've been pleasantly surprised at how we've responded."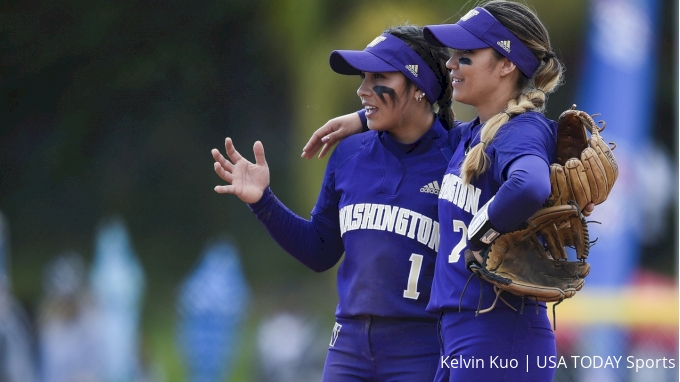 Oklahoma's head coach, Patty Gasso, also likes the challenge of playing top teams in late February at the Mary Nutter. "We need tough games at this point," Gasso says, "as a character test, to find out how we handle things when we're up or down."
In recent years, Oklahoma has been highly ranked in each preseason with numerous veterans returning, but this year Gasso has had to replace her greats that won back-to-back national championships in 2016 and 2017. "Right now we're such a raw squad with new faces, so we're learning when we play these games. I love this as a coach because it allows me to teach again, and my passion is teaching."
Gasso explains that on this third weekend of the season she's less concerned about results and more interested in how the team is learning. And the coaches, she says, are also coming to understand what the team needs to do to get better and taking that back to Norman to work on before conference play.
"We need to lose. You might think I'm crazy, but we need to make mistakes and to lose, as a way to get better. I'm never afraid of taking losses."
- Patty Gasso, Oklahoma
"Actually, the history of my time here at the Nutter — this has not been good to Oklahoma softball — but at the end, we're standing at the College World Series. And this helps us."
Like Tarr, Gasso had an All-American returning in the circle. But Giselle Juarez has been limited in her innings so far this year, which Gasso says has created opportunity. "I've been very happy with how the young players have performed. I put freshmen in the circle before a sell-out crowd at the University of Arizona and they were lights out. They were beyond my expectations."
To keep her team moving forward, Gasso mentions keeping her defense clean and coming through with timely hitting. "Right now," she says, "I'm really happy with how we're spreading things around, not just with the pitchers but with the hitters."
The Game
Unlike yesterday, when the weather was sunny, 83 degrees, with little wind, temp at game time is in the upper 60s; it's a bit raw with rain threatening, and the wind is blowing slightly in from left field. But the weather isn't inhibiting the crowd.
In the third-base seats, a fan yells "Boomer" and everyone decked out in crimson screams back "Sooners." It goes on, back and forth.
On the other side of the stands and down the lines, a Husky fan yells "Go," followed by hundreds yelling "Huskies." It's electric. The vibe reminds me of a highly anticipated super-regional.
Oklahoma's All-American, G Juarez, gets the ball in the circle for the Sooners. At the top of the first, Sami Reynolds walks, and then Morganne Flores hits one that the wind catches and keeps just in the park at the fence. But Baylee Klingler follows with a shot that looks much like Flores' but carries another twenty feet to give the Huskies a 2-0 lead.
T1 | Klingler goes DEEP!

UW 2
OU 0@FloSoftballhttps://t.co/QCwtKa7dg0#MightyAreTheWomen pic.twitter.com/ZSBTFCslhn

— Washington Softball (@UWSoftball) February 22, 2020
Kelley Lynch, Washington's prized recruit who was No. 1 in the 2019 class on many ranking boards, opens in the circle. Taylon Snow walks to open the game for Oklahoma, and when slugger Jocelyn Alo comes up, it already feels like a big moment. She flies out deep to left. Lynch walks Kinzie Hansen on four pitches, before coming back to strikeout Grace Green and get Lynnsie Elam on a flyball.
Kelley Lynch with that rise?@UWSoftball | #MNCC pic.twitter.com/tSPPxTcR5f

— FloSoftball (@FloSoftball) February 22, 2020
Freshman pitcher Macy McAdoo enters in the second for Oklahoma, and after she walks Jadelyn Allchin, Ari Quinones follows with her first home run of the year to put UW up 4-0. When McAdoo walks Taryn Atlee, Gasso goes immediately to her third pitcher of the young day and second freshman, Olivia Rains. Rains fans Reynolds and then Flores, but Klingler follows with her second two-run, no-doubt bomb to put the Huskies up 6-0.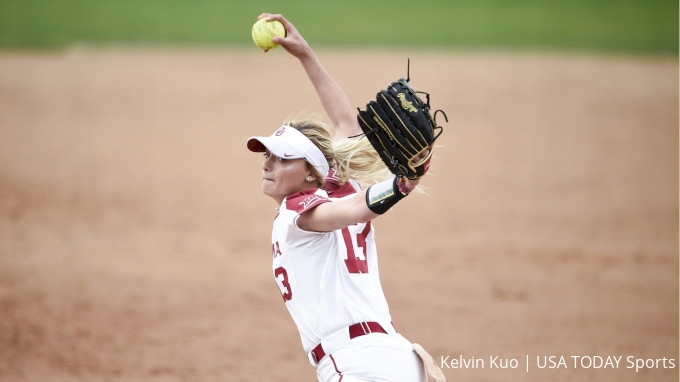 In the third inning, Lynch hits a deep fly that gets held by the wind and caught right in front of the fence. With no wind and sunshine, the Huskies would already have five home runs.
In the fifth, down 7-0, Oklahoma gets some momentum, with Taylon Snow who singles in a run. Jocelyn Alo hits what appears to be a gapper deep in left-center, but center fielder Allchin gets a beat on the ball, leaps and extends; she appears to make the catch, only to drop it when she hits the ground. On the relay into the infield, Snow is called out at third, which gets reversed by the umpire crew. Kinzie Hansen's single plates a second run, and Oklahoma looks like they're getting back in the game.
Washington responds with a rally in the top of the sixth, and though they get only one run, they seem to take the momentum back from OU. And then Tarr brings in Gabbie Plain, who seems to have both her nastiest stuff and command of the plate, striking out two and getting a routine groundout.
Brooke Vestal comes in to begin the seventh inning for OU, relieving Alana Thiede, who Gasso had brought in in the sixth. The hit parade continued for the Huskies — Allchin hitting a three-run bomb, the first of her career, to put UW up 12-2. Plain closes the game with three up and down.
Ask and you shall receive.#MightyAreTheWomen https://t.co/bE06Wem3qK pic.twitter.com/pcqIrvtZUu

— Washington Softball (@UWSoftball) February 23, 2020