2020 Judi Garman Classic
What To Watch For At The 2020 Judi Garman Classic
What To Watch For At The 2020 Judi Garman Classic
LSU, Washington, Texas, Michigan, Texas Tech, Fullerton and more travel to the 2020 Judi Garman Classic LIVE on FloSoftball.
Feb 24, 2020
by Scott Schultz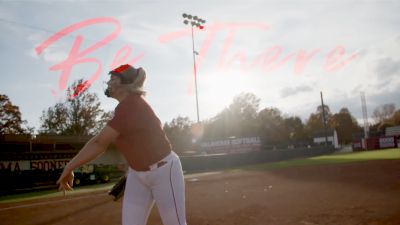 Unlock this article, live events, and more with a subscription!
Get Started
Already a subscriber? Log In
March is right around the corner, and the last week of February means play in the Judi Garman Classic will close out the opening month of the 2020 NCAA Softball. Cal State Fullerton will again host the 13-team event starting on Thursday, February 27 and running through Sunday.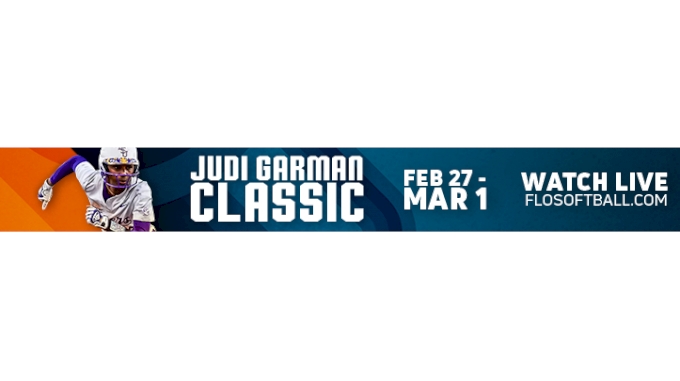 Washington
The No. 2-ranked Washington Huskies are off to a 15-1 start after finishing out a perfect weekend at the Mary Nutter Classic with a 3-2 win over the #25 Northwestern Wildcats. With the game tied 2-2, Kelley Lynch hit her second walk-off home run of the weekend to win the game over the Cats.
Kelley Lynch walks it off and No. 2 @UWSoftball hangs on to defeat No. 25 Northwestern, 3-2!#NCAASoftball | ? @UWSoftball pic.twitter.com/LN38aQrjdl

— NCAA Softball (@NCAAsoftball) February 23, 2020
The bulk of the Huskies workload in the circle so far this season has been handled by 2019 First Team All-American Gabbie Plain. With 47.1 innings pitched and 63 strikeouts, she leads the staff, while junior Pat Moore leads the team with a 1.94 ERA. Plain earned her 50th career win with a one-hitter against Georgia Tech. It was her 74th career appearance, making her the fastest Husky ever to 50 wins in their career.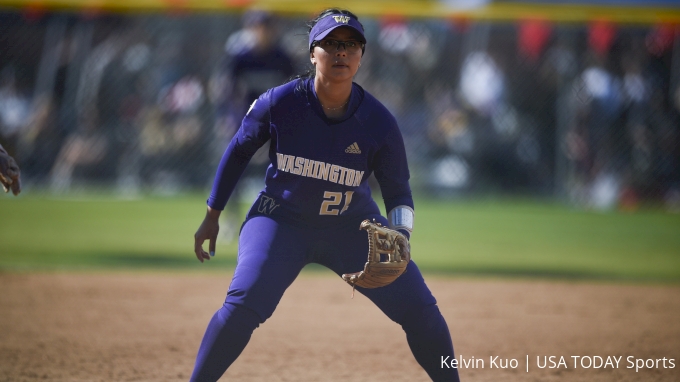 At the plate, senior Taryn Atlee is hitting at a .450 clip, with 14 runs scored and 18 hits to lead all Huskies hitters. Sophomore SilentRain Espinoza ranks second and is hitting .368. During an 11-5 win over Texas Tech in Clearwater the week before, the Huskies ripped seven extra-base hits, all from different players, while Espinoza and redshirt sophomore Livy Shiele combined to drive in four runs and went 5-for-8.
LSU
The Tigers head west riding a seven-game win streak, capped by a historic performance by pitcher Maribeth Gorsuch, who faced the minimum 21 batters during a 4-0 perfect game against Belmont. The senior's performance was the first seven-inning perfect game in LSU history and featured 21 first-pitch strikes and a career-high 16 strikeouts - including eight straight from the second through the fourth innings.
How About That Perfect Game! #TakeTheLead pic.twitter.com/O8dt0i8SuH

— LSU Softball (@LSUsoftball) February 23, 2020
LSU is now 13-1 on the season and are led in the circle by sophomore Ali Kilponen, who is now 4-0 on the season with a perfect 0.00 ERA through 18.1 innings. She earned honors as the SEC Pitcher of the Week on 2/17 after picking up two victories in the circle for the Tigers over the weekend. She pitched a three-hit shutout on Friday against Samford and struck out six in her complete-game performance
The depth of the Tigers staff creates a tall task for opposing hitters, according to head coach Beth Torina.
"I think that the thing that is so tough about us is that they are all so different and are able to match up with different offenses depending on what their weaknesses are," said Torina. "We are able to put people out there in places that they can succeed in and that's proving to be true."
BOMB DOT COM! @Tpleasants17 with a 2-run dinger to start this offense off!

?: https://t.co/tELTOsSQgD#TakeTheLead pic.twitter.com/vbWu1PRmHB

— LSU Softball (@LSUsoftball) February 16, 2020
With three players batting over .400 the Tigers offense provides plenty for opponents to worry about as well. Freshman Taylor Pleasants continues to lead the Tigers and ranks second in the SEC with a batting average of .500. She also has a team-leading 16 hits and 17 runs scored.
Texas
The 15-1 Longhorns travel to Fullerton this weekend boasting the top-ranked offense in NCAA Division I softball, hitting at a .417 team clip. They also pace the nation in doubles-per-game and on-base percentage.
Mary Iakopo is out here ballin for @TexasSoftball.

4 RBI in 2 at-bats and it's just now the third inning. pic.twitter.com/hqTONuJSPk

— Longhorn Network (@LonghornNetwork) February 23, 2020
Grabbing the headlines is senior pitcher/utility player Miranda Elish, named both the Louisville Slugger/NFCA Division I National Player of the Week and the Big 12 Conference Player of the Week for the week of Feb. 11. Elish hit .818 with three doubles, four home runs - including a grand slam - and 17 RBIs during the Texas Classic. She followed up earning honors as the MVP of the Puerto Vallarta College Challenge, Elish went 2-0 with a 0.00 ERA, including a one-hit shutout over No. 12 Tennessee. Her record now stands at 7-1, with an impeccable 0.53 ERA and 48 shutouts. Courtney Day (1.05 ERA) and Shealyn O'leary (2.28 ERA) both boast 3-0 records, while Ariana Adams is at 2-0.
With seven hitters topping the .400 mark, the Longhorns don't give pitchers much of a break when getting through the order. Both hitting above the .500+ mark, Jenae Jefferson and Kaitlyn Washington top the stat-line for the Longhorns, hitting .558 and .552, respectively. Jefferson's 24 hits and 20 runs scored also lead the Texas lineup.
Michigan
The Wolverines opened the 2020 season with a 9-0 record, marking its best start since winning each of their first 24 games during the 2011 season, but hit a bump in the road last weekend dropping three of four at the Gamecock Invitational - they enter this week with a 10-3 overall record. After their perfect weekend during the ACC/Big Ten Challenge, featuring wins over then-No. 25 ranked North Carolina, they surged in the ranking to the 8th spot in the NFCA poll.
In the circle junior Meghan Beaubien and sophomore Alex Storako have been the story for Michigan. The duo combined for a 2.25 ERA, 42 strikeouts and a .196 opponents average during the ACC/Big Ten Challenge.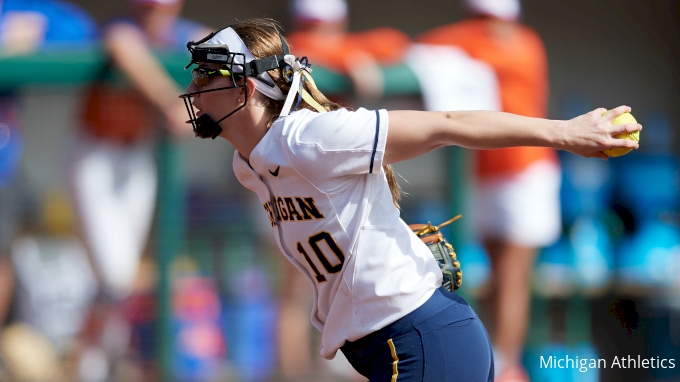 Beaubien leads the staff with a 1.94 ERA, a 5-2 record and two saves, while Storako leads in strikeouts with 85. Storako boasts a 5-1 record to go along with her 2.47 ERA. At the plate, sophomore Morgan Overaitis tops the Wolverines stat-sheet with a .353 average, while she and freshman Julia Jimenez each have 12 hits apiece.
CSU Fullerton
Cal State Fullerton split their final two games in last weekend's Mary Nutter Classic. After scoring 12 runs on 22 hits in their prior two games, the Titans struggled to score during a 2-0 loss to Oregon State but rebounded to post a 4-3 upset victory over No. 16 Arizona State. The win over ASU marks the highest-ranked win for the Titans since upsetting No. 3 UCLA in the 2018 NCAA Regional who went on to the championship game of the WCWS.
End 5 | @lifeastrish puts an end to the ASU fifth with her sixth K ??????

? @FloSoftball | https://t.co/sd3U8ZtDi3 pic.twitter.com/Fnu6ktfG4J

— Titans Softball (@Fullerton_SB) February 23, 2020
At the plate, the Titans are led by senior Zoe Richard who ranks third in the Big West Conference with a .429 average, while her 15 hits and 13 RBIs lead the Titans lineup. Freshman Megan Delgadillo is also hitting above a .400 clip with a .422 average, and her 13 stolen bases is best in the league.
In the circle, sophomore Dani Martinez carries the load for the Titans staff, posting a 2.37 ERA while logging 39 innings for a 4-3 record - her 27 strikeouts ranks fourth in the league. Senior Sophie Frost boasts a 2-0 record over 27 innings pitched.
Texas Tech
Following a home-opening, 9-1 win over Kent State, Texas Tech split their four games at the Houston Challenge last weekend. The Red Raiders will bring their 10-5 record into this weekend's Judi Garman Classic.
The Tech offense has been explosive, having sent 12 home runs out of the park while the Red Raider pitching staff has limited opponents to just five homers At the plate, junior Breanna Russell leads the Red Raiders offense with a .357 average, and her four home runs is tied for the team lead with sophomore Zoe Jones.
In the circle, junior Erin Edmoundson leads the Tech staff with a 6-1 record and a 1.06 ERA, 62 strikeouts in 52 innings pitched. Senior Missy Zoch also shoulders some of the workload logging 28.2 innings in the circle, with a 3-3 record and 38 strikeouts.
Rounding out the field for this year's tournament are Boise State, BYU, California, Cal Poly, Colorado State, Fresno State, Grand Canyon, and Illinois.
[polldaddy]=10510497