2020 THE Spring Games
Kentucky Powers Through Day 1 at THE Spring Games
Kentucky Powers Through Day 1 at THE Spring Games
Kentucky picks up two wins as they power their way through THE Spring Games.
Feb 29, 2020
by Cori Kennedy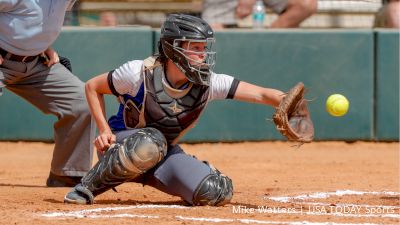 The Wilcats are off to a hot start today after picking up two wins in dominating fashion.
---
How to Watch
Streaming: Yearly PRO access is to ALL FloSports sites. SIGN UP HERE.
Get The Apps: Now Available on Roku, Fire TV, Apple TV 4, iOS, and Android
To watch Kentucky vs. Layola Chicago, CLICK HERE
To watch Kentucky vs. FIU, CLICK HERE
---
NORTH ORLANDO, Fla. – Thanks to an offensive onslaught and superb pitching by Meghan Schorman and Miranda Stoddard, the No. 11 Kentucky softball team went 2-0 on day one at the 2020 Spring Games, beating Loyola-Chicago 10-2 and Florida International 17-1.

The Wildcats' 17 runs scored against Florida International was just one off of the program record, set back in 2013 against North Carolina in an 18-1 win over the Tar Heels. Friday marked the sixth time this season that Kentucky has scored 10 or more runs in a game this season.

Meghan Schorman got the win in the circle for UK, going the distance, allowing only three hits and one run in Kentucky's 9-1 six-inning affair with Loyola-Chicago. Schorman did not walk a batter and struck out nine.

In Kentucky's win over FIU, Miranda Stoddard got her first-career win without allowing a walk and striking out one batter. The Anaheim, California native only allowed one run in the game, which was a solo home run.

Additionally, Alex Martens surpassed Brittany Cervantes for second all-time at UK in career RBI. Martens had six on the day, and now has 166 in her career.

Day two of The Spring Games from Florida will see the Wildcats play two more games. UK will face Western Michigan at 1:30 p.m. ET and Detroit Mercy at 4 p.m. ET. The game can be seen live on FLOsoftbal with a proper subscription.

Game 1 – Kentucky 10, Loyola-Chicago 2
Key Stat
0. For the third-straight start, Meghan Schorman did not walk a batter. Schorman struck out nine in her third complete-game of the season.

Key Play
The key play was a two-run home run by Alex Martens in the top of the fifth inning.

Key Player
Bailey Vick was the key player in the game, going 2-for-2 with two walks, a single, a double and three RBI. Vick also stole a base in the game, and scored on an errant throw.

Run Recap
Kentucky took a 1-0 lead in the top of the second as Mallory Peyton scored on an RBI groundout from Miranda Stoddard. UK 1, LOY 0

In the top of the third, a lead-off walk turned into a run as Bailey Vick stole second base and scored on an errant throw. UK 2, LOY 0

Loyola would score on a two-out solo home run in the top of the fourth. UK 2, LOY 1

In the bottom of the fifth, UK struck for four runs as Vick, Rylea Smith and Martens had RBI singles, doubles and triples in the inning. UK 6, LOY 1

Loyola had an RBI single in the top of the sixth to pull to within four. UK 6, LOY 1

Kentucky put up a four spot in the top of the sixth, as Bailey Vick cleared the bases on a three-RBI triple and Martens drove in a ninth run to walk things off. FINAL – Kentucky 10, Loyola-Chicago 2

Game 2 – Kentucky 17, Florida International 1
Key Stat
17. The 17 runs scored in the game was second-most in program history, as it came just one run shy of setting the school record back in 2013. Additionally, the nine runs scored in the top of the seventh inning was the most runs scored in a single inning this season for UK.

Key Play
The key play in the game was Mallory Peyton's two home runs in the same inning – another feat in which has not been accomplished this year. Peyton led off the top of the seventh with a bomb to left and then with one out, hammered her second HR of the same inning over the right field wall.

Key Player
The key player was freshman Miranda Stoddard, who pitched a complete game in the circle, and picked up her first-career win as a pitcher. She did not walk a batter and struck out one.

Run Recap
Mallory Peyton opened the scoring with a two-RBI double in the top of the first inning to score Vick and Martens. UK 2, FIU 0

Kentucky tacked on three runs in the top of the second as Kayla Kowalik singled into center to score pinch runner Renee Abernathy and Martens followed that up with a two-RBI single later in the inning. UK 5, FIU 0

The following inning, Lauren Johnson led off the frame with a solo homer to right field. That was followed by a two-RBI triple from Kayla Kowalik. UK 8, FIU 0

Florida International scored its only run of the game on a home run in the bottom of the third. UK 8, FIU 1

Kentucky struck for nine runs in the top of the seventh inning. Mallory Peyton hit two homers in the inning, including a lead-off blast. That was followed by five hits, three extra-base hits and a walk to the next nine batters. All starting players that appeared in the inning except one scored for Kentucky. FINAL – Kentucky 17, Florida International 1
---
Join The Conversation On Social
Follow us on Twitter @FloSoftball
Follow us on Instagram @FloSoftball
Like us on Facebook