2020 THE Spring Games
Facing An Uncertain Future, Anna Shelnutt Remains Focused On The Positive
Facing An Uncertain Future, Anna Shelnutt Remains Focused On The Positive
Florida State catcher Anna Shelnutt suffered an injury early in the season and she's still recovering. We reminisce and see how the sh'es is progressing.
Mar 5, 2020
by Stephen Kerr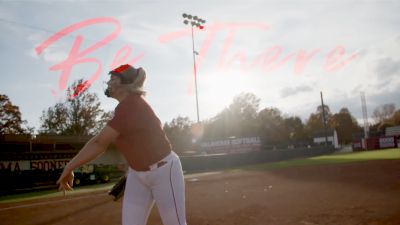 No matter how much time goes by, the thrill of winning a national championship never dies, even during the most difficult circumstances.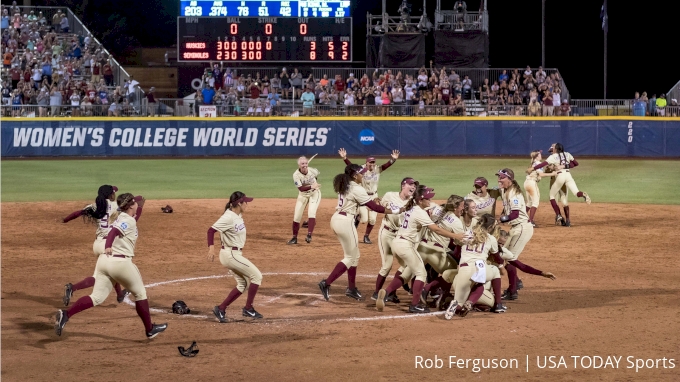 It's been almost two years since Florida State senior catcher Anna Shelnutt experienced that indescribable feeling of triumph following the Seminoles' sweep of Washington to capture the 2018 Women's College World Series. It was the softball program's first-ever national championship.
"I vividly remember that entire tournament," said Shelnutt, who grew up near Franklin, Georgia, and also led Heard County High to its first-ever state championship. "It's one of those things you don't forget. Not just because you want it, but I can't think back to the (postseason) and not think, "Wow, that was the best softball I've ever seen this team play."
It was certainly some of the best softball Shelnutt has played as a Seminole. She earned the nickname "Postseason Anna" for coming through in big moments that year. Her five postseason home runs tied for the team lead, and she was second with 15 RBI and a .700 slugging percentage. In a game against Pittsburgh that gave FSU the ACC championship, she smacked a three-run walk-off homer.
During the WCWS Championship Series against the Huskies, her solo homer in Game 1 was the only run the Seminoles needed for a 1-0 win. In the bottom of the first inning of Game 2, Shelnutt hit a two-run homer, leading FSU to an 8-3 victory and the title. Shelnutt's accomplishments earned her a spot on both the WCWS and ACC All-Tournament teams.
The memory of that championship season has seen Shelnutt through some recent challenges, including one that has put her softball future in doubt. During last month's St. Pete/Clearwater Elite Invitational, she was hit in the face by a foul ball in a game against Northwestern. While most catchers are aware of the danger of being hit while behind the plate, Shelnutt was in the batter's box when the incident occurred.
"The Northwestern pitcher throws me a high rise ball inside, and I did what I do best and swung at it," recalled Shelnutt, who is not shy about discussing the injury with anyone who asks. "I fouled it off, it hit the bat perfectly, and it just (hit) my right eye. Luckily, my natural instinct kicked in to close my eye, or else it could have been very ugly."
"A smooth sea never made a skilled pirate." ??☠️⚓️ #ahoy pic.twitter.com/JkT7E1yxOG

— Anna Shelnutt (@AnnaShelnutt) February 20, 2020
The impact broke several bones in Shelnutt's face, including the orbital bone near her right eye. A plastic surgeon repaired the damage, but Shelnutt still experiences blurred vision and is seeing an ophthalmologist to determine if there is further damage to the eye.
Through the fear and uncertainty in the days that followed, Shelnutt has maintained an outward calm that comes from a strong faith coupled with the support she has received from family, doctors, coaches, and teammates. The team's resident athletic trainer, Sarah Peterika, sat with Shelnutt in the emergency room most of the night following the incident and has worked with her extensively through the healing process. Her father Ben was on a hunting trip with friends when he received the news, and flew to Tampa immediately. Her mom, Yolonda, has constantly been by her daughter's side. The encouragement from teammates has been overwhelming.
"When they went on the trip to Arkansas, they were all FaceTiming me and texting me saying, "We miss you, we wish you were here", just making me feel included," Shelnutt said.
Before the injury, Shelnutt was batting .250 in 16 plate appearances with two homers and eight RBI. Last season, she hit a career-high .293 with 11 homers, 35 RBI and 29 runs scored. In the ACC championship game against North Carolina, she lived up to her postseason nickname once again, hitting a solo homer and gunning down two baserunners trying to steal.
"Her pitch-framing abilities are as good as I've ever seen," said FSU assistant coach Travis Wilson, who handles both hitting and defense. "She has a consistent, calming personality behind the plate. She doesn't get too high or too low."
In Georgia, Shelnutt played for several travel teams, including the Vipers, who finished third in the 2016 Junior Olympic Cup. She grew up with Cali Harrod, shortstop for the Noles from 2016-19. The two met while watching their brothers' baseball practices, and began playing rec ball together. At Heard County High, Shelnutt made the All-State First Team three times and set a school record with 13 homers during her senior season.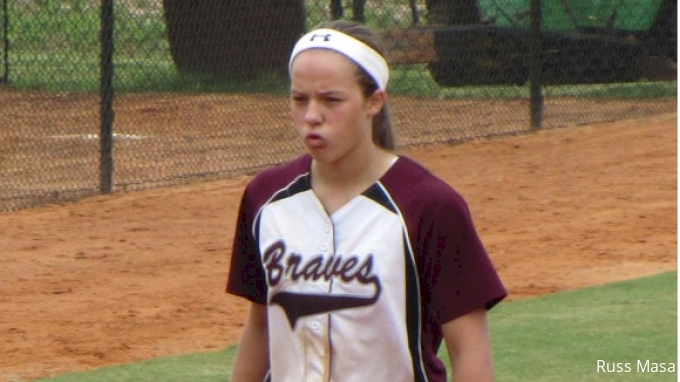 Despite her high school success, Shelnutt was overlooked by many recruiters.
"She was told by a lot of people she was too short," explained Seminoles head coach Lonni Alameda, who has guided the program to seven consecutive NCAA Tournament appearances along with the one WCWS title during her 12 seasons. "That really got to her. But in her time here, she's gained a lot of self-confidence."
Shelnutt appeared in 38 games as a freshman, batting .277 with five homers, two doubles, and a triple. But it took some time for her to become accustomed to being in the spotlight. She dreaded talking to reporters or doing interviews on camera until a live video during the 2018 WCWS changed her perspective.
"I'm always going to be remembered as the girl who had the beetle, roach, whatever it was crawling across her neck on live TV," Shelnutt said. "There's no coming back from that. Knowing that just frees me up to where I can completely embarrass myself, but never so bad that it would outshine that."
Before suffering the eye injury, Shelnutt had already begun mentoring freshman catcher Kaia LoPreste, knowing the Brandon, Florida native could be the Noles' future starting catcher. Now that LoPreste has been pressed into service, the advice is already paying off. As of March 3, LoPreste is batting .323 with five RBI in 31 plate appearances.
"That selflessness has kind of been a part of our culture," Alameda said. "It's so cool to see that Kaia reaches out to Anna, and Anna returns the favor. It's a special bond."
Even in her darkest moments since the injury, Shelnutt doesn't like to dwell on things that are beyond her control. She reflects on her entire journey at FSU with gratitude.
"I was a big part of the national championship, I've won three ACC championships, I've had so many successes here. I wouldn't go back and change a single thing."
- Anna Shelnutt
No matter what Shelnutt's future holds, one thing is clear: she will leave a lasting legacy of courage and perseverance that goes well beyond her accomplishments on the field.