2020 Wildcat Invitational
2020 College Softball Weekend Viewing Guide: March 6-8
2020 College Softball Weekend Viewing Guide: March 6-8
Watch over 400 college softball games this weekend only on FloSoftball.com.
Mar 6, 2020
by Allie Martinez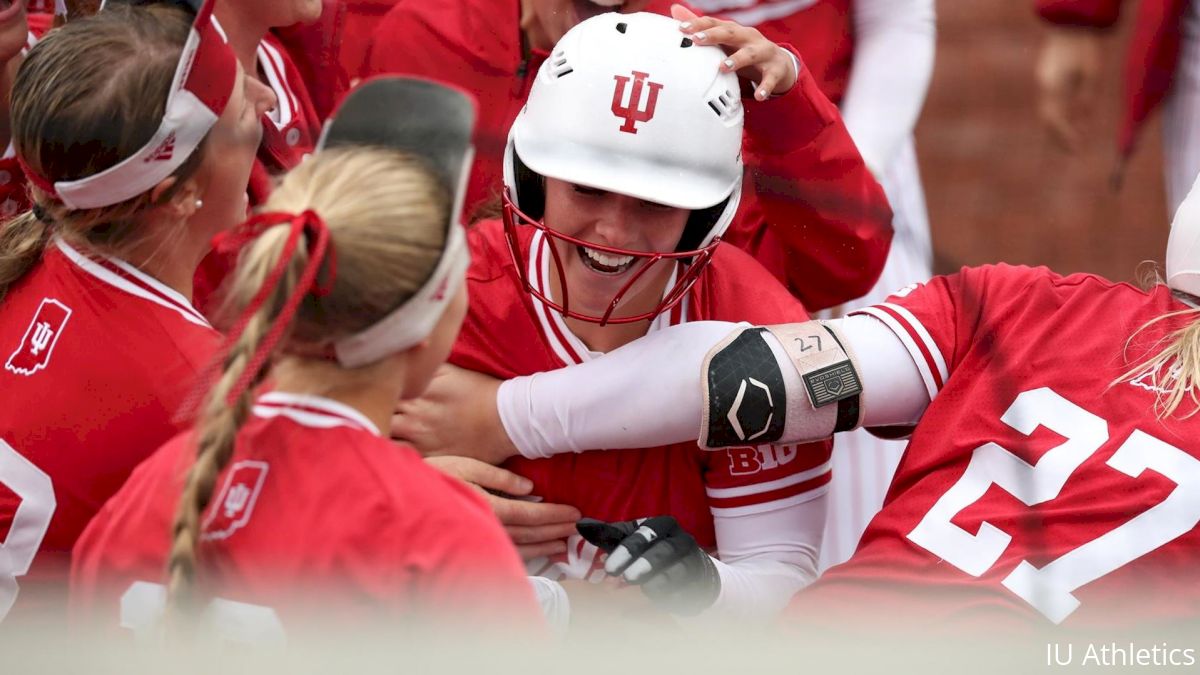 The college softball season keeps rolling this weekend, streaming live and on-demand, exclusively on FloSoftball and the FloSports apps.

Watch over 400 games from the Wildcat Invitational, CAA matchups, and THE Spring Games.
---
How to Watch
Streaming: Yearly PRO access is to ALL FloSports sites.
2020 UConn vs James Madison - CAA
2020 Cal vs James Madison - CAA
Get The Apps: Now Available on Roku, Fire TV, Apple TV 4, iOS, and Android
---
Schedule
Wildcat Invitational
Friday, Mar. 6 (All Times MT)
| Date | Time | Matchup | | |
| --- | --- | --- | --- | --- |
| 3/6 | 10:00 AM | Indiana | vs | SIUE |
| 3/6 | 12:30 PM | Indiana | vs | South Dakota |
| 3/6 | 3:00 PM | Boise State | vs | SIUE |
Saturday, Mar. 7 (All Times MT)
| Date | Time | Matchup | | |
| --- | --- | --- | --- | --- |
| 3/7 | 9:00 AM | Boise State | vs | Indiana |
| 3/7 | 11:30 AM | South Dakota | vs | Indiana |
| 3/7 | 7:00 PM | SIUE | vs | South Dakota |
Sunday, Mar. 8 (All Times MT)
| Date | Time | Matchup | | |
| --- | --- | --- | --- | --- |
| 3/8 | 9:00 AM | SIUE | vs | Boise State |
| 3/8 | 11:30 AM | South Dakota | vs | Boise State |
CAA
Friday, Mar. 6 (All Times ET)
| Date | Time | Matchup | |
| --- | --- | --- | --- |
| 3/6 | 3:00 PM | UCONN | James Madison |
| 3/6 | 5:00 PM | California | James Madison |
THE Spring Games
Friday, Mar. 6 (All Times ET)
| Date | Time | Location | Field | Matchup | | Division | |
| --- | --- | --- | --- | --- | --- | --- | --- |
| 3/6/20 | 9:00 AM | Fortune Road | Field 1 | University of Saint Francis, IN (Crossroads) | Siena Heights University, MI (WHAC) | NAIA | |
| 3/6/20 | 9:00 AM | Fortune Road | Field 2 | Cleary University, MI (WHAC) | Calumet College of Saint Joseph, IN (CCAC) | NAIA | |
| 3/6/20 | 9:00 AM | Madeira Beach | Field 1 | Florida Gulf Coast University, FL (ASUN) | South Dakota State University, SD (Summit) | NCAA Division I | |
| 3/6/20 | 9:00 AM | Madeira Beach | Field 2 | College of The Holy Cross, MA (Patriot) | Merrimack College, MA (NEC) | NCAA Division I | |
| 3/6/20 | 9:00 AM | Madeira Beach | Field 3 | Loyola University Chicago, IL (MVC) | Central Michigan University, MI (MAC) | NCAA Division I | |
| 3/6/20 | 9:15 AM | Fortune Road | Field 3 | University of Northwestern Ohio, OH (WHAC) | Missouri Baptist University, MO (AMC) | NAIA | |
| 3/6/20 | 9:15 AM | Fortune Road | Field 4 | Hannibal-LaGrange University, MO (AMC) | Spring Arbor University, MI (Crossroads) | NAIA | |
| 3/6/20 | 9:30 AM | Sleepy Hollow Sports Complex | Field 1 | Ohio Northern University, OH (OAC) | Roanoke College, VA (ODAC) | NCAA Division III | |
| 3/6/20 | 9:30 AM | Sleepy Hollow Sports Complex | Field 2 | Chatham University, PA (PAC) | Olivet College, MI (MIAA) | NCAA Division III | |
| 3/6/20 | 10:00 AM | Auburndale Softball Complex | Field 1 | Grand Valley State University, MI (GLIAC) | Adelphi University, NY (NE10) | NCAA Division II | |
| 3/6/20 | 10:00 AM | Auburndale Softball Complex | Field 2 | University of Bridgeport, CT (ECC) | Georgian Court University, NJ (CACC) | NCAA Division II | |
| 3/6/20 | 10:00 AM | Auburndale Softball Complex | Field 3 | Truman State University, MO (GLVC) | St. Anselm College, NH (NE10) | NCAA Division II | |
| 3/6/20 | 10:00 AM | DiamondPlex | Field A | Kentucky Wesleyan College, KY (GMAC) | Seton Hill University, PA (PSAC) | NCAA Division II | |
| 3/6/20 | 10:00 AM | DiamondPlex | Field B | St. Cloud State University, MN (NSIC) | University of Charleston, WV (MEC) | NCAA Division II | |
| 3/6/20 | 10:00 AM | DiamondPlex | Field C | West Virginia Wesleyan, WV (MEC) | Rockhurst University, MO (GLVC) | NCAA Division II | |
| 3/6/20 | 10:00 AM | Hancock Recreational Complex | Field 1 | Fontbonne University, MO (SLIAC) | University of Northwestern-St Paul, MN (UMAC) | NCAA Division III | |
| 3/6/20 | 10:00 AM | Hancock Recreational Complex | Field 2 | Rose-Hulman Institute of Technology, IN (HCAC) | Houghton College, NY (Empire 8) | NCAA Division III | |
| 3/6/20 | 10:00 AM | Hancock Recreational Complex | Field 3 | Moravian College, PA (Landmark) | Lebanon Valley College, PA (MAC) | NCAA Division III | |
| 3/6/20 | 10:00 AM | Legends Way Ballfields | Field 1 | Berea College, KY (OAC) | Illinois College, IL (Midwest) | NCAA Division III | |
| 3/6/20 | 10:00 AM | Legends Way Ballfields | Field 2 | Bridgewater College, VA (ODAC) | University of Mount Union, OH (OAC) | NCAA Division III | |
| 3/6/20 | 10:00 AM | Legends Way Ballfields | Field 3 | Elizabethtown College, PA (Landmark) | Misericordia University, PA (MAC) | NCAA Division III | |
| 3/6/20 | 10:15 AM | Auburndale Softball Complex | Field 4 | Clarion University, PA (PSAC) | Stonehill College, MA (NE10) | NCAA Division II | |
| 3/6/20 | 10:15 AM | Auburndale Softball Complex | Field 5 | Wheeling University, WV (MEC) | Holy Family University, PA (CACC) | NCAA Division II | |
| 3/6/20 | 10:15 AM | DiamondPlex | Field D | Fairmont State University, WV (MEC) | University of Southern Indiana, IN (GLVC) | NCAA Division II | |
| 3/6/20 | 10:15 AM | DiamondPlex | Field E | Cedarville University, OH (GMAC) | Quincy University, IL (GLVC) | NCAA Division II | |
| 3/6/20 | 10:15 AM | Hancock Recreational Complex | Field 4 | John Carroll University, OH (OAC) | Adrian College, MI (MIAA) | NCAA Division III | |
| 3/6/20 | 10:15 AM | Hancock Recreational Complex | Field 5 | Alvernia University, PA (MAC) | Plymouth State University, NH (LEC) | NCAA Division III | |
| 3/6/20 | 10:15 AM | Legends Way Ballfields | Field 4 | Muskingum University, OH (OAC) | Northland College, WI (UMAC) | NCAA Division III | |
| 3/6/20 | 10:15 AM | Legends Way Ballfields | Field 5 | New England College, NH (NECC) | John Jay College, NY (CUNYAC) | NCAA Division III | |
| 3/6/20 | 11:00 AM | Boombah Soldiers Creek | Field 1 | Long Island University, NY (NEC) | Creighton University, NE (Big East) | NCAA Division I | |
| 3/6/20 | 11:00 AM | Boombah Soldiers Creek | Field 6 | Bethune Cookman, FL (MEAC) | University of Detroit Mercy, MI (Horizon) | NCAA Division I | |
| 3/6/20 | 11:15 AM | Boombah Soldiers Creek | Field 2 | Saint Louis University, MO (A10) | Valparaiso University, IN (MVC) | NCAA Division I | |
| 3/6/20 | 11:15 AM | Fortune Road | Field 1 | Siena Heights University, MI (WHAC) | Hannibal-LaGrange University, MO (AMC) | NAIA | |
| 3/6/20 | 11:15 AM | Fortune Road | Field 2 | Calumet College of Saint Joseph, IN (CCAC) | University of Northwestern Ohio, OH (WHAC) | NAIA | |
| 3/6/20 | 11:30 AM | Fortune Road | Field 3 | Missouri Baptist University, MO (AMC) | Cleary University, MI (WHAC) | NAIA | |
| 3/6/20 | 11:30 AM | Fortune Road | Field 4 | Spring Arbor University, MI (Crossroads) | Robert Morris University, IL (CCAC) | NAIA | |
| 3/6/20 | 11:30 AM | Madeira Beach | Field 1 | University of Iowa, IA (Big Ten) | Loyola University Chicago, IL (MVC) | NCAA Division I | |
| 3/6/20 | 11:30 AM | Madeira Beach | Field 2 | Merrimack College, MA (NEC) | St. Bonaventure University, NY (A10) | NCAA Division I | |
| 3/6/20 | 11:30 AM | Madeira Beach | Field 3 | Florida Gulf Coast University, FL (ASUN) | Central Michigan University, MI (MAC) | NCAA Division I | |
| 3/6/20 | 11:45 AM | Sleepy Hollow Sports Complex | Field 1 | Roanoke College, VA (ODAC) | Thiel College, PA (PAC) | NCAA Division III | |
| 3/6/20 | 11:45 AM | Sleepy Hollow Sports Complex | Field 2 | Rensselaer Polytechnic Institute, NY (Liberty) | Chatham University, PA (PAC) | NCAA Division III | |
| 3/6/20 | 11:45 AM | Sleepy Hollow Sports Complex | Field 3 | The Sage Colleges, NY (Empire 8) | Loras College, IA (ARC) | NCAA Division III | |
| 3/6/20 | 12:00 PM | Legends Way Ballfields | Field 1 | Illinois College, IL (Midwest) | Bridgewater College, VA (ODAC) | NCAA Division III | |
| 3/6/20 | 12:00 PM | Legends Way Ballfields | Field 2 | University of Mount Union, OH (OAC) | Trine University, IN (MIAA) | NCAA Division III | |
| 3/6/20 | 12:00 PM | Legends Way Ballfields | Field 3 | Misericordia University, PA (MAC) | New England College, NH (NECC) | NCAA Division III | |
| 3/6/20 | 12:15 PM | Auburndale Softball Complex | Field 1 | Adelphi University, NY (NE10) | Truman State University, MO (GLVC) | NCAA Division II | |
| 3/6/20 | 12:15 PM | Auburndale Softball Complex | Field 2 | Georgian Court University, NJ (CACC) | Grand Valley State University, MI (GLIAC) | NCAA Division II | |
| 3/6/20 | 12:15 PM | Auburndale Softball Complex | Field 3 | St. Anselm College, NH (NE10) | University of Bridgeport, CT (ECC) | NCAA Division II | |
| 3/6/20 | 12:15 PM | DiamondPlex | Field A | Seton Hill University, PA (PSAC) | St. Cloud State University, MN (NSIC) | NCAA Division II | |
| 3/6/20 | 12:15 PM | DiamondPlex | Field B | University of Charleston, WV (MEC) | Gannon University, PA (PSAC) | NCAA Division II | |
| 3/6/20 | 12:15 PM | DiamondPlex | Field C | University of Findlay, OH (GMAC) | West Virginia Wesleyan, WV (MEC) | NCAA Division II | |
| 3/6/20 | 12:15 PM | Hancock Recreational Complex | Field 1 | University of Northwestern-St Paul, MN (UMAC) | Milwaukee School of Engineering, WI (NACC) | NCAA Division III | |
| 3/6/20 | 12:15 PM | Hancock Recreational Complex | Field 2 | Houghton College, NY (Empire 8) | Fontbonne University, MO (SLIAC) | NCAA Division III | |
| 3/6/20 | 12:15 PM | Hancock Recreational Complex | Field 3 | Lebanon Valley College, PA (MAC) | John Carroll University, OH (OAC) | NCAA Division III | |
| 3/6/20 | 12:30 PM | Auburndale Softball Complex | Field 4 | Holy Family University, PA (CACC) | Clarion University, PA (PSAC) | NCAA Division II | |
| 3/6/20 | 12:30 PM | Auburndale Softball Complex | Field 5 | Stonehill College, MA (NE10) | Wheeling University, WV (MEC) | NCAA Division II | |
| 3/6/20 | 12:30 PM | DiamondPlex | Field D | Rockhurst University, MO (GLVC) | Glenville State College, WV (MEC) | NCAA Division II | |
| 3/6/20 | 12:30 PM | DiamondPlex | Field E | University of Southern Indiana, IN (GLVC) | Cedarville University, OH (GMAC) | NCAA Division II | |
| 3/6/20 | 12:30 PM | Hancock Recreational Complex | Field 4 | Adrian College, MI (MIAA) | Rose-Hulman Institute of Technology, IN (HCAC) | NCAA Division III | |
| 3/6/20 | 12:30 PM | Hancock Recreational Complex | Field 5 | Plymouth State University, NH (LEC) | Moravian College, PA (Landmark) | NCAA Division III | |
| 3/6/20 | 12:30 PM | Legends Way Ballfields | Field 4 | Northland College, WI (UMAC) | Elizabethtown College, PA (Landmark) | NCAA Division III | |
| 3/6/20 | 12:30 PM | Legends Way Ballfields | Field 5 | John Jay College, NY (CUNYAC) | Eastern University, PA (Freedom) | NCAA Division III | |
| 3/6/20 | 1:30 PM | Boombah Soldiers Creek | Field 1 | Charleston Southern University, SC (Big South) | Long Island University, NY (NEC) | NCAA Division I | |
| 3/6/20 | 1:30 PM | Boombah Soldiers Creek | Field 6 | Creighton University, NE (Big East) | Bethune Cookman, FL (MEAC) | NCAA Division I | |
| 3/6/20 | 1:30 PM | Fortune Road | Field 1 | Siena Heights University JV, MI (WHAC) | Briar Cliff University JV, IA (GPAC) | NJCAA/JV | |
| 3/6/20 | 1:30 PM | Fortune Road | Field 2 | Cornerstone University, MI (WHAC) | University of Saint Francis, IN (Crossroads) | NAIA | |
| 3/6/20 | 1:45 PM | Boombah Soldiers Creek | Field 2 | University of Pennsylvania, PA (Ivy) | Saint Louis University, MO (A10) | NCAA Division I | |
| 3/6/20 | 1:45 PM | Boombah Soldiers Creek | Field 5 | Valparaiso University, IN (MVC) | Niagara University, NY (MAAC) | NCAA Division I | |
| 3/6/20 | 1:45 PM | Fortune Road | Field 3 | Missouri Baptist University, MO (AMC) | Bellevue University, NE (NSAA) | NAIA | |
| 3/6/20 | 1:45 PM | Fortune Road | Field 4 | Robert Morris University, IL (CCAC) | University of Michigan-Dearborn, MI (WHAC) | NAIA | |
| 3/6/20 | 2:00 PM | Madeira Beach | Field 1 | South Dakota State University, SD (Summit) | University of Iowa, IA (Big Ten) | NCAA Division I | |
| 3/6/20 | 2:00 PM | Madeira Beach | Field 2 | St. Bonaventure University, NY (A10) | College of The Holy Cross, MA (Patriot) | NCAA Division I | |
| 3/6/20 | 2:00 PM | Sleepy Hollow Sports Complex | Field 1 | Olivet College, MI (MIAA) | Ohio Northern University, OH (OAC) | NCAA Division III | |
| 3/6/20 | 2:00 PM | Sleepy Hollow Sports Complex | Field 2 | Loras College, IA (ARC) | Rensselaer Polytechnic Institute, NY (Liberty) | NCAA Division III | |
| 3/6/20 | 2:00 PM | Sleepy Hollow Sports Complex | Field 3 | Thiel College, PA (PAC) | The Sage Colleges, NY (Empire 8) | NCAA Division III | |
| 3/6/20 | 2:15 PM | Legends Way Ballfields | Field 1 | York College, PA (CAC) | Berea College, KY (OAC) | NCAA Division III | |
| 3/6/20 | 2:15 PM | Legends Way Ballfields | Field 2 | Trine University, IN (MIAA) | Cornell College, IA (Midwest) | NCAA Division III | |
| 3/6/20 | 2:15 PM | Legends Way Ballfields | Field 3 | Bluffton University, OH (HCAC) | Johnson & Wales University, RI (GNAC) | NCAA Division III | |
| 3/6/20 | 2:30 PM | Auburndale Softball Complex | Field 1 | University of Mary, ND (NSIC) | Indiana University of Pennsylvania, PA (PSAC) | NCAA Division II | |
| 3/6/20 | 2:30 PM | Auburndale Softball Complex | Field 2 | Ohio Dominican University, OH (GMAC) | Concordia University-St. Paul, MN (NSIC) | NCAA Division II | |
| 3/6/20 | 2:30 PM | Auburndale Softball Complex | Field 3 | Mercyhurst University, PA (PSAC) | Urbana University, OH (MEC) | NCAA Division II | |
| 3/6/20 | 2:30 PM | DiamondPlex | Field B | Gannon University, PA (PSAC) | Fairmont State University, WV (MEC) | NCAA Division II | |
| 3/6/20 | 2:30 PM | Hancock Recreational Complex | Field 1 | Wartburg College, IA (ARC) | Millikin University, IL (CCIW) | NCAA Division III | |
| 3/6/20 | 2:30 PM | Hancock Recreational Complex | Field 2 | Roger Williams University, RI (CCC) | Alvernia University, PA (MAC) | NCAA Division III | |
| 3/6/20 | 2:30 PM | Hancock Recreational Complex | Field 3 | Oakland Community College, MI (MCCAA) | Mercyhurst North East, PA (WNYAC) | NJCAA/JV | |
| 3/6/20 | 2:45 PM | Auburndale Softball Complex | Field 4 | University of Missouri-St. Louis, MO (GLVC) | Saginaw Valley State University, MI (GLIAC) | NCAA Division II | |
| 3/6/20 | 2:45 PM | Auburndale Softball Complex | Field 5 | Southern New Hampshire University, NH (NE10) | St. Thomas Aquinas College, NY (ECC) | NCAA Division II | |
| 3/6/20 | 2:45 PM | DiamondPlex | Field D | Glenville State College, WV (MEC) | University of Findlay, OH (GMAC) | NCAA Division II | |
| 3/6/20 | 2:45 PM | DiamondPlex | Field E | Quincy University, IL (GLVC) | Kentucky Wesleyan College, KY (GMAC) | NCAA Division II | |
| 3/6/20 | 2:45 PM | Hancock Recreational Complex | Field 4 | Delta College, MI (MCCAA) | Georgia Highlands College, GA (GCAA) | NJCAA/JV | |
| 3/6/20 | 2:45 PM | Hancock Recreational Complex | Field 5 | Jackson College, MI (MCCAA) | South Suburban College, IL (Independent) | NJCAA/JV | |
| 3/6/20 | 2:45 PM | Legends Way Ballfields | Field 4 | St. Joseph's College of Maine, ME (GNAC) | Muskingum University, OH (OAC) | NCAA Division III | |
| 3/6/20 | 2:45 PM | Legends Way Ballfields | Field 5 | Eastern University, PA (Freedom) | Webster University, MO (SLIAC) | NCAA Division III | |
| 3/6/20 | 4:00 PM | Boombah Soldiers Creek | Field 1 | Cleveland State University, OH (Horizon) | Charleston Southern University, SC (Big South) | NCAA Division I | |
| 3/6/20 | 4:00 PM | Boombah Soldiers Creek | Field 6 | North Carolina A&T, NC (MEAC) | University of Detroit Mercy, MI (Horizon) | NCAA Division I | |
| 3/6/20 | 4:00 PM | Fortune Road | Field 1 | Marian University, IN (Crossroads) | Cornerstone University, MI (WHAC) | NAIA | |
| 3/6/20 | 4:00 PM | Fortune Road | Field 2 | Indiana Wesleyan University, IN (Crossroads) | Calumet College of Saint Joseph, IN (CCAC) | NAIA | |
| 3/6/20 | 4:15 PM | Boombah Soldiers Creek | Field 5 | Niagara University, NY (MAAC) | University of Pennsylvania, PA (Ivy) | NCAA Division I | |
| 3/6/20 | 4:15 PM | Fortune Road | Field 3 | Bellevue University, NE (NSAA) | Florida National University, FL (Independent) | NAIA | |
| 3/6/20 | 4:15 PM | Fortune Road | Field 4 | University of Michigan-Dearborn, MI (WHAC) | Briar Cliff University, IA (GPAC) | NAIA | |
| 3/6/20 | 4:15 PM | Legends Way Ballfields | Field 1 | Johnson & Wales University, RI (GNAC) | York College, PA (CAC) | NCAA Division III | |
| 3/6/20 | 4:30 PM | Legends Way Ballfields | Field 3 | Cornell College, IA (Midwest) | Bluffton University, OH (HCAC) | NCAA Division III | |
| 3/6/20 | 4:45 PM | Auburndale Softball Complex | Field 1 | Urbana University, OH (MEC) | University of Mary, ND (NSIC) | NCAA Division II | |
| 3/6/20 | 4:45 PM | Auburndale Softball Complex | Field 2 | Indiana University of Pennsylvania, PA (PSAC) | Ohio Dominican University, OH (GMAC) | NCAA Division II | |
| 3/6/20 | 4:45 PM | Auburndale Softball Complex | Field 3 | Concordia University-St. Paul, MN (NSIC) | Mercyhurst University, PA (PSAC) | NCAA Division II | |
| 3/6/20 | 4:45 PM | Hancock Recreational Complex | Field 1 | Milwaukee School of Engineering, WI (NACC) | Wartburg College, IA (ARC) | NCAA Division III | |
| 3/6/20 | 4:45 PM | Hancock Recreational Complex | Field 2 | Millikin University, IL (CCIW) | Roger Williams University, RI (CCC) | NCAA Division III | |
| 3/6/20 | 4:45 PM | Hancock Recreational Complex | Field 3 | Georgia Highlands College, GA (GCAA) | Muskegon Community College, MI (MCCAA) | NJCAA/JV | |
| 3/6/20 | 5:00 PM | Auburndale Softball Complex | Field 4 | Saginaw Valley State University, MI (GLIAC) | Southern New Hampshire University, NH (NE10) | NCAA Division II | |
| 3/6/20 | 5:00 PM | Auburndale Softball Complex | Field 5 | St. Thomas Aquinas College, NY (ECC) | University of Missouri-St. Louis, MO (GLVC) | NCAA Division II | |
| 3/6/20 | 5:00 PM | DiamondPlex | Field D | West Virginia Wesleyan JV, WV (MEC) | Glenville State College JV, WV (MEC) | NJCAA/JV | |
| 3/6/20 | 5:00 PM | Hancock Recreational Complex | Field 4 | South Suburban College, IL (Independent) | Delta College, MI (MCCAA) | NJCAA/JV | |
| 3/6/20 | 5:00 PM | Hancock Recreational Complex | Field 5 | Mercyhurst North East, PA (WNYAC) | Jackson College, MI (MCCAA) | NJCAA/JV | |
| 3/6/20 | 5:00 PM | Legends Way Ballfields | Field 4 | Webster University, MO (SLIAC) | St. Joseph's College of Maine, ME (GNAC) | NCAA Division III | |
| 3/6/20 | 6:15 PM | Fortune Road | Field 1 | Florida National University, FL (Independent) | Marian University, IN (Crossroads) | NAIA | |
| 3/6/20 | 6:15 PM | Fortune Road | Field 2 | Briar Cliff University, IA (GPAC) | Indiana Wesleyan University, IN (Crossroads) | NAIA | |
| 3/6/20 | 6:30 PM | Boombah Soldiers Creek | Field 1 | Longwood University, VA (Big South) | Florida State University, FL (ACC) | NCAA Division I | |
| 3/6/20 | 6:30 PM | Boombah Soldiers Creek | Field 6 | Cleveland State University, OH (Horizon) | North Carolina A&T, NC (MEAC) | NCAA Division I | |
| 3/6/20 | 7:00 PM | Hancock Recreational Complex | Field 3 | Muskegon Community College, MI (MCCAA) | Oakland Community College, MI (MCCAA) | NJCAA/JV | |
Saturday, Mar. 7 (All Times ET)
| | | | | | | | |
| --- | --- | --- | --- | --- | --- | --- | --- |
| Date | Time | Location | Field | Matchup | | Division | |
| 3/7/20 | 9:00 AM | Auburndale Softball Complex | Field 1 | Holy Family University, PA (CACC) | Stonehill College, MA (NE10) | NCAA Division II | |
| 3/7/20 | 9:00 AM | Auburndale Softball Complex | Field 2 | West Virginia Wesleyan, WV (MEC) | Bentley University, MA (NE10) | NCAA Division II | |
| 3/7/20 | 9:00 AM | Auburndale Softball Complex | Field 3 | West Chester University, PA (PSAC) | Urbana University, OH (MEC) | NCAA Division II | |
| 3/7/20 | 9:00 AM | DiamondPlex | Field A | Augustana University, SD (NSIC) | Adelphi University, NY (NE10) | NCAA Division II | |
| 3/7/20 | 9:00 AM | DiamondPlex | Field B | Wayne State University, MI (GLIAC) | Southern New Hampshire University, NH (NE10) | NCAA Division II | |
| 3/7/20 | 9:00 AM | DiamondPlex | Field C | Quincy University, IL (GLVC) | Ohio Dominican University, OH (GMAC) | NCAA Division II | |
| 3/7/20 | 9:00 AM | Hancock Recreational Complex | Field 1 | Montclair State University, NJ (NJAC) | Becker College, MA (NECC) | NCAA Division III | |
| 3/7/20 | 9:00 AM | Hancock Recreational Complex | Field 2 | Milwaukee School of Engineering, WI (NACC) | Muskingum University, OH (OAC) | NCAA Division III | |
| 3/7/20 | 9:00 AM | Hancock Recreational Complex | Field 3 | The Sage Colleges, NY (Empire 8) | Suffolk University, MA (GNAC) | NCAA Division III | |
| 3/7/20 | 9:00 AM | Legends Way Ballfields | Field 1 | Houghton College, NY (Empire 8) | Webster University, MO (SLIAC) | NCAA Division III | |
| 3/7/20 | 9:00 AM | Legends Way Ballfields | Field 2 | Elizabethtown College, PA (Landmark) | Carnegie Mellon University, PA (UAA) | NCAA Division III | |
| 3/7/20 | 9:00 AM | Legends Way Ballfields | Field 3 | Saint Mary's University, MN (MIAC) | University of Northwestern-St Paul, MN (UMAC) | NCAA Division III | |
| 3/7/20 | 9:15 AM | Auburndale Softball Complex | Field 4 | University of Southern Indiana, IN (GLVC) | St. Anselm College, NH (NE10) | NCAA Division II | |
| 3/7/20 | 9:15 AM | Auburndale Softball Complex | Field 5 | St. Thomas Aquinas College, NY (ECC) | Le Moyne College, NY (NE10) | NCAA Division II | |
| 3/7/20 | 9:15 AM | DiamondPlex | Field D | University of Minnesota-Duluth, MN (NSIC) | Truman State University, MO (GLVC) | NCAA Division II | |
| 3/7/20 | 9:15 AM | DiamondPlex | Field E | University of Findlay, OH (GMAC) | University of Missouri-St. Louis, MO (GLVC) | NCAA Division II | |
| 3/7/20 | 9:15 AM | Hancock Recreational Complex | Field 4 | Central Lakes College, MN (Region 13B) | Delta College, MI (MCCAA) | NJCAA/JV | |
| 3/7/20 | 9:15 AM | Hancock Recreational Complex | Field 5 | Georgia Highlands College, GA (GCAA) | TBD (JUCO/JV) | NJCAA/JV | |
| 3/7/20 | 9:15 AM | Legends Way Ballfields | Field 4 | Cornell College, IA (Midwest) | University of Mount Union, OH (OAC) | NCAA Division III | |
| 3/7/20 | 9:15 AM | Legends Way Ballfields | Field 5 | Lebanon Valley College, PA (MAC) | John Jay College, NY (CUNYAC) | NCAA Division III | |
| 3/7/20 | 10:00 AM | Fortune Road | Field 1 | Lawrence Technological University, MI (WHAC) | Marian University, IN (Crossroads) | NAIA | |
| 3/7/20 | 10:00 AM | Fortune Road | Field 2 | Thomas More University, KY (ACAA) | Indiana Wesleyan University, IN (Crossroads) | NAIA | |
| 3/7/20 | 10:15 AM | Fortune Road | Field 3 | Cornerstone University, MI (WHAC) | Hannibal-LaGrange University, MO (AMC) | NAIA | |
| 3/7/20 | 10:15 AM | Fortune Road | Field 4 | University of Saint Francis, IN (Crossroads) | Calumet College of Saint Joseph, IN (CCAC) | NAIA | |
| 3/7/20 | 11:00 AM | Boombah Soldiers Creek | Field 1 | Florida State University, FL (ACC) | Creighton University, NE (Big East) | NCAA Division I | |
| 3/7/20 | 11:00 AM | Boombah Soldiers Creek | Field 6 | Charleston Southern University, SC (Big South) | Saint Louis University, MO (A10) | NCAA Division I | |
| 3/7/20 | 11:15 AM | Auburndale Softball Complex | Field 1 | Urbana University, OH (MEC) | Holy Family University, PA (CACC) | NCAA Division II | |
| 3/7/20 | 11:15 AM | Auburndale Softball Complex | Field 2 | Stonehill College, MA (NE10) | West Virginia Wesleyan, WV (MEC) | NCAA Division II | |
| 3/7/20 | 11:15 AM | Auburndale Softball Complex | Field 3 | Bentley University, MA (NE10) | West Chester University, PA (PSAC) | NCAA Division II | |
| 3/7/20 | 11:15 AM | Boombah Soldiers Creek | Field 2 | University of Detroit Mercy, MI (Horizon) | University of Pennsylvania, PA (Ivy) | NCAA Division I | |
| 3/7/20 | 11:15 AM | Boombah Soldiers Creek | Field 5 | Cleveland State University, OH (Horizon) | Bethune Cookman, FL (MEAC) | NCAA Division I | |
| 3/7/20 | 11:15 AM | DiamondPlex | Field A | Saginaw Valley State University, MI (GLIAC) | Augustana University, SD (NSIC) | NCAA Division II | |
| 3/7/20 | 11:15 AM | DiamondPlex | Field B | Tiffin University, OH (GMAC) | Wayne State University, MI (GLIAC) | NCAA Division II | |
| 3/7/20 | 11:15 AM | DiamondPlex | Field C | University of Bridgeport, CT (ECC) | Quincy University, IL (GLVC) | NCAA Division II | |
| 3/7/20 | 11:15 AM | Hancock Recreational Complex | Field 1 | Suffolk University, MA (GNAC) | Montclair State University, NJ (NJAC) | NCAA Division III | |
| 3/7/20 | 11:15 AM | Hancock Recreational Complex | Field 2 | Muskingum University, OH (OAC) | Kean University, NJ (NJAC) | NCAA Division III | |
| 3/7/20 | 11:15 AM | Hancock Recreational Complex | Field 3 | Ursinus College, PA (Centennial) | The Sage Colleges, NY (Empire 8) | NCAA Division III | |
| 3/7/20 | 11:15 AM | Legends Way Ballfields | Field 1 | New England College, NH (NECC) | Westfield State University, MA (MASCAC) | NCAA Division III | |
| 3/7/20 | 11:15 AM | Legends Way Ballfields | Field 2 | Dominican University, IL (NACC) | Elizabethtown College, PA (Landmark) | NCAA Division III | |
| 3/7/20 | 11:15 AM | Legends Way Ballfields | Field 3 | Webster University, MO (SLIAC) | Saint Mary's University, MN (MIAC) | NCAA Division III | |
| 3/7/20 | 11:30 AM | Auburndale Softball Complex | Field 4 | Le Moyne College, NY (NE10) | University of Southern Indiana, IN (GLVC) | NCAA Division II | |
| 3/7/20 | 11:30 AM | Auburndale Softball Complex | Field 5 | St. Anselm College, NH (NE10) | St. Thomas Aquinas College, NY (ECC) | NCAA Division II | |
| 3/7/20 | 11:30 AM | DiamondPlex | Field D | Grand Valley State University, MI (GLIAC) | University of Minnesota-Duluth, MN (NSIC) | NCAA Division II | |
| 3/7/20 | 11:30 AM | DiamondPlex | Field E | Slippery Rock University, PA (PSAC) | University of Findlay, OH (GMAC) | NCAA Division II | |
| 3/7/20 | 11:30 AM | Hancock Recreational Complex | Field 4 | Wartburg College, IA (ARC) | Penn State University-Berks, PA (NEAC) | NCAA Division III | |
| 3/7/20 | 11:30 AM | Hancock Recreational Complex | Field 5 | Delta College, MI (MCCAA) | Marian University JV, WI (NACC) | NJCAA/JV | |
| 3/7/20 | 11:30 AM | Legends Way Ballfields | Field 4 | University of Mount Union, OH (OAC) | Carroll University, WI (CCIW) | NCAA Division III | |
| 3/7/20 | 11:30 AM | Legends Way Ballfields | Field 5 | John Jay College, NY (CUNYAC) | Houghton College, NY (Empire 8) | NCAA Division III | |
| 3/7/20 | 12:15 PM | Fortune Road | Field 1 | Indiana Wesleyan University, IN (Crossroads) | Lawrence Technological University, MI (WHAC) | NAIA | |
| 3/7/20 | 12:15 PM | Fortune Road | Field 2 | Marian University, IN (Crossroads) | Thomas More University, KY (ACAA) | NAIA | |
| 3/7/20 | 12:30 PM | Fortune Road | Field 3 | Calumet College of Saint Joseph, IN (CCAC) | Cornerstone University, MI (WHAC) | NAIA | |
| 3/7/20 | 12:30 PM | Fortune Road | Field 4 | Hannibal-LaGrange University, MO (AMC) | University of Saint Francis, IN (Crossroads) | NAIA | |
| 3/7/20 | 1:30 PM | Auburndale Softball Complex | Field 1 | American International College, MA (NE10) | Felician University, NJ (CACC) | NCAA Division II | |
| 3/7/20 | 1:30 PM | Auburndale Softball Complex | Field 2 | Assumption College, MA (NE10) | Bloomfield College, NJ (CACC) | NCAA Division II | |
| 3/7/20 | 1:30 PM | Auburndale Softball Complex | Field 3 | St. Cloud State University, MN (NSIC) | Rockhurst University, MO (GLVC) | NCAA Division II | |
| 3/7/20 | 1:30 PM | Boombah Soldiers Creek | Field 1 | Charleston Southern University, SC (Big South) | Florida State University, FL (ACC) | NCAA Division I | |
| 3/7/20 | 1:30 PM | Boombah Soldiers Creek | Field 6 | Creighton University, NE (Big East) | Cleveland State University, OH (Horizon) | NCAA Division I | |
| 3/7/20 | 1:30 PM | DiamondPlex | Field A | Truman State University, MO (GLVC) | Saginaw Valley State University, MI (GLIAC) | NCAA Division II | |
| 3/7/20 | 1:30 PM | DiamondPlex | Field B | Adelphi University, NY (NE10) | Tiffin University, OH (GMAC) | NCAA Division II | |
| 3/7/20 | 1:30 PM | DiamondPlex | Field C | Southern New Hampshire University, NH (NE10) | University of Bridgeport, CT (ECC) | NCAA Division II | |
| 3/7/20 | 1:30 PM | Hancock Recreational Complex | Field 1 | Penn State University-Berks, PA (NEAC) | Milwaukee School of Engineering, WI (NACC) | NCAA Division III | |
| 3/7/20 | 1:30 PM | Hancock Recreational Complex | Field 2 | Central Lakes College, MN (Region 13B) | Muskegon Community College, MI (MCCAA) | NJCAA/JV | |
| 3/7/20 | 1:30 PM | Hancock Recreational Complex | Field 3 | Becker College, MA (NECC) | Ursinus College, PA (Centennial) | NCAA Division III | |
| 3/7/20 | 1:30 PM | Legends Way Ballfields | Field 1 | Westfield State University, MA (MASCAC) | New England College, NH (NECC) | NCAA Division III | |
| 3/7/20 | 1:30 PM | Legends Way Ballfields | Field 2 | University of Northwestern-St Paul, MN (UMAC) | Dominican University, IL (NACC) | NCAA Division III | |
| 3/7/20 | 1:30 PM | Legends Way Ballfields | Field 3 | Carnegie Mellon University, PA (UAA) | Cornell College, IA (Midwest) | NCAA Division III | |
| 3/7/20 | 1:45 PM | Auburndale Softball Complex | Field 4 | Hillsdale College, MI (GMAC) | Ferris State University, MI (GLIAC) | NCAA Division II | |
| 3/7/20 | 1:45 PM | Boombah Soldiers Creek | Field 2 | University of Detroit Mercy, MI (Horizon) | Niagara University, NY (MAAC) | NCAA Division I | |
| 3/7/20 | 1:45 PM | Boombah Soldiers Creek | Field 5 | Long Island University, NY (NEC) | Saint Louis University, MO (A10) | NCAA Division I | |
| 3/7/20 | 1:45 PM | DiamondPlex | Field D | University of Missouri-St. Louis, MO (GLVC) | Grand Valley State University, MI (GLIAC) | NCAA Division II | |
| 3/7/20 | 1:45 PM | DiamondPlex | Field E | Ohio Dominican University, OH (GMAC) | Slippery Rock University, PA (PSAC) | NCAA Division II | |
| 3/7/20 | 1:45 PM | Hancock Recreational Complex | Field 4 | Kean University, NJ (NJAC) | Wartburg College, IA (ARC) | NCAA Division III | |
| 3/7/20 | 1:45 PM | Hancock Recreational Complex | Field 5 | Mercyhurst North East, PA (WNYAC) | Georgia Highlands College, GA (GCAA) | NJCAA/JV | |
| 3/7/20 | 1:45 PM | Legends Way Ballfields | Field 4 | Carroll University, WI (CCIW) | Roger Williams University, RI (CCC) | NCAA Division III | |
| 3/7/20 | 1:45 PM | Legends Way Ballfields | Field 5 | Johnson & Wales University, RI (GNAC) | Lebanon Valley College, PA (MAC) | NCAA Division III | |
| 3/7/20 | 2:00 PM | Madeira Beach | Field 1 | Ohio University, OH (MAC) | St. Bonaventure University, NY (A10) | NCAA Division I | |
| 3/7/20 | 2:00 PM | Madeira Beach | Field 2 | South Dakota State University, SD (Summit) | Loyola University Chicago, IL (MVC) | NCAA Division I | |
| 3/7/20 | 2:00 PM | Madeira Beach | Field 3 | Central Michigan University, MI (MAC) | University of Iowa, IA (Big Ten) | NCAA Division I | |
| 3/7/20 | 2:45 PM | Fortune Road | Field 1 | Robert Morris University, IL (CCAC) | Missouri Baptist University, MO (AMC) | NAIA | |
| 3/7/20 | 2:45 PM | Fortune Road | Field 2 | St. Xavier University, IL (CCAC) | Bellevue University, NE (NSAA) | NAIA | |
| 3/7/20 | 3:00 PM | Fortune Road | Field 3 | St. Ambrose University, IA (CCAC) | Florida National University, FL (Independent) | NAIA | |
| 3/7/20 | 3:00 PM | Sleepy Hollow Sports Complex | Field 1 | Delaware Valley University, PA (MAC) | Wheaton College, IL (CCIW) | NCAA Division III | |
| 3/7/20 | 3:00 PM | Sleepy Hollow Sports Complex | Field 2 | Olivet College, MI (MIAA) | Gordon College, MA (CCC) | NCAA Division III | |
| 3/7/20 | 3:15 PM | Sleepy Hollow Sports Complex | Field 3 | Marian University, WI (NACC) | Thiel College, PA (PAC) | NCAA Division III | |
| 3/7/20 | 3:15 PM | Sleepy Hollow Sports Complex | Field 4 | Rensselaer Polytechnic Institute, NY (Liberty) | Swarthmore College, PA (Centennial) | NCAA Division III | |
| 3/7/20 | 3:45 PM | Auburndale Softball Complex | Field 1 | Bloomfield College, NJ (CACC) | American International College, MA (NE10) | NCAA Division II | |
| 3/7/20 | 3:45 PM | Auburndale Softball Complex | Field 2 | Felician University, NJ (CACC) | Assumption College, MA (NE10) | NCAA Division II | |
| 3/7/20 | 3:45 PM | Auburndale Softball Complex | Field 3 | Ferris State University, MI (GLIAC) | St. Cloud State University, MN (NSIC) | NCAA Division II | |
| 3/7/20 | 4:00 PM | Auburndale Softball Complex | Field 4 | Rockhurst University, MO (GLVC) | Hillsdale College, MI (GMAC) | NCAA Division II | |
| 3/7/20 | 4:00 PM | Boombah Soldiers Creek | Field 1 | Valparaiso University, IN (MVC) | North Carolina A&T, NC (MEAC) | NCAA Division I | |
| 3/7/20 | 4:00 PM | Boombah Soldiers Creek | Field 6 | Niagara University, NY (MAAC) | Longwood University, VA (Big South) | NCAA Division I | |
| 3/7/20 | 4:00 PM | DiamondPlex | Field A | Upper Iowa University, IA (NSIC) | Concord University, WV (MEC) | NCAA Division II | |
| 3/7/20 | 4:00 PM | DiamondPlex | Field B | University of Indianapolis, IN (GLVC) | Minnesota State University-Mankato, MN (NSIC) | NCAA Division II | |
| 3/7/20 | 4:00 PM | DiamondPlex | Field C | Northwood University, MI (GLIAC) | Fairmont State University, WV (MEC) | NCAA Division II | |
| 3/7/20 | 4:00 PM | Fortune Road | Field 4 | West Virginia Wesleyan JV, WV (MEC) | Thomas More University JV, KY (ACAA) | NJCAA/JV | |
| 3/7/20 | 4:00 PM | Hancock Recreational Complex | Field 1 | Millsaps College, MS (SCAC) | Washington and Jefferson College, PA (PAC) | NCAA Division III | |
| 3/7/20 | 4:00 PM | Hancock Recreational Complex | Field 2 | Plymouth State University, NH (LEC) | Penn State University-Behrend, PA (AMCC) | NCAA Division III | |
| 3/7/20 | 4:00 PM | Hancock Recreational Complex | Field 3 | Penn State University-Brandywine, PA (PSUAC) | TBD (DIII) | NCAA Division III | |
| 3/7/20 | 4:00 PM | Hancock Recreational Complex | Field 5 | Muskegon Community College, MI (MCCAA) | South Suburban College, IL (Independent) | NJCAA/JV | |
| 3/7/20 | 4:00 PM | Legends Way Ballfields | Field 1 | D'Youville College, NY (AMCC) | UMASS-Dartmouth, MA (LEC) | NCAA Division III | |
| 3/7/20 | 4:00 PM | Legends Way Ballfields | Field 2 | Loras College, IA (ARC) | Geneva College, PA (PAC) | NCAA Division III | |
| 3/7/20 | 4:00 PM | Legends Way Ballfields | Field 3 | Lesley University, MA (NECC) | Wheaton College, MA (NEWMAC) | NCAA Division III | |
| 3/7/20 | 4:15 PM | Boombah Soldiers Creek | Field 5 | Long Island University, NY (NEC) | Bethune Cookman, FL (MEAC) | NCAA Division I | |
| 3/7/20 | 4:15 PM | DiamondPlex | Field D | Minnesota State University-Moorhead, MN (NSIC) | Lewis University, IL (GLVC) | NCAA Division II | |
| 3/7/20 | 4:15 PM | DiamondPlex | Field E | Dominican College, NY (CACC) | California University, PA (PSAC) | NCAA Division II | |
| 3/7/20 | 4:15 PM | Hancock Recreational Complex | Field 4 | Trinity University, TX (SCAC) | Millikin University, IL (CCIW) | NCAA Division III | |
| 3/7/20 | 4:15 PM | Legends Way Ballfields | Field 4 | Roger Williams University, RI (CCC) | The Catholic University of America, DC (Landmark) | NCAA Division III | |
| 3/7/20 | 4:15 PM | Legends Way Ballfields | Field 5 | Husson University, ME (NAC) | Johnson & Wales University, RI (GNAC) | NCAA Division III | |
| 3/7/20 | 4:30 PM | Madeira Beach | Field 1 | Quinnipiac University, CT (MAAC) | Florida Gulf Coast University, FL (ASUN) | NCAA Division I | |
| 3/7/20 | 4:30 PM | Madeira Beach | Field 2 | St. Bonaventure University, NY (A10) | Central Michigan University, MI (MAC) | NCAA Division I | |
| 3/7/20 | 4:30 PM | Madeira Beach | Field 3 | College of The Holy Cross, MA (Patriot) | South Dakota State University, SD (Summit) | NCAA Division I | |
| 3/7/20 | 5:00 PM | Fortune Road | Field 1 | Florida National University, FL (Independent) | Robert Morris University, IL (CCAC) | NAIA | |
| 3/7/20 | 5:00 PM | Fortune Road | Field 2 | Missouri Baptist University, MO (AMC) | St. Xavier University, IL (CCAC) | NAIA | |
| 3/7/20 | 5:15 PM | Fortune Road | Field 3 | Bellevue University, NE (NSAA) | St. Ambrose University, IA (CCAC) | NAIA | |
| 3/7/20 | 5:15 PM | Sleepy Hollow Sports Complex | Field 1 | Swarthmore College, PA (Centennial) | Delaware Valley University, PA (MAC) | NCAA Division III | |
| 3/7/20 | 5:15 PM | Sleepy Hollow Sports Complex | Field 2 | Wheaton College, IL (CCIW) | Olivet College, MI (MIAA) | NCAA Division III | |
| 3/7/20 | 5:30 PM | Sleepy Hollow Sports Complex | Field 3 | Gordon College, MA (CCC) | Marian University, WI (NACC) | NCAA Division III | |
| 3/7/20 | 5:30 PM | Sleepy Hollow Sports Complex | Field 4 | Thiel College, PA (PAC) | Rensselaer Polytechnic Institute, NY (Liberty) | NCAA Division III | |
| 3/7/20 | 6:00 PM | Fortune Road | Field 4 | PRACTICE | Carlow University, PA (RSC) | NAIA | |
| 3/7/20 | 6:15 PM | DiamondPlex | Field A | Fairmont State University, WV (MEC) | Upper Iowa University, IA (NSIC) | NCAA Division II | |
| 3/7/20 | 6:15 PM | DiamondPlex | Field B | Concord University, WV (MEC) | University of Indianapolis, IN (GLVC) | NCAA Division II | |
| 3/7/20 | 6:15 PM | DiamondPlex | Field C | Minnesota State University-Mankato, MN (NSIC) | Northwood University, MI (GLIAC) | NCAA Division II | |
| 3/7/20 | 6:15 PM | Hancock Recreational Complex | Field 1 | Penn State University-Behrend, PA (AMCC) | Millsaps College, MS (SCAC) | NCAA Division III | |
| 3/7/20 | 6:15 PM | Hancock Recreational Complex | Field 2 | Millikin University, IL (CCIW) | Plymouth State University, NH (LEC) | NCAA Division III | |
| 3/7/20 | 6:15 PM | Hancock Recreational Complex | Field 3 | Washington and Jefferson College, PA (PAC) | Penn State University-Brandywine, PA (PSUAC) | NCAA Division III | |
| 3/7/20 | 6:15 PM | Hancock Recreational Complex | Field 5 | South Suburban College, IL (Independent) | Mercyhurst North East, PA (WNYAC) | NJCAA/JV | |
| 3/7/20 | 6:15 PM | Legends Way Ballfields | Field 1 | UMASS-Dartmouth, MA (LEC) | Lesley University, MA (NECC) | NCAA Division III | |
| 3/7/20 | 6:15 PM | Legends Way Ballfields | Field 2 | Geneva College, PA (PAC) | D'Youville College, NY (AMCC) | NCAA Division III | |
| 3/7/20 | 6:15 PM | Legends Way Ballfields | Field 3 | Wheaton College, MA (NEWMAC) | Husson University, ME (NAC) | NCAA Division III | |
| 3/7/20 | 6:30 PM | Boombah Soldiers Creek | Field 6 | Valparaiso University, IN (MVC) | Longwood University, VA (Big South) | NCAA Division I | |
| 3/7/20 | 6:30 PM | DiamondPlex | Field D | California University, PA (PSAC) | Minnesota State University-Moorhead, MN (NSIC) | NCAA Division II | |
| 3/7/20 | 6:30 PM | DiamondPlex | Field E | Lewis University, IL (GLVC) | Dominican College, NY (CACC) | NCAA Division II | |
| 3/7/20 | 6:30 PM | Hancock Recreational Complex | Field 4 | TBD (DIII) | Trinity University, TX (SCAC) | NCAA Division III | |
| 3/7/20 | 6:30 PM | Legends Way Ballfields | Field 4 | The Catholic University of America, DC (Landmark) | Loras College, IA (ARC) | NCAA Division III | |
| 3/7/20 | 7:00 PM | Madeira Beach | Field 1 | Quinnipiac University, CT (MAAC) | Merrimack College, MA (NEC) | NCAA Division I | |
| 3/7/20 | 7:00 PM | Madeira Beach | Field 2 | Florida Gulf Coast University, FL (ASUN) | College of The Holy Cross, MA (Patriot) | NCAA Division I | |
| 3/7/20 | 7:00 PM | Madeira Beach | Field 3 | Ohio University, OH (MAC) | University of Iowa, IA (Big Ten) | NCAA Division I | |
Sunday, Mar. 8 (All Times ET)
| Date | Time | Location | Field | Matchup | | Division | |
| --- | --- | --- | --- | --- | --- | --- | --- |
| 3/8/20 | 9:00 AM | Boombah Soldiers Creek | Field 1 | Valparaiso University, IN (MVC) | Cleveland State University, OH (Horizon) | NCAA Division I | |
| 3/8/20 | 9:00 AM | Boombah Soldiers Creek | Field 2 | North Carolina A&T, NC (MEAC) | Charleston Southern University, SC (Big South) | NCAA Division I | |
| 3/8/20 | 9:00 AM | Boombah Soldiers Creek | Field 6 | Florida State University, FL (ACC) | University of Pennsylvania, PA (Ivy) | NCAA Division I | |
| 3/8/20 | 9:00 AM | Hancock Recreational Complex | Field 1 | Ursinus College, PA (Centennial) | Carnegie Mellon University, PA (UAA) | NCAA Division III | |
| 3/8/20 | 9:00 AM | Hancock Recreational Complex | Field 2 | Suffolk University, MA (GNAC) | University of Mount Union, OH (OAC) | NCAA Division III | |
| 3/8/20 | 9:00 AM | Hancock Recreational Complex | Field 3 | The College of St. Scholastica, MN (UMAC) | D'Youville College, NY (AMCC) | NCAA Division III | |
| 3/8/20 | 9:00 AM | Legends Way Ballfields | Field 1 | Alverno College, WI (NACC) | Saint Mary's University, MN (MIAC) | NCAA Division III | |
| 3/8/20 | 9:00 AM | Legends Way Ballfields | Field 2 | John Jay College, NY (CUNYAC) | The Sage Colleges, NY (Empire 8) | NCAA Division III | |
| 3/8/20 | 9:00 AM | Legends Way Ballfields | Field 3 | Wheaton College, MA (NEWMAC) | The Catholic University of America, DC (Landmark) | NCAA Division III | |
| 3/8/20 | 9:00 AM | Madeira Beach | Field 2 | Merrimack College, MA (NEC) | South Dakota State University, SD (Summit) | NCAA Division I | |
| 3/8/20 | 9:00 AM | Madeira Beach | Field 3 | College of The Holy Cross, MA (Patriot) | Quinnipiac University, CT (MAAC) | NCAA Division I | |
| 3/8/20 | 9:00 AM | Minneola Athletic Complex | Field 1 | Montclair State University, NJ (NJAC) | Juniata College, PA (Landmark) | NCAA Division III | |
| 3/8/20 | 9:15 AM | Boombah Soldiers Creek | Field 5 | Saint Louis University, MO (A10) | Niagara University, NY (MAAC) | NCAA Division I | |
| 3/8/20 | 9:15 AM | Hancock Recreational Complex | Field 4 | Alpena Community College, MI (MCCAA) | Georgia Highlands College, GA (GCAA) | NJCAA/JV | |
| 3/8/20 | 9:15 AM | Hancock Recreational Complex | Field 5 | Marshalltown Community College, IA (ICCAC) | Mott Community College, MI (MCCAA) | NJCAA/JV | |
| 3/8/20 | 9:15 AM | Legends Way Ballfields | Field 4 | Emmanuel College, MA (GNAC) | Lesley University, MA (NECC) | NCAA Division III | |
| 3/8/20 | 9:15 AM | Legends Way Ballfields | Field 5 | St. Mary's College, IN (MIAA) | Roger Williams University, RI (CCC) | NCAA Division III | |
| 3/8/20 | 9:15 AM | Minneola Athletic Complex | Field 2 | Penn State University-Behrend, PA (AMCC) | Heidelberg University, OH (OAC) | NCAA Division III | |
| 3/8/20 | 10:00 AM | Auburndale Softball Complex | Field 1 | Glenville State College, WV (MEC) | Post University, CT (CACC) | NCAA Division II | |
| 3/8/20 | 10:00 AM | Auburndale Softball Complex | Field 2 | Hillsdale College, MI (GMAC) | Upper Iowa University, IA (NSIC) | NCAA Division II | |
| 3/8/20 | 10:00 AM | Auburndale Softball Complex | Field 3 | Slippery Rock University, PA (PSAC) | American International College, MA (NE10) | NCAA Division II | |
| 3/8/20 | 10:00 AM | DiamondPlex | Field A | Wayne State University, MI (GLIAC) | University of Indianapolis, IN (GLVC) | NCAA Division II | |
| 3/8/20 | 10:00 AM | DiamondPlex | Field B | Lake Erie College, OH (GMAC) | Ashland University, OH (GLIAC) | NCAA Division II | |
| 3/8/20 | 10:00 AM | DiamondPlex | Field C | Southern New Hampshire University, NH (NE10) | University of Minnesota-Duluth, MN (NSIC) | NCAA Division II | |
| 3/8/20 | 10:00 AM | Sleepy Hollow Sports Complex | Field 1 | Washington and Jefferson College, PA (PAC) | North Park University, IL (CCIW) | NCAA Division III | |
| 3/8/20 | 10:00 AM | Sleepy Hollow Sports Complex | Field 2 | Becker College, MA (NECC) | Plymouth State University, NH (LEC) | NCAA Division III | |
| 3/8/20 | 10:00 AM | Sleepy Hollow Sports Complex | Field 3 | Penn State University-Berks, PA (NEAC) | Simmons University, MA (GNAC) | NCAA Division III | |
| 3/8/20 | 10:00 AM | Sleepy Hollow Sports Complex | Field 4 | Defiance College, OH (HCAC) | Penn State University-Brandywine, PA (PSUAC) | NCAA Division III | |
| 3/8/20 | 10:15 AM | Auburndale Softball Complex | Field 4 | St. Cloud State University, MN (NSIC) | Indiana University of Pennsylvania, PA (PSAC) | NCAA Division II | |
| 3/8/20 | 10:15 AM | Auburndale Softball Complex | Field 5 | University of Southern Indiana, IN (GLVC) | Northwood University, MI (GLIAC) | NCAA Division II | |
| 3/8/20 | 10:15 AM | DiamondPlex | Field D | West Chester University, PA (PSAC) | Augustana University, SD (NSIC) | NCAA Division II | |
| 3/8/20 | 10:15 AM | DiamondPlex | Field E | Malone University, OH (GMAC) | Concord University, WV (MEC) | NCAA Division II | |
| 3/8/20 | 11:00 AM | Fortune Road | Field 1 | Lourdes University, OH (WHAC) | Florida National University, FL (Independent) | NAIA | |
| 3/8/20 | 11:00 AM | Fortune Road | Field 2 | Lawrence Technological University, MI (WHAC) | St. Xavier University, IL (CCAC) | NAIA | |
| 3/8/20 | 11:00 AM | Sleepy Hollow Sports Complex | Field 5 | Swarthmore College, PA (Centennial) | Millsaps College, MS (SCAC) | NCAA Division III | |
| 3/8/20 | 11:00 AM | Sleepy Hollow Sports Complex | Field 6 | Marian University JV, WI (NACC) | University of Dubuque JV, IA (ARC) | NJCAA/JV | |
| 3/8/20 | 11:15 AM | Fortune Road | Field 3 | St. Ambrose University, IA (CCAC) | Thomas More University, KY (ACAA) | NAIA | |
| 3/8/20 | 11:15 AM | Hancock Recreational Complex | Field 1 | University of Mount Union, OH (OAC) | Ursinus College, PA (Centennial) | NCAA Division III | |
| 3/8/20 | 11:15 AM | Hancock Recreational Complex | Field 2 | Marietta College, OH (OAC) | Alfred University, NY (Empire 8) | NCAA Division III | |
| 3/8/20 | 11:15 AM | Hancock Recreational Complex | Field 3 | D'Youville College, NY (AMCC) | Dominican University, IL (NACC) | NCAA Division III | |
| 3/8/20 | 11:15 AM | Legends Way Ballfields | Field 1 | Saint Mary's University, MN (MIAC) | Wheaton College, MA (NEWMAC) | NCAA Division III | |
| 3/8/20 | 11:15 AM | Legends Way Ballfields | Field 2 | Roger Williams University, RI (CCC) | John Jay College, NY (CUNYAC) | NCAA Division III | |
| 3/8/20 | 11:15 AM | Legends Way Ballfields | Field 3 | UMASS-Dartmouth, MA (LEC) | Cornell College, IA (Midwest) | NCAA Division III | |
| 3/8/20 | 11:15 AM | Minneola Athletic Complex | Field 1 | Westminster College, PA (PAC) | Montclair State University, NJ (NJAC) | NCAA Division III | |
| 3/8/20 | 11:30 AM | Boombah Soldiers Creek | Field 1 | University of Pennsylvania, PA (Ivy) | Cleveland State University, OH (Horizon) | NCAA Division I | |
| 3/8/20 | 11:30 AM | Boombah Soldiers Creek | Field 2 | North Carolina A&T, NC (MEAC) | Long Island University, NY (NEC) | NCAA Division I | |
| 3/8/20 | 11:30 AM | Boombah Soldiers Creek | Field 6 | University of Detroit Mercy, MI (Horizon) | Florida State University, FL (ACC) | NCAA Division I | |
| 3/8/20 | 11:30 AM | Hancock Recreational Complex | Field 4 | Glen Oaks Community College, MI (MCCAA) | Alpena Community College, MI (MCCAA) | NJCAA/JV | |
| 3/8/20 | 11:30 AM | Hancock Recreational Complex | Field 5 | Mott Community College, MI (MCCAA) | South Suburban College, IL (Independent) | NJCAA/JV | |
| 3/8/20 | 11:30 AM | Legends Way Ballfields | Field 4 | Bates College, ME (NESCAC) | Emmanuel College, MA (GNAC) | NCAA Division III | |
| 3/8/20 | 11:30 AM | Legends Way Ballfields | Field 5 | Concordia University Chicago, IL (NACC) | St. Mary's College, IN (MIAA) | NCAA Division III | |
| 3/8/20 | 11:30 AM | Madeira Beach | Field 2 | South Dakota State University, SD (Summit) | Ohio University, OH (MAC) | NCAA Division I | |
| 3/8/20 | 11:30 AM | Madeira Beach | Field 3 | Central Michigan University, MI (MAC) | Quinnipiac University, CT (MAAC) | NCAA Division I | |
| 3/8/20 | 11:30 AM | Minneola Athletic Complex | Field 2 | Heidelberg University, OH (OAC) | Mount St. Joseph University, OH (HCAC) | NCAA Division III | |
| 3/8/20 | 11:45 AM | Boombah Soldiers Creek | Field 5 | Longwood University, VA (Big South) | Creighton University, NE (Big East) | NCAA Division I | |
| 3/8/20 | 12:00 PM | Sleepy Hollow Sports Complex | Field 3 | Plymouth State University, NH (LEC) | Penn State University-Berks, PA (NEAC) | NCAA Division III | |
| 3/8/20 | 12:00 PM | Sleepy Hollow Sports Complex | Field 4 | Penn State University-Brandywine, PA (PSUAC) | Marian University, WI (NACC) | NCAA Division III | |
| 3/8/20 | 12:15 PM | Auburndale Softball Complex | Field 1 | American International College, MA (NE10) | Glenville State College, WV (MEC) | NCAA Division II | |
| 3/8/20 | 12:15 PM | Auburndale Softball Complex | Field 2 | Post University, CT (CACC) | Hillsdale College, MI (GMAC) | NCAA Division II | |
| 3/8/20 | 12:15 PM | Auburndale Softball Complex | Field 3 | Upper Iowa University, IA (NSIC) | Slippery Rock University, PA (PSAC) | NCAA Division II | |
| 3/8/20 | 12:15 PM | DiamondPlex | Field A | University of Minnesota-Duluth, MN (NSIC) | Wayne State University, MI (GLIAC) | NCAA Division II | |
| 3/8/20 | 12:15 PM | DiamondPlex | Field B | University of Indianapolis, IN (GLVC) | Lake Erie College, OH (GMAC) | NCAA Division II | |
| 3/8/20 | 12:15 PM | DiamondPlex | Field C | Ashland University, OH (GLIAC) | Southern New Hampshire University, NH (NE10) | NCAA Division II | |
| 3/8/20 | 12:15 PM | Sleepy Hollow Sports Complex | Field 1 | North Park University, IL (CCIW) | Becker College, MA (NECC) | NCAA Division III | |
| 3/8/20 | 12:15 PM | Sleepy Hollow Sports Complex | Field 2 | Simmons University, MA (GNAC) | Defiance College, OH (HCAC) | NCAA Division III | |
| 3/8/20 | 12:30 PM | Auburndale Softball Complex | Field 4 | Indiana University of Pennsylvania, PA (PSAC) | University of Southern Indiana, IN (GLVC) | NCAA Division II | |
| 3/8/20 | 12:30 PM | Auburndale Softball Complex | Field 5 | Northwood University, MI (GLIAC) | St. Cloud State University, MN (NSIC) | NCAA Division II | |
| 3/8/20 | 12:30 PM | DiamondPlex | Field D | Concord University, WV (MEC) | West Chester University, PA (PSAC) | NCAA Division II | |
| 3/8/20 | 12:30 PM | DiamondPlex | Field E | Augustana University, SD (NSIC) | Malone University, OH (GMAC) | NCAA Division II | |
| 3/8/20 | 1:15 PM | Fortune Road | Field 1 | William Penn University, IA (HAAC) | Lourdes University, OH (WHAC) | NAIA | |
| 3/8/20 | 1:15 PM | Fortune Road | Field 2 | Concordia University Nebraska, NE (GPAC) | Lawrence Technological University, MI (WHAC) | NAIA | |
| 3/8/20 | 1:15 PM | Sleepy Hollow Sports Complex | Field 5 | Millsaps College, MS (SCAC) | Case Western Reserve University, OH (UAA) | NCAA Division III | |
| 3/8/20 | 1:15 PM | Sleepy Hollow Sports Complex | Field 6 | Ithaca College, NY (Liberty) | Swarthmore College, PA (Centennial) | NCAA Division III | |
| 3/8/20 | 1:30 PM | Fortune Road | Field 3 | Thomas More University, KY (ACAA) | University of Michigan-Dearborn, MI (WHAC) | NAIA | |
| 3/8/20 | 1:30 PM | Hancock Recreational Complex | Field 1 | Carnegie Mellon University, PA (UAA) | Marietta College, OH (OAC) | NCAA Division III | |
| 3/8/20 | 1:30 PM | Hancock Recreational Complex | Field 2 | Alfred University, NY (Empire 8) | Suffolk University, MA (GNAC) | NCAA Division III | |
| 3/8/20 | 1:30 PM | Hancock Recreational Complex | Field 3 | Dominican University, IL (NACC) | The College of St. Scholastica, MN (UMAC) | NCAA Division III | |
| 3/8/20 | 1:30 PM | Legends Way Ballfields | Field 1 | Carroll University, WI (CCIW) | UMASS-Dartmouth, MA (LEC) | NCAA Division III | |
| 3/8/20 | 1:30 PM | Legends Way Ballfields | Field 2 | The Sage Colleges, NY (Empire 8) | Alverno College, WI (NACC) | NCAA Division III | |
| 3/8/20 | 1:30 PM | Legends Way Ballfields | Field 3 | Cornell College, IA (Midwest) | Concordia University Chicago, IL (NACC) | NCAA Division III | |
| 3/8/20 | 1:30 PM | Minneola Athletic Complex | Field 1 | Juniata College, PA (Landmark) | Westminster College, PA (PAC) | NCAA Division III | |
| 3/8/20 | 1:45 PM | Hancock Recreational Complex | Field 4 | Georgia Highlands College, GA (GCAA) | Glen Oaks Community College, MI (MCCAA) | NJCAA/JV | |
| 3/8/20 | 1:45 PM | Hancock Recreational Complex | Field 5 | South Suburban College, IL (Independent) | Marshalltown Community College, IA (ICCAC) | NJCAA/JV | |
| 3/8/20 | 1:45 PM | Legends Way Ballfields | Field 4 | The Catholic University of America, DC (Landmark) | Bates College, ME (NESCAC) | NCAA Division III | |
| 3/8/20 | 1:45 PM | Legends Way Ballfields | Field 5 | Lesley University, MA (NECC) | Husson University, ME (NAC) | NCAA Division III | |
| 3/8/20 | 1:45 PM | Minneola Athletic Complex | Field 2 | Mount St. Joseph University, OH (HCAC) | Penn State University-Behrend, PA (AMCC) | NCAA Division III | |
| 3/8/20 | 2:00 PM | Madeira Beach | Field 2 | Merrimack College, MA (NEC) | Ohio University, OH (MAC) | NCAA Division I | |
| 3/8/20 | 2:15 PM | Boombah Soldiers Creek | Field 5 | Bethune Cookman, FL (MEAC) | Longwood University, VA (Big South) | NCAA Division I | |
| 3/8/20 | 2:15 PM | Sleepy Hollow Sports Complex | Field 3 | Susquehanna University, PA (Landmark) | Kean University, NJ (NJAC) | NCAA Division III | |
| 3/8/20 | 2:15 PM | Sleepy Hollow Sports Complex | Field 4 | Penn State University-DuBois, PA (PSUAC) | Rensselaer Polytechnic Institute, NY (Liberty) | NCAA Division III | |
| 3/8/20 | 2:30 PM | Auburndale Softball Complex | Field 1 | Southwest Minnesota State University, MN (NSIC) | Nyack College, NY (CACC) | NCAA Division II | |
| 3/8/20 | 2:30 PM | Auburndale Softball Complex | Field 2 | University of Pittsburgh-Johnstown, PA (PSAC) | Minnesota State University-Moorhead, MN (NSIC) | NCAA Division II | |
| 3/8/20 | 2:30 PM | Auburndale Softball Complex | Field 3 | Urbana University, OH (MEC) | Assumption College, MA (NE10) | NCAA Division II | |
| 3/8/20 | 2:30 PM | DiamondPlex | Field A | Lewis University, IL (GLVC) | Winona State University, MN (NSIC) | NCAA Division II | |
| 3/8/20 | 2:30 PM | DiamondPlex | Field B | Bloomfield College, NJ (CACC) | Le Moyne College, NY (NE10) | NCAA Division II | |
| 3/8/20 | 2:30 PM | DiamondPlex | Field C | Fairmont State University, WV (MEC) | Trevecca Nazarene University, TN (GMAC) | NCAA Division II | |
| 3/8/20 | 2:30 PM | Sleepy Hollow Sports Complex | Field 1 | Penn State University-Hazleton, PA (PSUAC) | Washington and Jefferson College, PA (PAC) | NCAA Division III | |
| 3/8/20 | 2:30 PM | Sleepy Hollow Sports Complex | Field 2 | Skidmore College, NY (Liberty) | University of Dubuque, IA (ARC) | NCAA Division III | |
| 3/8/20 | 2:45 PM | Auburndale Softball Complex | Field 4 | Wayne State College, NE (NSIC) | California University, PA (PSAC) | NCAA Division II | |
| 3/8/20 | 2:45 PM | Auburndale Softball Complex | Field 5 | Bemidji State University, MN (NSIC) | Dominican College, NY (CACC) | NCAA Division II | |
| 3/8/20 | 2:45 PM | DiamondPlex | Field D | Bentley University, MA (NE10) | Ferris State University, MI (GLIAC) | NCAA Division II | |
| 3/8/20 | 2:45 PM | DiamondPlex | Field E | Minnesota State University-Mankato, MN (NSIC) | Edinboro University, PA (PSAC) | NCAA Division II | |
| 3/8/20 | 3:30 PM | Fortune Road | Field 1 | St. Xavier University, IL (CCAC) | William Penn University, IA (HAAC) | NAIA | |
| 3/8/20 | 3:30 PM | Fortune Road | Field 2 | Florida National University, FL (Independent) | Concordia University Nebraska, NE (GPAC) | NAIA | |
| 3/8/20 | 3:30 PM | Sleepy Hollow Sports Complex | Field 5 | Case Western Reserve University, OH (UAA) | Ithaca College, NY (Liberty) | NCAA Division III | |
| 3/8/20 | 3:30 PM | Sleepy Hollow Sports Complex | Field 6 | Marian University, WI (NACC) | Olivet College, MI (MIAA) | NCAA Division III | |
| 3/8/20 | 3:45 PM | Fortune Road | Field 3 | University of Michigan-Dearborn, MI (WHAC) | St. Ambrose University, IA (CCAC) | NAIA | |
| 3/8/20 | 3:45 PM | Fortune Road | Field 4 | Carlow University, PA (RSC) | Hannibal-LaGrange University, MO (AMC) | NAIA | |
| 3/8/20 | 4:00 PM | Hancock Recreational Complex | Field 1 | Cuyahoga Community College, OH (OCCAC) | SUNY Adirondack, NY (Region 3) | NJCAA/JV | |
| 3/8/20 | 4:00 PM | Hancock Recreational Complex | Field 2 | Mercyhurst North East, PA (WNYAC) | Central Lakes College, MN (Region 13B) | NJCAA/JV | |
| 3/8/20 | 4:00 PM | Hancock Recreational Complex | Field 3 | Jackson College, MI (MCCAA) | Dominican University JV, IL (NACC) | NJCAA/JV | |
| 3/8/20 | 4:00 PM | Hancock Recreational Complex | Field 4 | University of Pittsburgh-Greensburg, PA (AMCC) | SUNY Potsdam, NY (SUNYAC) | NCAA Division III | |
| 3/8/20 | 4:00 PM | Hancock Recreational Complex | Field 5 | Beloit College, WI (Midwest) | Westfield State University, MA (MASCAC) | NCAA Division III | |
| 3/8/20 | 4:00 PM | Legends Way Ballfields | Field 1 | Wentworth Institute of Technology, MA (CCC) | Carroll University, WI (CCIW) | NCAA Division III | |
| 3/8/20 | 4:00 PM | Legends Way Ballfields | Field 2 | Nebraska Weleyan University, NE (ARC) | Lakeland University, WI (NACC) | NCAA Division III | |
| 3/8/20 | 4:00 PM | Legends Way Ballfields | Field 3 | Haverford College, PA (Centennial) | Carthage College, WI (CCIW) | NCAA Division III | |
| 3/8/20 | 4:00 PM | Minneola Athletic Complex | Field 1 | Washington College, MD (Centennial) | Gordon College, MA (CCC) | NCAA Division III | |
| 3/8/20 | 4:15 PM | Legends Way Ballfields | Field 4 | Rhodes College, TN (SAA) | Monmouth College, IL (Midwest) | NCAA Division III | |
| 3/8/20 | 4:15 PM | Legends Way Ballfields | Field 5 | Husson University, ME (NAC) | Manhattanville College, NY (MAC) | NCAA Division III | |
| 3/8/20 | 4:15 PM | Minneola Athletic Complex | Field 2 | DeSales University, PA (MAC) | Penn State University-Altoona, PA (AMCC) | NCAA Division III | |
| 3/8/20 | 4:15 PM | Sleepy Hollow Sports Complex | Field 3 | Trinity University, TX (SCAC) | Susquehanna University, PA (Landmark) | NCAA Division III | |
| 3/8/20 | 4:15 PM | Sleepy Hollow Sports Complex | Field 4 | Delaware Valley University, PA (MAC) | Penn State University-DuBois, PA (PSUAC) | NCAA Division III | |
| 3/8/20 | 4:45 PM | Auburndale Softball Complex | Field 1 | Assumption College, MA (NE10) | Southwest Minnesota State University, MN (NSIC) | NCAA Division II | |
| 3/8/20 | 4:45 PM | Auburndale Softball Complex | Field 2 | Nyack College, NY (CACC) | University of Pittsburgh-Johnstown, PA (PSAC) | NCAA Division II | |
| 3/8/20 | 4:45 PM | Auburndale Softball Complex | Field 3 | Minnesota State University-Moorhead, MN (NSIC) | Urbana University, OH (MEC) | NCAA Division II | |
| 3/8/20 | 4:45 PM | DiamondPlex | Field A | Trevecca Nazarene University, TN (GMAC) | Lewis University, IL (GLVC) | NCAA Division II | |
| 3/8/20 | 4:45 PM | DiamondPlex | Field B | Winona State University, MN (NSIC) | Bloomfield College, NJ (CACC) | NCAA Division II | |
| 3/8/20 | 4:45 PM | DiamondPlex | Field C | Le Moyne College, NY (NE10) | Fairmont State University, WV (MEC) | NCAA Division II | |
| 3/8/20 | 4:45 PM | Sleepy Hollow Sports Complex | Field 1 | University of Dubuque, IA (ARC) | Penn State University-Hazleton, PA (PSUAC) | NCAA Division III | |
| 3/8/20 | 4:45 PM | Sleepy Hollow Sports Complex | Field 2 | Kean University, NJ (NJAC) | Skidmore College, NY (Liberty) | NCAA Division III | |
| 3/8/20 | 5:00 PM | Auburndale Softball Complex | Field 4 | Dominican College, NY (CACC) | Wayne State College, NE (NSIC) | NCAA Division II | |
| 3/8/20 | 5:00 PM | Auburndale Softball Complex | Field 5 | California University, PA (PSAC) | Bemidji State University, MN (NSIC) | NCAA Division II | |
| 3/8/20 | 5:00 PM | DiamondPlex | Field D | Edinboro University, PA (PSAC) | Bentley University, MA (NE10) | NCAA Division II | |
| 3/8/20 | 5:00 PM | DiamondPlex | Field E | Ferris State University, MI (GLIAC) | Minnesota State University-Mankato, MN (NSIC) | NCAA Division II | |
| 3/8/20 | 6:15 PM | Hancock Recreational Complex | Field 1 | Thomas More University JV, KY (ACAA) | Cuyahoga Community College, OH (OCCAC) | NJCAA/JV | |
| 3/8/20 | 6:15 PM | Hancock Recreational Complex | Field 2 | SUNY Adirondack, NY (Region 3) | Mercyhurst North East, PA (WNYAC) | NJCAA/JV | |
| 3/8/20 | 6:15 PM | Hancock Recreational Complex | Field 3 | Central Lakes College, MN (Region 13B) | Jackson College, MI (MCCAA) | NJCAA/JV | |
| 3/8/20 | 6:15 PM | Hancock Recreational Complex | Field 4 | Westfield State University, MA (MASCAC) | University of Pittsburgh-Greensburg, PA (AMCC) | NCAA Division III | |
| 3/8/20 | 6:15 PM | Hancock Recreational Complex | Field 5 | SUNY Potsdam, NY (SUNYAC) | Beloit College, WI (Midwest) | NCAA Division III | |
| 3/8/20 | 6:15 PM | Legends Way Ballfields | Field 1 | Lakeland University, WI (NACC) | Wentworth Institute of Technology, MA (CCC) | NCAA Division III | |
| 3/8/20 | 6:15 PM | Legends Way Ballfields | Field 2 | Carthage College, WI (CCIW) | Nebraska Weleyan University, NE (ARC) | NCAA Division III | |
| 3/8/20 | 6:15 PM | Legends Way Ballfields | Field 3 | Monmouth College, IL (Midwest) | Haverford College, PA (Centennial) | NCAA Division III | |
| 3/8/20 | 6:15 PM | Minneola Athletic Complex | Field 1 | Penn State University-Altoona, PA (AMCC) | Washington College, MD (Centennial) | NCAA Division III | |
| 3/8/20 | 6:15 PM | Sleepy Hollow Sports Complex | Field 3 | Rensselaer Polytechnic Institute, NY (Liberty) | Trinity University, TX (SCAC) | NCAA Division III | |
| 3/8/20 | 6:15 PM | Sleepy Hollow Sports Complex | Field 4 | Olivet College, MI (MIAA) | Delaware Valley University, PA (MAC) | NCAA Division III | |
| 3/8/20 | 6:30 PM | Legends Way Ballfields | Field 4 | Manhattanville College, NY (MAC) | Rhodes College, TN (SAA) | NCAA Division III | |
| 3/8/20 | 6:30 PM | Minneola Athletic Complex | Field 2 | Gordon College, MA (CCC) | DeSales University, PA (MAC) | NCAA Division III | |
---
Join The Conversation On Social
Follow us on Twitter @FloSoftball
Follow us on Instagram @FloSoftball
Like us on Facebook