2020 Texas Softball
Texas Softball Ace Miranda Elish Tosses Perfect Game In Win Over New Mexico
Texas Softball Ace Miranda Elish Tosses Perfect Game In Win Over New Mexico
Senior pitcher Miranda Elish tossed her second career perfect game while striking out 10 during a 7-0 win over New Mexico.
Mar 9, 2020
by FloSoftball Staff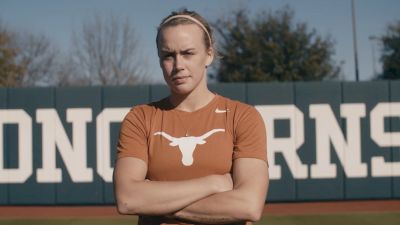 AUSTIN, Texas – Perfection was achieved on Sunday morning in Longhorn Invitational action at Red & Charline McCombs Field as senior pitcher Miranda Elish tossed her second career perfect game while striking out 10 during a 7-0 win over New Mexico.
Important Notes
Elish's perfect game was the second of her career (also threw one against Portland State while at Oregon as a sophomore in 2018) and goes down in the books as her third career no-hitter. During her two seasons at Texas, the 5-8 right hander has now no-hit both Iowa State (2019) and New Mexico.
Elish became just the fourth Texas pitcher to throw a solo perfect game in school history, joining former Longhorns Cat Osterman and Blaire Luna as well as current teammate Shea O'Leary in the feat.
This marked the first solo perfect game for a Texas pitcher at McCombs Field since Cat Osterman was perfect during NCAA Regional play against Mississippi State back on May 21, 2005.
Elish's perfect game was the 11th all-time in Texas softball history and the 50th all-time no-hitter.
Elish went to just one three-ball count against the 21 Lobo batters she faced in the contest.
Junior second baseman Janae Jefferson continued her amazing production at the plate by stretching her streak of reaching base safely to 17 straight games with a 3-for-4 effort. The Humble, Texas, native hit a team-high .750 (9-for-12) during the four-game Longhorn Invitational.
Texas added two more doubles to reach a NCAA Division I-leading 62 doubles for the season over the first 27 games. The school single-season record of 91 two-baggers was established by the 2019 edition of the Longhorns over 63 contests.
Major Players
Jefferson (3-for-4, two runs, three steals, double); junior catcher Mary Iakopo (3-for-3, run, RBI); senior third baseman Shannon Rhodes (2-for-3, run, double, RBI)
In the Circle
Elish improved to 11-3 overall by retiring all 21 batters she faced, to go along with 10 strikeouts, in tossing her second career perfect game.
The Details
Elish set the tone right from the start against the Lobos as the Crown Point, Ind., product struck out the side in the top of the first.
Texas' offense got right to work in the bottom half, scoring twice on the benefit of a hit, four walks, an error and an Iakopo sacrifice fly. Jefferson singled to start the contest, stole second and later scored UTs first run of the game on a steal of third and the first of seven New Mexico errors on an errant toss into left field.
After a leadoff Reagan Hathaway walk to start Texas' second, sophomore Tuesday DerMargosian was brought on to pinch run. That's when things got crazy again for the UNM defense as Jefferson dropped a perfect bunt single out in front of the plate. A late throw to first got away for an error as DerMargosian easily reached third, and with no Lobo fielder covering home plate, soon scampered home to make it 3-0.
Meanwhile, Elish continued to cruise through the New Mexico line-up, striking out seven of the first 12 batters she faced over four frames.
In the bottom of the fourth, Jefferson kicked off another Texas scoring outburst by driving a leadoff double to right center. With two down in the frame, Iakopo ripped a single through the left side of the infield. In an attempt to hold Jefferson at third, UNM left fielder Briana Martinez threw wildly towards the plate for an error as Jefferson scored for a 4-0 advantage. Rhodes immediately followed by rattling a RBI single sharply off New Mexico pitcher Kiana Spencer to boost the gap to 5-0.
The perfect game nearly came to an end with one out in the top of the sixth as New Mexico second baseman Taylor Jones lined a ball to shallow center. DerMargosian raced in quickly, however, and managed to make a great catch to save the day.
An Iakopo single and a Rhodes double starting the sixth got the Horns in business again. Senior left fielder Kaitlyn Washington followed with a sac fly, while a UNM error on a bouncer to second allowed another run to cross for a 7-0 lead.
From there, it was just left to see if Elish could finish off the perfect game. She did just that with the help of her defense as the first two batters of the seventh were retired on grounders. UNM's Martinez stepped into the box as the last chance for the Lobos and hit a foul ball outside of third. Rhodes raced over from her defensive position and managed to make the catch for the final out right up next to the fencing.