2020 THE Spring Games
Softball Seasons Canceled Leaves Heartbreak For So Many
Softball Seasons Canceled Leaves Heartbreak For So Many
The NESCAC, Ivy League, Patriot League, and possibly more conferences grapple with the news that their season has been canceled.
Mar 12, 2020
by Christopher Girandola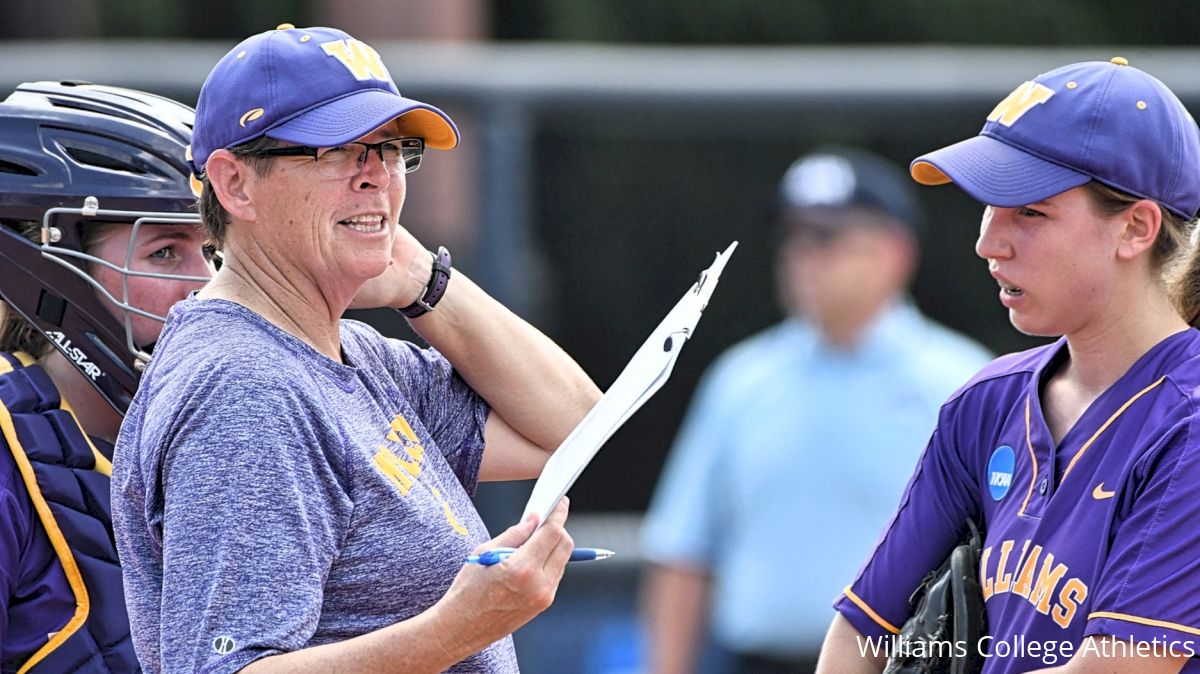 Veteran Williams College softball coach Kris Herman has coached at the collegiate level for 32 years and has experienced many firsts yet having the 2020 campaign end before it ever was able to start will go down as the most surreal. After the NESCAC, an NCAA Division III conference that includes small private liberal arts colleges like Williams and Amherst, canceled all spring sports Wednesday because of COVID-19, Herman met with her team to discuss the implications of the historic decision.
"It was heartbreaking and devastating to say the least," said Herman, who entered the 2020 season only 37 wins shy of the 800-mark, having compiled a 767-388-5 career record (.662 winning percentage). "There were a lot of tears and a lot of anxiety. I understand it's the right thing to do from a health and safety factor but it's still tough to accept, especially because you have such a close bond with your players and coaches."
Herman had an inkling the season might be affected in some way Monday when Williams joined other colleges in the conference including Amherst, Bowdoin, Middlebury and Tufts in switching to remote classes for the rest of the semester, with some of the schools sending all students home. Furthermore, the anxiety of an abandoned season was heightened when Dr. Anthony Fauci, Director of the National Institute of Allergy and Infectious Diseases, recommended Wednesday that "there not be large crowds" at events after being asked if the NBA should continue its season.
"If that means not having any people in the audience when the NBA plays, so be it," Fauci said.
The sweeping cancellation of spring seasons and championships — track, golf, lacrosse, softball, baseball, tennis and rowing — in the conference became a first in a long line of notable cancellations and postponements.
For the Williams softball program that means having to face the fact that the four seniors -- Riley Salvo, Rebecca Duncan, Kristin Mapes, and Emma Corbett -- can't put a cap on a career that has included two trips to the Division III World Series.
"We had such high hopes for this group and were excited to see what they could do this year," said Herman, who will be inducted into the HOF at the NFCA Convention in Dallas, Texas on December 11, 2020.
Williams finished the 2019 season with a fifth-place finish in the nation, the second-best effort in program history, a 39-7 record, which tied the 2018 team's mark for single-season wins.
Herman believed that this core four had a good chance to eclipse the 151-39 (.795 win percentage) of the five Eph senior class from last year that included Jessica Kim, Casey Pelz, Mackenzie Murphy, Kristina Alvarado and Jill Jenkin, finish their career with a 151-39 record, good for a .795 win percentage. The 151 wins are the most produced by any class in program history.
"They've had an awesome career together and were an integral part in helping us be successful in the postseason," said Herman. "They are a big reason we went to the World Series both times and they would have had a chance to put their names in the record books again this year. More than anything, though, they are amazing people with different personalities that will leave a lasting effect on a roster full of younger players."
The NESCAC wasn't the only conference that cancelled its spring sports on Wednesday.
The Ivy League announced Wednesday that it was shutting down all spring sports, the biggest NCAA conference to do so as of that time and the first in Division I. Several Ivy League schools had already shut down because of the coronavirus and switched to online classes, which the conference cited in its announcement.
The Ivy spring championships that were canceled are in men's and women's golf, lacrosse, track and field, softball, baseball and women's rowing.
In a league that has shown a continued rise nationally in softball, Columbia was selected to win its first-ever Ivy League title in the 2020 Ivy League Softball Preseason Media Poll.
Columbia coach and reigning Ivy League Coach of the Year Jennifer Teague had this to say in a statement:
"The decision passed down by the Ivy League Presidents to cancel the rest of the season for all spring sports is a difficult realization for all of us. We are heartbroken, especially for our seniors, but we know everyone is trying to act in the best interest for the health and wellbeing of all of our students, coaches, support staff and administrators. Our emotions are difficult to put into words but the Columbia softball program will continue to rally around each other and lift each other up in the sisterhood that our culture has set. Thank you to our seniors for making this program better than when you arrived 3.5 years ago. Your leadership will live on in all that you have touched."
The Lions – finished 24-21 overall with a 15-6 mark in Ivy play, winning its most league games in program history and finishing second in the final standings – received 10-of-16 first-place votes and accumulated 120 points to top the poll.
Columbia had a strong possibility of earning the program's first League championship and would have relied on three returning first-team All-Ivy selections in junior third base Max Ortega, junior shortstop Maria Pagane and senior designated player/utility Sommer Grzybek.
The trio, which helped Columbia to its first Ivy League Playoff Series appearance, was the most All-Ivy honorees in a single season in program history.
---
NCAA cancels remaining winter and spring championships: https://t.co/qzKAS4McEI pic.twitter.com/G6XreZx35E

— NCAA (@NCAA) March 12, 2020