2020 THE Spring Games
Division III Softball In The Age Of COVID-19
Division III Softball In The Age Of COVID-19
No one imagines their softball season coming to a grinding halt, but that's what happened in 2020. How players are dealing with the loss of their season.
Mar 30, 2020
by Mark Allister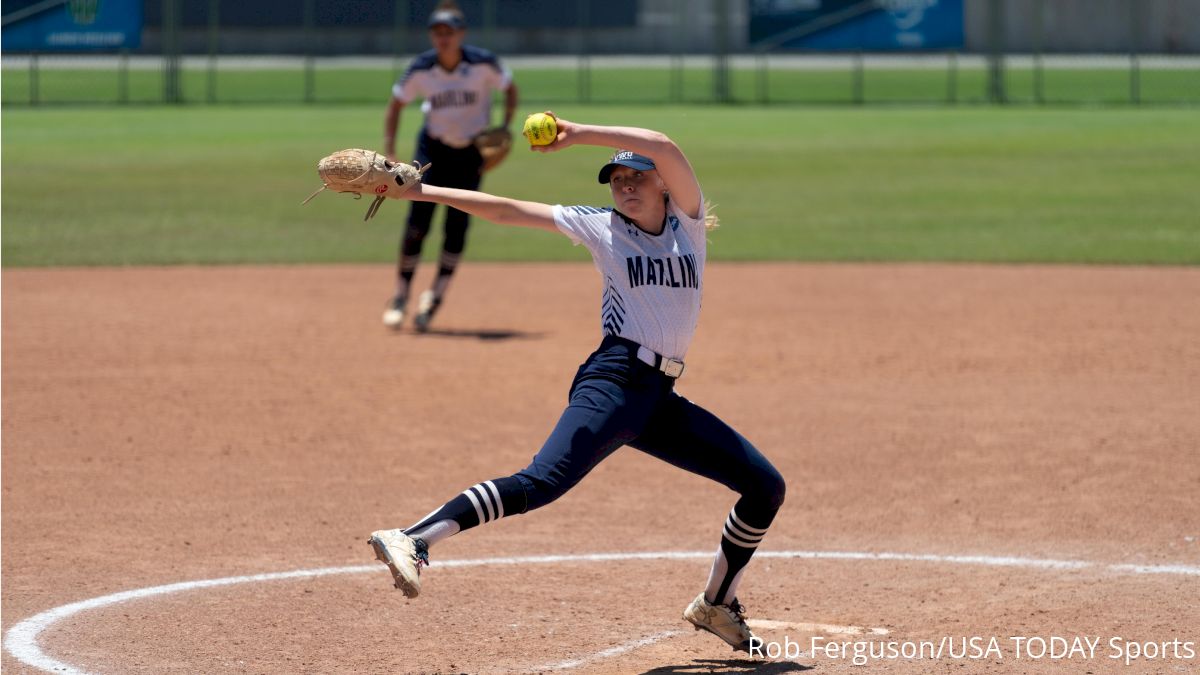 Mark Allister is the author of Women's College Softball on the Rise: A Season Inside the Game. He will be writing on DIII softball this spring and would welcome story ideas and comments at allister@stolaf.edu
As a fan of women's college softball, I was hit hard by the season's cancellation. But my stake in the sport is far less, of course, than players and coaches, and so I reached out to see what they have been thinking.
"My initial reaction to the suspension was overwhelming sadness."
Kaylah Duplain, Virginia Wesleyan
Most college softball players began when they were little girls, playing on in-house town teams before moving on to travel ball and high school competition — they almost literally can't remember a spring when they weren't playing softball nearly every day.
The abrupt cancellation contributed to strong emotional reactions. "It seemed like three months passed in about 48 hours," St. Olaf College's senior pitcher Julie Graf said. "It was heartbreaking, the fear and sadness of not knowing."
St. Olaf Head Coach Kayla Hatting explained how fast changes happened for her team. "Our timeline was crazy," Hatting said. "We played at Rochester the weekend before and got home late Sunday night. Monday was our day off. Tuesday we had our usual 5:00 a.m. practice, and we were talking about our itinerary for our Spring Break trip to Florida. Wednesday we had small-group hitting sessions, and that night stuff started hitting the fan."
"Schools were beginning to cancel their travel plans, but Thursday morning we had our 5:00 a.m. practice again and talked about how our season is still on, and we're blessed and should be grateful for this opportunity. We had a great practice, and then Thursday night the NCAA said they wouldn't host the championships.
"Friday morning at 5:00 we talked about how we're not pointing now to an NCAA tournament but we're going to work hard toward winning the MIAC championship. By noon the MIAC ended the season and by 4:00 our entire season was gone."
"We held on to hope for so long. Every time we said let's be grateful for what we have, because we're still getting to practice and come together, and because of that, it was absolutely crushing when all hope ended. I will never forget my players' faces: the devastation, the heartbreak, the tears, the disbelief. I will never forget that as a coach."
Coach Kayla Hatting, Olaf
"And it's not just me, of course. This is every coach in every spring sport across the country. It just feels surreal. It doesn't feel yet that everything has ended. I think we're going to be hit harder when we all go home for spring break and don't return to play softball."
A softball season ending prematurely is shocking, but part of the sadness that everyone mentioned stems from the general turmoil and uncertainty occurring on college campuses in general. Most schools have extended spring breaks, and many are turning to remote learning as a way to keep students apart after the break.
This distancing is crushing for many players, as Hatting explains. "We haven't been able to come together as a team, because the college began closing down. We're not really sure that we'll come together again; perhaps it won't happen until next September. And this is really hard. Because part of being on a team is supporting each other. When something happens you come together, you spend time together. The toughest part is that they miss each other. And I miss them."
In those first days after schools canceled their programs' softball season, seniors, in particular, faced something that they had never imagined. Virginia Wesleyan's senior Hanna Hull was a First Team All-American last year, after leading VWU to national championships her first two years and in the process being a two-time DIII Player and Pitcher of the Year.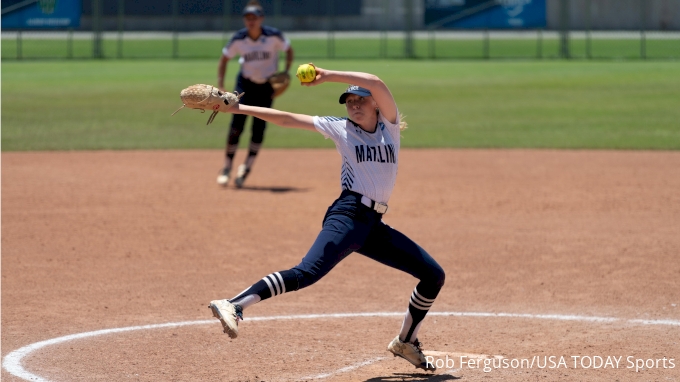 "When I first heard about the suspension," Hull said, "I was initially shocked and then extremely devastated. I completely understand why this decision was made, and my heart goes out to every athlete whose season ended so suddenly. I have always wondered how my career would end, but I never could have predicted something like this."
"My biggest disappointment right now is not being able to finish what I started. I have been playing softball since I was four years old. There's a lot of time and dedication that goes into playing this sport, and I just feel like this wasn't the way it was supposed to end. This team had so much potential, and I think we would have continued to have a phenomenal season, but now we will never know what this team was truly capable of."
Hanna Hull, Virginia Wesleyan
"We're all playing out the 'what if' scenarios in our heads right now, " head coach Jessica Hollen at George Fox University said.
2020 Vision
George Fox got off to a strong start in 2020 play, and for every team dreaming of the future — far easier in March than early May — the season's cancellation hit particularly hard.
"We were on track," Hollen said, "to hit more home runs than last year or the year before when we led the nation. Our OBS was over 1.000; our ERA was two points under what it was last year; we were fielding better. We hadn't played a cupcake schedule, so it was easy to think about what could have been this season. For the senior class, if they do not come back next year, there are a ton of 'what ifs.' The four of them were already all over our record books, with at least one or two of them in the top ten in most offensive categories."
St. Olaf, who has never made an NCAA tournament, is another one of those schools struggling now with the "what if" scenario. Hatting is a young coach who has improved her roster's talent and athleticism these past few years, and with a star senior pitcher in Julie Graf leading the way, 2020 looked like the year to make the breakthrough.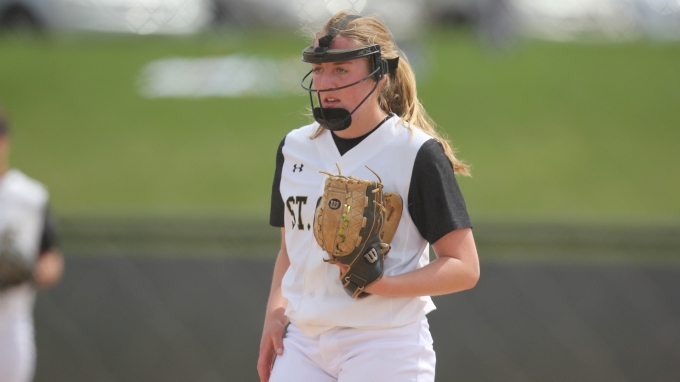 "My assistant coach, Shae Hoskins, and I made major adjustments this year," Hatting told me. "During the off-season, we looked at our first three years and decided to make some changes in how we coach, how we run practices, and so forth. And we could see, over the first weekends, that the payoff was there. There was a buy-in from the girls, and we were 7-1, and they understood that the different things were working. So dang, we were really excited about this year."
East Texas Baptist University is a DIII power whose expectations are to always be playing in the post-season. In her first twelve seasons, Head Coach Janae Shirley led the program to ten NCAA tournaments and two national championship tournaments, including winning it all in 2010. This year's team, she said, reminded her the most of that 2010 champion.
"The team that won the national championship was certainly talented, but most of all the players got along really well, didn't get stressed out, and would find a way to win. We thought this was true of this 2020 team. We thought we had a solid chance to compete for a national championship this year."
ETBU began their 2020 season 15-0, and in the final poll (which no one knew would be the final one), they were ranked No. 1. ETBU was declared the winner of the competitive NFCA Leadoff Classic in Tucson by virtue of their 4-0 record there, and everything was clicking, on and off the field.
Last off-season, Shirley decided that she wanted to change the relationship dynamics of her team. She created five small groups who were responsible for different parts of the program: a servant-leadership group who washed uniforms, among their tasks; an organizational group, who did planning for road trips; and so forth. "This was working great," Shirley said. "I could see things change among the players off the field, and the positives were showing up on the field, also. Everyone had a purpose and role. It would have been exciting to see how it would have turned out."
While many of the "what if" questions centered on teams, individual players also had such responses. Kayla Duplain is one of those seniors who had won two national championships with Virginia Wesleyan and expected to be challenging for a third. First Team All-ODAC as a freshman, Duplain missed her sophomore season due to illness; she made Third Team All-ODAC as a junior, though she played hurt most of the year. "I was really hopeful for the future of my senior season," Duplain said, "for myself as well as my team. It seemed like every game we played, we were becoming more and more together as a group. We were all really excited to see where this momentum was going to take us. I had finally gained my full strength and weight back as well and was feeling whole as an athlete again for the first time in a long time. So, not being able to see what I could have done in my last season on the ball field will definitely bother me for the rest of my life."
Turning The Page
Though players have been granted an extra year of eligibility, and some seniors will undoubtedly return, Duplain will end her career. Twice an NFCA Scholar-Athlete, she will begin Physician Assistant school next year at Eastern Virginia Medical School.
"It's hard thinking about the 'what ifs' of the season," she said, "but I hope as time passes I will be able to cherish the times I did have a little more and dwell on this unfortunate time for all athletes a little less."
"We're recognizing how grateful we are that we have had these opportunities through the years, Andrea Conway, a sophomore at St. Olaf College said.
Players, parents, and fans of women's softball know just how resilient these players are. Because the focus on competing has been balanced by an emphasis on academics and character, the people involved, even at this early stage, want to use the adversity in positive ways.
Janae Shirley at ETBU says that coaches' jobs right now are to figure out how players can learn from the season's cancellation. "It's not just softball," she said, "they're being pushed off campus, and their courses are on-line and there's little social interaction, and so they're having to manage things on their own. That's good for them. A few weeks ago my team was wanting some downtime and less stress, and they've learned that 'Be careful what you wish for' is really true. They're learning how much they appreciate having the chance to play every day."
Every coach and player I talked to articulated renewed feelings of appreciation.
"We'll never again take something we love for granted. You truly never know when your last game or practice will be."
Hanna Hull, Virginia Wesleyan
Everyone also mentioned their own health and their concerns for vulnerable people getting sick. Jessica Hollen, Head Coach at George Fox, mentioned the clarity that dire situations can bring.
"Instead of focusing on the stressors out there. I am doing my best to remember my blessings. I am healthy, my family is healthy, my team is healthy. I have time and hopefully, this brings clarity. By having things taken from us, we may find out what we value too much, and we can hopefully remove some of that from our lives so we have more time and energy to pour into those things that matter most: people and relationships."
Jessica Hollen, George Fox
In one case, a strong feeling of appreciation dictated a major decision. Julie Graf at St. Olaf finished her junior year as the all-time strikeout leader in the MIAC, and extended the record with every strikeout this year. Graf was the final 2020 NFCA DIII Pitcher of the Week in March. Even though she is on track to graduate in May, she has decided to return next year, to take one class in the spring and play, a final time, with her teammates.
"I've had so many meetings and conversations with people," Graf said in talking about her decision.
"I'll have to postpone my post-grad plans, but they weren't entirely settled anyway. I thought about what things would feel like next spring, when I saw my team competing. I would want to be a part of it. Usually athletes get their four years and it's time and you need to move on. But knowing I have the choice, I want to come back and not regret missing out on the chance to play with my team one more year."
Julie Graf, St. Olaf
Jessica Hollen described one of the things she'll remember most about her 2020 George Fox players. "We did a team event with the theme of Survivor. The players competed at completely ridiculous things, they laughed, we laughed, and they looked like fools in front of one another. Then we shared our real stories with one another, we sang karaoke, and we finished with a worship session. That night we were a whole lot closer to being one true team rather than twenty-seven individuals, coaches included. Those moments are memories that will last. When we have a group chat with alumni in three years, or when they visit with their kids in fifteen, we will tell those stories more than any."
I have no doubt that's true, but I equally have no doubt that the 2020 season will be remembered for a long time as the year when its absence reminded us all of how great are the game and its people.