2020 Tulsa Elite Summer Invite
What To Watch For At The 2020 Tulsa Elite Summer Invite
What To Watch For At The 2020 Tulsa Elite Summer Invite
A deeper look at the top 16U & 14U teams competing at the 2020 Tulsa Elite Summer Invite June 4-7 LIVE on FloSoftball.
May 20, 2020
by Scott Schultz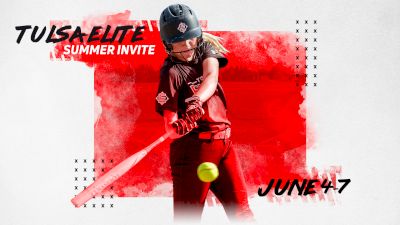 After what has seemed like a lifetime without any softball, the annual Tulsa Elite Summer Invitational is getting ready to play ball and bring us back out of the pits of despair. What started in 2011 with 4 fields and 16 teams, has grown to become one of the Nation's Top recruiting events of the year, featuring 96 teams all set to take the field June 4-7 LIVE on FloSoftball.
Typically hosted the first Thursday-Sunday in June, immediately following the NCAA Division I WCWS, the tournament has become a tradition, attracting well over 100+ college coaches every year at one complex.
Tournament director Jeff Filali has been planning to move forward since the beginning of the COVID-19 shutdown, always hoping for the best but citing the uncertainty of the future as the biggest hurdle putting things together.
"The unknown [was the hardest part]," said Filali. "Once COVID-19 started in mid-March, we had to continue moving forward with plans even though we didn't know if we would even be able to play or not.
"It was very difficult to try to communicate our plans when we didn't even know for sure at the time if we would play or what it would look like. The Broken Arrow Girls Softball League (BAGSL) staff were very helpful in communications with our City leaders and helping planning to comply with CDC, State, County, & City guidelines to make sure if we were allowed to play, we made all the right decisions to make it as safe as possible for the student-athletes, families, and coaches."
Some of the top 14U & 16U teams in the nation will be in Tulsa, and below we look at some information on who to watch.
Top 16U Teams To Watch For At The 2020 Tulsa Elite Summer Invite
Tulsa Elite 21/22 - Wood
The Tulsa Elite 2020 is coming off a 2019 season as the Colorado Fireworks 16U champions and the 2019 TCS Southern National champions, and have added more depth and are loaded for 2020. The squad has added two new pitchers to the roster in Carson Grigg and Paige Castillo to bolster Alyah Taf and Kami Withem. The lineup features six players that can run, while they boast the ability to hit for power and average, from top to bottom.
The roster is highlighted by Celeste Wood. A five-tool player, she is considered one of the best arms in the country and is a finalist for the Tulsa World player of the year, to be announced in June. She has verbally committed to Tulsa University.
Joining Wood as top threats are catcher Rylee Lemos, who has tremendous speed and can hit for power, and second baseman Tristan Kinkle, another strong runner who bunts well and also can hit for power. Neither has committed to a college as of yet, but multiple players from the roster are being recruited. Elizabeth Aquilar has committed to Arkansas Tech, while colleges are watching Maddie Kearn, Madie Folsom, Courtnee Sensibaugh, Carson Grigg, Aliyah Taff, Paige Castillo, and Kami Withem.
Oklahoma Athletics Premier Madden
Coming off an outstanding 2019 season, including a top-7 finish in the PGF Premier Bracket, the Oklahoma Athletics Premier Madden 16U squad finished in the top 13 in the Colorado Power Pool and overall record this fall of 22-0-01 including PGF Heartland Champions and Top Club Challenge Champions.
This year's squad is hungry for more with a combination of returning starters from 2019 and some talented new faces. Pitchers Grace Anderson and Jenna Gibson had a tremendous season last year and committed this winter to Oklahoma Christian and the University of Memphis, respectively. The two have great accuracy and a lot of movement on the ball, making them very difficult to square up.
Also returning are shortstop McKenna Johnson and catcher Sidney McLaughlin. Johnson has proven herself at short with tremendous range and speed, which also makes her a very versatile hitter in the lineup, while McLaughlin has one of the top arms in the tournament and hit three home runs in four at-bats at Tulsa Elite last year before the event was canceled.
Other Top 16U Teams include the Texas Glory 16U Naudin, who traditionally fields a solid team, along with Select Fastpitch 16U Jones, who also had a strong team last fall along and Nebraska Gold 16U.
Top 14U Teams To Watch For At The 2020 Tulsa Elite Summer Invite
Oklahoma Exclusive
This year's 14U Oklahoma Exclusive is poised for a big summer run against some of the best, including stops at the Colorado Power Pool, PGF, and Top Gun Invitational, along with the Tulsa Elite Summer invite.
Led by infielder Fae Cornish, catcher Raelynn Sandlin, and pitcher Maddy Wiser, the Exclusive's roster is composed of 13 players from across Oklahoma, which has presented a challenge during the COVID-19 lockdown, according to coach Patrick Cornish.
"The focus of our practices since we have been back in preparation for the summer invite centers around passing the eye test from college coaches and these types of showcases," said Cornish. "Everyone at the summer invite has great fundamentals and good God-given talent but what will truly set us apart will be the type of rhythm, behavior, and communication we can provide to our execution on the field. We try to play hard as possible while making it look easy and making sure every time you see us anyone will feel like we are worth the price of admission, and have an enjoyable experience of seeing the game played the right way."
Fae Cornish was rated one of the top infielders to watch at the Tulsa Elite Summer Invite. Sandlin, a wall behind the dish with supple receiving skills and a 60-plus mph cannon for an arm, is also highly skilled on either corner, whether backhanding down the line or digging them out at first. In the circle, Maddy Wiser is poised as they come in and never loses her poker face. She can mix three different speeds and has true command of her pitches with the ability to execute in any count. She also hits for power and has multiple bombs this season before being halted due to COVID-19.
Bombers National Owens
Based in the North Texas Area, the Bombers National Owens is about living the "Championship Mindset" and features explosive players and leaders at every position on the field and at the plate. While competing regionally in Texas this summer due to the constraints around COVID-19 and they will be looking to the Texas Fastpitch League and Championship.
Players to watch while the Bombers are on the field are Landrie Harris, Mackenzie Nolan, Hannah Harvey, and Sydney Bardwell. Harris leads the way from the circle, with great velocity as a dominant strikeout pitcher. On the receiving end, Bardwell is an instinctive and powerful catcher and is known for keeping runners at first. Nolan and Harvey are both powerful right-handed hitters and are outstanding on the defensive end.
Tulsa Elite NWA 2023 Lacina
Considered the top 14U team in the region, the Tulsa Elite NWA is coming off a season having won most of the 16U tournaments they played in last season. Based out of Bartonville, Arkansas, they pull in top players from central Arkansas, the Tulsa area, and Oklahoma City.
They feature a pitching staff that is exceptionally talented with a lot of depth. The top arms are Ella Beeman, Kiki Pickens, and Jentry Henderson. Defensively, they are athletic and particularly good across the board, with defensive leaders Audrey Lacina behind the plate, Bailey Lairamore in center field, Adyson Roberts anchoring the infield at third base and Kadence Stafford up the middle.
Other top 14U teams to keep an eye out for throughout the weekend are the Texas Glory 14U Naudin and the Oklahoma Athletics.
What To Expect
Every team expressed their anticipation to get back on the field after the disappointing and stressful spring. After spending the past couple months keeping in touch over digital means, and training on their own, the teams are anxious to get back on the field, and back together.
Obviously, coaches, players, and fans will notice some changes to the tournament routine this year.
"We have been Live Streaming the event with FloSoftball for several years, but this year it's going to be a much more essential part for those parents, and coaches who may not attend," Filali said.
"The park will be cleaned, and common surfaces sanitized every night. There will be social distancing signs throughout the park, and 6' marks on the sidewalks in areas where lines may form such as the concession stand and restrooms. The bleacher stands will be closed off & spectators designated seating areas to allow social distancing. All park gates will be open at all times to allow less traffic per entry and exit. We are scheduling all teams to play two pool games in a row daily and extra time after the second game to allow those teams to exit the park prior to the next group of teams entering. Also, only half the teams will change fields between their two games."