2021 Colorado 4th of July
Rising Star: Oklahoma Bound Shortstop Avery Hodge
Rising Star: Oklahoma Bound Shortstop Avery Hodge
Avery Hodge shared her remarkable 2019 season at PGF, capturing Gold with the U-17 USA team, and how Oklahoma stumbled upon the standout shortstop.
May 21, 2020
by Stephen Kerr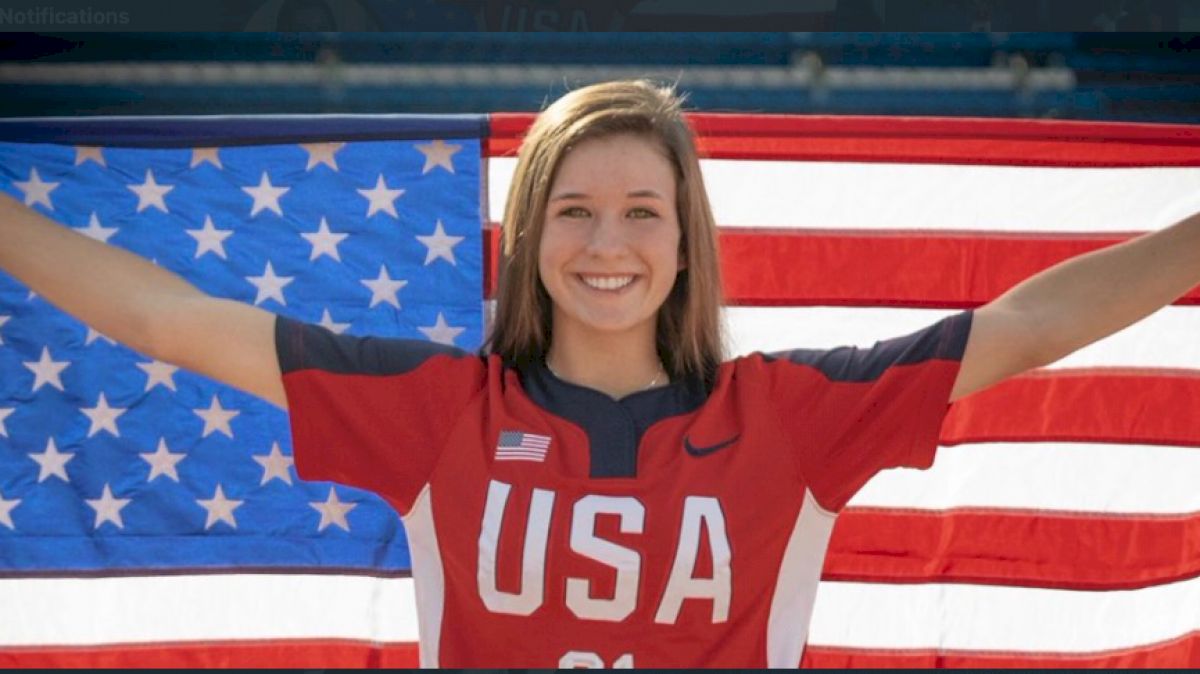 Last fall couldn't have ended better for Avery Hodge. After nearly capturing the PGF Premier Nationals 16U title with Texas Bombers-Jones last summer, the left-handed-hitting shortstop was selected to represent Team USA at the U-17 Women's Pan American Championship.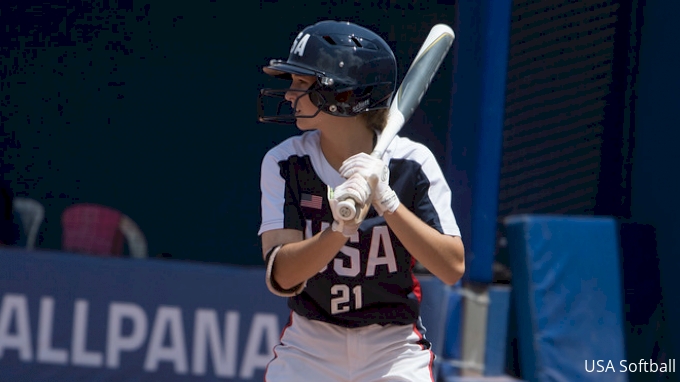 Accompanied by her parents, Randy and Brandy Hodge, Avery traveled to Barranquilla, Colombia the week of October 11 for the tournament. The first thing she noticed upon arrival was the excessive humidity. Security was especially tight, and players were required to travel in groups wherever they went.
But all that was quickly forgotten once play began. The U.S. won all eight games, including a 2-0 victory over Mexico in the gold medal game. Avery picked up two hits, reached on a hit-by-pitch, and scored a run. The team secured a spot in the 2020 WBSC U-18 Women's Softball World Cup in Peru, which is currently on hold due to the COVID-19 crisis.
"As soon as we got off the plane, you could just tell this was not something everyone got to do," said Avery, an Oklahoma Sooners commit who also plays for Katy (Texas) Tompkins High.
"Wearing the USA across my chest was one of my proudest softball experiences. It was an honor being chosen to play with them."
Then came the spring of 2020, and the coronavirus pandemic. Avery had just moved up to the Bombers 18U Gold squad and was into her sophomore season with Tompkins when the shutdown occurred. Through nine games with the Falcons, she was batting .500 with a .556 on-base percentage, eight hits, and seven runs scored.
EAGLES ON THE BOARD ?

Gallagher sends one to center to score Hodge for the first run of the game!#U17SoftballPanAm pic.twitter.com/SLBVVtHqat

— USA Softball (@USASoftball) October 19, 2019
Like many others, Avery assumed the stoppage would be short.
"One of our pitchers was hurt, so we were actually glad we had a little break," she explained. "None of us really knew what to do (when the season was canceled)".
Nevertheless, Avery stayed focused during the downtime by playing catch with her two sisters, Hadley and Sydney. She hit off a tee in the garage and participated in virtual team training. When Texas began to slowly re-open businesses in early May, the Bombers started holding small workouts at their indoor facility in groups of less than 10, in accordance with the governor's guidelines and with social distancing.
A native of the Houston area, Avery first took up softball at age four. She was selected to an All-Star team a year later, playing with and against girls two years her senior.
"You could tell early on she was a little different," recalled her father, Randy. "From then on, she's always played up. She's always been able to hold her own and excel."
Avery has played for several top travel coaches over the years, including Kelli Jacoby, Bill Jones, and Scott Smith, her current coach with Texas Bombers 18U Gold.
"She possesses skill sets that are not normal," Smith said. "Her pace is not equal to her peer group. She moves faster, she's more efficient, more fluid. That has a lot to do with her IQ on the field."
Avery's speed and slap hitting abilities make her a pitcher's nightmare in the leadoff spot. But after attending an OU camp in 2017, she began working on becoming a triple threat and added a bit more power to her arsenal.
"I really wanted to learn how to hit (away)," she explained. "It's fun hitting over people's heads when they play in."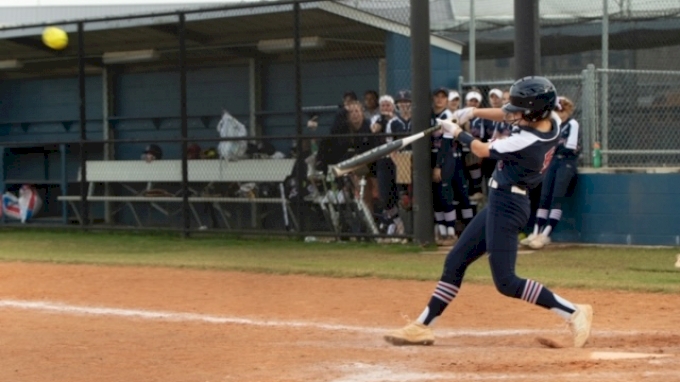 A multisport athlete, Avery led the Falcons to the regional semifinals for the first time in school softball history last season as a freshman. She was named District Newcomer of the Year, batting .549 with a .593 OBP, 25 RBI and 62 runs scored.
As a member of Texas Bombers-Jones 16U last season, Avery played a key role in helping the team reach the PGF Premier Nationals championship before falling 5-4 to the Beverly Bandits. She grounded out to end a bases-loaded threat in the final inning, but went 2-for-4 and scored a run. An All-Tournament selection, she hit .563 with 10 runs scored.
As tough as the loss was to swallow, Avery has managed to put it into proper perspective. While she didn't know it at the time, the experience may have prepared her for an even bigger opportunity: the chance to represent her country at the Pan American championship.
"(PGF) was my first tournament on a big stage," she explained. "It was a lot to take in. It taught me how to act and behave when that many people are watching you. It taught me how to keep my cool when everything wasn't going our way."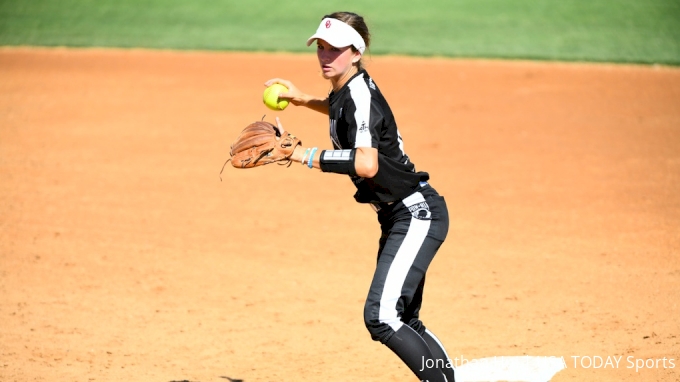 As a shortstop, Avery loves being where the action is. Her smooth hands and cannon arm belie her size (she's 5-foot-5). Smith doesn't hold back when praising her defensive skills.
"She's the best infielder the state of Texas possesses at any level, any age," he said. "She flows to the ball in a way other (players) just don't do."
Puerto Rico plates one but USA turns a double play ? to take us to the B3.#U17SoftballPanAm pic.twitter.com/1qTUBtSZO6

— USA Softball (@USASoftball) October 18, 2019
Power Five programs began noticing Avery as early as sixth grade. Oklahoma first spotted her while scouting another player on an opposing team at the 2016 Colorado Sparkler Tournament. Avery was not only drawn to the atmosphere of the OU campus but by the high expectations head softball coach Patty Gasso had for her players.
"Coach Gasso and the whole coaching staff, they really made it feel like a family," recalled Avery, who verbally committed to the Sooners in 2017. "She made it seem like she was going to push you. She wanted the best out of you."
Avery's parents were careful to protect their daughter from the pressures of recruiting, while allowing her enough input to make her decision.
"We wanted to make sure she wasn't trying to please us, or pick a school because we went (there)," Brandy explained. "At the end of the day, it's for four years, so it's important that you get a good education from wherever you choose."
As the entire country tries to adapt to a "new normal" in the midst of the pandemic, there are signs of hope for the 2020 travel season. The Bombers will take part in the newly-formed Texas Fastpitch League for most of its games. Instead of PGF Premier Nationals, the team will compete in this summer's USA Softball Gold Nationals in Oklahoma City.
No matter what happens, you won't find Avery losing sleep over things beyond her control.
"We're going to have to make do with what we have," she said. "I'm going to have to compete, no matter what."