Unlock this article, live events, and more with a subscription!
Get Started
Already a subscriber? Log In
Tulsa Elite 21/22 Head Coach Darrell Wood dedicated much of his time developing one of the most competitive teams in Oklahoma and nationally. This squad is gritty and versatile. Coach Wood shares how the program started and what you should know about every player on their roster.
When did the team/program start and how/why did it come to be?
This team formed in the fall of 2016 after having a successful Spring/Summer that culminated in winning the USSSA 2016 12 & Under A National Championship as Tulsa Bedlam. Tulsa Elite and a few other clubs approached the team about joining their organizations and Jeff Filali's Tulsa Elite was chosen as the club this team was going to represent. Four of the original girls are still around from the Bedlam team and six of the girls have been here since the move to Tulsa Elite.
The team is based out of Tulsa, Oklahoma with most of our athletes coming from the towns in and around the Tulsa area; however, we do have two players that reside in Arkansas that make up the rest of the team.
The Tulsa Elite organization has over thirty (30) teams that represent the organization. Not only are there teams in Oklahoma, but the organization has teams in Kansas, Northwest Arkansas, and Arkansas.
What was the purpose of creating the team?
This team was created to develop the skills of the girls and prepare them to be able to play and compete at the next level. For the last year or so, this team has been used to showcase our players to college coaches that are looking for fundamentally sound athletes who will make an immediate impact on a college or university program.
What have been some of your successes in terms of winning or placing at events?
This team usually plays late into Sunday bracket, as we compete at every event we enter. The 2019 Spring/Summer season was by far our most successful season as a team. We won the Colorado Firework 16U Open with an undefeated record (this team had played in the Power Pool the previous two years and was snubbed from a Power Pool bid as a 1st year 16U, so the girls took that as a knock against them and went out proved that leaving them out of the Power Pool was a mistake on the selection committees part).
We also won the Triple Crown Southwest Nationals in Austin, Texas and we qualified for the USA Softball Gold Nationals by placing 2nd behind the eventual 2019 Gold Nationals winner Tulsa Elite - Walde during the qualifier.
We eventually placed 9th as a 1st year 16U at the 2019 USA Softball Gold Nationals.
What makes the organization unique?
When you think of and talk softball in Tulsa, and for that matter Oklahoma, Tulsa Elite is always brought up in that conversation. Tulsa Elite has a history of playing, competing, and winning in the best tournaments in the country. The organization also has a long history of getting its athletes into the next level. College coaches know that girls from the Tulsa Elite organization are playing and competing against the top athletes in the country and can compete at the next level.
Even though this team has always had a successful run in every season that they have played, I feel that last year's team kinda set a new standard for the girls and showed them that they are a team that can compete and win on any stage. Starting with a win early in the season and continuing to a good showing at USA Gold Nationals to end the season.
What's your softball background and how did you get to the point of leading the team?
Darrell Wood, the head coach, has been around the game of softball for many years. Coach Wood has won Oklahoma State Championships as a high school coach and has also been inducted into the Oklahoma Coaches Fastpitch and Slowpitch Hall of Fame for his success on the softball field.
When this team came to the Tulsa Elite organization in the Fall of 2016, Coach Wood was asked to take over the team and prepare these girls to be able to play and compete against the best in the country. Coach Wood's granddaughter, Celeste Wood - Tulsa University commit, was already on the team so this made the decision an easy one.
What is your primary focus or goal with this team?
To continue for these girls to get better and learn the game and compete at the highest level every time they step on the dirt.
What do you think are the strengths of the team?
This team is very strong defensively, due to Coach Wood's constant working of fundamentals this team does not make a lot of defensive mistakes. Hitting is also a strength within this team. This team is made up of 11 girls and at any time, any of the 11 can take the ball deep or lay the ball down to get a job done on the base paths.
Anything else interesting or fun that I could use to portray your team as a top organization?
This team is just a gritty team that knows how to get things done in order to come out with a "W" at the end of seven innings. There are a lot of highly talented players on this team that will definitely make an impact for a program at the next level.
Meet Tulsa Elite 21/22 - Wood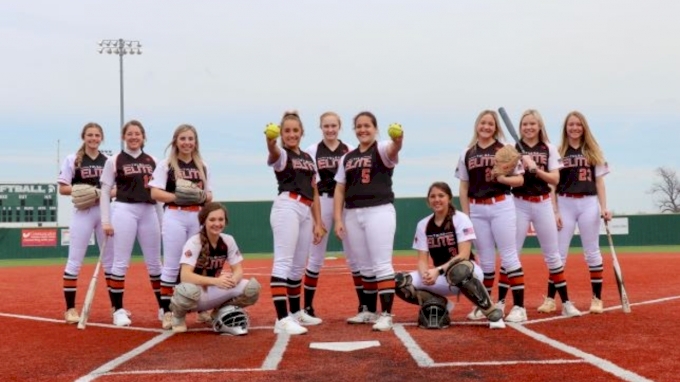 #13 | Celeste Wood, SS | 2021 (Tulsa)
Celeste is one of the original girls from the Tulsa Bedlam 2016 USSSA National Championship team. She plays shortstop and has one of the biggest arms in this age group. With good range and her strong arm, not many runners are safe at first if the ball is hit towards her. Wood is a lefty hitter, who hits for power in the 3-hole. She was nominated for the Tulsa World player of the year as a Junior along with two seniors who will be taking their games to Oklahoma and Oklahoma State next year. Celeste is a player to watch and was heavily recruited until she chose to take her game to the next level for the Golden Hurricanes at the University of Tulsa.
#20 | Maddy Kearns, 1B/3B | 2021
Maddy is another original from the Tulsa Bedlam team. She is in my opinion the best first baseman I have seen at this age. Maddy will make plays and stretches that are next level. Maddy is also a gigantic threat at the plate anytime she steps into the box. Her ability to go yard at any time with just one swing of the bat is the reason she bats in the four-hole. Maddy will be a great addition to any team at the next level with her defensive play at first base and her hitting ability. She is a two-year All-Conference selection for her high school softball team where she played third base and shortstop.
#11 | Tristan Hinkle, MIF/OF | 2021
Tristan is another original from the Tulsa Bedlam team. She completes the rest of the middle infield along with Wood. Tristan has the speed to cover a lot of ground in order to make plays that does not allow the ball to get through the infield on her side of the diamond. Tristan bats in the two-hole; however, don't let that fool you. Tristan probably has the most pop in her bat on the team. Tristan can hit the long ball, but also can lay down the small ball to move runners (and with her speed, she is usually safe most of the time as well). Tristan helped her high school team to the Oklahoma State tournament this past fall.
#6 | Rylee Lemos, C/OF | 2022
Rylee is the final player from the original Tulsa Bedlam team. Affectionately nicknamed "Jimmy John" because of her "freaky fast" speed, Rylee is a speedster on the bases. Batting from the left side and a leadoff, Rylee can do it all. From going yard to slapping to laying down bunts, Rylee is a threat any time she steps into the box. She is a catcher and with a solid pop time and an always improving arm, runners rarely steal when Rylee is behind the plate. Rylee is a three-sport athlete in High School….leading her softball team to the Oklahoma State tournament as a freshman, two-year varsity starter in basketball and of course, and a speed demon on the track. Rylee is starting to get a lot of attention from coaches at the next level and this summer looks to be an exciting one for her future.
#1 | Kamryn "Kami" Withem, UT/RHP | 2022
Kami has been with the team since the team joining the Tulsa Elite organization. Kami has always been the youngest of the team and has played in every position with the exception of shortstop. Kami can be found in the outfield but can also pitch, catch, and play on the infield. She is the definition of a true utility. Not a flashy type player but more of a blue-collar type kid who will get the job done wherever she is needed. Kami is utilized in the nine-hole position when batting and used as a player to turn over the lineup. She brings a consistent bat to the plate and puts the ball in play with either a timely hit, bunt, or occasional deep ball over the fence. Kami possesses a deep softball IQ which allows her to fill into any position and perform as if she plays there on a regular basis.
#23 | Maddison Folsom, 3B/OF | 2021
Maddison is athletic and fits the third baseman profile. She has been with the team since the Fall 2017 season. Very agile and quick, Maddison plays third base and smothers up most everything hit to the "hot" corner. Maddison also is a very good hitter and knows how to send the ball deep. Maddison will also spend time in centerfield because of her quickness and arm strength. Maddison is also a basketball player and has recently been getting attention from college coaches that are interested in her basketball play.
#8 | Aliyah Taff, RHP/OF | 2021
Aliyah is a right-handed pitcher who has been with the team since 2018. Aliyah has done nothing but improved since joining the team. Aliyah came to us in 2018 after a few years away from softball where she focused on competitive cheer and was part of a very successful team. Aliyah has great movement on her pitches; as well as off-speed. Aliyah has helped her High School team to the Oklahoma State tournament that past two years and will probably have them there next year as well. She has also improved more than anyone on the team at the plate. Aliyah used her time wisely during lockdown improving on her pitching. Hard work and adjustments, Aliyah has come to be a very successful hitter at the plate.
#12 | Courtnee Sensibaugh, OF/3B/C | 2022
Courtnee came to us this past fall (2019) and has been a great addition. She's extremely versatile and will split time mainly between third base and centerfield. Courtnee has great speed and a very strong arm. At the plate, Courtnee is a big-time threat and hits the ball very hard. Courtnee adjusted nicely to the team and hit several home runs this past fall against top-level pitching. Expect her to draw the attention of plenty of college coaches with her athletic build and prowess.
#3 | Elizabeth "Peanut" Aquilar, C/OF | 2021 (Arkansas Tech)
Elizabeth originally joined the team in the Spring of 2017 and spent a season with us before deciding to play a little closer to home, as Elizabeth is one of our Arkansas residents. Elizabeth came back this past fall and will finish out with us before heading off to the next chapter in her life as an Arkansas Tech University softball player. Elizabeth is a catcher, who will also see some time in the outfield. Elizabeth brings a consistent bat to the plate and knows how to put the ball in play.
#15 | Carson Griggs, RHP/1B | 2021
Carson is a new player that came to us this spring; however, she has picked up with us in the past as a guest player. Carson is a righty pitcher who brings pretty good velocity (low to mid 60's); as well as good movement. She works the ball very well laterally in the zone. Carson will be counted on to go deep in games and keep the ball in the yard. Since getting Carson full time, her pitching has greatly improved through the years that we've seen her as a pickup. She brings a consistent bat and is strong at the plate. Carson was leading her High School team in Arkansas to a great season until the season was cut short due to the COVID-19 outbreak. Carson has been getting attention from a few DI schools and will more than likely have an offer by season's end to allow her to pitch at the next level.
#00 | Paige Castillo, RHP/1B | 2022
Paige is also another new addition to our team to help Taff and Griggs in the circle. She brings a variety of spin pitches and can spot the ball well. With a developing rise ball, Paige will be missing bats this coming season. She also brings a pretty big stick to the team and has the swing to go deep on any given pitch. Paige helped lead her High School team to a berth in the Oklahoma State Championships this past season.