Unlock this article, live events, and more with a subscription!
Get Started
Already a subscriber? Log In
Nebraska Gold built the reputation of producing blue-collar athletes over the last 12 years and Nebraska Gold National - Singleton is no exception. Coach Beth Singleton takes great pride in player development and competition. She gives us insight into the success of Nebraska Gold and also a player by player description.
---
Nebraska Gold was founded in 2008 to provide a program for the top talent in the state to come together and be able to compete and win at a national level. At the time, several clubs were vying to be the best in Nebraska and those coaches realized that uniting those teams was the best way to continue to develop Nebraska softball and prepare players to play at the highest level in college.
Our program is based in Omaha, Nebraska but we have athletes from Omaha, Lincoln, and all over the state of Nebraska plus players from Colorado, South Dakota, Iowa, Kansas, and Missouri. We have also added a 14U team from Iowa this season as well. We have 13 teams in the organization this year.
We created this team to develop players, increase their skills, and build a group that would be able to compete for championships at high-level events.
Our teams have had a history of success since our first PGF National in 2013 when we placed in the top 10. Since then, Nebraska Gold has won championships at the Tulsa Elite Showcase, Colorado, Top Gun Invite, and many other national-level events including the 2016 16U ASA Gold National Championship.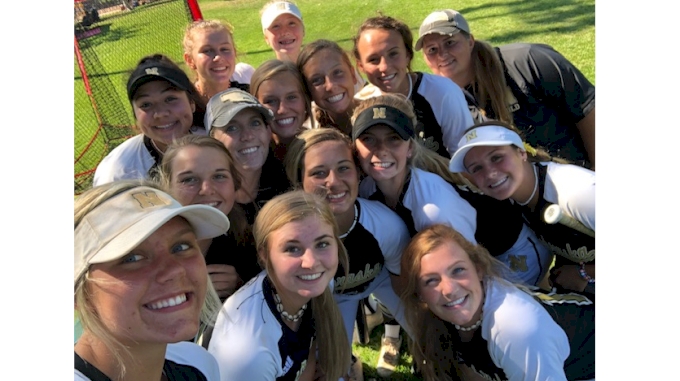 We have a great support system throughout the organization where all our teams support each other and work together to develop players. Nebraska Gold is built on five core pillars that define the culture of our teams and this focus helps build character and strength in our players.
Those 5 pillars are:
Toughness
It's not about you
Workers always win
Masters of Appreciation
Discipline
What's your softball background and how did you get to the point of leading the team?
I began coaching right after my last year of club ball in 2000. I knew that I wanted to give back to the game for all the amazing things it had done for me. I have coached at all levels of club ball winning multiple State Championships along the way. I have also coached High School ball and am currently the assistant coach at Midland University. In 2016, I was on the Nebraska Gold 16's coaching staff when we won ASA Gold Nationals, as that team was starting to age out and move on to their college programs I took over a very talented group of 13-year-olds who became Nebraska Gold Futures and that group continued to develop and evolve into the team we have today.
Has there been a key moment or defining experience in the team's history?
During our 14U season, this group won the Power Pool Elite Bracket at the Colorado Sparkler and finished Top 10 at the Junior Olympic Cup. Those successes helped solidify the teams confidence and they have been growing stronger together ever since.
Our focus with this team has always been putting them in events to compete against the best and challenge them to continuously grow and improve. We believe that this will allow them to meet their individual goals and be prepared to compete at the collegiate level.
We have a deep hitting line-up with power from top to bottom.
Meet Nebraska Gold National - Singleton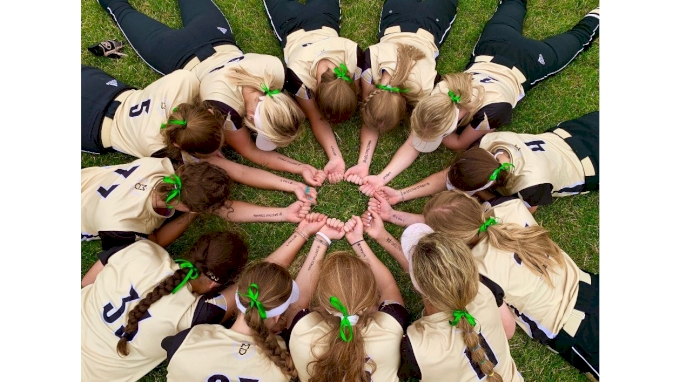 #2 | Alexis Wiggins, RHP | 2021 (Creighton)
Lexi is a high strikeout pitcher with a great curve, rise, and devastating change-up. She brings a lot of energy and plays with passion. We look to her and Ruby to lead the way in the circle and set the tone for our defense.
#7 | Grace Hamling, 3B/SS | 2021 (South Dakota)
Grace is a lockdown third baseman who plays well on the run and has a quick release and strong arm. She has an infectious positivity and at the same time is a fierce competitor, this balance makes her a great teammate and leader.
#22 | Sophie Cerveny, OF | 2021 (Nebraska-Omaha)
Sophie is a triple threat slapper with a lot of pop who hits at top of our order. She is an incredibly hard worker who is always improving her game. She has recently converted to the outfield full time to best utilize her speed and great reads.
#27 | Rylan Ewoldt, SS | 2021 (Boise State)
Rylan brings a big power bat to the heart of our lineup. She hits consistently for extra bases and has already set the career home run record at her High School as a junior. She is a strong middle infielder with good range and the ability to throw from any slot.
#15 | Josi Solano, OF/2B | 2021
Josi is a versatile player who brings speed and a power lefty bat to our line-up. She is equally solid in the infield and outfield with great hands and excellent footwork. Jo is great on the bases and a threat to run at any time.
#4 | KK Laux, 2B/OF | 2022
KK is a gritty player who knows how to win. She has a left-handed swing with gap power and the quickness for short game with success. She creates chaos on the bases because of her aggressiveness and speed. She is a steady fielder who covers a lot of ground well.
#5 | Ella Kugler, C | 2022
Ella is one of two new players (both catchers) to the team this season. She is able to shut down the opponents running game with her arm and has a quick release and slick pick off moves. We look forward to her adding another power bat to our line-up as well.
#11 | Tavia Hausman, 1B | 2022
Tavia is an exceptional defensive first baseman with a strong arm who can dig anything around the bag. She has a violent swing and hits well for both average and power. Tavia has a knack for being clutch and coming up with big hits in the big moments.
#12 | Kaelan Schultz, 1B/OF | 2022
Kaelan is a five-tool player with the skills to play well anywhere on the field. She is a consistent, powerful bat who hits in the three or four spot for us. She has great speed and a cannon for an arm that we utilize most often in the outfield or at third base.
#23 | Ava Rongisch, CF | 2022
Ava has a power lefty bat and great plate discipline that leads to a high average. She is a constant extra-base threat who puts up double-digit home runs from the leadoff spot. Ava is a solid centerfielder with a high softball IQ and a leader on the field and in the dugout.
#33 | Bella Bacon, 1B/OF | 2022
Bella is a strong hitter with good speed and home run power to all fields. She has a high work ethic and passion for the game that is always evident. Defensively, she is steady at both first base and in the outfield and will be called upon to use her versatility this season.
#66 | Ruby Meylan, RHP | 2022
Ruby is a 6-foot-1 power pitcher who throws in the mid-60s with a tough drop/rise combination in addition to a change of speed and curve. She and Wiggins complement each other and work well as a staff. Ruby is a two-way player who has a big power bat and will be counted upon in the heart of the order.
#77 | Taylor Franzen, C | 2022
Taylor is a new addition to Nebraska Gold this season and we are very excited to have her on our team. She is an elite catcher with good size, a plus arm, and great athleticism. She has good presence and natural leadership behind the plate and handles pitchers well.