2023 Mark Campbell Collegiate Invitational
Jayda Coleman Named 2019-20 Gatorade National Softball Player Of The Year
Jayda Coleman Named 2019-20 Gatorade National Softball Player Of The Year
The Gatorade Company announced Jayda Coleman of The Colony High School in The Colony, Texas as the 2019-20 Gatorade National Softball Player of the Year.
Jun 12, 2020
by Christopher Girandola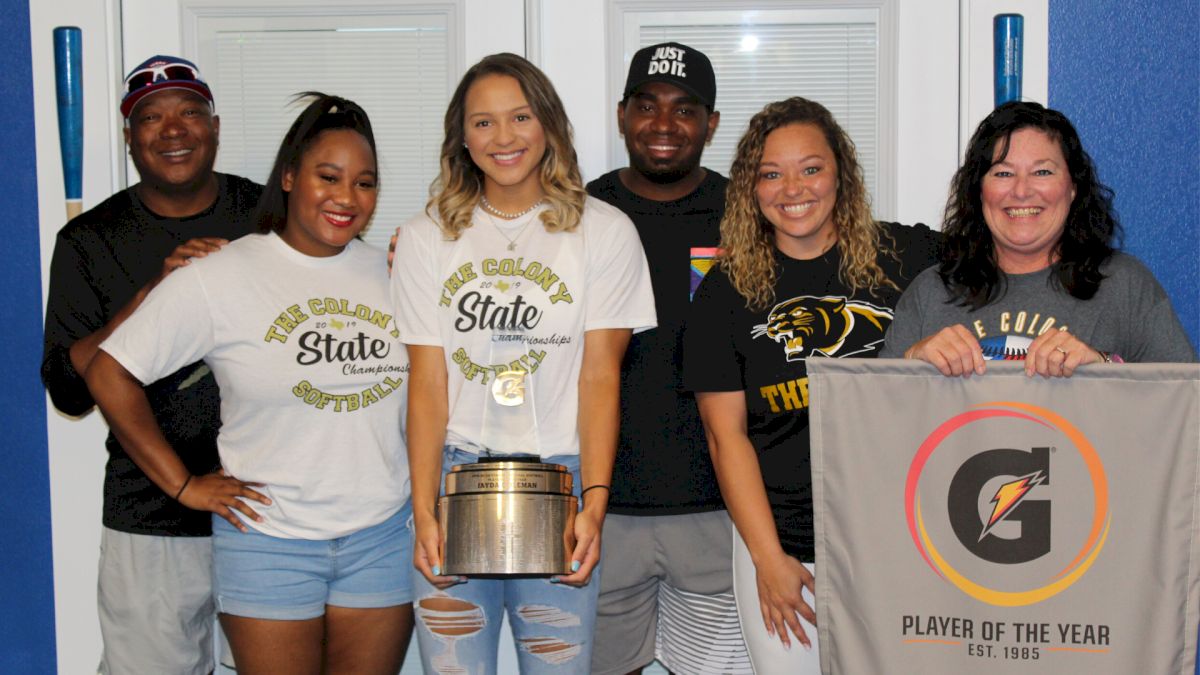 Jayda Coleman can't pinpoint the exact day, year, and event where it was when a much older fan approached her after one of her games and adamantly stated his doubts about Coleman being successful as a left-handed shortstop. All she knows is that his words and others like those have fueled a fire inside Coleman that has been growing for years since she first picked up a glove at an early age.
On Wednesday, the drive to be not just the best left-handed shortstop but the best player in the game came to fruition when the Gatorade Company recognized Coleman as the 2019-20 Gatorade National Softball Player of the Year. Coleman won the prestigious award for her accomplishments on and off the field, joining an impressive group of former Gatorade National Softball Player of the Year winners who have combined for four National Championships, four NPF Championships and 10 have become coaches.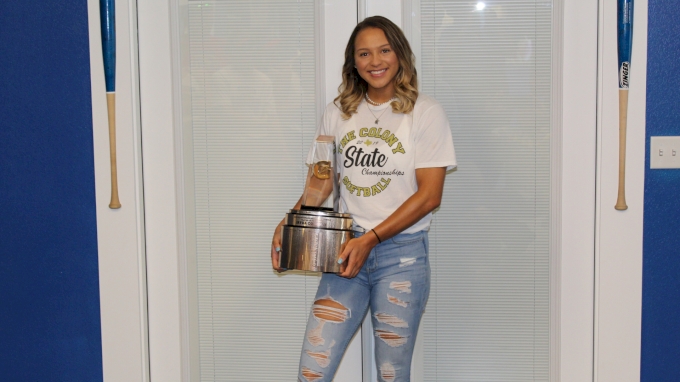 "There are been plenty of doubters along the way but I've also had many supporters," said Coleman, who topped the list of 51 state winners in softball who collectively boast an incredible list of accomplishments, including 13 best-in-state players by MaxPreps.com, 4 USA Softball team members, 5 SEC school committees and 15 with GPAs of 4.0 or higher. "When I was younger, (the doubters) said I'm not going to be able to do it. When I got to 16U, you're not going to be able to do it, then I did it. When you get to 18U and playing in high school, you're not going to be able to do it. They're going to be too fast, too strong for you and I've still done it, and now they're saying let's see how you do it on the college level, and I'm like alright, let's do it. Let's see."
Many of the supporters were there in person at The Halo training center Wednesday in McKinney, Texas, including her teammates, coaches, friends, parents, and her two older sisters, Ashlee and Jhanna, who surprised her while she was conducting a video interview with a reporter for which Jayda thought was for winning the state player of the year.
"My sister had a trophy in her hand and my other sister had the banner that said 'National Gatorade Player of the Year,'" Coleman said. "I was like 'National?' and they were like, 'Yes, national.' It was amazing and overwhelming all at the same time, especially knowing there are so many other great players out there like (Gatorade California State Player of the Year, St. Anthony High shortstop) Tiare Jennings or (Illinois State Player of the Year, St. Joseph shortstop) Bailey Dowling who was on Junior USA Nationals with me and so many others. I don't see myself as the best. I just see myself as one of the many great players around the nation who help drive each other to be great."
Whatever the case, Coleman distinguished herself amongst her peers -- 400,000 high school players to be exact -- during the 2020 shortened season. The 5-foot-10 senior shortstop and left-handed pitcher hit .771 with 42 runs, 28 RBIs and 42 stolen bases in 19 games, and was also 12-0 with a 0.74 ERA in the circle before her senior season was cut short because of the coronavirus pandemic. Coleman, the nation's No. 1 recruit in the Class of 2020 who will continue her career at Oklahoma, concluded her prep softball career with 279 hits, 261 runs scored, 209 stolen bases and a .722 batting average, which ranks third in national history for most runs scored in a career.
"It's been an incredible journey," said Coleman, whose mother, Deana, coaches her at The Colony. "The guidance my parents have given me since I was young has been incredibly instrumental in my growth and development not only as an athlete but also as a person. I was born into the softball world. I fell in love with the game and fell in love with competing and winning at an early age, watching Ashlee play on the collegiate level. My parents taught me everything I know with my mom as my high school coach and my dad as my club coach. They put me on the perfect stage, in the right tournaments in front of the right people. My sisters taught me how to persevere through the trials and tribulations that go along with sports and how to be the best student-athlete and how to balance sports and school."
Coleman led The Colony to the Class 5A state championship in 2017 and was one of only two high-school athletes on the 2019 USA Softball Junior Women's National Team that won the U19 World Championships in August. Coleman compiled a .432 batting average and a .510 on-base percentage with 13 steals for Team USA while helping the United States win the 2019 WBSC U-19 Women's Softball World Cup.
"With many spring sport seasons canceled to address the coronavirus pandemic, we feel it is more important than ever to honor and celebrate phenomenal student-athletes like Jayda Coleman," said Gatorade Senior Vice President and General Manager Brett O'Brien. "Jayda is not only among the best high school softball players in the country, but she also shines in the classroom and her community, embodying everything we look for in a Gatorade Player of the Year recipient."
A member of the Fellowship of Christian Athletes, Coleman, who maintained a weighted 3.63 GPA in the classroom, volunteers on behalf of PALS, which works with special needs children. She also participates in helping youth competitors train for the Special Olympics in addition to serving as an instructor in the Texas Glory club organization for which her father, Cedric, is the coach.
The multi-sport athlete also holds the career record at The Colony in kills for the volleyball team and has competed for her school in track and field in the high jump, long jump, and triple jump. A member of the Fellowship of Christian Athletes, Coleman volunteers on behalf of PALS, an organization that specializes in interaction with special needs children.
"This award is extra special because it doesn't just honor you for your athletic achievements but recognizes the work you do away from the field," said Coleman. "I am proud of the work I do with (FCA and PALS) and I enjoy making a difference in the world."
Coleman also believes her competitive drive in the other sports has helped her greatly in softball.
"I believe playing the different sports and being involved with the different activities has given me the type of perspective in life that has helped me be successful in softball," said Coleman, who made it to the state regional tournament in track last year. "I feel every athlete should play multiple sports. If I only focused on softball, I might be burned out by now. Volleyball teaches you different athletic movements that actually translate to softball. For instance, learning how to dive in volleyball teaches you different ways in how to dive in softball for ground balls. You also learn from other athletes what it takes to be great in their respective sport."
For softball, Coleman now has her name on a list of national winners that includes pitchers Cat Osterman and Rachel Garcia. Osterman has won an Olympic gold medal and two world championships, and Garcia is a two-time USA Softball Collegiate Player of the Year and will join Osterman on the U.S. team for the upcoming Olympics that will be held in 2021.
"Now it just makes me want to strive for more and more," Coleman said.
The Gatorade National Softball Player of the Year has been awarded since 1998, and Coleman is the fourth player from Texas to win it. She joins Osterman (2001 for Cypress Springs), Keller pitcher Kirsten Shortridge (2006) and The Woodlands pitcher Paige McDuffee (2011).
Coleman is now a finalist for the most prestigious award in high school sports, the Gatorade Female High School Athlete of the Year award, which is announced in July.
Next she takes her talents to Oklahoma joining a signing class that includes fellow infielder Tiare Jennings, corner Zaida Puni, pitcher Nicole May — all of whom also ranked in FloSoftball's Hot 100 in the 2020 recruiting class. Coleman is excited to join a roster loaded with talent including seniors Giselle Juarez, Shannon Saile, and Nicole Mendes all returning for OU next season after finishing the 2020 year with a 20-4 record.
"We're gonna be rocking and rolling," said Coleman. "I'm gonna have to compete for a spot, and just get after it, but I'm so ready. I can't wait to get on that field and be a part of something that's so bigger than I am. It's going to be intense. Can't wait to get in there and get it going."