Rising Star: 2020 Pitcher, Janie Worthington Bound For North Texas
Rising Star: 2020 Pitcher, Janie Worthington Bound For North Texas
How Oklahoma Athletics 2020 pitcher Janie Worthington grew from a Little Leaguer into a fierce competitor bound for North Texas.
Jun 18, 2020
by Stephen Kerr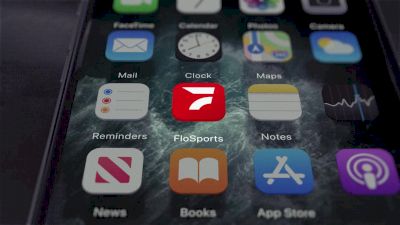 Unlock this article, live events, and more with a subscription!
Get Started
Already a subscriber? Log In
It was one of those moments that seemed humiliating at the time but turned out well in the end.
Janie Worthington went to her first tryout for Oklahoma Athletics when she was eight years old. It was her first travel ball experience, after having played T-ball and Little League the past several years.
On the way to the field, Janie was confident she would wow the coaches and make the cut. After all, she'd been quite successful playing in Carnegie, Oklahoma, a town of less than 2,000 located just south of the Washita River. Her mom, Hope, had also been coaching her. Janie talked the whole way, assuring her parents she would hustle and do whatever was required of her. What could possibly go wrong?
When they arrived, reality struck with the force of a gut punch.
"I remember the feeling," Janie said. "I was already sweating. I'd never done anything like that before."
That's when the embarrassing moment happened.
"We get there, and (she) just throws up," recalled Hope with a chuckle. "It was a side of her I'd never seen. I didn't know if she was going to make it through the tryout."
It's easy to look back and laugh at the incident nearly a decade later. Janie not only got through the tryout, but made the team, and has been with the A's organization ever since.
Confidence and tenacity come naturally to the left-handed pitcher, who is playing her final season of travel ball with the A's 18U Premier squad. Perhaps it has something to do with her family's strong Native American spiritual values. Hope, born on a Mississippi Choctaw reservation, played travel softball as a child and began coaching at age 18. She and her husband John grounded Janie and younger brother Asa in a God-fearing philosophy, encouraging them to pursue their dreams and persevere through the peaks and valleys that come with the journey.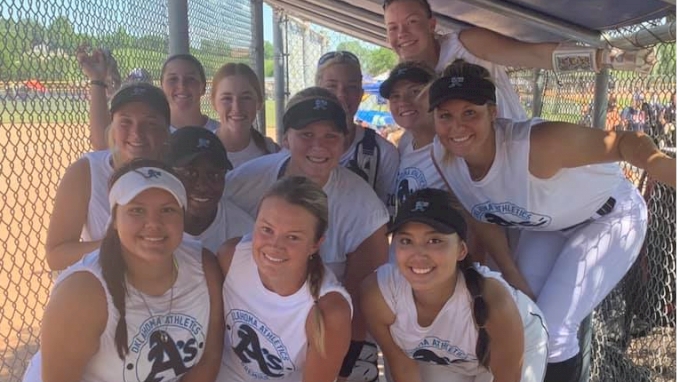 In 2019, Janie led the Athletics to a seventh-place finish at PGF Premier Nationals, making the All-Tournament Team. In the fourth round, she tossed a two-hit 5-0 victory against Indiana Magic. The A's scored all five runs in the third, and Janie took one for the team after being hit by a pitch during the inning.
Despite the big knot that appeared on her pitching elbow, Janie shook it off and refused to come out of the game.
"I knew if I wanted to keep the rally going, I just had to stand there and take it," she explained. "I knew it was going to hit me. I kind of closed my eyes, to be honest. My adrenaline was going, and I didn't really feel it."
Since Oklahoma is one state that plays fastpitch in the fall, Janie was able to complete her high school senior season before the coronavirus shutdown. She led Carnegie High to regionals and set a school record for strikeouts in a career with 916, 476 of them coming last season alone.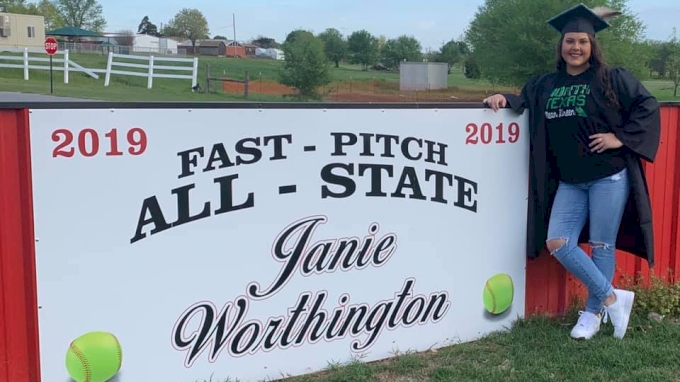 Earlier this month, Janie pitched for the West squad in the East-West All-State Game, becoming the first Carnegie player to make the All-State Team. The West lost, but Janie had a solid showing, striking out eight in three innings.
"It was a fun experience," she said. "I got to play with all the girls I've grown up playing against."
Even at a young age, Janie wasn't afraid to set high standards. When she took up pitching, her grandfather put up a mat in the family's backyard. Hope and John would wake up early most mornings to the sound of their daughter already hard at work, throwing balls against the mat. As a 12-year-old, Janie already knew she wanted to play at the high school level or even college.
"I've always been goal-oriented," she said. "I like to take that leadership role."
The rise ball is one pitch that came naturally to Janie since her fastball has a rise to it. But according to Athletics 18U head coach Mike Madden, the curveball is her most devastating pitch.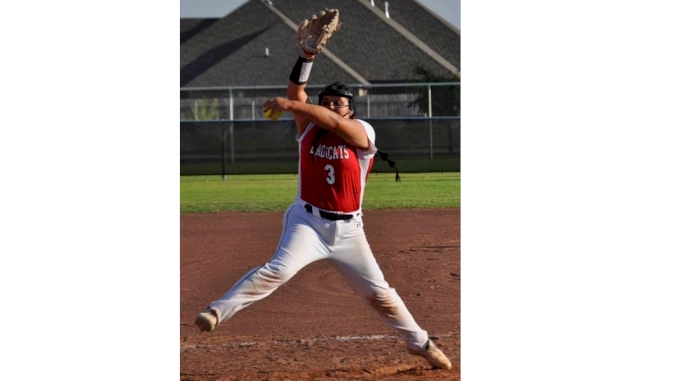 "It's a hard curve, not slow," Madden explained. "She's not afraid to come inside (with it) as a lefty to a right-handed hitter. She throws hard, and I love it."
On game days, Janie pumps herself up by scrolling through a music playlist that contains everything from rap to '80s. Her game-face expression in the circle never changes, whether she strikes out a hitter or gets in a jam. This almost got her ejected from one game when an umpire thought she was getting an attitude and cutting her eyes at him. But that laser-focused mentality has served Janie well in the midst of recent challenges such as the coronavirus pandemic.
During the 2-1/2-month layoff that forced the closure of team facilities, Janie kept herself in top physical shape by running a mile every day, hitting into a net, and throwing against the pitching mat.
"It was a relief," Janie said of getting back to regular team workouts and competition. "You're confused, you don't know what's going on throughout this pandemic. It felt like kind of back to normal, just being able to see my teammates and play on the field."
Knowing she wanted to attend a Division I program, Janie resolved to keep an open mind during the recruiting process. It was important for her to earn a degree at a school she would love, with a team that didn't shy away from the best competition. On National Signing Day, she officially committed to the University of North Texas. Janie went all-out with Mean Green swag, sporting a school T-shirt, tights, new Nike shoes specifically for the occasion, and a North Texas beanie with a puffball on top.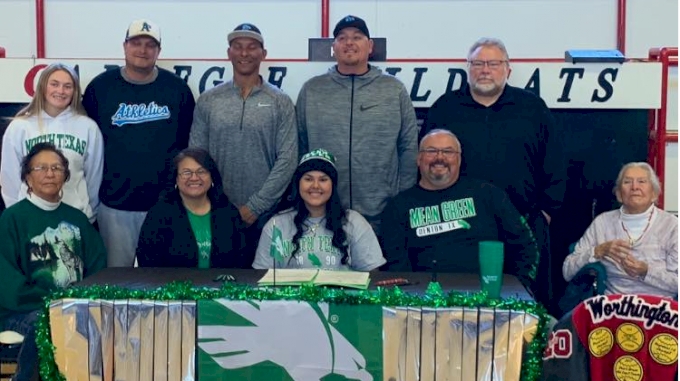 While both parents had a hand in guiding Janie through the experience, it was her father John she relied on most when making the final decision.
"I work with a lot of colleges and universities," explained John, a professional archaeologist who also works for the federal government as a natural resource officer. "Her mother and I always stressed education. (We) tried to relay that once softball's over, you've got your education. For me, that was of utmost importance."
Making the jump to college is scary under normal circumstances. The ongoing coronavirus pandemic is uncharted territory for incoming freshmen around the country. Like many universities, North Texas students won't start the fall semester on campus until Thanksgiving, then finish with remote learning.
Madden isn't overly worried about how Janie will adjust.
"She's a realist," Madden said. "She knows she can't live at home for the rest of her life. It's going to be tough on her, but she's going to be fine."
No matter what happens, Janie is determined to keep reaching for the highest level, wherever that may lead.