Softball Community Rises Up Against Scrap Yard Fast Pitch Tweet
Softball Community Rises Up Against Scrap Yard Fast Pitch Tweet
Scrap Yard Fastpitch flag tweet faces major backlash from the softball community and players refuse to represent the team.
Jun 23, 2020
by Chez Sievers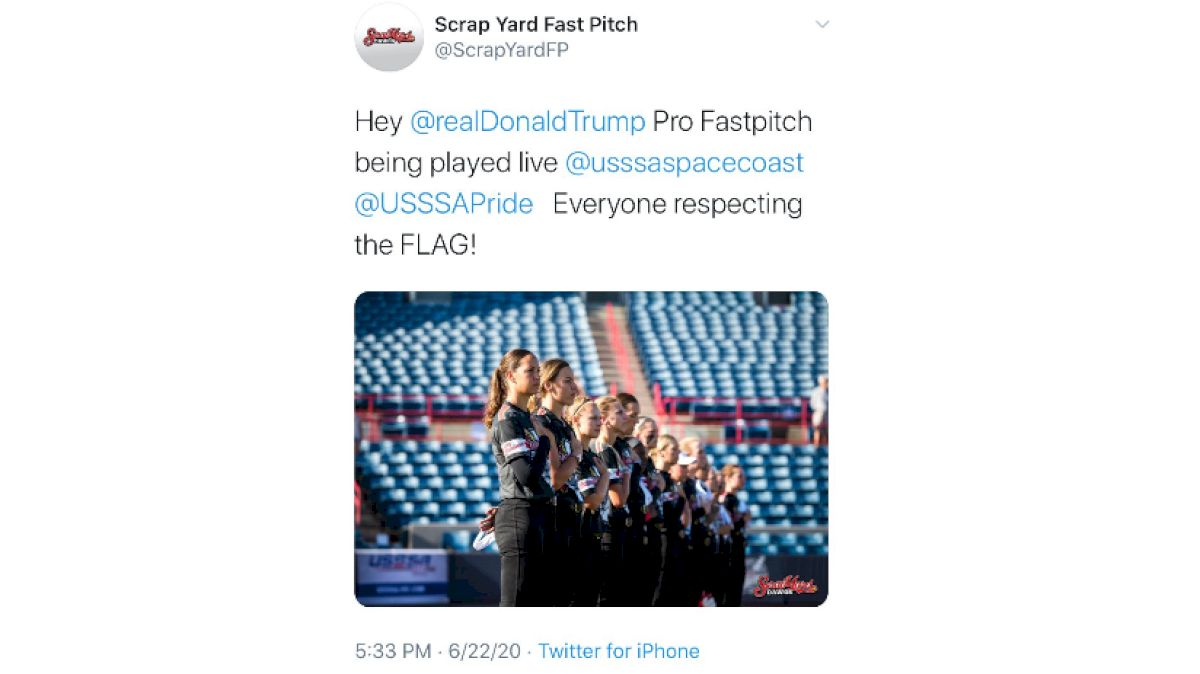 One tweet turned a day of celebration for pro softball players into a day of disappointment for many in the softball community.
During the USSSA Pride and Scrap Yard Dawgs opening game, General Manager of Scrap Yard Dawgs, Connie May sent an anti-kneeling tweet tagging President Donald Trump and USSSA Pride with a photo of the team:
Because the tweet has since been deleted... and the tweet author herself just texted me personally trying to justify her reasoning.. here we go. If this is how a GENERAL MANAGER goes about their business, taking over the team twitter, it should be public. Keep that same energy. pic.twitter.com/LMYyE9G1lM

— Lauren Chamberlain (@LChamberlain44) June 23, 2020
Following the tweet, a wave of angry, frustrated, and disappointed comments ensued from fans over Twitter and screenshots were taken before the tweet was deleted.
Former Olympian Natasha Watley and many other prominent figures within the softball community denounced the actions and attitude of Scrap Yard in disappointment.
Seriously fuming right now?? @ScrapYardFP you are better than this! Haven't we been going over this for the last 3 weeks? This is not funny at ALL! Has nothing to do with respecting the flag and ALL to do with respecting ALL Americans in this country regardless of color of skin pic.twitter.com/cdymUwWRsH

— Natasha Watley OLY (@natashawatley29) June 22, 2020
It was never about the flag! It was about caring for the lives of the black Americans that are disproportionately ended due to racism. It was about wanting the black athletes on your team to LIVE more than you want them to get a hit. This is disgusting pic.twitter.com/duVv94VBWi

— A.J. Andrews (@aj_andrews_) June 23, 2020
Scrap Yard Fast Pitch players were completely unaware of the Tweet while they were playing but were informed immediately after the game.
USA players Cat Osterman, Kelsey Stewart, Ally Carda, Aubree Munro, Haylie McCleney, and more repudiated Scrap Yard's Tweet and announced they would no longer be representing Scrap Yard.
I DO NOT support the comments made during our game by @scrapyardfp & I will not represent them. We as a people are working towards change, and THIS IS NOT IT. pic.twitter.com/ziSTiYxuzQ

— Cat Osterman OLY (@catosterman) June 23, 2020
I am so hurt but Hate and Ignorance will never win. pic.twitter.com/81tV29G4HH

— Kiki Stokes (@KStokes10) June 23, 2020
Tonight we were misrepresented by Connie May who acted on behalf of @ScrapYardFP I'm appalled by the insentivity & will not represent Scrap Yard ever again. I'm so sorry to all my friends & teammates and the future softball players that are hurt by this. pic.twitter.com/39B1CaO9uh

— Aubree Munro Watson (@Aubree_Munro1) June 23, 2020
.... I AM HURT ... I am disgusted ... as a BLACK softball player I DO NOT ... DO NOT stand with a statement like this... if you didn't understand racism and what was going on the last month. This .. THIS IS IT. This is EXACTLY what we've been trying to change pic.twitter.com/udoeaSJFwp

— Kelsey Stewart (@stewartkels7) June 23, 2020
WE ARE DONE. I don't support this, tolerate this, or stand by this in any way. I WILL NOT represent this organization and am absolutely HEARTBROKEN by this statement. Especially for our black athletes. UNACCEPTABLE. pic.twitter.com/dRN01Wchar

— Ally Carda ⚓ (@acarda3) June 23, 2020
We might be standing in this photo but we SURE AS HELL AREN'T STANDING FOR THIS. I'm embarrassed. I'm heartbroken. I'm DISGUSTED. @ScrapYardFP I will never be associated with your organization again. BLACK LIVES MATTER. The tone deafness on this is UNBELIEVABLE!!!!!!! pic.twitter.com/5jSNipTFLd

— Haylie McCleney (@hayliemac8) June 23, 2020
This isn't us. As players, we do not stand with the tweet sent out by @ScrapYardFP We stand with the black community. We love you and we stand united with you. pic.twitter.com/zJrqVoOSZ6

— Riley Sartain-Vaughan (@rileysartain) June 23, 2020
This isn't us.