16U Gold Coast Hurricanes Hammonds 2020 USAES World Fastpitch Champions
16U Gold Coast Hurricanes Hammonds 2020 USAES World Fastpitch Champions
Gold Coast Hurricanes Hammonds win 2020 USA Elite Select World Fastpitch Championship.
Jun 30, 2020
by FloSoftball Staff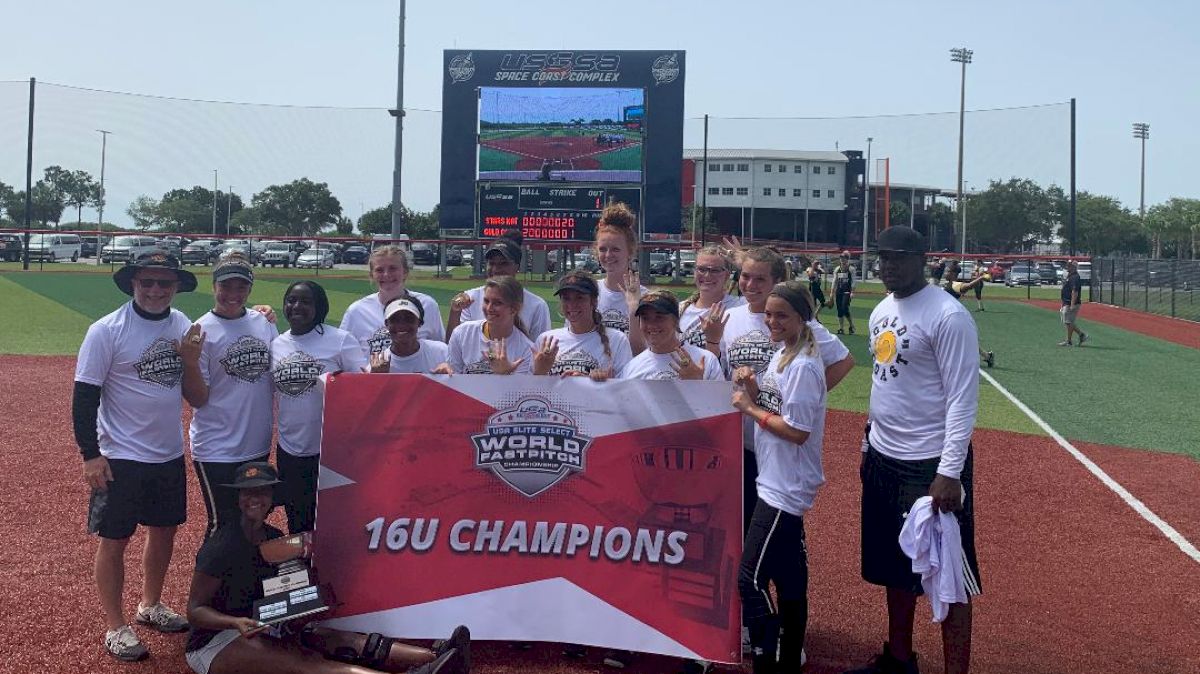 Hot Bats, great pitching, and a little luck propelled Gold Coast Hurricanes 16U Hammonds to a USA Elite Select 16U World Championship Victory. The team went undefeated from pool play through the championship down in Viera, Florida this past week.
The Hurricanes offense was led by Morgan McMillian, Lauren Bevis, and Kylie Hammonds accounting for 30 of the team's 70 hits.
Jacksonville University-commit Morgan McMillian hit .480 (12 for 25) with a .519 on-base percentage, and a .640 slugging percentage. McMillian also scored 10 runs on the week and was part of an amazing triple play during extra innings in the championship game. She started the play on an amazingly athletic flip of the ball to home plate while diving and then after the ball was handled by four fellow Hurricane teammates it came back to her for the tag out of a baserunner trying to advance to third to record a triple play!!!
Amaya Ross (Florida State-commit) was part of this monumental play as she took the throw down at third base from the catcher to tag the first girl out caught in a rundown. Ross then ran down the second girl from behind trying to return to second base during her confusion for the second out.
Ross showed her power as she hit her first home run of the season. She went opposite field leading in slugging percentage (.85). She showed incredible speed and athleticism on the epic triple play, accounting for 2 of the 3 outs by herself! This one play put the momentum back into the Gold Coast Hurricanes' hands.
Ole Miss commit Lauren Bevis supplied the power and ability to get on base by hitting .429 (9 for 21) with a .556 on-base percentage, and a .762 slugging percentage and she hit her first home run of the season over the 225-foot fences. Bevis played great on defense at shortstop and second base and was tied for the most RBIs at six with her teammate Kylie Hammonds.
2022 grad, Kylie Hammonds batted .400 (10 for 25) with a .520 slugging percentage. She played amazing centerfield for the Hurricanes, leaving her feet to make many of her put-outs over the five days as well as gunning down a base runner at home plate to kill a momentum shift opportunity by the opponent.
A trio of pitchers set the tone for the Hurricanes' success this week at the World Fastpitch Championships. The staff was led by Hannah Pitts (Mercer-commit) who had 27 Ks in 27 innings pitched and a 0.52 ERA. Pitts was the MVP of the championship game, going all eight innings for the win. Macie Welch (Memphis-commit) was dominant in the circle as well. The 6-foot lefty had 17 Ks in 19 innings and boasted a team-low ERA of 0.37. Megan Hagge (Dartmouth-commit) flashed her mid-60s fastball and had 14 Ks in 14 innings with a 0.50 ERA. The 6-foot-3 right-hander proved to be a dominant closer, getting the final three outs in the bracket championship.