CAA Softball
Kate Gordon Delivers Good Will & Meals To Page County During Pandemic
Kate Gordon Delivers Good Will & Meals To Page County During Pandemic
JMU softball's career home run leader, senior Kate Gordon delivers meals to families in Page County during the COVID-19 pandemic.
Jul 6, 2020
by Roger Brown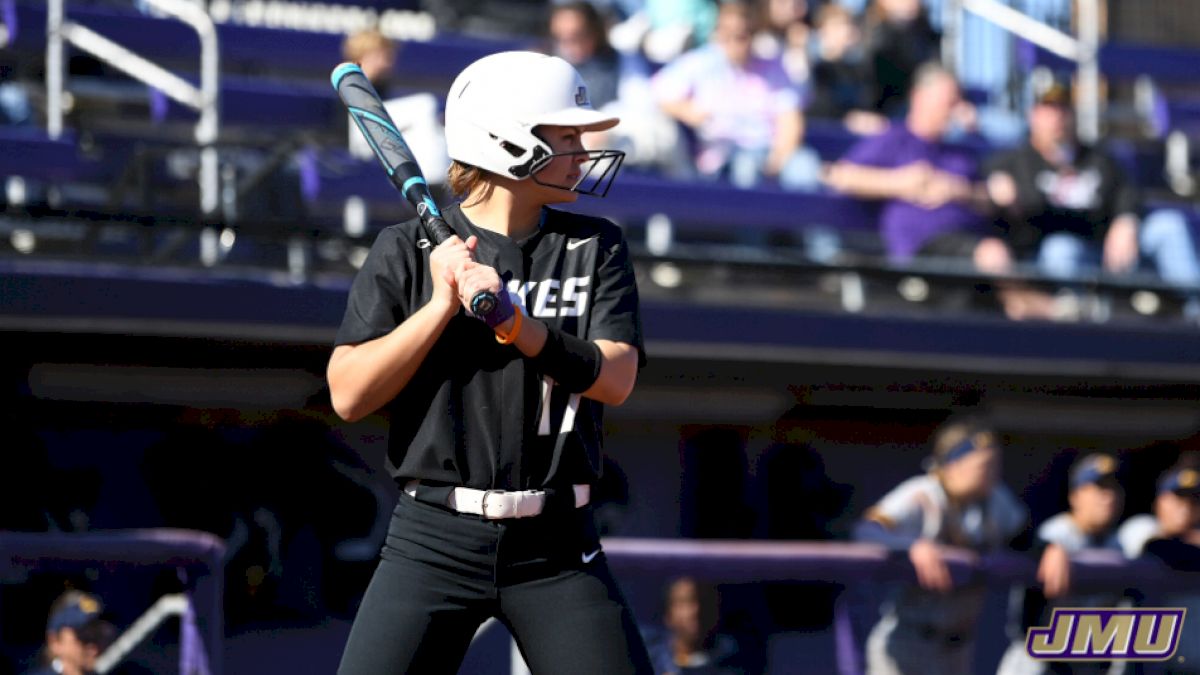 As the James Madison University softball program's career leader in home runs, Kate Gordon has earned the reputation as someone who delivers at the plate. Gordon has delivered in other situations this year as well.
In April and May, Gordon handed out food to children and families in Page County, Va., as part of a program set up through Page County Public Schools in response to COVID-19. Gordon said she delivered meals primarily in her hometown of Shenandoah, but that the program helped feed children throughout the county who otherwise may not have had enough to eat during the period of virtual learning
Gordon was recruited into the program by her mother, Megan.
"My mom and her friend delivered meals in Page County and they know that I love to be active in the community, so they asked me to deliver meals," Gordon said. "I was going two to three times a week with them to deliver meals to school-age students. My mom … she loves to volunteer. I think that's where I get it because she's very involved in the community and she's still going three times a week with her friend."
Gordon, 22, said some people answered the door when the food arrived and others asked that the meals be set on a table outside, but everyone appeared grateful.
Kate Gordon spent this morning handing out meals for the weekend to families once again in Page County!! 24 families, 56 kids fed!!

Thank you for your time and efforts, @Kit_kateeeee!!! #GoDukes #BeAHelper ?? pic.twitter.com/eCOupz92JI

— JMU Softball (@JMUSoftball) April 24, 2020
"I think the people were very appreciative, and it seemed like they were happy to see people -- especially the kids," she said. "They started saying 'Bye. Have a great day.' You form a little bit of a relationship just seeing them two to three times a week. It was awesome."
Gordon, a left fielder, grew up about 35 minutes from James Madison. Like many college athletes, she and her JMU teammates had their season cut short -- after 19 games -- by COVID-19.
Gordon, a senior, led the nation with a .557 batting average when the season came to an abrupt end. She broke the JMU career home run record by homering 10 times in those 19 games, which gave her 50 home runs during her college career. Gordon was named the CAA Player of the Week twice last season, when she recorded 34 hits, six doubles, one triple, scored 32 runs and had 21 RBIs in the 19 games.
Let's talk about the incredible start Kate Gordon had this season ?

Gordon led the nation and the CAA in multiple categories ?#GoDukes pic.twitter.com/j8eFtSOF0f

— JMU Softball (@JMUSoftball) March 31, 2020
That followed a junior season in which she started in all 61 games, and posted a .420 batting average with a career-high 81 hits, 23 home runs, and 60 RBIs. Her 23 home runs set the CAA's single-season record in that category.
"I kind of felt like it might happen (the season being canceled) after how social media was blowing up," Gordon said. "It was still a shock to me. It hurts my heart talking about it. Thinking about it still just hurts."
Gordon set the JMU and CAA record for career home runs with her 47th homer, which came in the second inning of a 9-5 loss to the University of Connecticut. It was her second home run of that game. She hit three homers as a freshman and 14 as a sophomore.
Gordon is currently employed as a property manager and working on getting her real estate license. Although she graduated in May, she said she will take continuing education courses during the 2020-21 school year, which will allow her to take advantage of the NCAA's ruling that granted an extra year of eligibility to college athletes who had their senior season trimmed by the pandemic.
"Oh, I'm taking full advantage of it," she said.
Many considered JMU to be the favorite to win the CAA championship in 2020. The Dukes were 13-6 overall and about to begin their conference schedule when the season ended.
Although it's unlikely Gordon will be delivering meals next spring, playing another season of softball for JMU will give her the opportunity to make an impact on the local community in another way.
"I grew up in Page County and we (the JMU softball team) do a lot of community service in Harrisonburg because that's where JMU's at," Gordon said. "It's just being able to have the chance to give back to the community I grew up in. A bunch of people from Page County come to the games to support JMU softball, so I was really happy to give back to them."