Pac-12
Jimmy Kalaitis Hired As Arizona State Assistant Softball Coach
Jimmy Kalaitis Hired As Arizona State Assistant Softball Coach
Arizona State softball head coach Trisha Ford announced the hire of Jimmy Kolaitis as the new assistant coach for Sun Devil Softball.
Jul 1, 2020
by FloSoftball Staff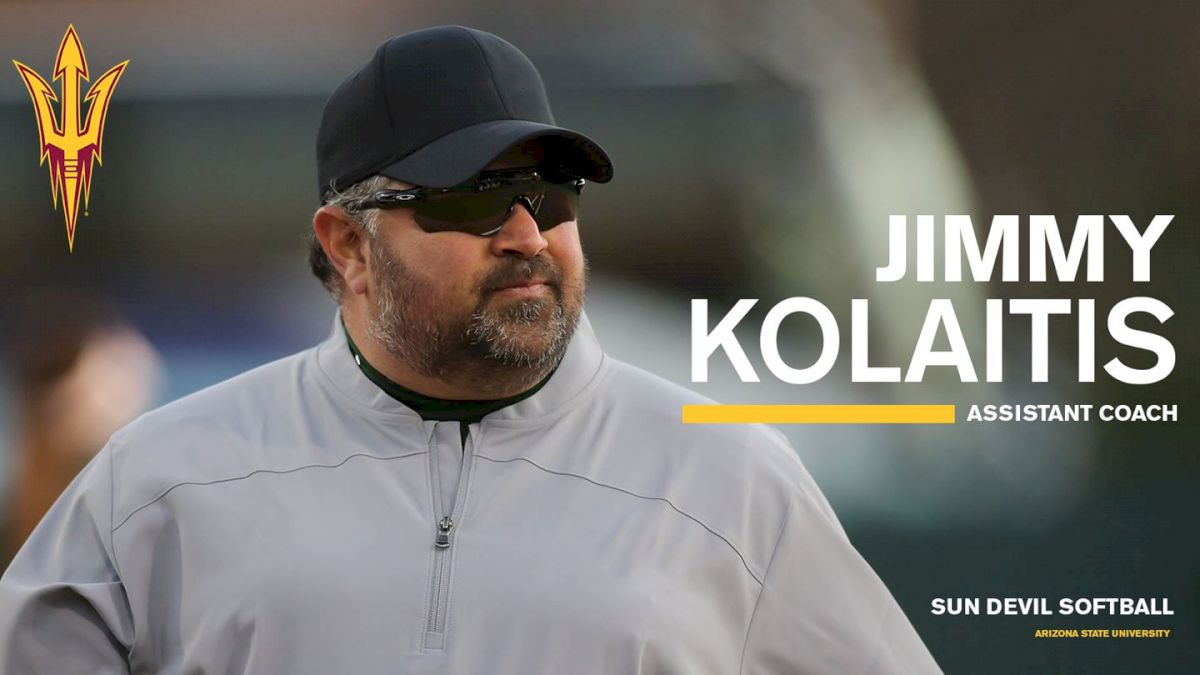 TEMPE - Arizona State softball head coach Trisha Ford announced the hire of Jimmy Kolaitis as the new assistant coach for Sun Devil Softball.
"We are extremely excited to have Jimmy join our staff," Ford said. "He brings a wealth of knowledge and will be a huge asset for us from the recruiting standpoint. He will continue our focus on getting the best local talent here to ASU and has extensive ties across the nation. Jimmy is well known in the softball world, but more importantly, his current and former players love playing for him."
Kolaitis boasts a resume filled with elite softball that includes Pac-12 Conference Championships, four trips to the Women's College World Series, a National Pro Fastpitch League Championship, and nearly 20 years of coaching experience.
"Jimmy has been successful everywhere he has been, and we can't wait to start preparing for the upcoming season. It's a great day for ASU softball," Ford continued.
The Alabama native makes the move to Sun Devil Country after two seasons as the head softball coach at the University of Alabama Birmingham. However, Kolaitis is no stranger to the West Coast and served as an assistant coach at the University of Oregon for five seasons before taking the helm at UAB.
"I am extremely excited about coming back to the Pac-12. I'm also very grateful to Coach Ford for allowing me this opportunity at ASU," Kolaitis said. "I have known this staff for quite a while and know that they are great coaches and even better people. I look forward to this new journey and helping this program get to another national championship."
Kolaitis led the UAB squad to a 34-42 record in two seasons, including a 15-11 mark in the shortened 2020 season. Kolaitis took over the program in 2018 and immediately enhanced the team's offensive attack. The Blazers connected more at the plate under Kolaitis, amounting in UAB scoring more runs and hitting for more doubles and RBI. With his leadership, UAB attained an improved batting average and slugging percentage while cutting strikeouts by more than half in his first season.
Kolaitis returned to his Alabama roots after five seasons in the Pac-12 Conference at Oregon as an assistant softball coach, recruiting coordinator and hitting coach. During Kolaitis' tenure, the Ducks compiled a 256-42-1 record, won four Pac-12 Conference Championships, finished the regular season ranked No. 1 in the nation in 2014, 2015, and 2018 and made four trips to the Women's College World Series.
Well-versed in college softball, Kolaitis also brings a wealth of top-notch professional softball knowledge from the National Pro Fastpitch League, having worked with the Scrap Yard Dogs and the Chicago Bandits. While better known for his skill as a hitting and recruiting coach, Kolaitis proved he's a coach of many talents and served as the pitching coach for the Scrap Yard Dogs in 2017. There he worked with four-time All-American and Olympic pitcher Monica Abbott, who won Pitcher of the Year and broke the league record for strikeouts in a season. The Scrap Yard Dogs won the NPF Championship in 2017.
In 2013, he served as an assistant coach for the Chicago Bandits, working with several national team participants and two players from the Japan Olympic team.
Before working at Oregon and with the NPF, he served as an assistant coach and recruiting coordinator at South Alabama from 2008-13. Under his guidance, the Jaguars went 173-95-1 and won the Sun Belt Championship in 2012 and 2013. The Jags advanced to the NCAA Tournament in 2012, playing in the Tuscaloosa Regional and hosted an NCAA Regional as the 13th ranked team in the nation in 2013.
From 2004-08, Kolaitis was the Director of Operations at Troy as the Trojans won the Sun Belt Championship in 2006, advancing to the Tuscaloosa Regional and in 2007 when Troy went to the Oxford Regional.
Before arriving in Troy, Kolaitis was an assistant baseball coach at Lee Scott Academy from 2000-02 and helped guide the Warriors to the 2002 AISA State Championship. He was also an assistant coach for the Boys of Baseball Travel, a national travel team based out of Auburn, Ala. from 1999-2006. He coached many top prospects throughout the country, including 14 first-round draft picks.
A graduate from Lee Scott Academy, Kolaitis earned an associate of arts degree in education in 2002 from Southwest Tennessee Community College and earned a bachelor's of science degree in business administration and marketing from Troy University in 2007.