2020 PGF SE Regional Championship
2020 PGF SE Regional Championship Watchlist
2020 PGF SE Regional Championship Watchlist
Watch some of the top prospects at the 2020 PGF SE Regional Championship. See who's coming.
Jul 13, 2020
by Chez Sievers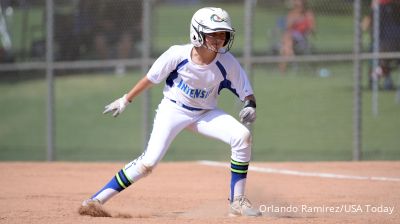 Unlock this article, live events, and more with a subscription!
Get Started
Already a subscriber? Log In
From July 16-18, Florida clubs will battle for the PGF Southeastern Regional Championship in Clermont, Florida LIVE on FloSoftball.
We've identified some of the top prospects in every division from 14U-18U.
During the week, we will update this list of athletes. If you're a coach and would like to recommend a player, please fill out this form or email flosoftball@flosports.tv.
18U Division
| | | | | | | |
| --- | --- | --- | --- | --- | --- | --- |
| # | First | Last | Pos | Grad Yr | Club | College |
| 2 | Breasia | Thomas | IF | 2021 | Auburndale Synergy Pontbriant | |
| 5 | Valerie | Martinez | C | 2022 | Auburndale Synergy Pontbriant | |
| 19 | Madison | Smith | P | 2023 | Auburndale Synergy Pontbriant | |
| 12 | Olivia | Larkin | OF | 2021 | FL Power Black - Kaser | |
| 15 | Rylie | Brashears | C/CI | 2021 | FL Power Black - Kaser | |
| 19 | Ashleigh | Washington | SS/3B | 2022 | FL Power Black - Kaser | UNC-Charlotte |
| 9 | Ayla | Horne | 2B | 2022 | FL Select Davis | |
| 20 | Emily | MacMullellen | P | 2021 | FL Select Davis | Rollins |
| 77 | Ashley | Nelson | CI/P | 2020 | FL Select Davis | Ave Maria |
16U Division
| | | | | | |
| --- | --- | --- | --- | --- | --- |
| # | First | Last | Pos | Grad Yr | Club |
| 40 | Kagan | Dudney | OF/C | 2023 | Auburndale Synergy |
| 23 | Nazyah | Jones | P/UT | 2023 | Auburndale Synergy |
| 12 | Reagan | Phillips | P/UT | 2023 | Auburndale Synergy |
| 1 | Dymond | Roundtree | 1B/P | 2022 | EC Bullets Carver |
| 19 | Gwendolen | McGinnis | P | 2022 | EC Bullets Carver |
| 3 | Kamryn | Carver | SS/CF | 2022 | EC Bullets Carver |
| 13 | Kayla | Scheiwe | P/OF | 2023 | Firecrackers Bowen |
| 17 | Lexie | Volckman | SS/3B | 2023 | Firecrackers Bowen |
| 16 | Mia | Leone | C/1B | 2024 | Firecrackers Bowen |
| 12 | Ashley | Shroll | P/2B/OF | 2021 | FL Impact Premier |
| 5 | Kailey | Poole | MIF/3B | 2021 | FL Impact Premier |
| 18 | Lindsey | Chadwick | P/CI | 2022 | FL Impact Premier |
| 42 | Isabella | Santos | C/3B/OF | 2023 | FL Power Black - Kaser |
| 21 | Kylie | Bright | 2B/OF | 2021 | FL Power Black - Kaser |
| 13 | Luna | Curran | P/3B | 2022 | FL Power Black - Kaser |
| 30 | Ella | Nelson | MIF/UT | 2024 | Gulf Coast Firecrackers |
| 18 | Emily | Mizelle | 3B/SS | 2023 | Gulf Coast Firecrackers |
| 24 | Rowan | Franklin | OF/UT | 2022 | Gulf Coast Firecrackers |
| 32 | Avery | Brewer | SS/3B | 2022 | TN Mojo Rose |
| 23 | Kendall | Rose | 1B/2B | 2021 | TN Mojo Rose |
| 4 | Wynter | Craft | 3B/P | 2023 | TN Mojo Rose |
| 14 | Arianna | Machado | SS/2B | | South Florida Intensity Nunez |
| 5 | Lauren | Westerfeld | OF/1B | | South Florida Intensity Nunez |
| 13 | Alanah | Velazquez | C/3B | | South Florida Intensity Nunez |
| 4 | Kaitlyn | Hernandez | C/1B | | South Florida Intensity Nunez |
14U Division
| | | | | | |
| --- | --- | --- | --- | --- | --- |
| # | First | Last | Pos | Grad Yr | Club |
| 21 | Princess | Arredondo | C/IF | 2023 | Atlanta Premier - Vance |
| 26 | Riley | Waters | P/OF | 2024 | Atlanta Premier - Vance |
| 33 | Taylor | Rogers | C/OF | 2023 | Batbusters Brooks 05 |
| 39 | Katelynn | Oxley | P/OF | 2024 | Batbusters Brooks 05 |
| 7 | Dallas | Brooks | 3B/OF | 2024 | Batbusters Brooks 05 |
| 24 | Payton | Roberson | 2B/UT | 2026 | Firecrackers 07 Karoffa |
| 3 | Emily | Whitwell | P/UT | 2025 | Firecrackers 07 Karoffa |
| 6 | Hannah | Garner | C/UT | 2025 | Firecrackers 07 Karoffa |
| 00 | Shannon | Weems | MIF/P | 2023 | FL Firecrackers Sewell/Bordeau |
| 24 | Celia | Vargas | MIF | 2023 | FL Firecrackers Sewell/Bordeau |
| 33 | Bristin | Bordeau | P/1B/DH | 2023 | FL Firecrackers Sewell/Bordeau |
| 4 | Giovanna | Khoury | 3B/UT | 2025 | FL Gold - Torres |
| 41 | Mackenzie | Thompson | C/UT | 2024 | FL Gold - Torres |
| 8 | Emily | Santana | 2B/UT | 2024 | FL Gold - Torres |
| 17 | Kyndal | France | OF/P | 2027 | Tampa Mustangs Mondok |
| 3 | Paige | Quinn | IF/C | 2026 | Tampa Mustangs Mondok |
| 71 | Lucy | Mondok | P/IF | 2026 | Tampa Mustangs Mondok |
| 1 | Ella | Romano | C/3B | 2024 | Team Tampa 05 |
| 15 | Gabriela | Young | OF/3B | 2023 | Team Tampa 05 |
| 7 | Makenzie | Reynolds | MIF/OF | 2023 | Team Tampa 05 |