Create a free account to unlock this article!
Get Started
Already a subscriber? Log In
After competing for 20 seasons in NCAA Division II, the UC San Diego Tritons are being reclassified to NCAA Division I. For Triton softball, this means the chance to compete with some of the biggest names in collegiate softball. After being crowned the 2019 West Region champions and competing for the National Championship for the first time in 7 years, Head Coach, Patti Gerckens is mapping out the future of her program in Division I headed by standout athletes Robyn Wampler, Sherriah Harrington, and returning senior Danica Kazakoff.
In their Division I inaugural season, Head Coach Patti Gerckens will enter her 29th season as the head of the UC San Diego softball program. While competing in Division II, Gerckens has led the Triton softball team to 13 NCAA postseason appearances and one Division II National Championship title in 2011.
Creating a Winning Culture
Head Coach, Patti Gerckens, built her team's culture around family values. Gerckens believes that her team's family culture is the key to their success in Division II, and that "respect within your own family carries onto the field." She emphasizes that UCSD's program is about empowering women on and off the field, recruiting academically motivated, scholar-athletes through important values like integrity and communication.
"When my girls leave UCSD, they are ready to take on the world in a great way."
- Patti Gerkens, UCSD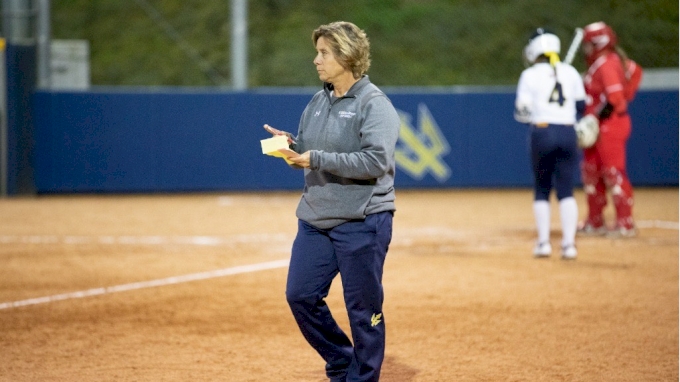 Having helped UCSD softball transition from Division III to Division II in the 2000-2001 season, Gerckens expects many similarities during their transition to Division I. During the Tritons' transition to DII, Gerckens said one of her teams' biggest challenges was adjusting to the speed of the game, she expects the same during their transition to DI. However, she has no doubt that with the right determination, the girls will be able to adjust quickly. She believes that she will be able to draw from that experience in order to help the Tritons make a smooth transition to Division I.
Having played in one of the most competitive conferences in Division II softball, Gerckens believes that her team is ready to take on Division I competition. In the CCAA, each series is made up of four games, and according to Gerckens "there are no off weekends". Facing strong opponents in the CCAA conference such as Chico State, Sonoma State, and Cal State University, Monterey Bay has prepared the Tritons for the next level of competition.
While the Tritons boast an impressive roster of hard-working athletes, standout players Robyn Wampler, Sherriah Harrington, and Danica Kazakoff have proven to be the heart of the team, setting a great example for younger players, passing down Triton traditions, and leading their team to success.
Building Team Values
Coming out of high school, there was no doubt that Berkeley native, Robyn Wampler (LHP), was going to be a powerhouse player in the CCAA conference. In her three seasons at Division II, Wampler boasted impressive statistics including a career 1.83 ERA.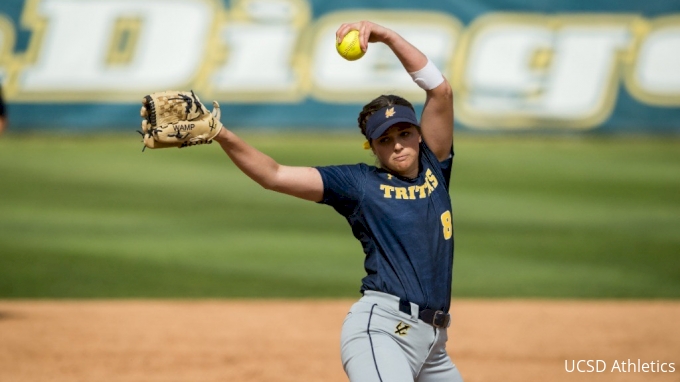 Wampler was honored in 2018 as the CCAA Freshman of the year and has since won many additional accolades in her Triton jersey including D2CCA All-West Region Second Team, NFCA All-West Region Second Team and 2020 UCSD Athlete of the Year.
Wampler threw her 400th career strikeout with the Tritons on February 4th of their 2020 abbreviated season.
As a three-time CCAA conference honoree, Wampler shows incredible control on the mound and is a leader on the field and in the classroom. When asked about her teams' transition to DI Wampler stated, "We all understand that the competition in Division I is going to be much higher than it was in Division II, but at the same time we were very fortunate to play in the CCAA because it is such a competitive Division II conference. We are using this time off to improve our mental game and learn more about the teams that we will be facing this coming year, while also becoming more consistent in our physical game." Wampler believes that her team's solid, family-like chemistry, will help them tremendously while competing in Division I. "Each player on the team wants the player next to her to succeed, there is also an immense competition which breeds improvement. We will continue to increase this inter-team competition so that we can get better every day, whether we are not together, like right now, or we are practicing as a team."
Making Every Game Count
Another standout player on the UCSD roster, Danica Kazakoff (SS/UTL), will be returning in 2021 for her fifth season as a Triton. A triple threat at the plate, Kazakoff was recognized in the Division II CCAA Conference for her energy, grit, and speed.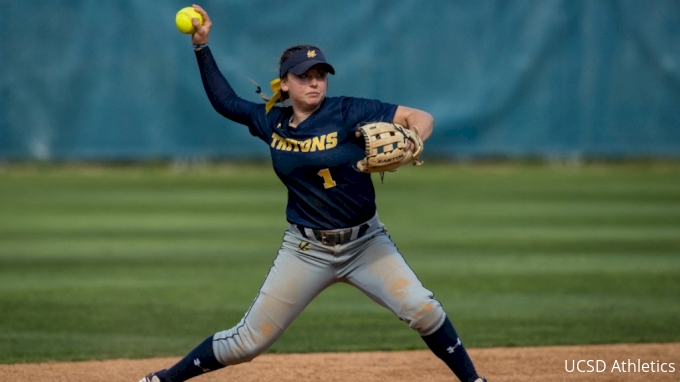 In 2020, the two-time CCAA All-Academic honoree's senior season was cut short due to COVID-19; in order to make the most of her extended senior season, Kazakoff plans to, "leave everything out on the field that I can. Having what I thought was my senior season this past year, I got a chance to reflect on what I would have done differently in my entire college career. Under normal circumstances, I wouldn't have had the opportunity to redo some of those things but now I do. I have my list of which I'll make sure to accomplish so I won't have the same regrets as before. I also will be done with my classes in the winter quarter so I can make the most of my senior season which will allow me to focus all my time and energy on the team and enjoying the game."
As a leader, Danica's style is to "lead by example and also be a vocal leader when we need it. I do my best leading by making sure to take care of my job first, whatever that may be at the time and being a good example to show others how to do that. I can sustain pretty high energy on the field and lead by being a positive source to give energy out to others. I also like to lead by being a mentor to the younger girls and making them feel included and a part of the team. I have learned how doing this allows the team to work better together and I know this will continue to help when we enter Division I."
Continuing the Legacy
In the CCAA Conference, Sherriah Harrington is known for her powerful presence on the field. Harrington has received many accolades during her time at UCSD including NFCA All-America Third Team, NFCA All-West Region First Team, D2CCA All-West Region Second Team, D2CCA All-West Region First Team, Two Time All-CCAA First Team, NFCA Player of the Year Watchlist, CoSIDA Academic All-District 8 First Team and 2020 CCAA All-Star team.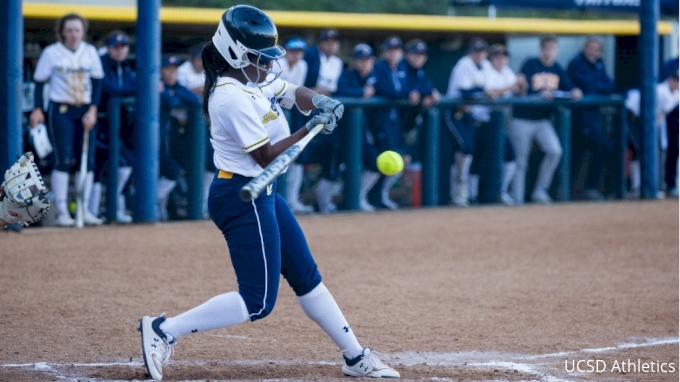 But Harrington does not plan to stop there, in her team's transition to the DI stage she plans to develop lasting relationships on and off the field. "Healthy team relationships is a critical component in maintaining a successful program," Harrington said, "I will continue to work hard every day for myself and my work ethic, and interpersonal skills will continue to be a model for the rest of my team."
Harrington states that her team's biggest strengths include, "..a diverse range of talents which has allowed us to thrive as a program. We have great energy, personalities, and work ethic that distinguishes us from our competition. We have great hitters throughout our line up with the backing of a phenomenal pitching staff." The Triton lineup possesses impressive, smart hitters like Keila Bosinger, a rising junior with a career .349 batting average, redshirt junior Bobbi Aguirre with an impressive career batting average of .349, and Sherriah Harrington, a rising senior with a career .376 batting average.
According to Harrington, the Tritons will handle their transition to Division I by "...continuing to work hard, enhance our mental and physical game, and strive to improve every day. We will be faced with adversity but with consistency, tenacity, and commitment we will be a force to be reckoned with."
One. More. Day. #Team43 #GRIT #fortitude pic.twitter.com/BqQ0tJt5C3

— UC San Diego Softball (@UCSDsoftball) February 7, 2019
In 2021, the UC San Diego Tritons will make their Division I debut, entering the Big West Conference facing tough competition such as Long Beach State and Cal State Fullerton. We cannot wait to see how their hard work and preparation pay off.